Pictured here is one way to finish the Comptche 24 – my latest tiny house design. Inside I show an alternating step staircase that could pivot up out of the way.
This house has two distinct sides, each with french doors leading outside. The back room is just large enough for a double or queen bed but is shown here with a sofa bed. A pocket door allows this room to be closed off from the rest of the house for privacy.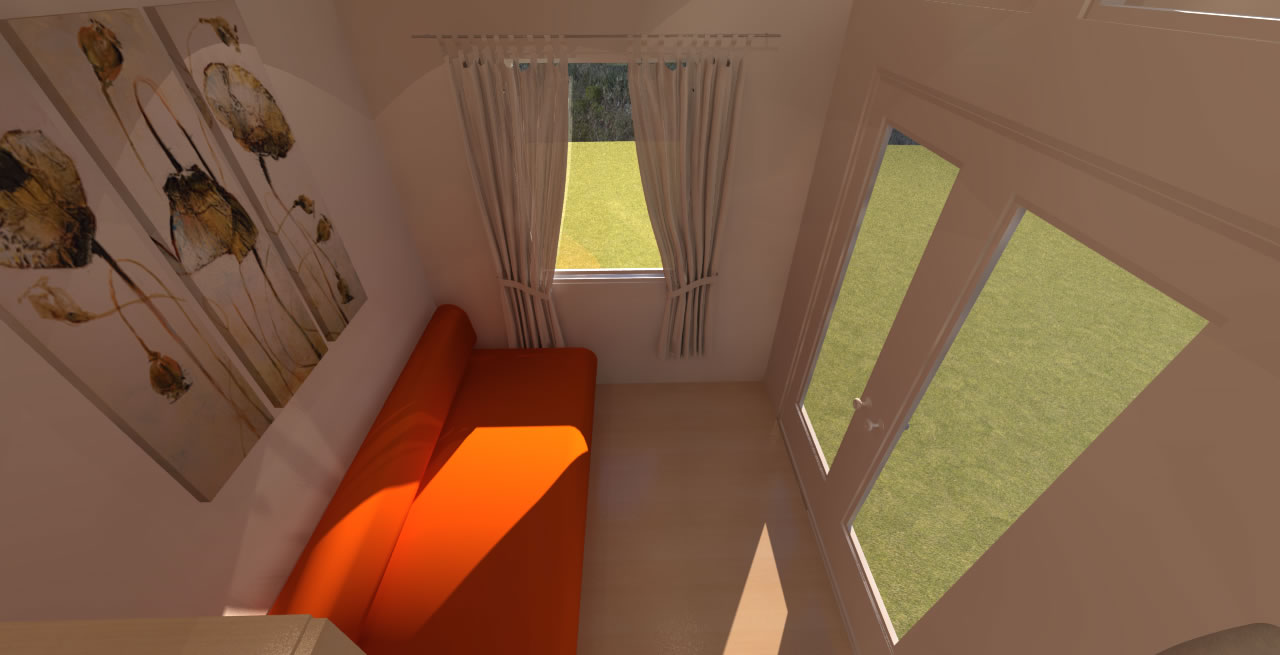 The high ceiling, big windows, and single large room would add to the open feeling in this tiny house design. The french doors and clerestory windows about let tons of light into the house. Depending on the climate you could face this house toward or away from the sun.
In the center of the house are a bathroom and kitchen. The bathroom is hidden behind a pocket door and can contain a 32″ shower, toilet, and wall mounted sink.
Like all my tiny house plans you have the flexibility to finish the house however you like, this is just one example.
The Comptche 24 has a simple 3/12 shed roof and is 24-feet long. There are three primary advantages of a shed roof over a gable roofed tiny house:
Interior Space is Maximized – While keeping the maximum height of the house below 13′ 6″, the side walls are extended to their maximum height while keeping a 3/12 pitch roof. This roof pitch is a very common lower limit for many common roofing materials making it an ideal low pitch roof. Shallower pitches are possible with roofing materials that can handle the flatness.
More Spacious Sleeping Loft – While many people these days look for tiny house designs with lower level sleeping options, lofts remain popular and provide a lot of extra useful space without adding square footage. A gable roof without dormers make for a cramped loft, so a shed roof gives you a lot more usable space upstairs.
Simplier to Build – If you're an owner builder – or on a budget or afraid of heights – you'll appreciate this benefit of a shed roofed tiny house. There will be no difficult cuts, no complex sheet metal work, no tricky roof framing in a roof like this – or at least compared to a gable or gambrel roof. This is quite possible the simplest roof to build which speeds the time to complete and lowers the cost – which matters a lot when you're hiring skilled labor by the hour.
The overall height and width of the Comptche fit within the common road limit of 13′ 6″ tall, and 8′ 6″ wide – making it towable without special permits by a large pickup truck.
The trailer you select to build a tiny house of this size should have at least two 5,500 pound axles, electric breaks, and a properly sized hitch. I recommend using the trailers from Tiny Home Builders.
All of my gable and gambrel-roofed have interchangeable wall sections, extensions, and roofs. For the most part, these are not interchangeable with the shed roof plans. So if you want to mashup your own tiny house design using two or more of my shed roofed designs, you'll be able to do that.
Some of my first free tiny house designs were shed roofed houses. Many people have built from these designs and we now see many tiny houses sporting shed roofs. The only disadvantage I see is the trailer ability of an asymmetric tiny house. One side will naturally be heavier than the other. This can be somewhat offset by the interior layout, but at the end of the day – the house is literally lopsided.
The good news is that this hasn't seemed to cause anyone any great concern. If the trailer is stout and the load is slightly uneven, the houses still seem to tow without too much trouble. That said… I think a symmetrical (right to left) tiny house will always be easier to than an asymmetrical house.
The downloadable plans include a PDF of the plans, the original SketchUp drawing, and a materials checklist to get you started on your shopping list.
As I draw more shed roofed tiny houses they will all have interchangeable parts like extensions, wall sections, and roofs. So stay tuned and subscribe by email to keep up to date with the latest tiny house designs. Also… let me know what you'd like to see in my next shed roofed tiny house design!