There are many RV Clubs and Membership opportunities for campers—several are well known, others less so. They all, however, want you to sign up to take advantage of the services they provide. These services all come with both advantages and some cost. It is for campers to decide what type of plan best meets their needs. Some plans are associated with a specific chain of campgrounds—Good Sam or KOA, for instance. Others may be associated with several different brands, or even independent, campgrounds—it mostly depends on the service's internal business model.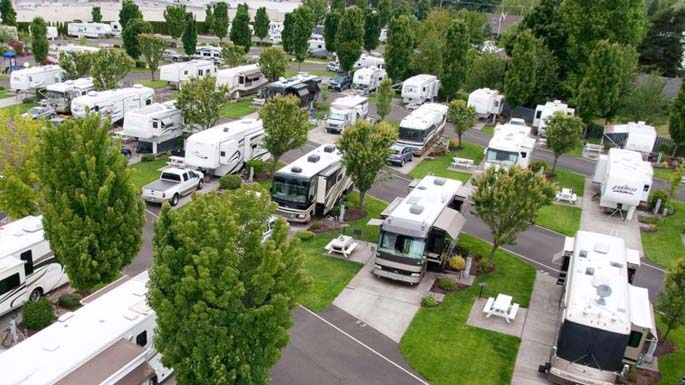 Source: americasrvwarranty.com
Incidentally, there are more than 15,000 campgrounds and RV parks in the United States (see CampgroundViews.com.)
In this article, we review several different "member" programs. Member programs mean you subscribe to the service for a fee to become a member and then avail yourself of the advantages the club or service offers.
None one services cover all campgrounds. This leaves you with another choice to make. Do you enroll in only one program and plan your trips around access to that chain or selection of campgrounds, or do you enroll in two or more programs so you can take advantage of more discount programs for more choices?
The answer to this depends mostly on how often you camp, and where you camp (and how much membership mail you want to receive). Most of our camping trips are to new destinations. Good information about different campgrounds is valuable.
My assignment here was to find and describe "RV Clubs and Membership plans. Good Sam and KOA are examples that immediately come to mind. However, there are several other membership travel "clubs" worth examining.
A word about searching for campgrounds via typical search engines. Search engines, such as Google, can be used by campgrounds to "steer" you to a specific brand of campground more frequently than others. This happens even when you enter the name of a specific campground or club in precise detail. If you mention "camp' or "camping," even if you enter a specific brand, for example, "Escapee RV Club," the search engine recognized that as a "camping" or "RV" request and immediately posts its most favored brand in the top of the listing, so you might immediately see "Good Sam" as the top response. Be patient, and scan the page of listings, and you should find the brand you requested farther down the page.
Another little item that continues to irritate me is that the search engines refuse to recognize and return appropriate responses for requests for specific or topical camping organizations, e.g., camping clubs for fishermen, or NASCAR, or any other topic. The only successful hits I got along this line were travel and adventure clubs for women or seniors or "singles," but that is an article for another day.
My evaluations are based on personal experience with several travel clubs, and the others are based on their online descriptions—which may not always be sufficiently detailed or current.
The Good Sam Club is one of the most popular RV clubs. It has more than two million members and many excellent benefits. Good Sam is known for its network of campground affiliations and membership discounts, roadside assistance, and a spiffy online trip planning program. They also post discounts applicable at camping supply stores. One feature we like, especially if you are wondering where to take your next trip, is Good Sam's "Roads to Adventure," a pre-planned route through Canada to Alaska, is worth a look if you are a bit adventurous.
Features and Benefits:
Excellent Travel Planning Mobile App
Roadside Assistance
Membership discounts at Good Sam Campgrounds
Discounts at Camping World, Gander, and Overton's
Fuel Saving Program with Pilot Flying J
Access to free dump stations at Camping World centers (where available)
Frequent saving offers in your mailbox
Cons:
Excessive amount of promotional mail once a member
Fewer campgrounds than some other campground "chains."
Passport America is as much of a planned itinerary travel club, as it is a membership club. This does give you some interesting choices. Sign up for one of their scheduled trips for a fixed fee that includes all camping and admission fees for planned activities—think of this as a "cruise" without the ship.
Their key winning features is the 50% discount at partnered campgrounds (your membership includes a directory—with periodic updates—of member campgrounds). As a member you will be issued your RV Discount Camping Card valid at member campgrounds, (although they may not be accepted on weekends at some campgrounds).
Features and Benefits:
50% discount at partner campgrounds
Mobile app to find nearest RV parks and which ones are members
Campground Catalog
Updated list of most recent member campgrounds available online.
Subscription to RV America magazine
Trip Routing App
Cost of one-year membership is roughly equivalent to one night of camping
Incentive program for referring new members
Cons:
Campground discounts may not apply on weekends and holidays.
Reservations require a phone call to the campground—no online booking
Nationwide, but partner campgrounds may be limited in some areas
Fees:
One year: $44.00
Two Years: $79.00
Three years: $109.00
This is a group with an individual twist—it is several clubs in one. Let me explain: campers can indicate specific personal or camping interests such as hiking, Christian, computers, amateur radio, boating, singles, and more, then you can search through the available groups to see with whom or where you might want to camp. Compared to other camping "clubs," 800 campgrounds is a relatively small number. Of course, it is perfectly okay to have memberships in more than one club to increase the total number campgrounds to which you will have access.
Features and Benefits:
Discounts at more than 800 RV parks
Online mapping system to find campgrounds
Directory showing low-cost camping opportunities
18 Club-owned and operated Escapee parks
A variety of RV owner classes
On demand mail forwarding service
Roadside Assistance
Cons:
Limited number of member RV parks in network
Fees:
$39.95 per year for U.S. membership
$49.95 for Canada and Mexico membership
Boondockers Welcome is group of more than 2000 property owners prepared to support RVers. These are not campgrounds, but private properties owned by folks who support and appreciate the RV lifestyle.
Once you join, you will have access to listings within a defined radius. You can then review the offerings of each host that appears in the listing. It is necessary to review each listing. Some may have a limit on the size of a camper, the number of campers, or if pets are permitted. While some may have hookups available, the Boondockers Welcome site expressly requires that campers be self-contained for living including the ability to live inside the camper meaning sleeping, eating, cooking, and sanitation.
Once you have selected one or more that seem suitable, you will contact each of them yourself using the secure website messaging system and wait for an answer. Note, it is possible to cross the continent staying at boondocking host sites.
Not only do boondocking sights save money, but they may also provide a place to stay when other campgrounds within your range are booked, or overpriced. While there is no charge to boondock, you should be prepared to pay for any expenses such as electricity or water used.
Features and Benefits:
Stay free on person's property with no campground fees
Discount on RV products and other memberships
Expand your potential RV park opportunities
Discounts on additional camping opportunities
Take advantage of local knowledge of the area provided by hosts.
Cons:
There is no formal reservation system
Hookups may be limited or not available
Pets may not be permitted
Stay may be limited
Size and type of RV may be limited
Fees:
$50.00 per year for campers
$25.00 per year to be listed as a host
50% discount if you can host a Boondockers Welcome Guest

The purpose of Family Campers and RV (FCRV) is: "To encourage the people of North America and elsewhere to participate in recreational activities that protect, conserve, and defend the natural resources set aside by the Government of the United States, or any other government, for the purpose of conserving the scenery and wildlife for the enjoyment of future generations." This organization is focused on all the potential benefits of camping, and the educational opportunities it provides. They also provide scholarship assistance to members' children and grants to members to participate in wildlife protection and conservation.
Originally founded in 1949 as the National Campers and Hikers Association, the name eventually became FCRV. According to their website, "This name encompasses all forms of camping, from the canvas camper to modern motorhomes, and the name reflects that we are a family oriented camping organization."
It is a member-owned nonprofit that has an annual group "campventions," regional campouts, and state campouts. They have programs that help retirees, adults, teens, and kids. There are even disaster awareness training and safety training courses.
Features and Benefits:
Focus is on "family camping."
Strong focus on conservation and appreciation of natural history
Annual Retiree Rally
Discount insurance programs
They sponsor a scholarship program
Cons:
Its not really a "con" but this is an organization established to protect, conserve, and defend the natural resources set aside by the Government of the United States, or any other government, for the purpose of conserving the scenery and wildlife unimpaired for the enjoyment of future generations.
Fees:
One year: $35.00 US, $45.00 Canadian
Two Years: $68.00 US, $86.00 Canadian
Three years: $99.00 US, $129.00 Canadian
Lifetime: $560 US, $720 Canadian
Another outstanding RV club for seniors is the Family Motor Coach Association, or FMCA. With a membership, you will receive several benefits including FMCAssist, a program that automatically covers its members in emergencies. You will also get access to the Family RVing Magazine, and FMCA University. The magazine is released monthly with information and news that is helpful for RVers. The university has decades of archives of useful information for RVers.
If you are new to camping or have questions, FMCA is a great organization with a strong focus on education. With your membership you will be able to stay at an FMCA campground for free two nights a month. You will also receive an anti-theft decal and FMCA membership plate in your new member kit.
One of the biggest benefits to joining FMCA is that you get access to the mobile app. The app helps you plan your trips with ease, showing you the best places to stay on your route. You can then book your campsites directly from the app.
When you decide to become a member, you can get a one year, two year, or three year membership.
Features and Benefits:
Very good emergency situation coverage
Free camping two nights a month
Travel planning and campsite booking app
Annual Convention
Seminars and classes related camping and RVs
Cons:
You have to establish a login to see current annual fees.
Fees:
Includes $10 initiation fee for new members, renewal pricing is less
One year: $85
Two Years: $160
Three years: $225
Their website claims to "improve every aspect of RV ownership." And they claim to basically do it all, from trip planning to camper vehicle maintenance and rules of the road to "campsite secrets." Established in 2018, it also claims to transform "time lost owning an RV into time spent enjoying your RV, hitting the open road, and relaxing on your own terms."
Incidentally, the name "Togo" is a tribute to a sled dog that led a team 265 miles to deliver critical medicine during a 1924 outbreak of diphtheria in Alaska.
Togo RV is a tech company focused on improving the RV ownership experience. Their website shows promise; their articles button will take you some interesting and useful articles on trip planning, holiday travel, camping and adventure living, especially their "News and Events" button. Finding the button to login and join is a bit of a challenge—you need to sign in with "Roadpass" to access Togo RV to join. You can explore their basic website without logging in.
Whether they "do it all" or not remains to be seen, but parts of their website definitely intrigue me. The annual membership may be well worth access to the well-written technical and travel articles on their site.
Features and Benefits:
Time and money saving app on tires and other products
Service center and mobile repair locator
A library of informative videos
Website appears to be current and up-to-date with very recent articles
RV How-To Guides
Premium trip planning with Roadtrippers Plus
Cons:
While parts of the Website are phenomenal, it is a bit clunky to get around.
Relatively new
A bit of a challenge figuring out how to sign in/join.
The KOA Value Kard Rewards program provides discounts, rewards, and elite status when you stay at a KOA campground. And, like similar programs, Value Kard Rewards members get discounts from select program partners.
Most KOA campgrounds have tent sites, RV sites, and cabins for rent. You can even stay in a teepee or caboose at select locations. So even if you do not particularly like camping, KOA has other options that will certainly be mentioned around another campfire.
When you think of loyalty programs, airline mileage programs and hotel loyalty programs likely come to mind. But, there are many other under-utilized loyalty programs, including dining rewards programs and fuel rewards programs. The Value Kard program results in some very generous point accumulations. Note that there are terms, conditions, and limits on how points may be earned and accumulated, but these still allow you to accumulate points rapidly—sufficient to be able to redeem them in a reasonable time.
You can also earn extra points—250—by making reservations online, and there are other opportunities to earn bonus points.
KOA Value Kard Rewards are redeemed at a fixed rate toward future KOA stays. To redeem points, at check-in simply tell the front desk how many rewards you wish to redeem.
The reward points do not expire as long as you are a Value Kard Rewards member. The Kard points are also redeemable on the purchase of many camping related items including tires and many other items or services.
Many of these offers require a promo code, which you can find on the Exclusive Savings page once you have logged in to your account. But some of the offers require you to click through from the KOA savings page. So, you may not be able to get the KOA discount and use an online shopping portal for some of these offers.
Features and Benefits:
Money saving program for tires and other products
Applicable to service center and mobile repair locator
Offers a library of informative videos
Good choice of campgrounds across the country
Easy to redeem points
Cons:
Fast point accumulations also means high number of points for rewards.
A bit of a challenge determining when and how to redeem points for purchases other than camping fees.