Minimalist living and camping are having a surge in popularity. With so many options, it can be hard to keep track. On top of that, it's even harder to decide what's right for you.
So, we've put together this thorough guide about micro campers where you'll find what is a micro camper exactly, some examples of the best ones around, how to make our own, and finally, answers to some of the pressing questions you might have.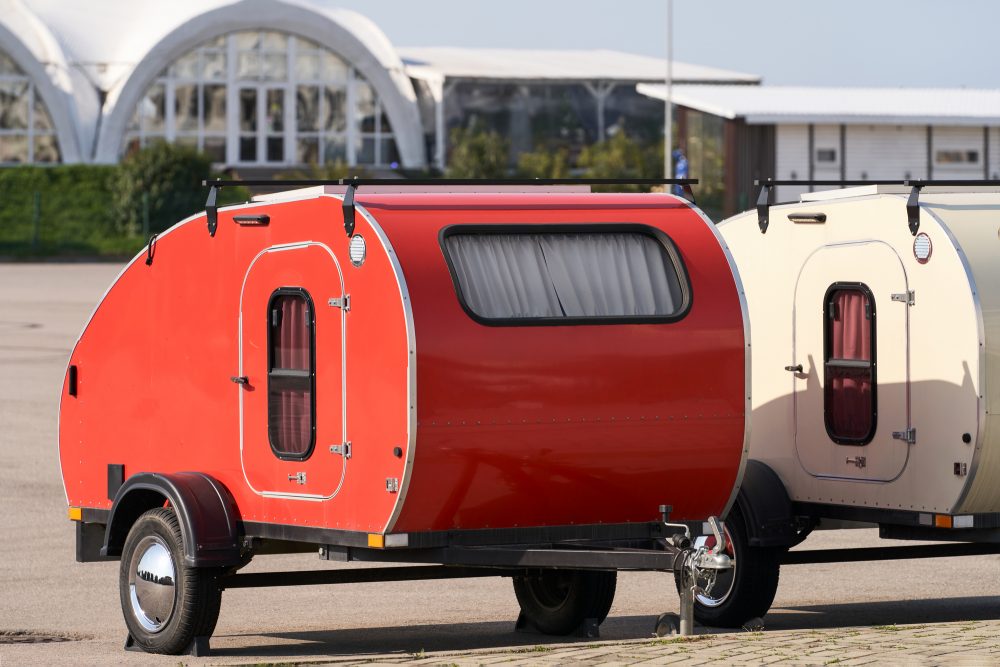 What Is a Micro Camper?
Micro campers have been around for a long time but are currently seeing another surge in popularity. Most of the time, they are an affordable way to travel the world in comfort.
So what are they? Think of the campers you usually see, but small! They can come in a van style or towed trailer style. For a trailer style, they look like an incredibly small home being towed behind a car. This type is generally 500–3,000 pounds. The van style looks like an RV compressed into a minivan.
The lightweight mini campers are great for towing with almost any car. Even a Prius can hold onto one with no real worries. Plus, if you run into an issue, they are light enough that you could lift it and maneuver it out of the way.
The price of micro campers has a wide range, starting around $2,000, shooting up to $40,000. You have to know what you want out of your micro camper – are you looking for the cheapest ticket to travel, or do you want a luxurious trip?
The vast price difference often means a vast difference in amenities. Micro campers can come complete with a kitchen and bathroom (yes, even a shower!), but those will put you on the higher end of the price spectrum.
All in all, micro campers are an accessible way to personalize your travel journey. They can fit the needs of the most simple outdoorsman or the pickiest glamper. If you have an itch to get out in the world, see what micro camper could be right for you.
RV VS. Micro Camper
RVs and micro campers are both similar and different. For the higher-end models of micro campers, you can have all the same amenities as an RV. Many people's first concerns about traveling are the bathroom, kitchen, and living space. While you will have more space to spread out in an RV, it's certainly possible to have all the same features in a micro camper.
The biggest difference between the two is size. While micro campers generally range 8-16 feet, RVs range 20-40 feet. It almost feels like the difference between a large tent and an apartment.
But what you gain in elbow space, you lose in accessibility. First, RVs are much more expensive. They range from $35,000 to $300,000. On top of that, the cost of gas on each trip is going to be far higher.
Plus, a micro camper is easily unhooked or parked for a day of exploring. With an RV, navigation needs to be thoroughly planned out ahead of time so you don't run into an area that you won't fit, and you have to go through the trouble of towing your car separately.
Who Makes Micro Campers?
With micro campers' popularity on the rise, many brands are putting them on the market. Recognizable brands such as Airstream and Winnebago have cast their shots into the mini camper market with the "Airstream Basecamp" and the "Winnebago Micro Mini."
There's also a large amount of lesser-known brands making their mark. Forest River, Happier Camper, and Taxa are just a few. These brands seem to keep their expertise geared towards mini campers, instead of trying to be jacks of all trades like the above brand. They are keeping the mini camper scene exciting with lighter weights and unending innovation.
Why Are Micro Campers Popular?
Micro campers are so popular because they are making the outdoors accessible. With the average RV, the starting price point is well out of reach for many people or a large monthly payment that they don't want to add on. With a micro camper, you could buy one for a small amount of savings or a few monthly payments.
On top of being inaccessible to buyers, not everyone has enough room to store an RV. Some people don't have 20-40 feet of driveway space to set aside all year long. And just imagine snow blowing around something so clunky. Micro campers can be parked in a driveway with little issue, on the road without neighbor complaints, or even it can even fit in a garage.
Another great reason micro campers have risen in popularity is that they are much less stressful to take on the road. You could find a parking spot with a mini camper in no time, but with an RV, you'll have to circle the block until something opens up. They're also much easier to unhook and leave at the campsite, offering much more freedom when you want to explore.
Best Micro Campers
1. Forest River's Rockwood Geo Pro
First on our list is one of the most luxurious mini campers. The Rockwood Geo Pro has a bathroom with a shower, a king bed, and a small kitchen. You can even stand up in this model! At 16' long, it only weighs 2,600 pounds.
Even with these amenities, the Geo Pro keeps its cost low at only $18,000.
2. Happier Camper's HC1
On the more expensive end is the Happier Camper HC1 "classic" model. This micro camper is for the person who wants to spend more money on a sturdy, customizable build. The HC1 classic comes in at 10 feet long and 1,100 pounds. It has a vintage look that you can choose the color of paint for.
At $38,500, this micro camper is on the expensive side, especially since that price only includes a kitchenette. There's no bathroom and not much living space. But what it lacks in features, it makes up for in character.
3. Hiker Trailer Highway Deluxe
Hiker Trailer produces micro trailers that look like they were made by NASA. Extremely durable, they provide customers with a minimalist camping experience at a minimalist price. For only $5,000, you can take your traveling bed on the road. It has outlets and shelving as well, but that's about it.
You'll have to provide a bathroom, kitchen, and any other features you want, but there are not many micro campers you'll find with such a sturdy build at this price point.
How to Make Your Own Micro Camper—DIY
Whether you want to convert a van or build a micro camper from the ground up, doing it yourself can save you a lot of money. While it may seem daunting, building a micro camper yourself is something anyone with some tools and time can do.
Usually, if you are DIYing a camper, you want to save as much money as possible. It won't be very cost-effective to get everything brand new. If taken care of, wood and metal can last a long time, so a lot of the supplies can come second hand. Before buying new, search local yard sale pages to see if you can find scrap wood and an old trailer.
There are many blueprints for making a micro camper. Below is just one example of a DIY camper, but a quick internet search will show you lots of options if you have different preferences.
Another option is a micro camper van. Maybe your parents are ready to get rid of their old family van, or maybe you saw one online for a great price. In any case, if you buy a van to convert, you already have the wheels and walls for your micro camper.
The rest of the work is tricking out the van to your preferences. How big of a bed do you want? Do you want a kitchenette? Consider all these factors and how much they may cost, both in time and money.
Below is a video of a larger micro camper van conversion done on a budget. If you have the van already, costs can be kept very low.
Are Micro Campers Worth It?
Micro campers are a great addition to your life when you want to get outside with ease. Of course, if you have a larger family, you might not all be able to squeeze in. Micro campers are most worth it for one to two people ready to hit the open road. If you have more than two in your group, try a larger size micro camper and see how it fits.
There's no need to jump into a purchase. Many micro camper retailers offer a rental option, so you can find out what works for your family and what doesn't. Renting can be tricky, so make sure to search all your options first. Prices can range from $50 to $500 a night.
If you're worried about if the price is worth it, you could also take a look at used inventory. Websites such as RV Trader, Camping World, and Country Camper will show used micro camper results in your area. The discounts can go down as low as 50% of the retail price.
Your local camper dealer usually has a small supply of used goods that they will inspect and clean themselves as well. This may bring the price up, but it's an option that takes out some of the guesswork of buying used.
You can also search online websites like Craigslist or Facebook Marketplace. Just make sure to inspect the micro camper yourself before making a final purchase. This option will often turn up the most affordable results, but you may have to fix it up before you take it for a trip.
FAQs
What is the smallest micro camper on the market?
The smallest micro camper on the market right now is the Go Little Guy's MyPod. This full-sized bed on wheels comes complete with a mini AC unit, TV, and little shelves to make travel a breeze.
It weighs only 760 pounds, so even a Mini Cooper wouldn't flinch towing it. The only downside is it runs a little higher in price than Hiker Trailer models of similar size, at $11,000.
Why are micro campers so expensive?
Micro campers are so expensive because there is a surprising amount that goes into making such a small camper. It has to be both road-ready and comfortable to sleep in. You don't want to feel like you'll have a runaway tire on the highway or feel like you're just sleeping in a heavy tent.
There are some preventable factors as to why micro campers are so expensive. Third-party retailers see how trendy they are, so prices get marked up. If you can, cut out the middleman and buy directly from the brand you are looking at or buy used.
What is the cheapest micro camper?
The cheapest trailer on the market currently is the Hiker Trailer Highway Deluxe model. At $5,000, it blows other micro campers' prices out of the water. Of course, it comes with almost no amenities, so you'll have to factor in the cost of buying them yourself.
Other less expensive models of micro campers are out there; they're just harder to find. Usually, micro campers that are sold for below $5,000 are distributed by small local companies that don't have a large online marketplace. See if there are any great finds near you!
Who makes micro lite campers?
Flagstaff RV is the maker behind Micro Lite Campers. They have a variety of different models of this line with different features to choose from. They all come with bathrooms and small kitchens, but you can choose the layout inside the micro camper. With these amenities, they are one of the pricier micro campers.
What are the best micro campers under $5000?
Right now, micro campers are seeing a boom in popularity. Finding one under $5,000 would be rare until prices go down again. Until then, the best micro campers under $5,000 will be the ones you can find used. We like the sturdy, no-frills build of the Hiker Trailer models, and at $5,000 new, you're sure to find one used for less.