Tiny houses are on an upward trend in the housing market. When it comes to house shopping, many people find that less is often more, as small homes are cheaper, easier to maintain, and cozier than their larger counterparts.
One of the best ways to acquire a tiny house is to build one yourself, as many large chain hardware stores offer kits to create your very own tiny home.
Lowe's does not sell tiny house kits per se; instead, they offer several DIY shed building kits you can build into tiny houses.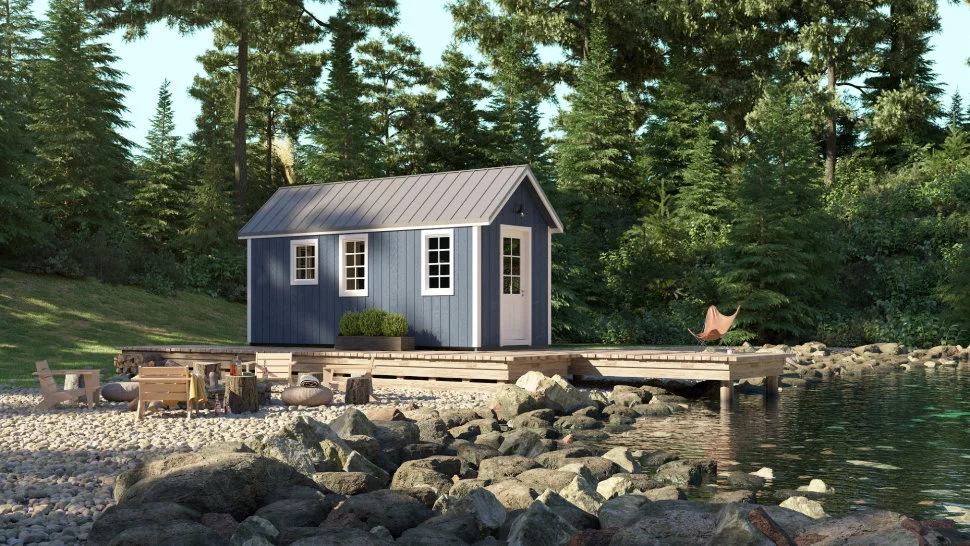 Does Lowe's Sell Tiny House Kits?
Not really. Lowe's sells a lot of large shed kits you can outfit into tiny houses, but not tiny house kits that include everything. They give you all the lumber and material you need for the frame and fixtures of the house, but not the things you'd need to fill out the interior.
If you want to turn one of their storage sheds into a tiny house, you'll need to purchase the insulation, wall material, floor material, and often the doors and windows yourself. Unless you're an old hat at DIY houses and working on home improvement, I wouldn't recommend using one of their shed kits.
Lowe's House Kits Review
If you're willing to put the work into them, you can do a lot with the sheds. You can turn several different kinds into accessory dwelling units for a larger property or if you want to live in yourself.
Each kit comes with detailed instructions and videos to help you put your house together, a huge boon for anyone who's tried to build from purely instructions alone. In addition, the kits come with all the hardware and materials you need to make the frame of the house.
Several of their options include lofts which give a lot more space or options for different doors and windows. Lowe's can provide many of their barns sheds, French doors, and several other types of sheds. The same goes for the windows. However, some have more options than others.
However, once the frame of the house and the wooden fixtures inside are done, that's the end of Lowe's tiny house kits. You're responsible for finishing the inside and hooking up utilities yourself, whether you want it to be DIY or hire some professionals to finish the job.
If you're wondering if Lowe's offers installation on any of the kits, unfortunately, they do not. You have to build the house yourself.
So how does Lowe's stack up against other big chain hardware stores? Not too well. Going to another store like Home Depot or directly to manufacturers like Heartland will give you many more options, both for tiny houses and for large sheds you can turn into tiny houses.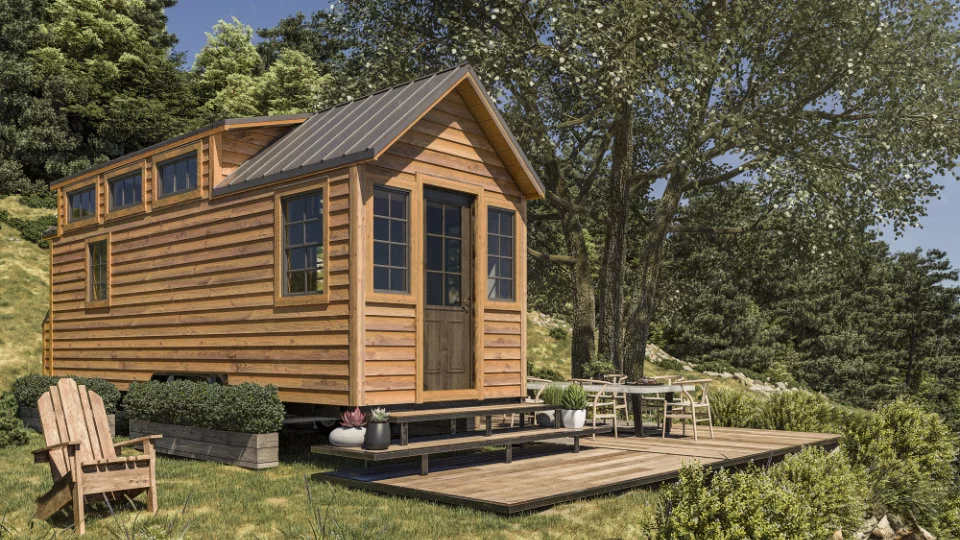 What Types of Tiny Houses Does Lowe's Sell?
Lowe's sells several different types of "Engineered Sheds," mainly targeted towards people who want to outfit them into tiny houses. They range from rather barn-like creations to modern windowed apartments and small dwellings themselves.
Here's a look at the best three tiny houses Lowe's has to offer.
Lowe's Tiny House Sheds
These are the top three sheds Lowe's has for DIY kits and outfitting into tiny houses.
Richmond Barn
The Richmond Barn is a DIY storage shed kit that looks like a barn but has several windows and a loft, perfect for turning into a tiny house. It has ample floor space, 512 sq ft, and the kits include stairs you can build into the loft.
It's 16X12 ft, making it a perfect house with plenty of space. However, the kit does not include windows, doors, or a floor. You're responsible for the foundation and the trimmings. The house also needs to be painted, although it is already primed. You're also responsible for finishing the inside yourself, along with all of the utility hookups you might need.
Aspen Studio Shed
As the pictures show on this kit, Lowe's knows people will turn it into a tiny apartment. It's 106 sq ft, just large enough to have everything you might need, and the large windows let in lots of light.
So what are the drawbacks? Well, windows don't just let you see out. They also let other people see in, so it's more suited for natural settings than suburbia. The building also doesn't come with a floor, so you'll have to lay down your foundations. It also comes with an unfinished interior, so you'll have to take care of the inside yourself.
However, this building kit does come with windows and doors, meaning you won't have to purchase them separately.
Kennedale Storage Shed
This DIY shed kit has all the fixings: Trim, windows, door, and even a floor system. While you'll still have to finish the interior, this kit comes with everything you'll need to complete the outside and much of the inside. It's 160 sq ft of space, perfect for people looking to turn it into an accessory dwelling unit.
While this kit may come with more features, it gives you fewer choices. You can't pick out what doors and windows you want with this building, which already comes with them. Ditto on the flooring, as it comes with its own.
The Difference Between Sheds and Tiny House Kits
Lowe's advertises all of their tiny houses as large sheds. Many of them do look like sheds. However, it's obvious they realize many people will turn them into homes as many of the kits advertise doors and windows and warn about building permits.
However, Lowe's sells that don't have any finished interiors, and many don't include foundations and floors, meaning you're responsible for building the house from the ground up.
Are Lowe's Tiny Houses Worth It?
While they do have some excellent options, larger stores have better options for tiny house living, installation, and kits that come with products to finish the interior. I would advise you to search elsewhere to satisfy your tiny house needs.