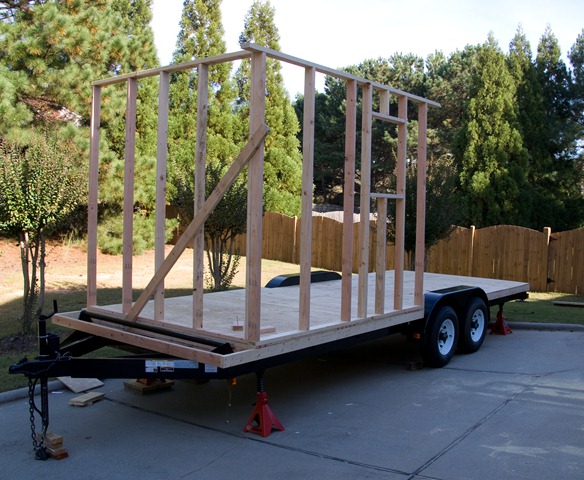 Dan, one of my readers, sent me a link to his new blog which documents the creation of an 8′ by 20′ tiny house of his own design. Drawing from his own previous experience with Google SketchUp and inspiration from websites like Tiny House Design, Dan set out to solve a housing challenge for his mom by designing and building her a tiny house.
He's been moving fairly quickly to beat a potential problem with his homeowners' association. Some of his neighbors are starting to wonder what is materializing in his driveway. At the moment it sounds like their best guess is a parade float. Little do they know 🙂
It looks like we'll be seeing the house go up quickly and I'll report back here and on Tiny House Living with more news of Dan's progress. Here's some of what Dan told me through email:
Your site has been an inspiration to me. My moms living situation is not optimal so I have decided to build her a tiny house. I just started and you can track my progress at tinyhouseproject.wordpress.com. I just wanted to tell you to keep up the great work.

I had played with SketchUp some time ago but after seeing your designs done in them I was really impressed. I've been keeping my laptop out with me while I build so I can know the dimensions of every board I need to cut as I go along. It's now one of my most important tools, once again, thanks to you.
Thanks again for sharing your project with us Dan… and recording the design and construction progress online. I'm glad that my work here on Tiny House Design helped inspire your solution but it's really folks like you that pick up their hammers and saws that should be admired.
Below are a few more examples of what you'll find on Dan's blog, tinyhouseproject.wordpress.com.