This article will go over everything you need to know about Harvest Host.
What Is Harvest Host?
Harvest Host is a membership program providing over 3700 unique locations to stay overnight in your RV.
These locations include:
Farms
Museums
Attractions
Wineries
Golf courses
Breweries
Unlike other campgrounds, your RV must be self-contained, and you can only stay at a location for 24 hours.
Harvest Model offers three different annual plans that cast the same as four nights at a campground. These plans include access to various locations in North America and require no additional camping fees.
These locations find hosts in local businesses who aim to get revenue by allowing members to stay at their campsite for free. Hosts will have free access to dedicated host pages and must offer their members one night's stay.
How Does Harvest Host Work?
Harvest Host has over 3700 host locations in the United States, Alaska, Baja, California, and Canada. Businesses who wish to obtain business by allowing members to stay at their campsite for free are the ones hosting these locations.
You can only stay at a location booked through Harvest Host for 24 hours. You may not ask the host to stay longer. The host could invite you for another 24-hour stay, but this is rare.
Stays are only 24 hours long because Harvest Host doesn't want to impact the host's business and wants to provide this service to other members.
The Harvest Host app is available on modern iOS and Android app stores. Once downloaded, you need to sign in with your account. If you do not have an account yet, you can use the app to sign up for one.
You can access the member portal page if you already have a membership or sign up for an annual membership based on your camping needs. The member portal page provides access to Host Pages for booking stays and an easy way to access their membership card.
Harvest Host Rules/Policies
Harvest Host permits the following vehicles:
RVs (Class A, Class B, Class C)
Motorhomes
Travel trailers
Fifth-wheel trailers
Toy haulers
Camper vans
Schoolies
Truck campers
Harvest Host prohibits the following vehicles and camping methods:
Tents (car rooftop and ground)
Sleeping in Cars
Sleeping in Minivans
Sleeping in Trucks
No Overlanding on bikes, jeeps, or ATVs
Harvest Host has a strict Code of Conduct you agree with when you become a member.
These are 18 rules you must follow as a Harvest Host member:
All RVs must be self-contained
Always plan to arrange your visit
Arrive only during business hours
When requesting your stay, tell the host what size vehicle you are driving
Introduce yourself and show the host your membership card
Please support your host
Do not stay longer than 24 hours
Park only in the areas showed
Please keep a low profile
Indoor cooking only
Do not use jacks without jack-pads on asphalt
Remember, these sites can be working vineyards, farms, or historic properties
Ask before using your generator
Take all trash with you
When departing, thank your host for your visit
Be aware of local alcohol regulations
Members acknowledge that they have insurance under state or provincial laws
Members acknowledge that inappropriate behavior may cause membership revocation
Harvest Host has a stringent booking policy that protects hosts from losing business because of no-shows or cancellations under the 24-hour window.
Here is Harvest Host's three-strike violations policy:
First Strike: Automatic 1-star member review
Second Strike: A Harvest Host employee will contact the member to ensure they understand the policies, code of conduct, and membership plan benefits
Third Strike: One-year membership suspension with no refund
What Is It Like Staying At Harvest Host?
We have provided you with positive and negative reviews to help you understand what it is like to stay at a Harvest Host directly from its members and hosts.
Harvest Host Testimonials Page
Harvest Host only posts positive reviews from their members and hosts, so we cannot provide any negative reviews from this platform.
Positive Reviews From Members
"We wanted to check out some of the Harvest Hosts near our home. We are 40 minutes away from Lodi, CA. At each of the four wineries and the produce place, we mentioned we belonged to Harvest Hosts. They were excited to hear that. We felt so welcome. We can't wait to take our fifth wheel and spend a night at each of them. Thank you, Harvest Hosts!!!"
Positive Reviews From Hosts
"For the past 2 years, Agua Dulce Winery has been a Harvest Host. Every week travelers from around the country stay at our 100-acre winery. They enjoy beautiful peaceful grounds and taste some of Southern California's finest wines.
"While selling our wine to Harvest Hosts visitors is beneficial to our business, we love meeting people and hearing about their travels on the open road. We have had visitors in million-dollar motor homes to couples traveling in vans. Everyone has been a pleasure and we look forward to a long relationship with Harvest Hosts. Cheers!"
Apple App Store Reviews
Harvest Host currently has 27,100 reviews, resulting in a 4.8 rating through the Apple App Store.
Positive Reviews
"Thanks to our hosts Dave and Diane for a wonderful shaded spot to spend our evening. Upon arrival, Diane greeted and invited us for a wine tour by Meg who was very knowledgeable and explained much of the local history including Bacon's Castle and Hog Island. Dave joined us and took us on an extended tour of the farm and wine-making facility.
"The goats entertained us with their antics of climbing the goat tower and getting ready to retire for the evening. After having a large lunch earlier that day we opted for a simple dinner of baguette, cheese, snacks, and Hampton Roads Winery wine purchased from their shop.
"The next day we took Meg's suggestion and visited Bacon's Castle followed by lunch at Surry Seafood. We also took a few bottles of Bacon's Castle Red and other wines home with us. Our first Host experience was very positive! Many thanks!"
Negative Reviews
"We love this concept and when we paid for the membership last summer, we were ecstatic to try it out. Sadly, we have never been able to. We have tried nearly a dozen times (each time with a different host) to reserve a night's stay, and each time we have been unsuccessful. A couple of hosts said they had no availability for the foreseeable future, and the other host we contacted simply did not return our calls or respond at all.
"I understand, COVID made things more difficult for a while, but then why charge people for a membership that they cannot use? I had a membership with a gym when the pandemic started and they put it on hold, I had a membership with a coffee roaster and when their factory had to shut down during COVID they put my membership on hold… but not Harvest Hosts."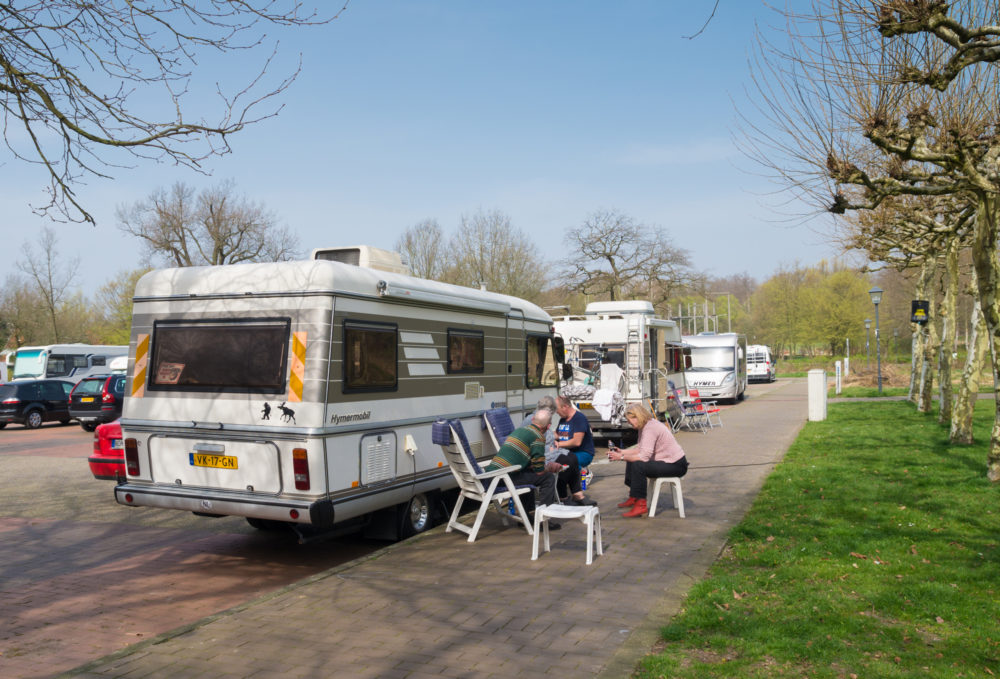 Google Play Store Reviews
Harvest Host currently has 1,280 reviews, resulting in a 4.8 rating through the Google Play Store.
Positive Reviews
"This is our 1st year, and so far stayed with one host and enjoyed it! We prefer not to go to a private campground, for they r busy, noisy, and no privacy! This was the perfect way to use our camper as a halfway point in our weekend travel! The location was perfect, and we got to sightsee at the same time! Love the concept!"
Negative Reviews
"Terrible app. Harvest hosts are great, but the app is absolute GARBAGE! I could give it less than one star, then I would. It is constantly buggy, no matter how many times you say do not show this again, it shows it again. It is slow. It does not let you easily move around the map. It freezes every time EVERYTIME I use it.
"It has always been this way, and I cannot believe a company that has enough money to buy branded RVs and pay for as much marketing as they do CAN NOT seem to fix this app! It makes no sense."
Trustpilot Reviews
Harvest Host currently has 1692 reviews, resulting in a 4.8 rating through Trustpilot Reviews.
Positive Reviews
"I just towed my camper trailer from Maine to Minnesota and back, using Harvest Hosts at every opportunity along the way. What did I get for my HH membership fee? Beautiful, secluded, and quiet vineyards and golf courses in which to sleep, courteous and considerate hosts who were truly grateful that I had chosen to stay with them, and fabulous golf (and meals) at places I never would otherwise have patronized.
"Many hosts told me that if it were not for Harvest Host members staying with them during the pandemic years, their business would not have survived. I have nothing but good things to say about Harvest Hosts and I will continue to buy the membership for as long as I have a travel trailer."
Negative Reviews
"Harvest Host's new policy of request stay is a failure! I had a HH host tell me that we were a classic example of how this isn't working. I submitted three requests to the same host with no reply back. When I finally called them they said they had me booked however the notifications were never sent to us.
"When I spoke with them they said they had me down for the said dates and by this time we had already made other plans for elsewhere since I hadn't heard from them. Ultimately, we would have been marked as a no-show.
"I contacted HH about this problem and Greg called me and left a message to talk about this problem. I called Greg back and I have not heard from him since."
How Much Is A Harvest Host Membership?
Harvest Host has three membership plans.
Harvest Host Classic – $99/year
Unlimited overnight stays with no camping fees
100% money-back guarantee
737 Wineries
1223 Farms
891 Attractions,
454 Breweries and Distilleries
Harvest Hosts + Boondockers Welcome – $169/year
Harvest Host Classic – $99/year
Unlimited overnight stays with no camping fees
100% money-back guarantee
737 Wineries
1223 Farms
891 Attractions,
454 Breweries and Distilleries
3139 Community Hosts
All Access – $179/year
Harvest Host Classic – $99/year
Unlimited overnight stays with no camping fees
100% money-back guarantee
737 Wineries
1223 Farms
891 Attractions,
454 Breweries and Distilleries
3139 Community Hosts
417 Golf Courses
Harvest Host member benefits include:
Online Hosts directory that provides you with information about a host. This information includes their business, contact information, hours of operation, online presence, locations, photos, reviews, and amenities
A membership portal where you can book a stay with a host, manage your account, download your membership card, and upload photos and reviews of your stay with hosts
A fully interactive host map allows you to search hosts by locations, route, or state
Additional savings of $700 through certified external partners
They send monthly a newsletter, so you are also kept up to date
A success team at your disposal so you can make the most of your annual membership
Is Harvest Host Legit?
Yes, Harvest Host is a legitimate company with a BBB Rating of A+.
Harvest Host encourages its members to support the local business by hosting their 24-hour stay. For example, a member could buy wine at a winery, play a round of golf at a golf course, or purchase merchandise at an attraction's gift shop.
Hosts get paid by purchasing their goods and services by harvesting host members during their stay. A host is free to sign up with Harvest Host, so any money earned through purchases is income.
Harvest Host makes money through its annual membership program. It charges members annually for providing access to a membership portal, allowing them to manage their benefits. It is free to be a host, so Harvest Host receives no revenue in this way.
Is Harvest Host Worth The Money?
Harvest Host's annual memberships are equivalent to a four-night stay at most campgrounds. This means that if you camp a lot, the annual membership is more than worth it.
You can access the Harvest Host membership portal using a computer or mobile device. This makes it extremely easy to find a host, plan your trip, and manage your account no matter where you are at.
You can only stay with a host for a maximum of 24 hours. This means you must plan your trip from start to finish, as there is minimal room for unexpected events. You cannot show up at the host's location unannounced; most hosts require up to a 2-week reservation period.
If you do not own a self-contained RV, a Harvest Host membership may not be your best option. Some hosts offer hookup services, but this is not required and should not be expected.
If a host offers hookup services, it comes at an additional cost, which adds to your annual member cost.
You can use your Harvest Host membership year-round, but some hosts may be closed during the winter as it affects their operations. This includes seasonal businesses like vineyards and farms. You can best use a Harvest Host membership during the spring, summer, and fall seasons.
FAQs
If you have any lingering questions, they should be addressed below.
Does Harvest Host have hookups?
Most Harvest Host locations are businesses that do not offer hookup services like water, sewer, or electricity. If a host offers hookups, it will be on their information page. They may include additional costs with hosts that offer hookups.
Can you use a generator at Harvest Host?
You can use a generator can during your stay with a host if you follow local laws. Your host will provide you with a location so you will not disturb their clients or other folks staying with them.
How many Harvest Host members are there?
Harvest Host has over 200,000 members, mainly in the United States and Canada, that spend millions every year with their hosts.
How much does it cost to stay at a Harvest Host?
Once you sign up for one of Harvest Host's three annual plans, there are no extra costs to stay with a Host.
Harvest Host recommends that you buy goods or services for the host using a purchase listed in the Online Directory of Hosts. You can find this directory on the Member's Portal page. The entire goal of Harvest Host is to connect its members with local businesses to support them.
A host could also offer hook-ups for an additional cost, so you must understand everything about a host before staying with them.
Did Harvest Host buy Boondockers Welcome?
Boondockers Welcome is now part of the Harvest Host family. As of now, a membership through Boondockers Welcome is separate. This means its programs, fees, and benefits are separate from Harvest Host. You can join one or both platforms, depending on your needs.
Harvest Host is grandfathering in the membership costs of both platforms for the foreseeable future. Harvest Host aims to create an all-in-one membership program. This program will provide access to both platforms' benefits for a singular cost.
Is there a harvest host in Canada?
Harvest Host has locations spread throughout Canada. Its most popular province is British Columbia. This westernmost province is home to locations like Vancouver, Abbotsford, Duncan, Kelowna, Morton Lake, and Prince George.