Five Ways To Watch TV In An RV Without Cable
There are several different ways to watch TV in an RV without cable hookups. These include the use of satellite antennas, utilizing Internet (WiFi, MiFi, tethering), using over-the-air digital television antennas, or the use of streaming services (with additional hardware or via subscription on smart TVs).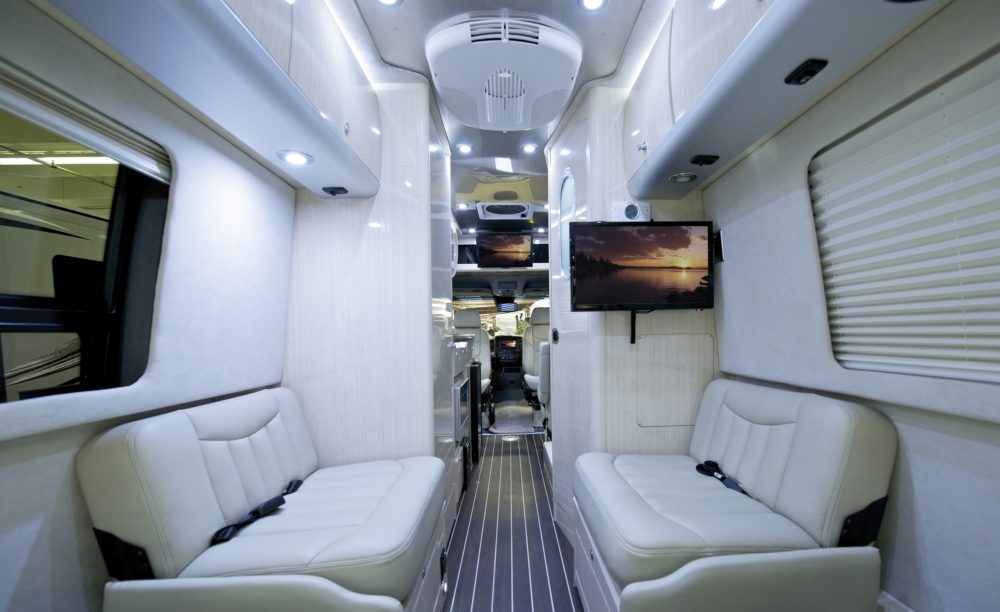 Below are step-by-step instructions for each, as well as pro's and con's of each method:
1. Using Mifi
Step 1: Install the battery and a SIM card into your MiFi device.
Step 2: Power on the MiFi device.
Step 3: Make sure the light is solid green on the indicator.
Step 4: Turn on your smartphone or laptop and go to the WiFi settings.
Step 5: Click on the WiFi network or SSID for your MiFi device.
Step 6: Enter your MiFi password. This should be on your SSID card or given by your MiFi provider.
Step 7: Connect. The device should display when you are successfully connected.
Troubleshooting steps:
Step 8: Make sure your MiFi has enough power by charging the battery before use.
Step 9: Make sure you place the MiFi device in a good, central, unobstructed location.
Step 10: Refresh the list of networks if your MiFi doesn't show up initially.
Step 11: Contact your provider if there are ongoing connection issues.
Step 12: Reset your MiFi device if your connection keeps dropping.
Pro's:
Streaming on the go/convenience
Con's:
Can be pricey (must purchase hotspot router plus monthly data fee)
Can have connection issues in remote areas
Speed depends on cellular connection access in the area
Battery life of unit can be short
The more devices are connected, the slower the connection speed
2. Through Tethering
Step 1: Set up your phone as a hotspot that other devices can connect to. Select "Personal Hotspot" in your iPhone Settings.
Step 2: Locate the Hotspot on the "available connections" on the device you are trying to get Internet on.
Step 3: Connect. You might need a password (you can create one or there is an auto-generated password on your phone)
Step 4: To extend the life of your phone battery when using it as a hotspot device, keep it plugged in. The Hotspot hosting feature really drains the battery.
You can tether by WiFi, Bluetooth or an USB cable.
Pro's:
Your data is often prepaid in your plan
No additional hardware purchase required
Connect up to 10 devices to your hotspot
Con's:
Might have to purchase additional data as you go and use up the hotspot data
Your phone night overheat easily and/or be continuously plugged in to ensure the battery drain does not disconnect your data
3. Through Streaming
Step 1: Set up your streaming device. If you have a smart TV, connect to Internet/WiFi and install the appropriate streaming app. Else, use an HDMI port to connect with ethernet cable.
Step 2: Subscribe to your favorite streaming service and pay the setup/monthly fee.
Step 3: Log in and enjoy the show.
Pro's:
TV without ads (watch what you want to watch)
Good binge-watching options
Con's:
Can use up a lot of data on your plan (depending on your connection)
Extra fees for each subscription
The best streaming services for RVers are:
Sling
Hulu
Netflix
Disney+
HBO Max
Paramount+
DirectTV Stream
Philo
Fubo TV
Starz
If you want to stream TV in your RV, you need to consider the following speed minimums:
5 Mbps – Recommended minimum.
3 Mbps – SD resolution, aka "DVD Quality"
5 Mbps – HD quality.
25 Mbps – Ultra HD / 4K quality.
You can stream Hulu/Netflix in your RV, as long as you have a MiFi/hotspot or any other source of Internet access with an active subscription to any of those TV streaming services.
4. Using Free Over-The-Air TV
Step 1: If you have an old antenna, connect it to the TV. Newer TVs and Smart TVs have those built-in.
Step 2: Using the TVs "scan for channels" feature, run the scan. The TV will pick up any available channels. The amount and quality of display will vary greatly on your location.
Step 3: Use the remote channel button to toggle between channels. If nothing shows, you might have to switch to a different input on the TV.
Pro's:
Free TV channels
No hardware or subscription required
Con's:
Public TV channels (ads, limited selection and quality of TV)
Poor reception in remote areas
5. Using A Satellite TV
Step 1: Connect TV to the satellite dish receiver (make sure you have a valid subscription). Some RV parks have a "no dish equipment setup rule" or offer their own service as part of an RV stay. While most RV's have an RV satellite setup on their RV roof, some have stand-alone units they place next to the RV (which is not accepted by every RV park, so make sure you OK with the RV park first).
Step 2: Select the correct input on your TV and enjoy your channels.
Pro's:
Can customize channels by adding different interest-led subscriptions
Con's:
Expensive
Unreliable
Requires external equipment setup/install (can be bulky and heavy)
Some additional info on satellite TV:
It can be challenging to get a good satellite signal in a forest, as tree obstruction can lead to a poor reception. The same holds for bad weather. Starlink technology resolves these issues, however. It sounds like it can be a game-changer for travelers in the most remote places; however, as a new technology, many are still priced out of its use (and wait-listed).
Your old RV antenna should work with digital TV, although sometimes you might need an amplifier or your list of channels might be more limited than when using a newer antenna.
You can use your TV antenna to work in your RV with an amplifier.
A satellite dish for an RV costs anywhere for $99-550, depending on one's choices.
Can You Really Save Watching TV Without A Cable?
This truly depends on your TV consumption and preferences. If you are someone who needs to binge-watch shows almost everyday or needs access to specialty channels (e.g. ESPN, HGTV, Hallmark, HBO etc.), a cable might be the better option.
If you watch TV occasionally on rainy days and enjoy the outdoors the rest of the time, then a cable is an added expense you truly can ditch.
FAQs
Will a Firestick work in an RV?
As long as you have Internet/WiFi connection, your Firestick should work just fine.
Will Roku work in an RV?
As long as you have Internet/WiFi connection and an active subscription, you should be fine.
Do you need a special TV for your RV?
There are RV TVs that operate on 12V, but they are much more expensive than regular TVs. You can install a regular TV in your RV, but keep in mind you will need to be either on shore-power, solar or generator to use the TV, as it will run off the 120V circuit.
Many RV TVs also only come in small sizes, up to 19-20 inches.
How much data does streaming use?
Data consumption is about 1 GB of data per hour when streamed on a smartphone, and up to 3 GB per hour for each stream of HD video on tablet or connected device. Investing in a dongle (a device that connects your phone to your TV in projector mode) can help you save data long-term.