If you are a fan of ice fishing but would like to discover a way of making your hobby safer and more comfortable why not consider an ice fishing shanty. These portable tent-style shelters provide a great way to protect yourself on your next ice fishing trip. They can also be used to protect your equipment, tip ups, and live bait when out on the lake.
So, what exactly is an ice shanty, and which are the best? We are going to explore the best on the market in this ice fishing shanty guide recommendations.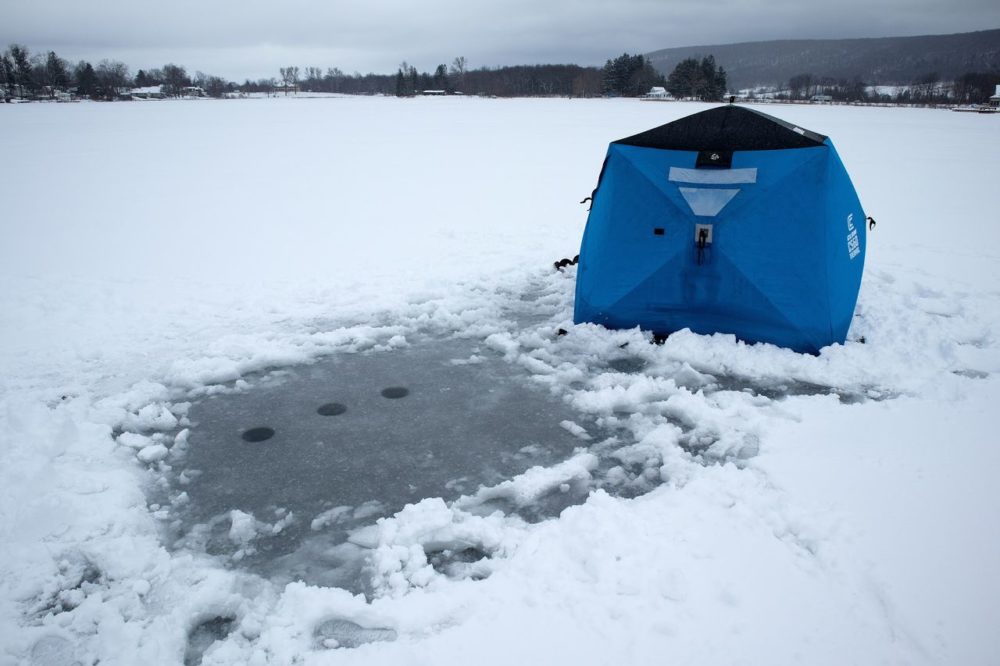 An ice fishing shanty is a portable ice shelter, varying in size, designed to keep you stay safe whilst you fish during the winter. They can be placed on frozen lakes and over your fishing holes and are designed to keep you warm and insulated against the cold during ice fishing season.
Thanks to all of these benefits, ice fishing shelters make catching lake trout, northern pike, walleye, perch, and landlocked salmon during the cold winter months a whole lot easier.
How Do Ice Shanties Work?
Ice shanty is a catch-all term for various ice shelters used by fishermen. Some shanties can be as simple as some tarp tightened over a 2×4 frame, and can be constructed and taken down as easily as a tent. This type of sea shanty tends to be easily portable, and may even come with its own sled.
Others can be more complicated, and resemble a small cabin build around an ice hole. The latter is obviously more difficult to build but provides greater comfort and safety. Cabin-style sea shanties are typically kept up the whole year round, and only need to be constructed once.
Ideas for Ice Fishing Shelter
This is a 35 square foot insulated shelter that can comfortably house 3 people. It has a quilted thermal inner shell and a thermal layering system to block the wind. The shell is triple-layered and ultra-durable and capable of keeping condensation to a minimum.
This shelter is portable with a flip-over design and aluminum poles for easy construction. There is even a fold-down bench for you all to sit on when you are waiting to catch fish in the lake. It fits perfectly into the molded sled for easy transportation.
Price
Price from around $1,059.99
Features
Thermal layering system
Fold-down bench
Flip over design
Molded sled
Pros:
Easy to put up
Easy to transport
Great insulation
Fold-down bench
This is a large pop-up shelter that can accommodate up to 8 people. It stands 6.7ft tall so there is plenty of headroom when standing and a large area for equipment and food storage. The 300D Oxford fabric is super durable and cold, rain, and wind-resistant. This material is also waterproof.
Built with solid fiberglass poles, it comes folded in a useful carry bag. Like a pop-up tent, it is very easy to construct and can be erected within 60 seconds. This ergonomic design has two-layered windows, two separate entrances, and web handles on the outside should you need to pick it up and move it on the lake.
Price
Price from around $172.99.
Features
Easy transportation carry bag
Waterproof and durable material
Windows and two entrances
Pros:
Great insulation
Large tent for up to 8 people
Super fast to put up
Easy to transport
Cons:
Can be tricky to fold back into the carry bag.
This ice shelter comes with a removable floor and will comfortably accommodate 4 to 6 people. It is super quick to put up on the lake and comes with heavy-duty poles to make it nice and sturdy.
It boasts industry-leading 900 denier thermal material with insulation equating to 90 grams per square meter. This material comes with thermal trap technology which means that minimal heat can escape. This product also comes with a removable thermal floor.
Price
Starts from $899
Features
Thermal trap technology
Removable floor
Carry bag
Ice anchor straps for windy conditions
Pros:
Thermal technology for heat retention
Removable floor
Easy to put up and takedown
Cons:
You have to buy the removable floor separately.
This is a strong and durable trailer that can be towed to any location. Made with aluminum extrusions, the Yetti Angler Edition comes with comfortable seating, a fold-down bunk for sleeping, a kitchen area to prepare food, and plenty of storage for your rods and bait.
It comfortably sleeps 4 to 6 people and is fully insulated. It also boasts plug points to charge your phone, a roof-mounted TV antenna, and a thermostat to regulate the temperature. You can also purchase add-on packages including porch-style lights or solar panels on the roof.
Price
Prices start from around $20,000
Features
Insulation and heating
Fold-down bunk beds
Kitchen
Customizable extras
Pros:
Easy to tow
Designed for comfort
Optional extras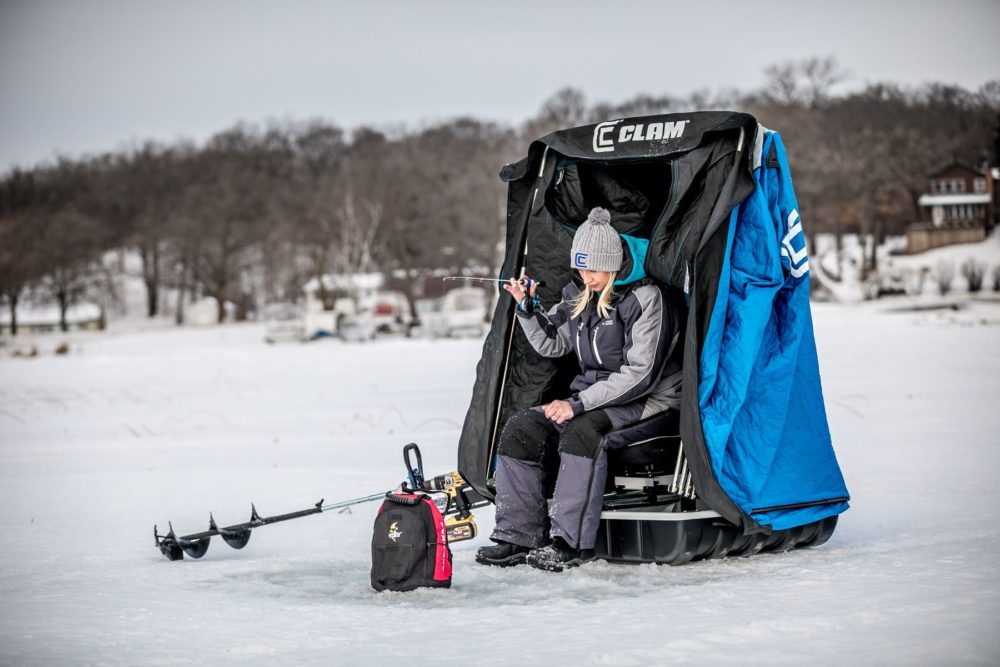 This one-person ice shelter has a fully thermal outer material and is made of two layers of 300 denier fabric, which provides great insulation. It comes with a seat to perch on that you can move to suit and has space for your fishing gear underneath the seat. It is a simple design and perfect for going out to ice fish on the lake by yourself.
Price
Prices start from around $529.99
Features
Thermal outer layer
Adjustable seat
Storage space
Pros:
Perfect for one person
Easy to put up
Fully insulated
Cons:
Quite pricey for a one-person shelter
This large ice shelter comfortably accommodates 6 to 8 people and is fully insulated. It has a 600 denier fabric outer and a quilted thermal inner shell. The triple-layer shell protects against the wind and cold and blocks some of the harmful UV rays that can bounce off the lake on a sunny day.
The reinforced cobalt poles make it a sturdy shelter. Inside, there is plenty of room for storage including pockets and rod holders. It is simple to put up and take down and packs away in an oversized carry bag for easy transportation.
Price
Prices start from around $744.99
Features
Insulated with quilted thermal technology
Reinforced cobalt poles
Storage
Pros:
Easy to put up and takedown
Fully insulated
Storage options
Carry bag
Cons:
Can be tricky to fold into the carry bag
This heavy-duty reinforced shelter covers 61 square feet comfortably accomodating 3 to 4 people. It is fully insulated with a thick quilt. It is fairly simple to put up and fold down easily into a duffle bag for transportation.
You can anchor this shelter down on a windy day using the cam strap tie-downs. There are two doors and six removable windows. It also includes storage space for all your fishing gear.
Price
Prices start from around $399
Features
Fully insulated
Hard-wearing and durable against the elements
Storage space
Pros:
Fully insulated
Durable and hard-wearing design
Storage space
Easy to put up and takedown
What To Consider When Choosing An Ice Fishing Shanty
Price
Prices of fishing shanties vary greatly depending on the size and material they are made from. You need to figure out what your budget is and how you want to use your shelter on the lake, then begin searching for one that fits your needs and how much you are willing to spend.
Ease Of Assembly
When you are heading out to catch fish and you have found the right spot, you want to be able to erect your shelter with ease. Many pop-up versions can be constructed within 60 seconds, however, some cabin-styled shanties will obviously be more difficult to construct. The bonus of the latter is that construction is just a one-time thing.
Insulation
Insulation is vital and probably the most important element of an ice shelter. You need to find a shelter that keeps you protected from the winter weather and reduces the need for extra heaters.
Brand
Always buy from a trusted shanty brand – the shelters listed in this article each come from prominent brands.
Durability
You need your shelter to be durable and able to withstand the elements. It must come made using appropriate material to withstand all kinds of weather.
How Do You Set Up An Ice Fishing Shanty?
First, you need to make sure you have found a solid area of ice to place it safely on (six inches thick as the general rule). Your chosen location, of course, also needs to be appropriate for fishing – make sure you can cut an ice fishing hole in the center of your shanty, and you have enough room for tip ups.
What You Need
First, you'll need an ice fishing shanty, including all flooring, poles, and other necessary parts. You'll also need a pick axe to create the hole, glue and nails (if you've got a cabin-styled shanty), and plastic sheeting for insulation.
Step 1 – Set up the base
Unpack the tent gear and identify the base of the tent. Organise where the tent will sit above the lake, and match up the hatch with the fishing hole.
Step 2 – Build the walls and roof
Once the base is set, you can build the walls and roof around it. The method of building the walls will depend on the type of shanty you've bought.
Step 3 – Insulate
Use plastic sheeting to thicken the walls of your shanty.
Step 4 – Fit the heating source
Choose the position of the heating source wisely – position it in a place where optimum heat can be produced.
When Do Ice Fishing Shacks Have To Be Off?
Different states will have different rules as to when your ice shanty needs to be removed. It is usually a date in either late February or early March but you will need to check with your local state.
Where To Buy Ice Fishing Shanty Kits
You can buy your winter ice fishing shanty from specialist retailers or visit online stores such as Amazon. Check in with your local tackle shops and see if they have any in stock.