There are advantages to a buying preowned RV, especially if the original owner has taken care of the vehicle. Often, new RVs have minor problems that require time and trips to the dealer to fix. A well-maintained preowned RV should have these "routine" fixes resolved. So, you may, in fact be getting a "better than show-room condition" RV.
The other variable for a preowned RV is price. Dealers for new campers work from the manufacturer's suggested retail price, and these prices tend to be consistent across the country. Prices for used RVs are more variable depending on condition, dealer stock, reason for sale, as well as the make and model of the camper.
What are the Best States in Which to Buy a Used RV?
For any given price for an RV, the single most influential variable in in total cost will be the state sales tax. There are five states that have no sales tax:
Alaska
Delaware
Montana
New Hampshire
Oregon
Of these, only two states, Alaska, and Montana, will allow you to purchase and register the RV, regardless of your state of residence, and that do not have a personal property tax. It is not practical to travel to Alaska simply to buy a tax-free RV.
Of the "lower 48 states," Montana is the only state where you can buy an RV with no state, city, or local sales tax. It is also the only state in which you may register a vehicle and not live in that state. Nor does Montana care if you take it to your home in any other state.
Therefore, Montana is least expensive state to buy, own, and live with regard to not having to pay sales tax on the purchase of your camper.
If, however, you do not live in Montana, most states require that you register your RV in your state of residence. In most cases, RVs are registered in the same manner as your personal autos, although the fees may differ. Many states charge a registration fee based on the length, weight, value, or type of fuel used.
There are other states that have no state sales tax, but these states collect personal property taxes on items such as RVs.
The bottom line: Montana is the least expensive state in which to buy an RV simply because there is no property tax and no sales tax on RV sales.
How much does it cost to Buy a Used RV?
There are many variables in the RV market. Campers and RVs range from pop-up tent campers to luxurious motor homes. Prices range from one to two thousand dollars for a small tent camper to $100,000 to $200,000 or even more for a larger luxury motorhome in good condition. This is another way of saying that there is a camper priced for almost any budget.
Typical Prices for Popular Types of Campers
Good used pop-up tent campers can often be found for several thousand dollars, depending on age, size, and condition. Campers under 20 feet long, (examples: 2010 Kz Sportsmen Classic 14RK, 2013 Jayco Feather Ultra Lite X17Z, or a 2015 Forest River Cruise Lite) in serviceable condition will be priced from $10,000 to $12,000.
Larger campers, more than 20 feet long, (examples: 2010 Dutchmen 25CGS and the 2012 Keystone Outback) typically range in price from $14,000 to $16,000.
Popular, brand-name fifth-wheel campers (examples: Keystone, Forest River) that are eight to ten years old, will range in price from $14,000 to $20,000.
Motorhomes are a whole other class of campers, and models eight-to-ten years old—can range in price from $35,000 to $200,000 depending on size, mileage, condition, and interior amenities.
About the Price
Once you have found an RV that meets your requirements, go back to the computer and search for similar models and their prices to determine if the seller is asking a reasonable price. Do not be afraid to negotiate the final price. Private owners may be more likely to negotiate lower prices than dealers—or not!
Finding the Right RV
Finding the right RV for your planned camping and travel activities and within your price range will require some homework. Older campers—more than ten years old—can be problematic, i.e., carefully look for water leaks and water damage from previous leaks. This includes roof leaks around vents, leaks around windows and door seals, floors weakened by water damage, and areas around baths, showers, and under sinks. Have the external water pressure turned on to check the operations of faucets, drains, and all plumbing connections. It may be worthwhile to hire a service technician familiar with the camper inspect it for you.
Check the electrical systems and, if possible, determine ages of smoke and carbon-monoxide detectors.
Check the underside of the trailer looking for any signs of damage to the flooring and insulation under the camper.
Check the operation of all interior and exterior electrical lighting, as well as the condition of the hitch, tongue jack, and wiring that connects to the tow vehicle.
Throughout this inspection, look for any signs of repairs.
It may also be worthwhile to complete a computer search for reviews of the model you are considering. One model we looked at had a reputation for water leaks around the wheel wells that caused moisture to weaken the floor.
Which States have the most RVs for sale?
More RVs are sold in Texas and California each year than other states. RV camping, however, is popular across the country and you should have no trouble finding a suitable camper closer to home.
Registration Fees
As part of your research, contact your local motor vehicles department and ask about the cost of registration of an RV. In some states, the annual license plate, or tag fee, is inexpensive.
Sales Tax
Any vehicle purchased from a licensed dealer is going to include applicable sales taxes. The following states do NOT collect sales tax on campers and RVs:
Alaska
Delaware
Montana
New Hampshire
Oregon
Other states will collect either a sales tax or a Vehicle License Tax (VLT) when the vehicle is registered in that state. Sales tax is not the only issue. Some states collect personal property taxes based on the value of vehicles and RVs.
The Best State
Montana is the only state with no sales tax and no property tax, and is therefore, the best state in which to purchase an RV.
Furthermore, many states—including Florida and Washington—will impose both a sales tax and a personal property tax on the value of the RV. An online search or consulting a local RV dealer will help determine the tax situation in your state. The following are examples of state sales tax rates and personal property tax rates.
| | | |
| --- | --- | --- |
| State | Sales Tax | Personal Property tax |
| Montana | 0% | 0% |
| South Dakota | 4% | 0% |
| Wyoming | 4-8% | 0% |
| Texas | 6.25-8.25% | 0% |
| Nevada | 6.5-8.75% | 0% |
| Florida | 6% | Yes |
| Washington | 6.5% | Yes |
Insurance
There are two good reasons to have insurance on your RV.
First any self-propelled camper will be required to have liability insurance like other powered vehicles.
As with other vehicles, owners typically also have insurance to cover damage due to accidents and other causes. If the RV is financed, the finance company will require insurance sufficient to cover the value of the loan.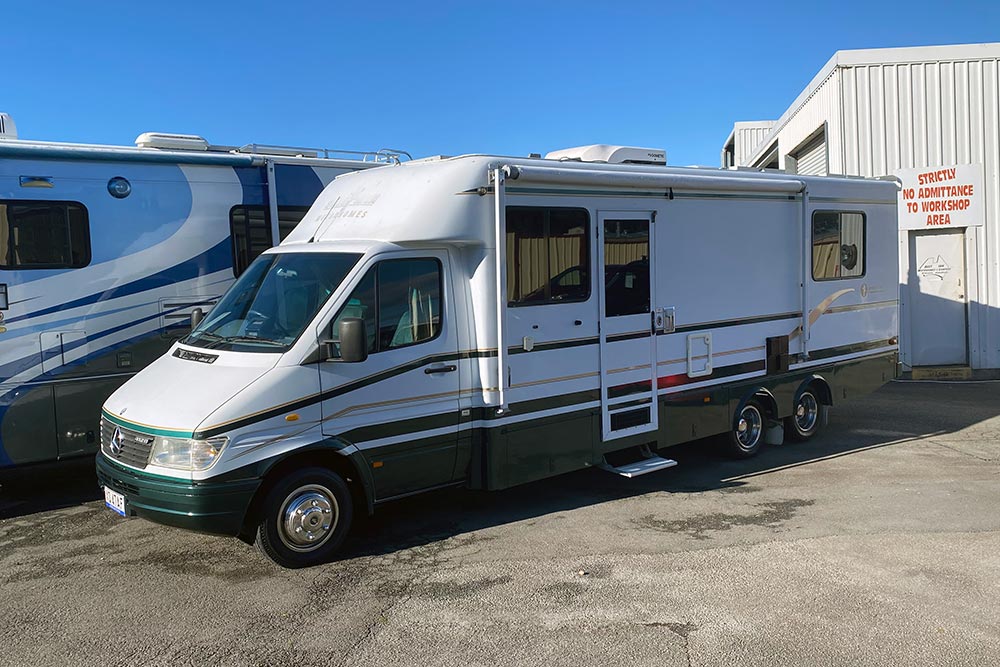 How to Avoid RV Purchase and Ownership Fees
If you are confident that you can inspect a used camper to determine its quality, you can save money through:
A private purchase (no dealer markup and no sales tax)
Purchase in a state with a low or no sales tax, e.g., Montana.
Older campers in excellent condition may be less expensive.
RV Fees and Taxes
As we have already determined, Montana is the best place to buy, own, and live with regard to not having to pay sales tax on the purchase of an RV.
The fact is, if you purchase your camper in Montana or other state with no sales tax and take it home and register it in your home state, your home state may send you a sales (or personal property) tax bill as part of the registration fee.
But it is true that you can purchase an RV in Montana, and a few other states, and not have to pay sales tax. However, this works best if you also happen to live in—or plan to establish a residence in—one of those states.
Pros and Cons of Buying a Used RV
Buying a used RV should allow you to get the make and model you want for significantly less than the price of a new unit or allow you to purchase a larger or more well-equipped RV for less than the price of a new, smaller unit.
Age and/or mileage will directly influence the price. There are guides online that will help you determine what a good used RV should be worth. With a careful inspection, you can have the same positive experience with a good used RV as with a new RV.
Buying a new unit will provide the satisfaction of newness, confidence that everything works properly (or is protected by a warranty), but is likely to cost significantly more than a good used RV.
How to Find a Good Used RV
The best approach is to visit several RV dealers and check out different RVs that may be of interest to you. This is especially valuable if you have never owned an RV. To see a greater variety of RV models, scan online RV listing sites. You will also want to know what "standard equipment" is and what are options.
Include classified advertisements in local papers and print catalogs in your search. You will soon have an idea of the price range for the camper you want.
There are many online listings of RVs for sale. These will allow you to search listings for a specific size, price, type, age, and/or even brand of camper. The following sites have extensive, nationwide listings of RVs of all types and sizes:
Is Buying a Used RV Really Worth it?
If you follow the suggestions in this article and carefully inspect each RV that interests you, you are almost assured that your purchase and the use of you camper will be just what you intended. Nationwide, there are thousands of available good used campers of all types, from pop-up tent campers to high-end motor homes, available at affordable prices.
Conclusion
Buying a used camper is sometimes described as buying someone else's problems. If, however, you take your time, follow these suggestions, and have the used camper thoroughly inspected—especially by a knowledgeable technician—you should be ready to confidently "hit the road" at a cost significantly less than buying a new RV—wherever you buy it!
FAQ
What is the most reliable RV to buy?
Buying a used camper always has some risks but doing some research and giving the camper you are considering a thorough inspection are key, regardless of the manufacturer. That said, several manufacturers that have established reputations for consistently quality campers. Coachman has a long-standing image of quality campers, and they tend to hold their value. Forest River is another well-regarded line of campers with a slightly lower price-point. Winnebago and Airstream are other brands with reputations for quality.
When is the best time to buy a used RV?
One of the best times to pick up a good RV for a lower-than-market price is in the fall or at the end of the camping season wherever you live. Check local classified advertisers in your area—you are likely to see campers listed. Midwinter may be a good time to shop local dealers for preowned campers. Sales are typically slow during the winter and dealers may be motivated to make a sale to your advantage.
What State is the cheapest to buy a used RV?
If you're a buying from a dealer, the same principles apply to buying new. Sales tax will be the biggest factor when buying from a dealer, so buying in a state with no or low sales tax will lower the purchase cost including Alaska, Delaware, Montana, New Hampshire, and Oregon. There may be ways to minimize or avoid sales tax on a private sale, depending on the age of the camper.
What states should you avoid when buying a used camper?
Again, the collection of sales tax is the primary issue when buying a camper. California, Nebraska, Wyoming, Minnesota, Massachusetts, and Iowa will collect sales tax on any camper, new or used, purchased in another state, within a period of time, before you can register the RV. The phrase "within in a period of time" suggests that if you own a camper in another state for a defined period of time, you can transfer it to one of these states without paying a sales tax. It will be necessary to determine what that period of time is, and where the camper will be stored for that period of time.