Perhaps no aspect of RV camping has more options and a greater range of technologies—from the very "hi tech" to the very basic—than devices to level your camper. There are high-end motor homes with remotely controlled jacks that not only extend the jacks but automatically adjust them to ensure that the unit is level. Travel trailers typically rely on a more basic means of leveling, including the tongue jack, and blocks under the wheels to lift one side to make the unit level.
In this review, we will look at the range of leveling systems, their applications, and their effectiveness. We also have to differentiate between leveling systems and stabilizing devices.
For trailer owners, fore-aft leveling is a straight-forward process. Simply crank (or power) the tongue jack up or down until the unit is level front to back. The challenge is leveling the unit side-to-side. For travel trailers this is most easily done by using one or more boards under the low wheel and a bubble level. Place the boards where you want the wheel(s) to be, then position (pull or push) the camper (using the tow vehicle) up on the boards. Using a combination of two-inch and one-inch thick boards usually establishes a suitably level attitude. Then someone got the clever idea for leveling blocks.
High-end leveling systems for motorhomes or 5th wheel campers are motor-driven, and each leveling jack can lift and support some rated weight, for example up to 6,000 pounds. Many motorhomes come equipped with installed leveling systems.
For us more modest campers out there, leveling a camper once was a matter of using one or more boards and a bubble level. That is until someone got the clever idea to make leveling blocks.
In our review, we look at both high-end systems with controllers suitable for larger campers and motorhomes, as well as basic systems for more modest campers. Note, leveling systems are NOT the same as stabilizers. Stabilizers are not designed to support the weight of actually lifting or raising the camper, but rather hold it in the position in which it is finally parked. Please do not confuse stabilizer systems with leveling systems.
Self-Installation of High-End Remote Systems Versus Professional Installation
Aftermarket remote leveling systems must be securely attached to the camper frame. In some cases, the frame may be pre-drilled for installation hardware, in others probably not. If you are handy working with metal—mostly drilling holes in the right places and right pattern, self-installation may be practical. Just keep in mind you will be doing this while lying on your back, looking up and pushing on a drill at the right location and angle and such. Bolt-hole patterns must be near perfect for secure attachment. Other systems require welding brackets to the camper frame. In either case, it may be practical to have these advanced systems professionally installed.
Level Indicators
We are talking about leveling your camper—but how can you tell if it is level.
There are several basic, accurate, and economic ways to determine if the camper is level. For many years, we used a small—six inches long—carpenter's level. Just place the level on the floor of the camper where it can be seen through the open door. It works perfectly and you can check both side-to-side and fore-and aft level.
Screw Attached Bubble level (Camping World)
re are several levels that you can attach to exterior of the camper in a convenient location to determine when the unit is level. Perhaps the most precise is the level available from Camping World. Available in sets of two, attach one on the side and one on the front or rear of the camper to indicate that the unit is level both fore-and-aft and side-to-side. (Make sure the camper is level before attaching the levels!)
Self-Adhesive Bubble Levels
Two examples are shown, the larger, screw-attached bubble level and smaller adhesive bubble levels. The larger screw-attached levels cost about $10 while the adhesive levels are less than $5.00 where camper supplies are sold. Either type is effective in leveling your camper.
Seven Effective, Even Innovative, Camper Leveling Systems
1. Lippert Components 358590 Ground Control 3.0 –
Editor's Pick
Features:
The installed system weighs 190 lb.
Set includes: Touch Screen controller, Leveling Kit, LCD Charger
Complete Price 4-point system: $2,655
Motorhome coaches and large 5th Wheel campers can be leveled manually with stacking blocks, but that process is often time-consuming, and it may take several tries to precisely level a larger vehicle. A permanently installed auto-leveling system completes the process effortlessly and quickly. The Lippert system uses technology to level your unit quickly, accurately, precisely, and effortlessly.
Lifting components are manufactured with heavy gauge, long lasting, powder coated steel jacks. This electrically operated system is designed for day-to-day operation and efficiency.
The installation kit includes everything needed for a complete system, including all mounting and installation hardware, and is described as an "easy, bolt-on installation with required welding.
This is a 4-point system that levels each corner of the vehicle and is operated by a rechargeable touch screen remote controller, enabling complete set-up and leveling from the comfort of your couch.
Lippert consistently gets positive reviews from users, both for the equipment and customer service. In researching the Lippert system, I found that almost every part of the above described system is available individually, meaning in the unlikely event one part of the system fails, a replacement for that part is readily available.
Lippert also offers a 6-point automatic leveling system for longer 5th wheel RVs ($3,370). Its installation and function is essentially the same as the 4-point system. Check with your camper manufacturer to determine if four-point or six-point is preferred.
Sale
Lippert Ground Control 3.0 4-Point Automatic 5th Wheel RV Leveling System with 15,500-lb. Total Lift Capacity, Wireless Remote, Hall Effect Technology, Auto-Hitch Memory - 358590
TIME-SAVING — A push of a button is all it takes to level and stabilize your 5th wheel RV in minutes, so you can have more time enjoying your camping experience
INNOVATIVE TECHNOLOGY — Engineered with Hall Effect technology that delivers more accurate, precise leveling for your RV
DURABLE CONSTRUCTION — Built with heavy gauge steel, large, rounded rear jacks and a powder-coat finish — when it comes to durability, this electric leveling system was made to withstand the elements and perform with efficiency, day after day
2. Equalizer Systems 8516UPS Class A Smart-Level 4-Point Leveling System
Source: RVupgrades.com
Features:
The kit includes (2) 16″ stroke front jacks, (2) 16″ stroke rear jacks, complete pump with manual override, Smart-Level controls, all harnesses, (2) 10′ hoses, (2) 12′ hoses, (2) 16′ hoses and (2) 20′ hoses. Note: Premeasure your installation for hydraulic hose lengths prior to ordering.
The kit includes weld-on brackets to mount the legs to the chassis and a pump mount bracket to mount the hydraulic pump.
Professional installation is recommended unless you are proficient in welding.
Complete Kit Price: $3,150 (Installation may include additional costs.)
The Equalizer Systems 8516UPS is a smart leveling system designed for any Class A motorhome. The system enables you to level your coach with a smart phone, using Bluetooth capability. The complete leveling process takes about two minutes. Using patented technology, the sequential one-leg-at-a-time leveling process operates each leg independently until the entire unit is level. It also adjusts the final height as low to the ground as possible.
The system fits any Class A motorhome, using four 16-in. jacks, each capable of supporting 12,0000 lb.
This is a hydraulic system. One pump operates all legs, and is controlled by a "One-Touch, push-button Smart-Level" function. The controller includes audio and visual indications when the system is operating and when the unit is level. There is also a manual override.
For those of us who have more modest campers, leveling "systems" are more basic, although there are some very inventive, functional designs. The following devices are designed to level a camper side-to-side. Fore-aft leveling will typically be accomplished with the tongue jack and stabilized by adjustable stabilizers under the back of the camper. All these systems require that you determine where you want the camper axel(s), place the leveling devices at that spot, then pull or back the camper up onto the leveling blocks. After several trips, you will quickly learn how many blocks must be stacked to achieve a level attitude.
Note: Since the camper must be maneuvered to place it on the leveling blocks, ramps, etc., you must do the side-to-side leveling first, then then level the camper fore-to-aft with the tongue jack and deploy the stabilizers.
3. Lynx Levelers 10-Pack RV Leveling Blocks with Nylon Storage Case:
Source: Walmart
Features:
Ten leveling blocks, for use under wheels and under jacks
Convenient storage in a durable nylon bag
Replace wood blocks
Plastic
Lynx offers other sets of other numbers of stacking blocks
10 year limited warranty
$28.99 per 10-block set
One of our favorites, or at least most frequently used are the Lynx Levelers. For many years, I simply carried several boards of different lengths and widths, that I could stack as needed to level the camper's axel.
This set replaces those boards with ten interlocking square blocks. You can arrange them so that they form a ramp that makes it easy to push pull the camper up onto the top of the leveling block.
After years of camping, even in primitive, not-even-close-to-level sites, we have found these leveling blocks very practical. And they take up much less space than lengths of wood. The carry-bag with ten lightweight plastic blocks fits neatly in the corner of the street-side locker. We use blocks stacked as necessary to level the camper and put unused blocks under the stabilizer jacks.
Note that stacking-blocks raise the wheel in one-inch increments. This means that the camper may not be precisely level—it may be off as much as half an inch from side-to-side, but, unless your have marbles on a table, you are unlikely to notice one-half inch (or less) out of level.
Leveling blocks are safe and easy to use whether in a primitive camping site or in the driveway. You can also place a chock (sold separately) on top of the stack to prevent any rolling.
4. Camco 44514 Yellow Fasten RV Leveling Blocks with T-Handle
Source: Walmart
Features:
Ten leveling blocks
Convenient carry handle and durable nylon storage bag
Replaces wood blocks
Plastic
10 year limited warranty
$29.88 for a ten-block set
This is another brand of stackable blocks that really simplify leveling for single or dual axel trailers.
The Camco Fasten Leveling Blocks allow you to stack the interlocking blocks to the needed height for safe and easy leveling. Each block adds an inch to stack height. These blocks can be used with any size campers, even motorhomes, to achieve acceptable side-to-side leveling.
This set includes a convenient carrying handle as well a storage bag. Blocks are 8.5 in. square. The manufacturer recommends that the stack height should not exceed 4.5 in., but that is usually adequate for all but the most extreme situations.
5. Andersen Hitches Camper Leveler for "Frustration-Free" Drive-On Leveling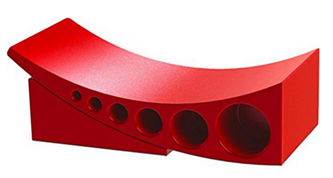 Source: Walmart
Features:
Dimensions: 15.6 ln. x 6.2 in. x 5.1 in.
Weight: 5.46 pounds
A "set" consists of the two pieces shown
$39.99 per set
Level your camper, RV, or trailer in 5 minutes with this clever leveler! We confess, we were puzzled when we first saw these—were not sure how use them. But it is really quite simple.
First place the large block on the ground where you want the tire (without the small supporting block) and drive the camper on/up the large block until the camper is level—up to 4-in. lift. Hold the camper in that position and push the smaller triangle under the larger block. The tire is lifted and chocked
This clearly provides a secure, chocked camper. It will lift the camper as much as 4 inches, which should level the camper under most conditions. The design of this leveler allows you to get your unit precisely level whereas the stacking blocks raise a camper in one-inch increments.
The manufacturer claims this is the quickest way to level your camper—on the first try, and from what we have seen, we believe them.
This innovative leveler raises the tire in continuously increasing values from ½ in. up to 4 in.
The "drive-on leveler" is rated for campers weighing up to 30,000 lb., with tires up to 32 in. in diameter.
Another advantage is reduced storage space needed—a set takes even less space than a stack of square leveling blocks. Dual axel trailers should use a leveler under each tire on the low side.
6. Hopkins Leveling Kit for Trailers and RVs
Source: etrailer.com
Features:
Maximum leveling height: 4-1/2″
Traction mat dimensions: 24-1/4″ long x 6-1/2″ wide
3-Year warranty
$45.00 (not including wood)
Okay, we mentioned using boards earlier as if it was a bad thing. Well, here is an effective way to leverage boards. The Hopkins leveling kit includes the items that are green or black in the illustrations. You supply the wood—2 by 8 in. lumber cut to specific lengths to create a ramp up to the top level. The black, non-skid mat will help hold the stack in positions as you back up onto the blocks. Because of the use of thick lumber—close to two inches, the increment in height from one step to the next is greater than that of the stacking blocks that are only 1 in.
We can see that these are heavy-duty leveler devices, and we can see them on longer lengths of wood so that one set of blocks could be used for dual wheels. Of course, there is more work (assembling the levelers, and more cost (wood) than other systems. This system of highly visible bright green levelers is equally useful for campers, 5th wheels, and motorhomes.
The non-skid traction mat can also be wrapped around the stack to make a handle for carrying the assembled set. The kit includes 4 ramps, 2 docks, 1 wheel chock, and 1 traction mat as well as screws to attach ramps and docks to 2 x 8 in. wood. The custom assembly will allow you to use lengths of wood that precisely fit your camper.
While this is a practical design for lifting a camper of any size and weight, it may not fit in my camper's street-side storage locker—they would have to ride the tow vehicle. They should also be noticeably heavier than other chocking systems.
7. Zone Tech Automotive Leveling Ramps
Features:
Overall size: 8 in. wide, 22 in. long, 5 in. maximum height.
Set of two
$49.00 for a set of two ramps
These easy-to-use leveling ramps are a quick and simple solution to leveling a camper.
Zone Tech describes these as lightweight but durable, capable of supporting 11,000 per axle. The surface provides an anti-slip surface, and the ramps have a solid base to prevent them from sinking into sand or soft ground.
The graduated ramp provides three different levels up to 5 in. high. Tough polypropylene construction ensures strength and durability.
Of the choices here, this will have to qualify as among the easiest to use—the camper can be pulled or backed up onto these ramps.
Sale
Summary
This is a collection of several different types of leveling systems that are available, from high-end systems for larger motorhomes and 5th wheel campers down to the smallest pop-up camper. Regardless of size, to be comfortable, your camper needs to be reasonably level. We have described the most common types of leveling devices used in a broad range of campers, from the largest to the smallest. Also note that there are additional brands that are similar to those described here, but our selection will let you know what to look for.
Last update on 2023-12-06 / Affiliate links / Images from Amazon Product Advertising API