Top 5 reasons why it's a fun place to visit:
Relax at the numerous beaches
Surf the waves
Visit the Santa Barbara Mission
Try out fish tacos at any of the many eateries
Rent a bike and cruise down the boardwalk
List of top 10 RV Parks in the Santa Barbara, CA area:
(Disclaimer: information is a compilation of researched info as published online and does not necessarily reflect the experience or opinion of the author)
The RV parks have been ranked and are listed from "Most Recommended" to "Least Recommended" based on reviews, feedback, amenities, and preference. Cost was not the primary ranking driver. Please note that weekend RV families with children might have different needs than full-time RV "snowbirds".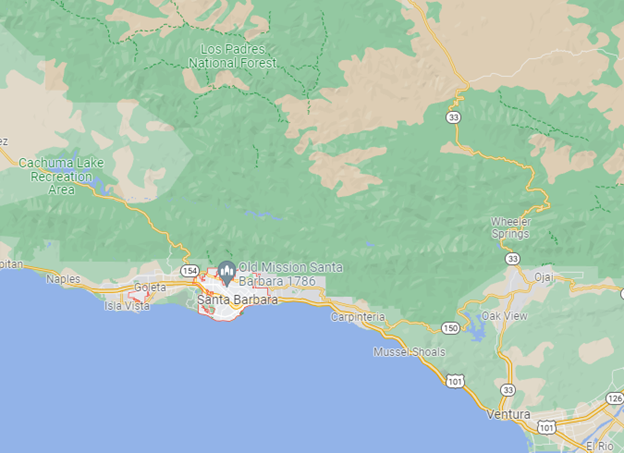 1. Ocean Mesa RV Resort
Close to the beach, this park is a go-to destination for many locals (weekenders) as well as for visitors who want to explore the Santa Barbara area. It is close to many shops and restaurants, as well as other tourist attractions, such as the Santa Barbara Mission. It is about 15 miles from Santa Barbara.
What makes this park unique?
The park is well laid out with many pull-through sites, plenty of trees to provide shade during the summer and nice level lots with all the necessary amenities to stay for a while. Visit the Santa Barbara ZOO or the historic Mission!
2. Lodge 613 Campground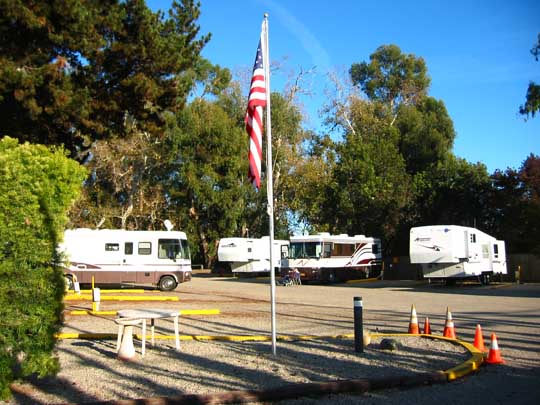 Despite this being a member-only park, it is a highly desired location and booked out well in advance because of its affordable prices.
What makes this park unique?
This small park is members-only. It has a bar on site, which opens around 2 PM and serves dinner, such as swordfish and prime rib for a nominal fee. Maximum stay is 10 days.
Note: Reservations are accepted up to one year in advance. Because this is a very small park, this is highly encouraged. Ask about laundry and gym access (extra charge).
3. Earl Warren Show Grounds
As a community-supported venue downtown Sana Barbara, the showgrounds are a popular place to stay at when traveling with the RV through that area. While it is mostly a huge cement parking lot with hook-ups, one pays for location and access to many different things in the area. The beach is only 2 miles away.
What makes this park unique?
This park is just a short drive from downtown Santa Barbara and from the beach. It's located close to several restaurants and, of course, within walking distance to any attractions at the showgrounds.
Note: spots are assigned on a first-come, first-served basis. All plug-ins etc. are located at the end of site, bring extensions, if needed.
4. Santa Barbara Sunrise RV Park
Clean and manicured, this park prides itself in appearance and customer service. All sites are gravel, with some pull-throughs. The Metro Trolley is about a 20-min walk from the park.
What makes this park unique?
The location of this park is super convenient: one can bike to downtown Santa Barbara (less than 3 miles away). The park is family-owned and strives for excellent customer service.
5. Carpinteria State Park
According to their Website, "Carpinteria State Beach has four campground loops: Anacapa, Santa Cruz, Santa Rosa, and San Miguel named after the Channel Islands. Campsites are open year-round, and reservations can be made through ReserveCalifornia.com or by calling 1-800-444-7275. Reservations for Carpinteria State Beach can be made day-of or in advance up to six months to the day of the arrival date." (Source: Carpinteria Camping). The park is divided into four camping areas: Anacapa (group sites only), Santa Cruz (group sites and 12 premium beachside spots), Santa Rosa (22 FHU sites with 30 Amp and 21-30 ft in length max), and San Miguel (27 no hookup sites and 26 partial hookup sites (water and electric only, 18-30 ft length max).
What makes this park unique?
The park offers State Park-sponsored activities to raise awareness and education of flora and fauna in the area.
Note: From March to November, visitors can stay a max of seven consecutive days; from November to March, the max stay is fifteen consecutive days, for an annual total of 30 days. The RV length is limited to 35 ft max (measured tongue to bumper).
6. Rancho Oso RV & Camping Resort
As a Thousand Trails resort, the 310-acres property boasts nature galore, as well as activities such as horseback riding, hiking and photography. This park is about 30 minutes' drive from Santa Barbara.
Rancho Oso RV and Camping Resort
What makes this park unique?
One of the historic landmarks, this park was founded in 1845 and still holds the Wild West vibe, as the visitors are invited to explore the surroundings and to engage with all the Western activities the park has to offer.
7. Ventura Oaks RV Park
Quaint, quiet, and idyllic, this park is a serene place to stay for awhile and enjoy the backdrop of the mountains. As a coastal community, this town is within driving distance to the beach, but away from all the hustle and bustle of a big city.
What makes this park unique?
Located only 10 miles from the Pacific Ocean, this quiet park is a perfect weekend getaway or a longer stay spot to recharge. This park is an affordable choice for long-term stays.
8. Rincon Parkway
Rincon Parkway captures the spirit of California living: parking the RV right on the beach and catching some waves or sunshine (or both), this park is a classic stay on the Pacific Coast Highway and a must-stay item on the bucket list of anyone who travels along the Highway 101.
What makes this park unique?
The park is very affordable and right on the beach. Perfect stop for a couple of days (since there are no hookups or amenities), this park is a good fit for RVers who are comfortable with boondocking.
Note: 9 PM to 7 AM are quiet hours (no generator use allowed). There is a 7-day stay limit.
9. Ventura Beach RV Resort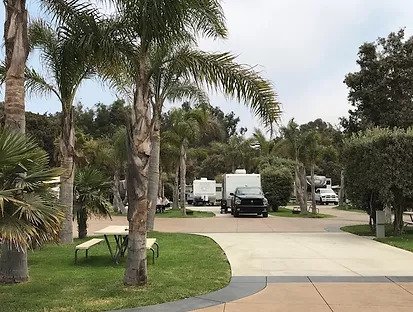 This resort is close to the beach and provides free transportation to tourist activities in the area. Although it is pricey, it is well-manicured and clean. It is a 6-minute walk to the beach.
What makes this park unique?
The park provides a free shuttle service on the weekends, as well as centipede tractor rides. It has an on-site store, gaming room, vending machine and all the amenities that allow for a longer stay to explore the area.
10. Hobson Beach Campground
According to their website, "Hobson Beach Park is located North of Faria Beach Park and the Rincon Parkway. Similar to Faria Park, Hobson Park is wedged between the Pacific Ocean and the base of the Santa Ynez mountains along Highway 1 off the Ventura Freeway. The views of the Channel Islands are exceptional, and are most notable at dusk. This park is footsteps away from the Pacific Ocean." (Source: Hobson Beach Park – Ventura County).
What makes this park unique?
This park is very affordable and has beach access. It is North of Faria Beach Park and the Rincon Parkway. It's a great place to stay to spend the day beach combing.
Note: 9 PM to 7 AM, no generator use allowed.
TIPS TO GET TO SANTA BARBARA
Santa Barbara is located along the Pacific Coast Highway, or Highway 101. It is between the cities of Santa Maria to the North and Los Angeles to the South.
Founded in 1786 as a Franciscan Mission, it is a popular beach city with many upscale shops and eateries, as well as a surfer town. The Santa Ynez Mountains provide a dramatic backdrop in contrast to the beachside.