Top 5 reasons why it's a fun place to visit:
Walk the Savannah Historic District
Check out the Bonaventure Cemetery
Visit the American Prohibition Museum
Attend the Historic Savannah Theatre
Relax at the Forsyth Park
List of top ten RV Parks in the Savannah, GA area:
(Disclaimer: information is a compilation of researched info as published online and does not necessarily reflect the experience or opinion of the author)
The RV parks have been ranked and are listed from "Most Recommended" to "Least Recommended" based on reviews, feedback, amenities, and preference. Cost was not the primary ranking driver. Please note that weekend RV families with children might have different needs than full-time RV "snowbirds".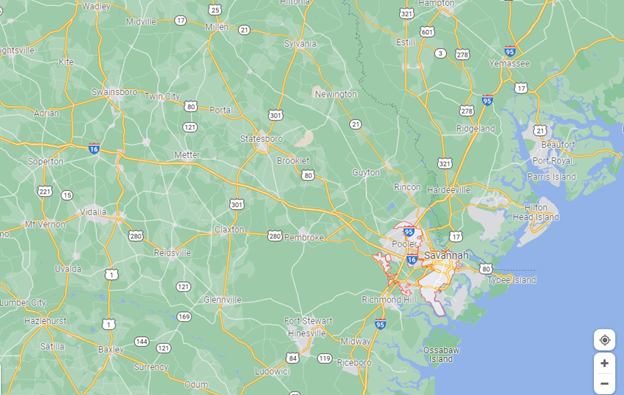 1. Skidaway Island State Park
This park is great for big family or group gatherings. It is about 15 miles away from downtown historic Savannah and thus a great place to unwind, but still be able to drive to the tourist attractions that Savannah has to offer.
What makes this park unique?
This State Park is beautiful, with trails through wooded areas, paved bike trails, water access and boat ramp, with all the amenities that are usually a rare find at a State Park. The premium sites have full hookups and are very spacious (also a rarity for a State Park).
2. Sunshine RV Park
This park is green, wooded, shaded and only about 8 miles from historic Savannah or 30 min away from the beach. The park is ¼ mile from fire department and police station.
What makes this park unique?
The sites are spacious, and the park has all the basic amenities (on site or within driving distance) that make it worthwhile to stay for a longer period. There are also apartments on site. The park is managed and maintained by a very nice and helpful couple who take pride in their place. This park is known in the area as "Safety RV Park" due to its proximity to a police department and police training area.
3. Fort McAllister Historic Park Campground
Located on the banks of the Ogeechee River, this campground is a place of much history. This is still remembered to this day with Civil War battle reenactments and many different historic artifacts. 35-45 minutes away from downtown Savannah, GA.
What makes this park unique?
The park is right on the water, surrounded by Spanish Moss and history. The Civil War Museum that's on site is very educational, but it does cost extra admission. The park has been remodeled to add premium full-hookup sites, but this is not yet reflected on their website when booking.
4. Lott's Island Army Airfield RV Park
This park is for military individuals/families, DoD personnel or anyone who is an authorized user/sponsored by any of those who have the benefits of access. It's a nice clean quiet park
What makes this park unique?
This park is a very affordable choice for military-affiliated individuals or for those who are sponsored by one. The spots are shaded, and the park is within drivable distance to Savannah. This is a good place for those visiting the area for a few weeks. There is a 30-day max stay. Reservations can be made 30 days in advance with 1 day deposit minimum.
5. Redgate Campground and RV Resort
Established in 1931, this park has been a pillar of community for years and is a well-known getaway park, including country/farm life. It has been family-operated for over 90 years. This campground is also close to the historic district of Savannah, which makes it a coveted RV park to stay at.
What makes this park unique?
This park is close to Savannah and right on the water, as well. It has a fishpond, a saltwater swimming pool, and countless activities to do while there, such as horseback riding or bird watching.
6. Lake Jasper RV Village
This park is a popular one with locals for weekend getaways, as it is close to Savannah and Hilton Head. However, this park is also a great stop for visitors of the area, as it is well-laid out and surrounded by nature.
What makes this park unique?
This is a quiet and clean park adjacent to a 320-acre nature preserve and right on the lake. It has many resort-style amenities and strives for excellence in customer service. This park is also very family friendly.
7. Biltmore Gardens RV Park
Full of history, this park is a family heirloom that began its operation in 1958 and has been passed down to the daughter and her husband since. It's a small simple park that focuses on the landscape, its history, and antiques.
What makes this park unique?
This park has many azaleas that were planted years ago, which makes the surrounding breathtaking during blooming season. The quaint park-like setting appeals to many mature RV travelers who prefer a more laid-back "olden days" setting rather than the modern cement-pavement pad standard of many RV parks. The sentiment of the owners is to preserve the memory and the vibe of the park as it was created by the original owners.
8. Creek Fire RV Resort
This is a newer modern, well-kept park that gears their appeal toward younger families with children who are getting into the camping and RVing lifestyle. While more of a suburbia-vibe, this park is very clean and well-laid out. There are many different sites to choose from and Savannah is just a short drive (of about 20 min) away.
What makes this park unique?
Referred to as "Savannah's best-kept secret", this park has RV sites, tent sites, cabins and all this right on the lake. It's a great park for a family weekend getaway or for anyone visiting the area to see what Savannah has to offer.
9. Whispering Pines Campground
This park is just minutes away from Savannah, GA, and the coast. It's a medium-sized park in nature that offers a great getaway from the hustle and bustle of the city.
What makes this park unique?
This park has all the amenities to make this park home away from home for a while. It also has two ponds where one can use the canoes or try out fishing.
10. Hardeeville RV
Just 10 minutes away from downtown Savannah and about 30 minutes from Hilton Head and Tybee Island, Georgia, this park is a long-term stay location in nature for anyone who'd like to stay a while and explore the area.
What makes this park unique?
This park is currently set up as a long-term residential park, with all the "home" amenities, such as cable, Wi-Fi, full hookups, and dumpster pickup. It's for anyone who is a full-timer and is looking for a change of scenery or would like to explore the Savannah, GA area.
TIPS TO GET TO SAVANNAH
When coming from the Atlanta, GA area, I-75, and I-16 Southeast lead to Savannah. When traveling from the Charlotte, SC area, one drives South on I-77, then I-26 and then I-95. Those coming from Jacksonville, FL will travel North on I-95. Savannah, GA is surrounded by many rivers and island, which makes it a great travel destination.
Pro-tip: those who travel with longer RVs benefit from an RV-specific Garmin Satellite GPS, especially when traveling into large cities with bridges and/or overpasses. Dimension-specific routes help avoiding getting stuck or even roof damage, since the GPS calculates the route based on RV size dimension input from user.