Top 5 reasons why it's a fun place to visit:
Hike the famous Canyon Overlook Trail
Practice photography of nature and rock formations
Take a private tour of Zion and Kolob with petroglyphs and Ghost Town
Sign up for the Zion Sunset Jeep Tour
Enjoy the view from the Angel's Landing
List of top 10 RV Parks in the Zion National Park, UT area:
(Disclaimer: information is a compilation of researched info as published online and does not necessarily reflect the experience or opinion of the author)
The RV parks have been ranked and are listed from "Most Recommended" to "Least Recommended" based on reviews, feedback, amenities, and preference. Cost was not the primary ranking driver. Please note that weekend RV families with children might have different needs than full-time RV "snowbirds".
1. Jamaica Beach RV Resort
Since this is a Bureau of Land Management (BLM) camping site, it's first-come, first-served and free of charge. This is a great opportunity for those who are experienced in boondocking and have enough water, are self-contained with septic and have a source of heat/electricity, if needed.
What makes this park unique?
This is a free dispersed dry-camping site for tents and small RVs. Although there are no amenities or hookups, the solitude and the vistas are incredible. Most reviews state that this is a one-of-a-kind stay of a lifetime. This park is located about 5 minutes from the National Park entrance and about 12 miles from Zion.
2. Lava Point Campground
For this park, the RV length is limited to 19 ft, so this is a site for smaller trailers only. It's also a very small park with only 6 sites and a long journey to get to the campsite.
What makes this park unique?
According to NPS, "This campground is typically open May through September, as weather allows. Situated at 7890 feet above sea level, it is off the Kolob Terrace Road, 25 miles (45 minutes) north of the town of Virgin. It takes approximately one hour and 20 minutes to drive to the campground from the South Entrance of Zion Canyon." (Source: Lava Point Campground – Zion National Park (U.S. National Park Service) (nps.gov))
3. Indian Peaks RV Park
According to the website, this park is: "Where your soul gets lost, your spirit is revived and your heart is fullfilled." (Source: Indian Peaks RV Park & Campground | RV Park Cedar City Utah). This park on Paiute Tribal Land offers a remote atmosphere with full hookups and close to all the popular hikes in Zion National Park. It's a great spot to set up camp to go exploring during the day and to return afterwards, ready to recharge and refresh.
What makes this park unique?
One can walk over 1,800 acres of trails on this park property, which is located on sovereign tribal land. This park has full hook-ups and offers short- and long-term stay. It is close to everything in town and is deliberately set up as a place to unplug from Wi-Fi etc. and to stargaze instead.
Note: The RVs must be newer than 2012.
4. Watchman Campground
This campground is located near the park's south entrance. It is surrounded by tall sandstone cliffs that glow orange in the evening sunset and that gave the campground its name.
What makes this park unique?
This park is just a short walk from the visitor center. There is also a shuttle available (runs only March-November). The campground is open year-round, and reservations can be made up to 6 months in advance.
Note: the combined length of vehicle and RV cannot exceed 19 ft.
5. Cedar City RV Park
Located on the historic Main Street in Cedar City, this park is close to all the shops, restaurants and local tourist attractions in the area. It is also within walking distance to Southern Utah University and the Utah Shakespeare Festival. This park is about one hour away from Zion National Park main entrance and 20 minutes from Kolob Canyon entrance, but it offers a good "homebase" for a tourist visit stay to take a day trip to Zion National Park.
What makes this park unique?
This park offers a different set of tourist attractions in the area; unlike the boondocking counterpart parks at Zion NP, this park is in Cedar City and might be a better fit for those who enjoy nature hikes and ruggedness of nature in smaller doses.
6. Zion River Resort RV Park and Campground
Located within short driving distance to Zion National Park and Bryce Canyon, this park is offering all amenities to stay comfortably for awhile to explore all that the area has to offer.
Zion River Resort RV Park and Campground
What makes this park unique?
This park offers a plethora of camp activities, such as Candy Bar Bingo, Wine and Cheese tasting or S'mores Night. It is very well laid out and immaculately clean. This park is a great fit for group get-togethers and rallies.
7. Zion Canyon Campground and RV Park
This park was founded by a family in 1974 and since commercialized with La Quinta and Marriot. This streamlined the campground operations but gives it a more corporate and impersonal vibe.
Zion Canyon Campground and RV Park
What makes this park unique?
The park's website offers a free trip planner for all the sightseeing in the area. The park is located surrounded by breath-taking views and has all the luxury amenities for an enjoyable stay.
8. South Campground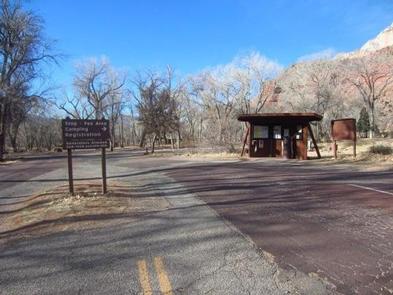 Located just outside the Zion National Park entrance, this campground is in a great spot for prime access to all the park has to offer.
What makes this park unique?
This park is as close as one can get to staying at Zion National Park. There are three trails that start at this campsite.
Note: The reservations must be made up to 2 weeks in advance and are very specific (once the spots are open on the reservation website). For reservations more than 2 weeks out, check out Watchman Campground instead. The RV cannot exceed 19 feet in combined length.
Warning: "Be Advised: The months of April and May bring an unusual infestation of Tent Caterpillars, which fall from trees onto tents, tables, and unsuspecting campers and can make it quite uncomfortable to sit outside. The months of July and August in particular bring a higher concentration of ants in the campsites, which seem to come out especially after the monsoons, but are present all summer long. August and September bring yellowjackets. Insecticidal treatment by visitors is not permitted."
9. Red Ledge RV Park
As a standard RV park, this park is located within driving distance of Zion National Park, as well as Bryce Canyon. This park is a good fit for visitors out of state who want the Utah nature experience.
What makes this park unique?
Visitors can enjoy mountain biking, hiking, fishing and nature watching. This is a smaller park with all the basic amenities and access to several different National Parks and sights.
Note: the sites can accommodate RVs up to 40 ft long.
10. Point Supreme Campground
This campground is a very special site with limited spaces available and with a somewhat challenging access, but well worth the effort. Those who love adventure will definitely enjoy staying here during the very limited time of availability throughout the year.
What makes this park unique?
This campground is open from mid-June to mid-September. At over 10,000 ft of elevation, one is surrounded by meadows of wildflowers in the summer, making it a spectacular once-in-a-lifetime experience!
Note: "The best sites for RV's are 1, 4, 5, 6, 7, 8, 10, 11, 14, 15, 16, and 21. For larger motor-homes, sites 1, 8, 15, and 21 are best. Only RV"s 40 feet or shorter can fit in Point Supreme campground RV campsites"