Can You Retire And Live In An RV?
Retirement is not just for the old folks anymore. More and more, younger people exit the workplace to travel and live a lifestyle outside the 9-5 grind. About 750,000 to 1 million retirees choose the full-time RV life.In fact, according to Kiplinger, RV ownership shot up 62% in the last 20 years (Source: www.kiplinger.com).
With the opportunities to work-camp or work remotely, many are also in hybrid retirement, working only to pay for the RV lifestyle, but not to "keep up with the Joneses".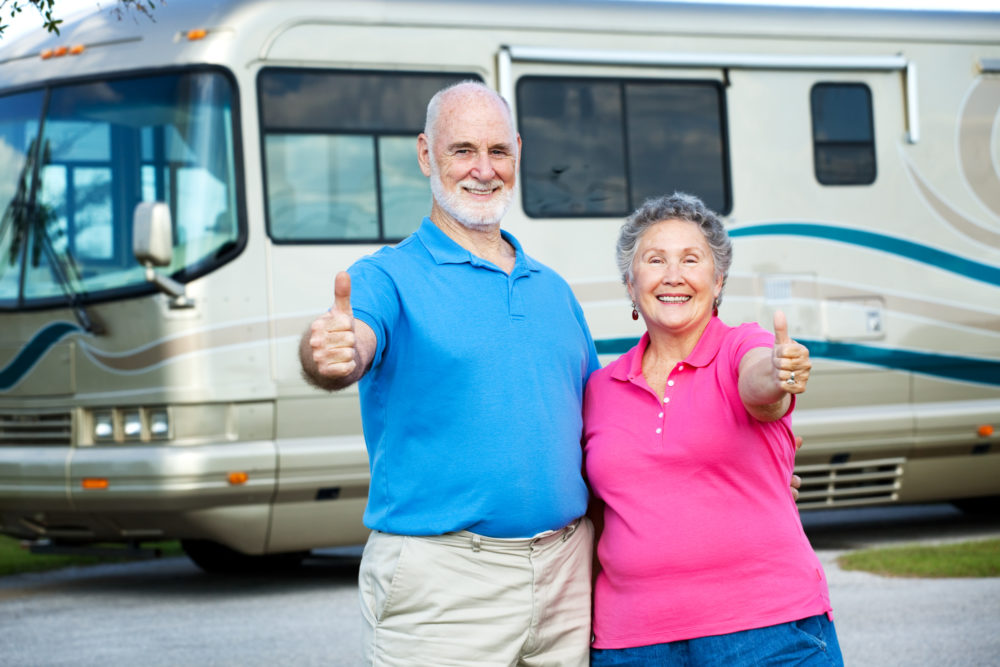 Of course, many individuals decide after their lifetime working career to start traveling and use the RV as a tool to make it happen.
There are no laws that prohibit anyone from becoming a full-time RVer, but some things should be considered and be put into place before going full-time.
Some things to consider are:
Where will you park your RV? Make sure you follow any ordinances. One cannot just park indefinitely on the side of the road (with some exceptions in cities like Seattle, Portland or Los Angeles).
Will you keep a "homebase" or claim a domicile state to file taxes etc.?
Where will you receive your mail? There are mail service solutions available for full-time RVers.
What will you do about medical care, if needed?
Have a communications and emergency backup plan for yourself, and to share with your extended family.
Pros and Cons Of RV Retirement
Below are some pros and cons of RV retirement:
Pros:
Traveling
Freedom (if you don't like it someplace, you move on)
Less overhead cost of living (no home-owners insurance, HOA, repairs, mortgage etc.)
Meeting new like-minded people
Learning new skills and challenging yourself to grow personally
Being closer to nature
Ecofriendlier lifestyle
Quality time and slower pace of life
Enjoying the comforts of your own home while traveling
Minimalism
Flexibility
Cons:
Expenses (especially unplanned repairs, medical, inflation etc.)-make sure you budget for those, especially when on fixed income
Lack of "roots" in a local community
Loneliness
Maintenance on RV and tow vehicle
Lack of space/limited storage
Weather and temperature fluctuations
RV depreciation
Travel days
Changing routines
Internet connectivity
Noise and privacy issues
List of Reasons Why You Shouldn't Retire In An RV
There are some reasons that can make it challenging to live in an RV especially for retired seniors:
First of all, one should not make a knee-jerk reaction and sell their home and all their possessions to switch to living full-time in an RV without even trying out the lifestyle first.
Second of all, one should consider all tangible and intangible costs of RV living, beginning with the RV purchase. Buying an RV is a major investment. Many opt to purchase a new unit due to the manufacturer's warranty and the hope that the unit will have few issues; however, this is not true.
Each new unit still has to be driven and fine-tuned and often has a list of repairs in the first year of use. Further, the RV depreciation of a new unit is very high, so this should be kept in mind, especially when financing or not planning to keep the unit for very long.
Overall, a new RV in today's economy can cost anywhere from $35,000 for a small ultra-lite travel trailer to $300,000 or more for a Class A unit. When purchasing a pull-behind RV, one needs to also either own or purchase a suitable tow vehicle that is capable of towing the RV comfortably and safely.
Even a used tow vehicle can easily cost $40,000 or more. For fifth-wheels, this also includes installing a hitch, which can cost anywhere from $1,000-$2,000, depending on hitch selection and install location. Needless to say, purchasing an RV is a big purchase that should be considered carefully.
Third of all, one should keep in mind any health concerns that might require regular access to quality care while traveling. Many elderly folks might also struggle with anxiety, loneliness or difficulty with some of the set-up/tear-down or RV repairs that might be required.
In addition, not everyone is comfortable towing a 35-ft trailer down the Interstate, and this holds especially true for elderly folks.
And let's be honest: driving in general can be pretty exhausting. Driving a Class A or a towable RV can be nerve-racking, especially on busy roads or in bigger cities.
Finally, there is the issue of finding quality RV parks to stay at, as many parks are overbooked months in advance, too expensive or lack quality or privacy. Parks in popular states, such as Florida or Colorado need to be booked well in advance, especially during the busy season.
How Much Does It Cost To Retire In An RV?
There are RVers who can make RV living possible on $1,000/month (when stationary at a long-term spot), but on average, it takes about $2,100-$3,500/month to retire in an RV comfortably.
Some of the investment/start-up costs to consider are:
RV: from $10,000-$400,000 (the sky's the limit with luxury Class A's)
Towing vehicle: from $25,000-$150,000
Some regular expenses include (these are example numbers, there is a range that varies greatly on the RV and tow vehicle, as well as driving record, state etc.):
RV insurance: $100/month
Tow vehicle insurance: $80/month
Health insurance: $400/month
RV parks (with hookups): $500/month
RV memberships: $5/month
Fuel: $500/month
Food: $1000/month
Expenses for miscellaneous (laundromat, toiletries etc.): $100/month
Internet (StarLink, cellphone JetPak etc.): $150/month
Finally, there are also maintenance costs that should not be forgotten or ignored. Regular maintenance on an RV has to be performed every 6-12 months at minimum to avoid costly repairs, but even the regular maintenance, such as re-sealing the roof, can be a pricey ticket item on the budget. Some RVs require a re-packaging of the axle bearings.
The most common repairs on an RV include slideout issues, roof leaks, battery/power issues, HVAC issues or refrigerator problems. Each of these can cost over $1,000 in repairs, easily.
Avoid RV Retirement Regrets
The RV life in retirement is not for everyone. While it may look fun from the outside while binge-watching someone else's RV life on YouTube, there are many challenges and it takes an adaptable and easy-going personality to deal with the additional stresses and uncertainty that come with RV full-time life.
Below are some testimonies from folks who gave RV retirement a try, but faced some serious challenges along the way.
"Emptying the sewer tanks. Cost of fuel. Rising costs of campgrounds. Having to manage mail forwarding, unreliable internet access for email and online banking. Managing deliveries from Amazon and prescription refills," said Geoff Baker, 74, a retired commander with the British Royal Navy who has been RVing across America since 2011 with his wife, Laura, 67, a former safety manager at Walt Disney World's Magic Kingdom. (Their home base is Polk City, Fla.)
"The cost range is extraordinary," says Nancy Fasoldt, 68, who has been RVing with her husband, Allen, 79, for 15 years – and they should know, having sampled a wide range of vehicles. After retiring in 2007, they bought a new 24½-foot Winnnebago Navion Class C motorhome for $67,000 (they estimate a similar model would cost $106,000 today).
Since then, they've had a used 32-foot Wildcat fifth-wheel trailer, ($20,000), a 2016 38-foot Highland Ridge fifth-wheel ($26,000 after trade-in), and are currently in a Cirrus truck camper ($19,000) that slides into the bed of their pickup.
"We are still traveling, in an adaptive way now that we are both getting a tad older," Fasoldt said recently. Because of their ages, "we do things a bit differently now. We enjoy a slower pace, make sure we are near hospitals and forget about the time of day and even the day. HA! And we wobble a bit more, so we've purchased walking sticks and electric bikes. But we still go. And we still love our truck camper. Smaller is better for us. We don't have to worry about backing in, towing anything or getting a big enough spot to accommodate a trailer and a truck. We can fit in just about everywhere."
(Source: www.kiplinger.com)
FAQs:
What is the best RV for seniors?
This question is very relative. The answer depends on many variables, such as RV size, layout, accessibility, budget, tow vehicle requirements and availability, comfort level of towing an RV, maintenance needs and costs, ease of setup etc.
A happy medium between a tow-behind and a large drivable motorhome (Class A) is a smaller Class C that has the space and luxury of a nice RV with better maneuverability and greater level of driving confidence.
The top 5 RV choices for seniors with consideration of the items listed above are:
Winnebago Minnie 2202RBS
Airstream Bambi 16RB
Jayco Hummingbird 17RB
Keystone-Cougar Half-Ton 22MLS
Forest River-Cedar Creek Cottage 40CCK
(Source: www.rvingknowhow.com)
Can you live in an RV on Social Security?
This depends on your Social Security income and your choices, such as where will you have your RV parked at, how much will you travel (if at all), how much you will eat out etc.
There are many retirees who show others that this can be done (for example: rvlifestyle.com); just make sure you are realistic when budgeting and leave a margin in the budget for any surprising expenses.
Is buying an RV a bad investment?
It depends. As with any investment, it depends whether you get something in return. For some, the traveling freedom and adventure are intangible benefits that one cannot put a price tag on. The RV is only a bad investment if it's not being used and sits in the driveway, depreciating.
Also, shrewd RVers purchase units that are 2-4 years old and have all the "new unit kinks" worked out, while bypassing the huge depreciation of a new unit.
Another trend is a purchase of a remodeled unit that feels just like a home; in that case, buying an RV is a great investment.