I've been following the Bear Ridge Project for quite some time. It's the journal of BigBear, a man who's been working to find his own path to freedom by leaving a consumer based existence behind for and off-grid sustainable lifestyle. The little 8′ by 10′ cabin pictured here is a little guest cottage he built on his property in southern Colorado. He lives in a larger house that he's been slowly building and adding onto which is probably several hundred square feet now.
The power for this little cottage comes from a simple stand-alone off-grid system that consists of an old solar panel, battery, charge controller, and inverter. It's just enough to power some lights and a laptop. The cabin was too small for a wood stove so he's set up a simple propane heater. The rest of the accommodations include a futon, fold-down desk, some stools, and storage for food and personal items. BigBear's next project will be a 4′ by 7′ steam hut which will be setup about 20 feet from this cabin.
Little Cabin on the Ridge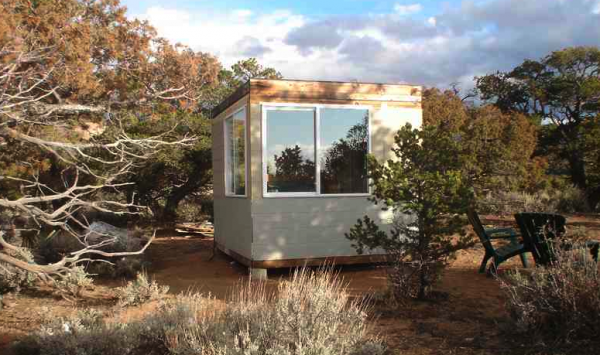 Above: View from the cottage.