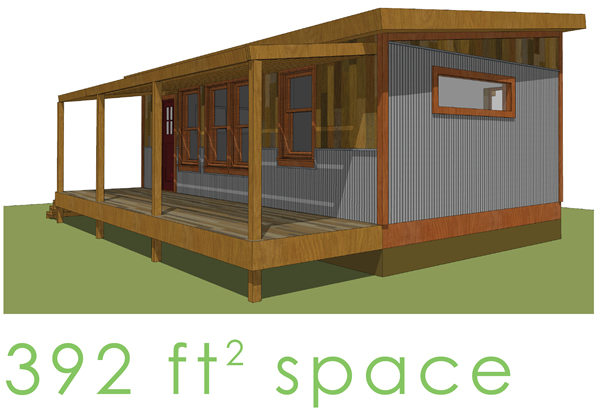 This is a guest post by interior designer Annie Pauza.
Growing up in Minnesota I have always dreamed of having a cozy cabin someday. Every summer my family would drive from Minneapolis and visit my Grandmother at a small cabin up north. Square footage was not important to us in order to have fun. We would pile 4 or 5 families into 500 sq ft or less and have a blast. When I was invited to guest blog on how to design a tiny cabin interior I jumped at the chance.
The Decorator in a Box 10 Steps to Creating a Cozy Cabin
1. Find your Inspiration – Inspiration comes from many different places. I began searching for inspiration in the cabin architecture style. I thought a modular home would be the best way to go. While researching modular home builders I came across a company called Reclaimed Space. I was immediately inspired by Reclaimed Spaces style of home and their environmental responsibility. The gallery of interiors on their site inspired me to create a rustic interior with a modern twist. I selected the 392 sq foot space.
2. Set the Budget – This is likely a secondary home so the budget should be financially savvy. I like to use 10% of the total home cost as a rule of thumb for a cost effective budget. This will include furniture, art, accessories, bedding, lighting and window treatments. The Reclaimed Space 392 sq ft home is a total cost of $45,080 I set the budget at $4500. Keep in mind you do not need to make all purchases at once. You can purchase items over time at you own pace. You may even be incorporating furniture or accessories pieces you already own.
3. Create a Furniture Plan – Use an architect's scale and create a Furniture Plan. I printed a plan off the Reclaimed Space site and enlarged to ¼" = 1'- 0" scale. Then I began to scale in furniture on the plan. This gives me a basis for what items will fit in the space and need to be purchased. Creating a furniture plan can also be done very quickly on programs like AutoCad.
Plan from Reclaimed Space Site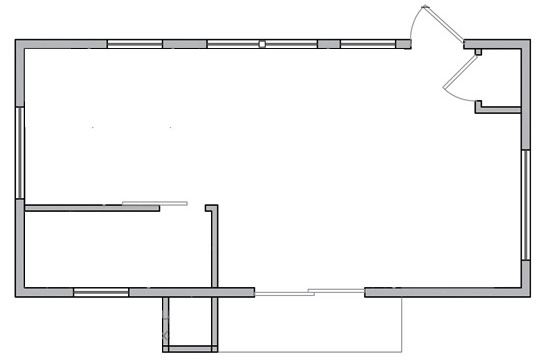 Decorator in a Box Furniture Plan
4. Don't Forget the Windows – Search for affordable window treatments like the selections below on Etsy.com. Affordable and stylish window treatments can also be found at Bed Bath and Beyond, JcPenny and West Elm.
5. Make the Most of Storage Space – Making the most of 392 sq ft is crucial. You do this by creating multi use furniture that acts as storage. I created extra storage by designing a bed with storage baskets that slide into cubbies underneath. I also achieved this in a custom banquette in the Kitchen with similar baskets. In addition this creates optimal seating for the family and guests. If you are handy you can build these pieces yourself or have Reclaimed Space build this for you from reclaimed material. There are also similar designs you can find from retailers online.
6. Create a Shopping List – I create a shopping list by going room by room from the furniture plan. When you find all the key pieces for one room simply move onto the next. This can be done very easily by using online shopping. In order to reuse pieces search for items on Ebay.com, Craigslist, local flea markets and garage sales. It is always rewarding to find that unique piece at a great value while helping the environment. I searched Westelm.com and Ikea.com to find items that have that modern twist. These stores also have great value and that natural/organic style. My favorite place to find handmade pillows and art is on Etsy.com. Don't be afraid to mix fun prints together like this West Elm sofa with the red deer accent pillows.
Lettered Shopping List Plan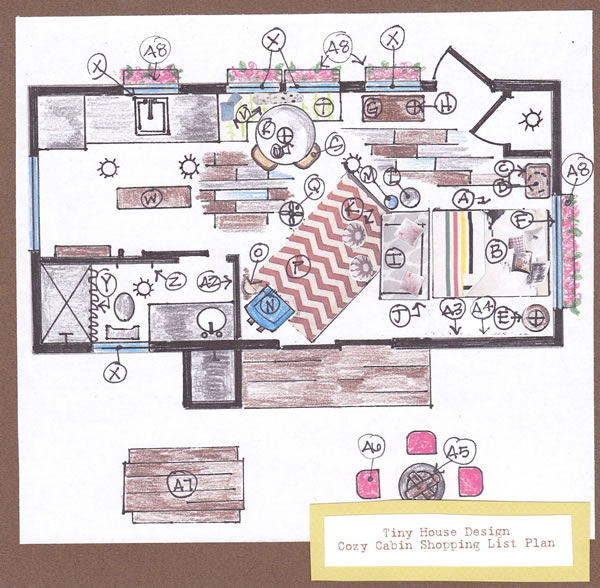 7. Total and View – Once you have created your shopping list total all items to be sure you stayed within the set budget. My total budget ended at $4446.00 just under our $4500 goal. View photos of all the items selected side by side and visualize. Look at the color palette style and feel of the space and make sure there is a common flow.
Design Board for Bedroom and Living
Design Board for Kitchen and Bath
Budget Breakdown in Decorator in a Box Shopping List Book
8. Purchase – After reviewing selections and budget go ahead and place orders online or purchase at stores to save on shipping. Keep in mind stores are constantly changing merchandise, so if you really like a certain item you should purchase it right away. Bedding is an item that should be ordered right away, as well as items on Ebay.com or Etsy.com.
9. Install – After placing orders you should have an idea of arrival dates for everything to set an estimated installation date. Schedule a moving truck or delivery service if necessary. You can also plan a fun weekend cabin getaway with friends and family to help you move in.
10. Enjoy your Cozy Cabin!
Below is the cozy cabin completed design. If you would like a custom design without the custom prices contact Decorator in a Box. We create online custom designs in the most financially savvy way. A La Carte options are also available if you only need design help with a portion of you project.
Happy Tiny Space Designing!
All the Best,
Annie Pauza
Decorator in a Box
www.mydiab.com