A pop-up or pop-top camper van is a class B RV that has an extendible roof, increasing the sleeping capacity and living space without the drawbacks of buying a larger vehicle.
Camper vans offer a great way to get out on the open road and enjoy road trips without worrying about the cost or inconvenience of finding affordable hotels or motels.
What's more, it's now possible to buy high-spec vehicles with all manner of creature comforts – including TVs, showers, internet connectivity, and much more. Depending on your budget, you can even build specific models to your own specifications or choose from a selection of layouts.
Considering buying a camper van? This article will help you with all the critical information you need to know and a list of the best pop-top camper vans on the market.
Pop-up roofs are becoming more commonplace campervans, especially in low roof van models that can offer the benefits of smaller, streamlined vehicles that can then be easily converted into more spacious areas.
Additional space without the extra cost that comes with larger vehicles is a great selling point. When you consider that smaller vehicles are more economical with gas as well, you will also be saving money this way and finding a more eco-friendly way to travel.
The Top 10 Pop-Up Camper Vans
The Mercedes Metris Getaway can be used as a family car, ideal for errands, pickups, and shopping, and can convert, allowing you to sleep in it by folding down the seats and extending the roof.
This model is basically the Metris Minivan Camper converted to include the pop-top feature.
It's an excellent option for short getaways, and anyone looking to live out of their van for any considerable period of time might want to consider other options.
Pros:
Good optional extras (solar panels, roof racks, and a pull-out kitchen)
Bench Seating
Sleeps four
Cons:
Limited amenities on the base model
No toilet
The Winnebago Solis is an excellent camper van with an enclosed wetroom that features a shower and toilet. This spacious option sleeps four comfortably and also comes with a dual-burner stove.
The 220-Watt solar panel will also give you peace of mind that you aren't running down the battery. That's not all – insulation and water lines make it ideal for traveling, even in the winter.
The pop-top is manually operated, accessed by a removable ladder, and sleeps two. Starting prices of over $100,000 make it an expensive but solid choice.
Pros:
Shower
Toilet
Spacious
Cooking facilities
Cons:
Expensive
Manual pop-top
Small entrance to pop-top
At around $75,000 for the standard model, the Tofino is one of the better-priced pop-top camper vans on the market. Though the standard model is relatively basic, you can still enjoy the single burner stove for cooking meals and the touch screen climate control.
This option sleeps four people – two on the pop-top, and two on a convertible sofa bed.
Pros:
Cooking facilities
Stainless steel sink
Interior climate control
Affordable
Cons:
No toilet
Basic standard package
Manual pop-top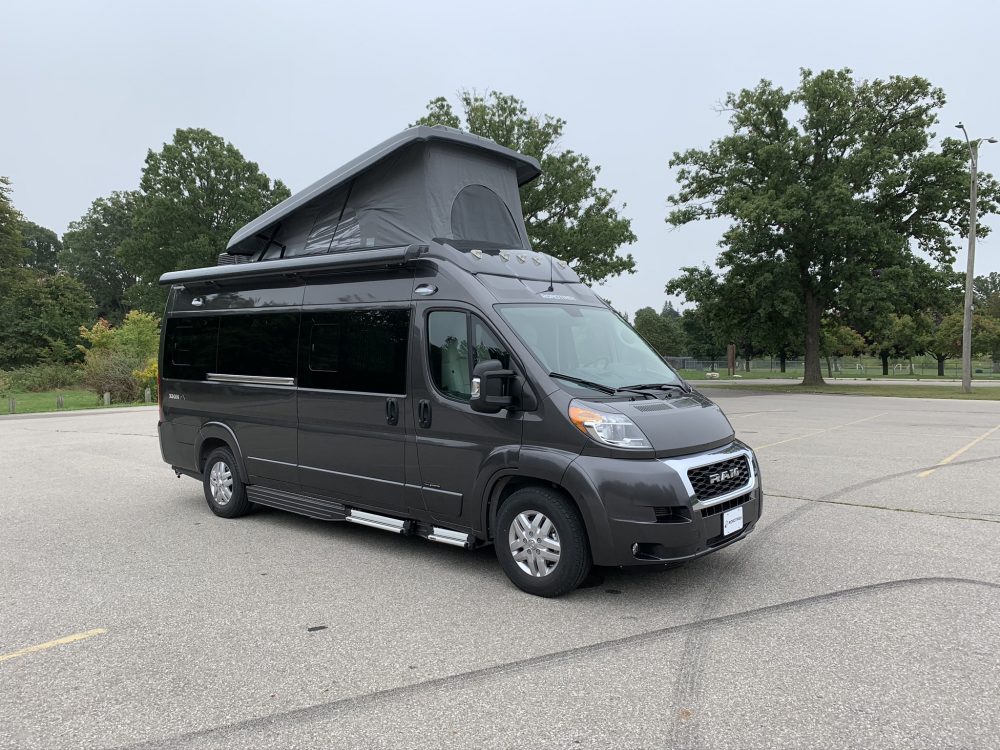 The Roadtrek Zion Slumber camper van comes with a wet bath with a toilet and sink. It is possible to get an outdoor shower fitted if you really want washing facilities though.
This is an excellent option for anyone that needs space – it comes with under-floor storage, compartments overhead, and a closet.
Those that like their amenities will be delighted to hear that there is also a dual burner stove, swivel TV, microwave, and full-size fridge. There is also room for four, or couples can make use of even more space than the pop-top provides.
Pros:
TV
Fridge
Cooking facilities
Toilet
Microwave
Despite only sleeping three, the Thor Tellaro is a great option with loads of amenities. The powerful 3.6l V6 engine and front-wheel-drive platform are great for getting about as well.
The bathroom comes with a shower and cassette toilet, there is an Air Conditioning unit and solar panel mounted on the roof, and lighting.
With this camper van, you'll also be able to enjoy the comfort that the full-size fridge, dual burner stove, and TV provide.
Pros:
TV
Shower
Toilet
AC Unit
Solar Panel
Lighting
Cons:
Small sleeping capacity
Low van roof
VW camper vans are probably the most well-known models on the market – and is now a is a far cry from the basic models previously available.
With a range of models available for you to choose from, you can even tailor each model to your specifications. The VW California range has expanded over the years to include the California Ocean, California Coast, California Beach Tour, and California Beach Camper.
You'll be able to enjoy elevated roofs, fully fitted kitchens, a digital cockpit with enhanced connectivity, and much more.
Pros:
Extensive range
Fitted kitchen
Tailor your own build
Cons:
Expensive
Amenities and Accessories mostly separate

The large, spacious HYMER Fiat Camper is a wonderful option with a sleeping area that holds four, split over two levels with the pop-up roof.
You can choose your van layout from three options – Ayers Rock, Grand Canyon, and Yosemite. It also includes a great bathroom with a shower, toilet, and airing cupboard.
There are a number of overhead compartments that provide ample storage space and a kitchen area with a fridge and stove.
Convenient touch controls for your LED strip lights make lighting your van convenient and straightforward, and the centrally controlled temperature system is excellent for heating the van and water for showers.
Swivel cab seats are adjustable and comfortable, making for great additional seating when you aren't driving.
Pros:
Comfortable
Great storage
Shower
Toilet
Cooking facilities
Cons:
Difficult to know the best layout
Expensive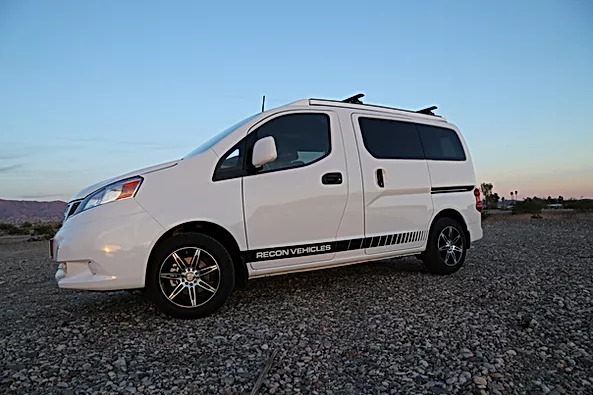 The Recon Campers Envy is a relatively low-profile model that gives the user all the versatility of a smaller, day-to-day family vehicle, with one that can comfortably hold four people.
When the top is popped, you have as much as seven feet clearance, and you will be able to enjoy a hot shower, fridge, and a unique selling point on their awnings – they can also become portable movie theatres!
The canopy can be used vertically, and the material will work as a screen if you have a portable projector. This is an incredible way to enjoy all of your favorite films in the great outdoors.
Pros:
Shower
Fridge
Awning/Movie projector screen
Cons:
Not very spacious
No toilet
Having been around for over 60 years, Sportsmobile knows a thing or two about pop-top vans.
They are best known for converting Mercedes Sprinters, Ford Transit vans, and Dodge ProMasters, and the Sports Mobile 4×4 molds a steel reinforced fiberglass shell to a Ford Cutaway body.
This robust vehicle offers incredible off-road capabilities with the comfort of modern campers.
With great storage and sleeping options for four, cooking facilities, a sink, and a swivel TV, you will be able to go off the beaten track, but still enjoy your usual conveniences.
Pros:
4×4 off-road capabilities
Stove
Sink
TV
If you have a family, you might want to consider the HYMER Aktiv 2.0. As well as seating five for road trips, this van sleeps five as well.
The pop-top comfortably sleeps two, while the comfortable sofa folds down into a queen-size bed for two. There is also an additional foldout mattress that is long and narrow but perfect for kids.
You will be able to enjoy home comforts like a toilet and hot shower as well as a 24″ HD TV and DVD player, with good mileage on the 3.6. 24V engine – making it a good choice for longer-distance treks.
Made in Germany, you will enjoy the classic German design features and engineering of this van that offers good storage in the cabinets and practical LED lighting.
The closet space is small, so you won't be able to hang too many items in there – traveling light is recommended.
With prices starting just over $100,000, there are cheaper models, however, the HYMER Aktiv 2.0 still ticks a lot of boxes.
Pros:
Large sleeping capacity
TV
DVD Player
Shower
Toilet
Choosing The Right Pop Top Camper For You
There will be many things you have to consider when shopping for modern camper vans, and many of these will depend on your budget.
Whether you are shopping for a pop-top camper van or a van that you plan to convert, it is crucial that you do some research beforehand so you know the specifications that will suit your needs in terms of performance, capacity, and comfort.
Here are some of the most important things to consider when shopping for camper vans.
The base vehicle
If you are considering a conversion, choosing the right base vehicle for your needs is essential. Different models will have different variants that can impact the height and length of a van so this should always be considered.
Seat bed system
Whether you are relaxing in the van, eating dinner, or sleeping, your comfort will help determine how happy you are on your trip.
Explore the different seat bed systems to find out what will suit you. There are great options that allow for a comfortable sofa during the day that can be folded down into a double bed in the evening.
Cooking facilities
Van life often means getting off the beaten track, and that means you might not have access to restaurants or diners. Always consider what cooking facilities and amenities you'll need for an enjoyable trip.
Toilet facilities
You might not have the space or budget for toilet facilities in your camper van, and it is worth considering whether the extra cost will be worth the convenience.
Depending on the kind of sites you plan to visit, facilities may be limited, so toilets, showers, sinks, and hot water facilities will all be worth thinking about.
Manual vs automatic pop top
Another feature that might come down to budget is whether you want the convenience of an automatic pop-top or are happy to put this up manually and save a bit of money.
Price
Before shopping for a pop-top camper van, try to compile a list in order of the features you find most desirable. Set yourself a budget and then see what features fit within this budget to stop costs avalanching.
FAQs
How much is a new pop-up camper van?
As with any vehicle, prices will vary depending on the make and model and any additional features the van has. Generally speaking, the cost of most pop-top campers would be around $80,000 for a new model.
Is a purpose-made camper or a pop-top conversion the better solution?
There are pros and cons to both options with purpose-built pop-top camper vans offering the convenience of being made especially for this purpose with no extra work needed.
However, that does come at a price. Conversions can be carried on on most vehicles for between $7,500 and $15,000, making it a more accessible option for those with a smaller budget.
How much extra sleeping space does the pop-up roof provide?
Depending on the size of the van, a pop-top roof can increase the sleeping capacity by one or two people. This can be great for families with kids or if you need some additional storage space.
Do pop-up camper vans come with a toilet?
Toilets and showers are usually reserved for larger RVs, but some smaller models have enough room that allows space for an enclosed wet bath with a toilet or even a hot shower.
As with most things, your budget will dictate whether this is a possibility, and other options such as a cassette toilet or portable toilet can also be considered.