I have some good news and bad news. The bad news is that we missed our goal on our Kickstarter Campaign to fund the mass production of our tiny house design stencils.
The good news is that we're not letting that stop us… we're still going into stencil-making-mode.
We've opened a store on Etsy.com where you can pre-order the stencils now. They will begin shipping on approximately August 1, 2018. You can find the Stencil Store here: www.etsy.com/shop/TinyHouseDesigner
We also now have metric 1:50 scale stencils for folks that prefer that. International shipping is  possible thanks to the fine folks at Etsy.com for building such an amazing website.
This stencil makes it easy & fun to draw a tiny house design with pen & paper.
Drawing a tiny house design accurately can be tricky since the houses are so small and the design must fit within the legal road limits for a tiny house on wheels. 
This stencil makes it easy to get the exterior layout and elevations of the house designed and includes elements unique to tiny houses on wheels, like the trailer.
When the stencils arrive you'll find them still covered in their protective paper wrap. They will have a slightly wood smoke smell due to the laser cutting process. The protective wrap peels off easily and leaves no glue residue. Once the wrap is peeled away, you're ready to draw. 
Lastly… I have a new stencil design to share too. In addition to the exterior and interior stencil, I've made a little pocket stencil (in metric and imperial dimensions) that lets you design tiny houses on the go. It's about the height & width of a large cell phone but only 3mm thick, so it literally fits in your pocket. It has the essentials for drawing a tiny house.
Below are some photos and diagrams of the new pocket stencil.
Stencil Store: www.etsy.com/shop/TinyHouseDesigner
Above: The imperial 1/4″ scale pocket stencil.
Below: The metric 1:50 scale pocket stencil.
Below: The imperial 1/4″ scale stencil diagram shows what can be drawn with the Pocket Stencil. The red lines are etched, the blue lines are laser cut. The material is 3mm tick clear acrylic.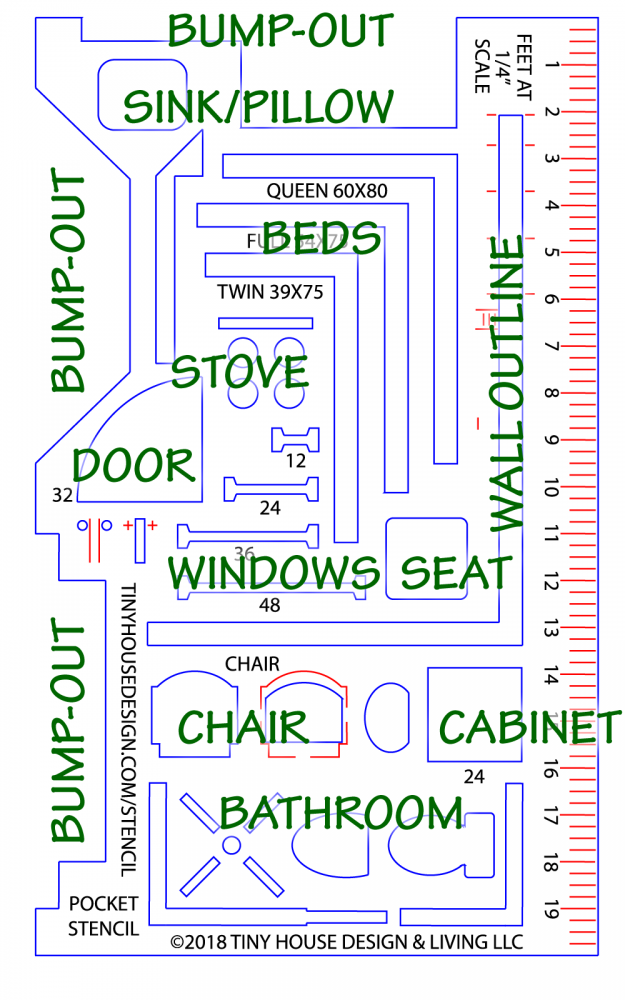 Below: The metric 1:50 scale stencil diagram.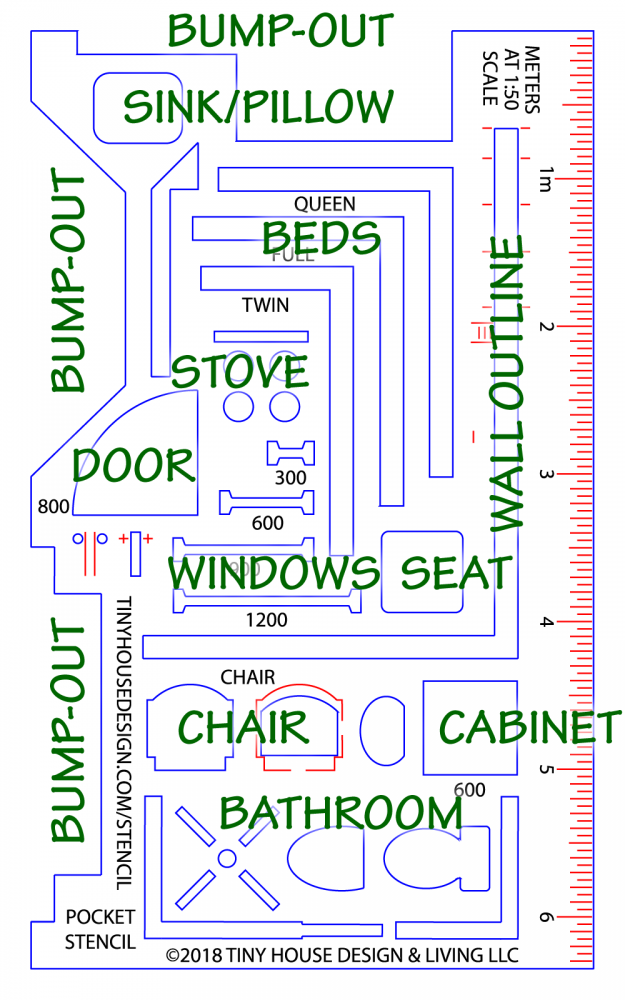 You can find the Stencil Store here: www.etsy.com/shop/TinyHouseDesigner