A construction job isn't limited to garages and home workshops. Sometimes, for challenging jobs, you need a portable table saw to get the job done.
The cutting ability of any given table saw depends on a variety of factors and features. Understanding these influential aspects is vital to making an educated – and pleasant – purchase.
Let our guide help you find the best portable table saw that meets your needs!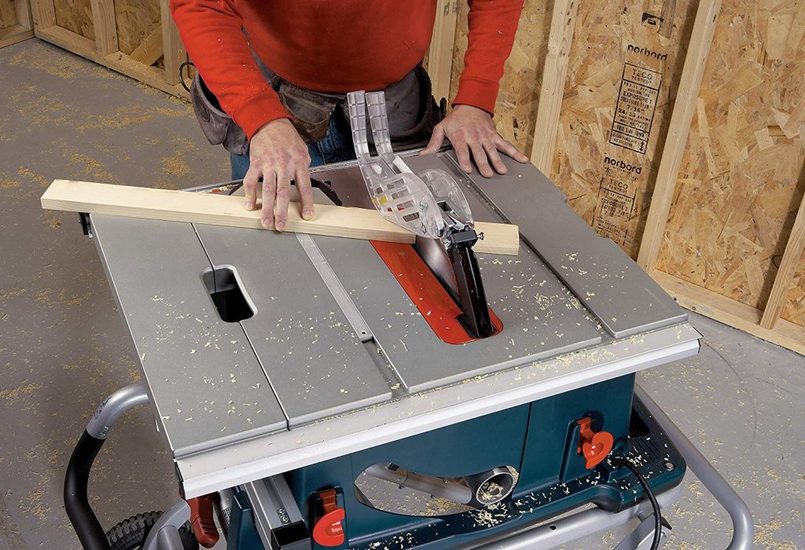 Source: woodworkingcafe.com
Buying Guide
Things to Look For in a Portable Table Saw: There are several key things to look for when browsing for a new portable table saw. The maximum cutting depth and maximum rip capacity often define the kind of work a table saw can perform. The greater cutting depth and a higher rip capacity are typical of saws that can handle thicker, tougher materials.Other factors, such as weight, safety features, the inclusion of a stand, and power source type, are secondary in importance when compared to the maximum cutting depth and maximum rip capacity.
Important Specifications and Features: Besides ensuring that your preferred portable table saw's maximum cutting depth and maximum rip capacity are appropriately sized for the type of projects you intend to tackle, there are a few other important specifications and features to consider.A miter gauge with stops at 45 and 90 degrees is a must. A dust port can help keep the interior of the saw clean and free of debris and can be an excellent additional feature.
Factors to Consider Before Making a Purchase: The first thing to consider is usage. If the table saw that has caught your eye isn't capable of handling the projects you need it for, it probably won't be a happy purchase.The second thing to consider is price. While it may initially feel great to spend a few thousand dollars on a state-of-the-art table saw, if that expenditure is outside of your budgetary limitations, you may come to regret the purchase later.
Buying Recommendations
Check out our picks for the best portable table saws. You're sure to find a model that meets your needs and specifications!

Best Budget Portable Table Saws
Check out our budget-friendly picks.
1. DEWALT DWE7480 Compact Job Site Table Saw –
Editor's Pick
Though it's compact and reasonably small, this model features one of the greatest rip capacities and depth of cut out of any similarly-sized table saw.
2. WORX WX572L BladeRunner x2 Portable Tabletop Saw
Unfortunately, its lightweight does mean that it may wobble from time to time, especially if placed on an uneven surface. Users may want to consider investing in a tie-down mechanism for this model.
Best Premium Portable Table Saws
These table saws hit all the marks in our premium category.
1. DEWALT DWE7491RS Jobsite Table Saw –
Editor's Pick
Overall, it's hard to find a more capable, rugged, easy-to-use portable table saw than the DEWALT DWE7491RS.
2. Makita Contractor Table Saw with Portable Stand
Best Portable Table Saws with Self-Aligning Fence
Here's our favorite picks for table saws with self-aligning fences.
1. SKIL 3410-02 10-Inch Table Saw –
Editor's Pick
2. Bosch GTS1031 10-Inch Portable Jobsite Table Saw
Best Portable Table Saws with Safety Accessories
Safety is a must when working with table saws and these are our recommendations.
1. DEWALT DW745 10-Inch Compact Job-Site Table Saw –
Editor's Pick
the most crucial aspects
to consider when purchasing a portable table saw. DEWALT, known for its quality tools and high safety standards, don't skimp on the safety features in the DEWALT DW745. Equipped with overload protection, bevel locks, and blade guards, there's no other portable table saw we feel safer using.
2. Rockwell RK7323 Blade Runner X2 Portable Tabletop Saw
No products found.
Best Portable Table Saws with Stand
Here's our favorite choices for table saws with a stand.
1. Bosch 4100-10 Table Saw with Portable Folding Table Stand –
Editor's Pick
2. DEWALT DW745S Compact Job Site Table Saw with Folding Stand
Best Portable Table Saws with Expanding Work Surface
Need more work space? These table saws are great options.
1. Hitachi C10RJ Jobsite Table Saw –
Editor's Pick
2. DEWALT DCS7485T1 FLEXVOLT 60V MAX Table Saw
Final Thoughts
There are many different types of portable table saws from which to choose, which can make finding the right one for your needs and preferences a serious challenge.
Using the information in this guide, you can arrive at an educated decision that fits not only your budget, but your present and future sawing needs. Don't let a massive table saw hold you back from completing the projects you want to tackle. A portable table saw can help make those constructive dreams a reality.
Last update on 2023-09-26 / Affiliate links / Images from Amazon Product Advertising API