Having to manually clean your floors, stairs, or car can be tedious, not to forget time-consuming. Portable vacuum cleaners are lightweight, energy-efficient, and they work on different surfaces and address various messes with their suction.
Read on to learn more about how to choose a portable vacuum and some of the best picks based on our research.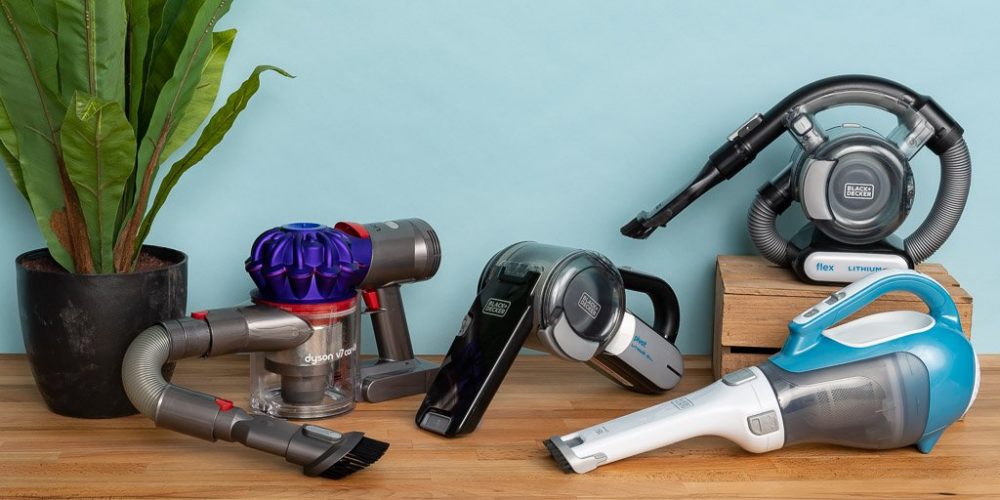 Source: thewirecutter.com
Portable Vacuums Buying Guide
Below are critical factors to consider when shopping for a vacuum cleaner.
Weight and Size: Although most portable vacuums are light, that can vary depending on specific brands.
Location of the Power button: Look for a vacuum that has a locking mechanism, which allows you to use the vacuum continuously without forcing your finger to stay at the power button.
The Dust Bin and Filter Positioning: Vacuum cleaners come with a filter to clean the air. Check to see if the vacuum uses paper cartridge filters or fiber, washable filters.
Charge Time and Battery Life: Consider how long it takes the cleaner to recharge when purchasing a portable vacuum cleaner. You should look for an indicator that lets you know when the battery is running low.
Buying Recommendations
Best Portable Vacuums for Cars
Our best picks for best portable vacuums for cars include:
1. Black+ Decker BDH2020FL –
Editor's Pick
The portable vacuum takes six hours to charge fully, but some users reported a four hour charge time. You'll love how easy it is to empty the dirt canister and clean it up. Black & Decker add cyclonic filtration to ensure that the dirt canister doesn't clog quickly. Get a two-year warranty with this vacuum.
2. Dirt Devil DRTSD20005
Find a complimentary dusting brush with the bagless vacuum, an upholstery tool, and a sliding brush. The best part of the bag-less design is that it's simple to clean when the bowl is full. All you need is to detach the bowl and clean it. Previous users love how this vacuum cleaner doesn't lose its suction capacity with time.
Moreover, most found it easy to maintain and user-friendly compared to other brands. The only downside is that it can be loud during use, but this doesn't interfere with its functionality.
Best Portable Vacuums for Stairs
Some of the best portable vacuum cleaners for stairs include:
1. Eureka EasyClean Lightweight Handheld Vacuum Cleaner –
Editor's Pick
2. Bissell Cleanview Deluxe Handheld Vacuum 47R51
Find the combs that extend out of the front to help pick up dust and other particles in the stairs. You'll love the hose that ensures you don't have to carry the portable vacuum around. Simply set the vacuum down and go through the stairs with the hose.
Best Portable Vacuums for Pet Hair
Some of the best portable vacuums for pet hair include:
1. Bissel, Pet Hair Eraser Cordless Hand Vacuum –
Editor's Pick
2. Black +Decker HLVA325JPO7 Lithium Pet Hand Vacuum
Best Portable Vacuums for Multi-Surface
Some of the best handheld vacuum cleaners for multi-surface include:
1. Dirt Devil Plus 16V Handheld Vacuum Cleaner –
Editor's Pick
2. Shark Rocket HV292 Ultra-Light Hand Vacuum
Best Affordable Portable Vacuum
If you're looking for a handheld vacuum cleaner on a budget, here are some options to consider.
1. Holife 6KPA –
Editor's Pick
The non-toxic lithium battery doesn't have a memory effect. You'll love the unit's power and its versatility when cleaning. The three attachments allow you to get into tight spots and handle delicate surfaces. Get the best cleaning results with the high-performance motor that provides a 6KPA cyclonic suction.
No products found.
2. Sweager Handheld Vacuum, Handheld Vacuums Cleaner Wireless, handheld Vacuum
No products found.
Final Thoughts
The above handheld vacuum cleaners are effective at cleaning your house, car, and even pet hairs.  Decide whether you want a corded or a cordless vacuum cleaner and don't forget to check the suction power and battery life to find a vacuum cleaner that works for you.
Last update on 2023-10-02 / Affiliate links / Images from Amazon Product Advertising API