There's a lot that goes into maintaining your RV's health and safety, and most of it starts with the roof. RV roof sealants come in handy for quick patches and long-lasting seals in your RV's roof to prevent damage inside from outdoor elements. Our curated list of the best RV roof sealants on the market can guide you to the right one for your RV.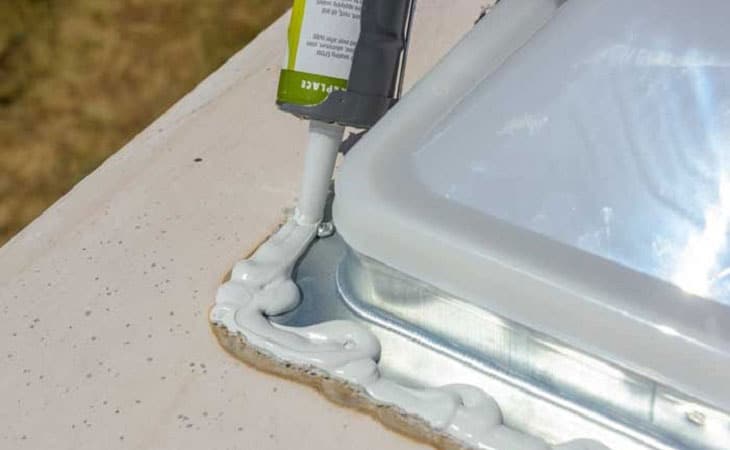 Source: smartrving.net
Buying Guide
There are some important considerations to make before buying a roof sealant for your RV, including:
Type of RV roof sealant: There are various types of RV roof sealants available, including liquid, tape, adhesive, and self-leveling. Your ideal type depends on what you want to seal and your roof material.
Various uses for an RV roof sealant: Sealants can quickly patch leaky roofs, but they can also fill gaps and cracks around vents, air conditioners, and other places that can let air and water seep through.
Roof coating: Consider your roof type – rubber, fiberglass, or aluminum – to find a sealant that adheres to it.
Maintaining a seal: Some sealants are UV resistant to give them a longer life when exposed to sunlight consistent
Buying Recommendations
Budget RV Roof Sealant
When you need the most affordable sealant solution, these are the best options.
1. Geocel ProFlexRv Flexible Sealant –
Editor's Pick
2. AP Products Sikaflex-715
Premium RV Roof Sealant
Have a little more to spare in your budget? Choose from one of these premium sealants.
1. Dicor Rubber Roof Acrylic Coating –
Editor's Pick
2. Premier Pro Products RV Roof Sealant
RV Roof Liquid Sealant
Liquid roof sealants can coat your entire roof to add an extra layer of protection.
1. Pro Guard Liquid Roof –
Editor's Pick
2. Liquid Rubber RV Roof Coating
RV Roof Tape Sealant
Mess-free tape sealants offer a quick and easy sealing solution.
1. EternaBond RoofSeal –
Editor's Pick
2. Cofair Quick Roof Extreme
This tape includes Steel-Loc technology, which forms a lock-tight grip between it and your roofing material to prevent leaks. With its peel-and-stick design, Quick Roof Extreme is convenient to use in a pinch, with no tools or extra supplies needed.
Self-Leveling Liquid RV Roof Sealant
Self-leveling sealants are typically somewhat thick in consistency to allow them to fill spaces on their own as they cure.
1. Dicor Self-Leveling Lap Sealant –
Editor's Pick
2. ToughGrade RV Self-Leveling Lap Sealant
Final Thoughts
With so many types of RV roof sealants on the market, you can undoubtedly find one that suits your needs, whether you're looking for a quick fix or a long-term solution. Before choosing a product, remember to consider your roof material and what type of seal for which you're looking.
Our guide includes top picks for self-leveling, tape, liquid, budget, and premium RV roof sealants. These suggestions can steer you toward finding the best RV roof sealant for your RV.
Last update on 2023-06-09 / Affiliate links / Images from Amazon Product Advertising API