What Is A Hard-Side Pop-Up Camper?
A hard-side pop-up camper is a blend of tent-camping and RVing. The camper is lightweight and towable, but also offers additional comforts and protection that tent camping does not have. For example, you can actually have a kitchenette, electric hookups, a toilet and a real door in a hard-side pop-up camper.
The hard-side pop-up camper benefits are the ease of storage and ease of accessibility/towability to more remote areas of the country. Also, since they are more affordable, they are a great way to get into the camping/RVing lifestyle.
Some of the hard-side pop-up campers look like petrified tents while others look a bit like goofy spaceships. Either way, they are not necessarily known for their aesthetic look, but rather for their practical use. They can weigh anywhere from 1,180-3,700 lbs.
Who Makes Hard-Sided Pop-Up Campers?
The top 5 hard-side pop-up campers are:
Aliner Family Expedition (MSRP approx. $38,000)
Antishanty AS1 Models (approx. $20,000)
Chalet XL Series (MSRP approx. $26,900)
TrailManor Series (MSRP approx. $37,998)
Forest River Rockwood A122S (MSRP approx. $16,985)
Are Hard-Side Pop-Up Campers Any Good?
Below are some benefits and drawbacks of getting a hard-side pop-up camper:
Benefits:
Pretty affordable
Easy setup
Easy storage
Comfortable
Great entry into RVing
Easy towing
Easy access to more remote camping areas
Most don't have septic hookups
Drawbacks:
Not as many amenities as a regular RV (see lack of septic in "Benefits", as well)
Stigma
Leaks
No insulation
Lack of storage
Lack of privacy (you can really hear everything)
Easier to damage than regular RV
Can You Convert A Pop-Up Camper To Hard-Side?
Yes, you can convert an old pop-up camper to a hard-side in most cases, depending on the model and the ability to be able to collapse the camper after the modification.
Several blogs share step-by-step processes on how to do it, such as this one: itstillruns.com
Once you convert a pop-up camper to a hard-side camper, the conversion is often permanent and also voids the folding feature. Some people convert old pop-up campers into tiny homes, such as this one: tinyhousetalk.com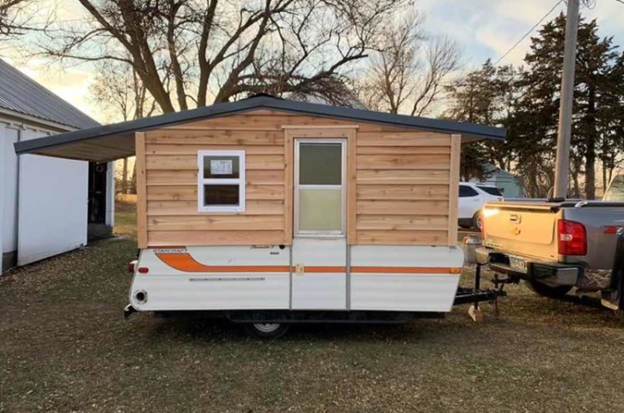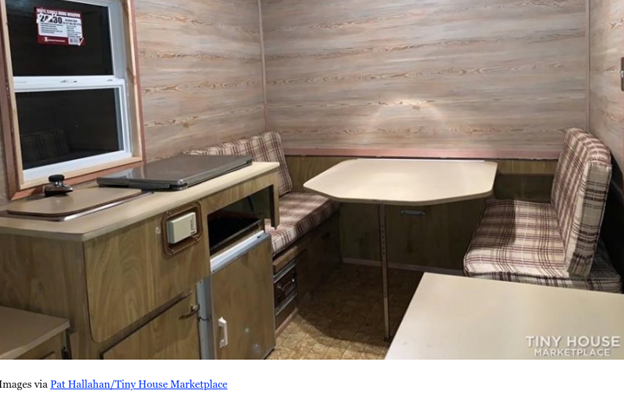 You can make this conversion as elaborate as possible, or you can simply fasten hard walls to replace the fabric walls. In the example above, the person used the base and added walls, windows and a roof.
Four Factors You Should Consider Before Converting Your Pop-Up Camper
There are several things to consider before plunging into a soft-top pop-up camper conversion into a hard-top camper:
Condition of the pop-up camper (mainly structurally)
Budget
Ability to collapse the camper after the conversion or having permanent hard-top walls
Weight limitations. Many pop-up camper bases are built for a limited weight (people and belongings). Adding heavy material, such as walls and roof etc can affect the axles and the overall structural integrity of the trailer.
Make sure you research each one of these items to avoid a money-pit project that might lead to a scrapping of the entire unit due to making the camper unsafe or unusable post-reno.
How To Put Hard Sides To Your Pop-Up Camper
Below are the steps to take to convert a pop-up camper into a hard-top camper (similar to the project showcased above):
Frame the Camper.
Frame the Side-Outs.
Add Plywood Walls.
Cut Out Any Windows or Doors.
Add Insulation.
Final Touches.
The Getaway Couple did a great blog on this subject: https://www.getawaycouple.com/putting-hard-sides-on-a-pop-up-camper/. Pretty much it comes down to this: this conversion can be pretty expensive and labor-intensive, but if you plan on using the camper often, the ROI can be there quickly, simply with the added protection from weather/insulation, privacy and better overall shelter.
If you are running into weight limitations, consider using aluminum instead of wood; however, keep in mind that aluminum is a conductor and might heat up the space in the summer too much (if not powder-coated). It also dents and scratches easily, so keep that in mind as you select your materials.
Some people share their reno journey step-by-step, like xENIGMAx:
Source: https://imgur.com/gallery/jNkcr
Now, this is a reno of a pop-up to a tiny home. A conversion from po-up to hard-top is similar, but you can make sure that the camper still collapses for transport. Very few people choose this option, however, due to the difficulty of figuring out the collapsing mechanism.
There are also conversions that are semi-permanent and can be converted back when not stationary. For example, this guy converted an old pop-up camper for someone to use as a craft area:
Overall, there is a whole reno/conversion movement for those who want to create a nice space on a budget:
People get pretty creative when changing and customizing the space to make it livable and functional. While many thrift and repurpose materials to customize their space, there are actual conversion kits on the market that one can purchase. However, they are fairly pricey and good for those who want to minimize their own work on a camper. Some of the conversion kit companies on today's market are:
Wayfarer Vans: https://wayfarervans.com/walt-camper-kit/
Zenvanz: https://www.zenvanz.com/kits
Adaptiv: https://happiercamper.com/pages/adaptiv%E2%84%A2-for-vans
Although these are mostly for camper van conversions, these modular systems can be used in pop-up van conversions, as well.
FAQs
Are pop-up campers hard to set up?
Not at all, but there are several steps to take to set up. Overall set up can take anywhere from 10-20 minutes, depending on model or style.
Can you live in a pop-up camper year-round?
You could live in a popup camper year-round, although it will largely depend on the weather of the location.
Do hard-side pop-up campers leak?
If set up properly and not damaged, these campers should be leak-proof.
Do hard-side pop-up campers have AC?
Many do not have an AC or heating, simply because they are not as well insulated as their RV counterparts. You are basically at the mercy of nature and have to create your own airflow.
What is the best hard-side pop-up camper?
Lovingly referred to as the "Transformer Travel Trailer", the Aliner Family takes first place in the hard-side pop-up camper category.
Do pop-up campers with bathrooms all have black tanks?
No. Some have a composting toilet or another stand-alone unit.