Top 5 reasons why it's a fun place to visit:
Relax at the numerous beaches or visit some of the islands
Visit the Leonabelle Turnbull Birding Center
Check out the Texas SandFest in April
Walk the Port Aransas Fisherman's Wharf
Check out the University of Texas Marine Science Institute
List of top 10 RV Parks in the Port Aransas, TX area:
(Disclaimer: information is a compilation of researched info as published online and does not necessarily reflect the experience or opinion of the author)
The RV parks have been ranked and are listed from "Most Recommended" to "Least Recommended" based on reviews, feedback, amenities, and preference. Cost was not the primary ranking driver. Please note that weekend RV families with children might have different needs than full-time RV "snowbirds".
1. Gulf Waters RV Resort
One of the favorites of many visitors who come to the Port Aransas area, this park offers a relaxing and clean atmosphere with access to the beach. The sites are well landscaped and there are several ponds that add to the ambience and flow of the park.
What makes this park unique?
This park has 600 ft of beachfront on the Gulf of Mexico. It's a true resort with all the "bells and whistles". Each lot is decorated individually by their owner with a tiki hut, fire pit etc. Each site is spacious, paved, and well-manicured.
Note: Start making reservations into 2023, as these sites are filling up fast!
2. Surfside RV & Resort
While the online presence of this park is not up to par with its competitors, the small park family business care is reflected in the positive feedback from previous visitors.
What makes this park unique?
A smaller, family-owned park since 1999, this park is close to shops and restaurants in the area. This park is located about three to four blocks away from the beach. Max stay for long-term visitors is 6 months.
3. Ransom Road RV Park
A small RV park that is close to the beach and a great value for a park that is 2 minutes from Corpus Christi.
What makes this park unique?
Self-proclaimed "Best Little RV Park in Texas", this park is a great place to stay at on a budget for an extended period while enjoying the closeness to all that the Gulf Coast has to offer! From scuba-diving to fishing, there are ways to keep busy and relax at the same time.
4. Pioneer Beach Resort
Clean and manicured, this resort prides itself in appearance and luxury. Touted as the most popular place to stay in Texas, this park is in a fantastic location to make family memories on the beach!
What makes this park unique?
This park is nestled in the sand dunes and has a remote beach access via boardwalk while boasting numerous amenities at the park. Whether a person likes fishing, beachcombing, or golfing, there is something for everyone!
5. Marina Beach RV Resort
This park suffered damage during the hurricane in 2017 and has been since renovated. It's a great stop to stay for any fishing enthusiast.
What makes this park unique?
With a golf-cart, one can pretty much get around anywhere. There is a deep-sea fishing business right across the street and one is within walking distance to bars and shops. One can also do horseback riding on the beach and there is also Port Aransas Nature Preserve nearby.
6. On the Beach RV Park
Right on Mustang Island since 1974, this park is the closest access point to the vast beaches that spread out for miles. It has an island/small family vibe that is conducive to relaxing and just enjoying the beach life.
What makes this park unique?
This small park is steps from the beach, with golf cart access all over Port Aransas. Enjoy a day of fishing, surfing, or kayaking.
7. Mustang Island State Park
This park has been repaired after Hurricane Harvey and has the basis amenities of a State Park while being located close to the beach.
What makes this park unique?
Visitors come here for an affordable getaway to enjoy a campfire, to fly kites or to beachcomb. Although the sites are very close together, the beach location makes up for it.
8. Tropic Island RV Resort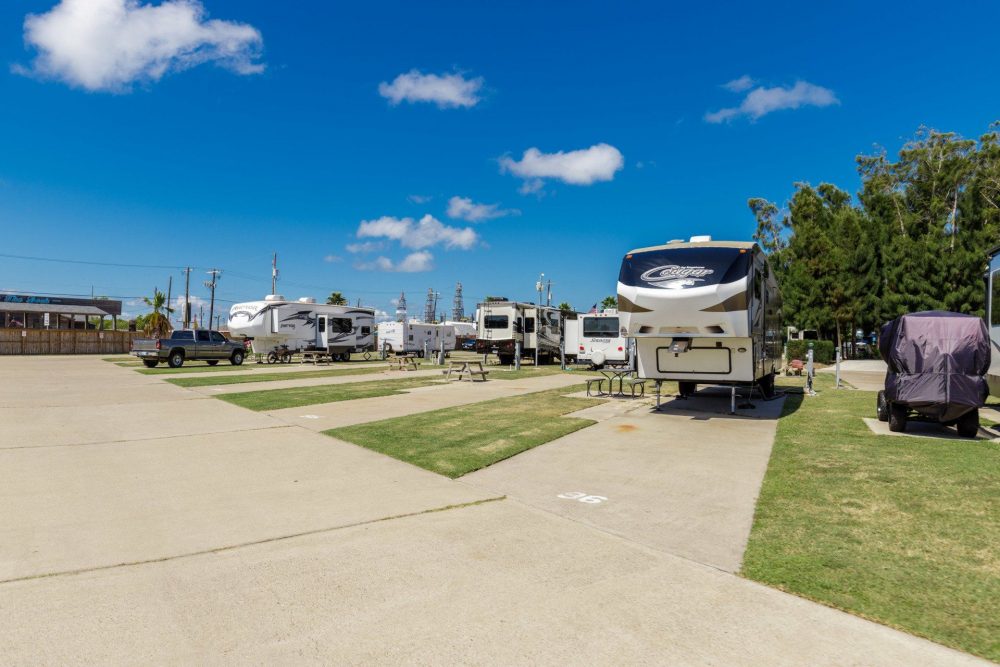 Touted as the "calmer beach area of the Gulf Coast", this park is a genuine resort with all the amenities to make for a comfortable and memorable vacation. Being close to the beach as well as close to several eateries, it's a great place to stay for a while and to soak up the sunshine!
What makes this park unique?
This park is a full-service long-term vacation resort, with RV sites, as well as cabins and bungalows. It caters primarily to snowbirds (encouraged by long-term stay specials), but everyone is welcome. The tropical landscaping and the spectacular sunsets are a daily reminder of a paradise vacation.
9. Island RV Resort
Close to the Community Park and the Leonabelle Turnbull Birding Center, this park is close to the beach, as well as in the heart of Port Aransas and within walking distance to several eateries.
What makes this park unique?
This is a small close-knit park that takes safety seriously. Their saltwater pool and other amenities make it a relaxing little place to stay at and enjoy the beach life! There is a huge aquatic park nearby and the area also has many different festivals throughout the year.
Note: anyone staying over 30 days must undergo a safety check.
10. Port a RV Resort
A coveted location for family get-togethers or group meetups for snowbirds, this park is close to the beach and can be reached either by ferry or by TX-361 N from Corpus Christi or TX-361 S from Rockford. Many visitors are return guests based on previous positive experience.
What makes this park unique?
This is a wonderful park to stay at for several weeks and it is well worth the price. It has all the amenities and it's located close to the beach and within all the tourist attractions of Port Aransas.
Note: book your site at least 8 weeks in advance, 16 weeks in advance on holiday weekends.
TIPS TO GET TO PORT ARANSAS
To get to Port Aransas, one can travel via the I-37 south from San Antonio or take the TX-35 from Houston going southwest, then taking the Aransas Pass to Mustang Island.
Port Aransas can be also reached by ferry or by taking the I-10 from Louisiana. When coming from Corpus Christi (where some of the featured RV parks are located), one travels via TX-358 to get to the island.