A quick Internet search for Tire Pressure Monitoring Systems (TPMS) for campers and RVs will result in more than two dozen different brands and "styles" of systems. We have narrowed the field somewhat to help you focus on the best, most practical and economical TPMSTPMS products for camper and RV owners. Even a quick walkaround before each trip or each time you stop may not catch impending tire troubles.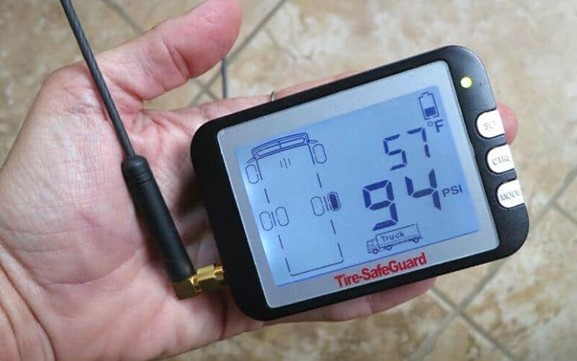 An unexpected tire blowout in an RV can be dangerous and can damage your camper or cause loss of control of both the camper and the tow vehicle.
Most who pull campers or drive motorhomes routinely check tires before and during trips. This involves both a visual inspection of the tire tread as well as checking the air pressure.
Note, it is important that tires on each axle of a multi-axle trailer are in equally good condition (same degree of tread wear) and the same pressure. If not, one tire is carrying a greater load and one of the tires on that side is likely to wear out much more quickly than the other(s). A TPMS will help assure that that tire pressures a matched.
Whether monitoring tire pressures or keeping track of tread wear, tire care classifies as 'essential maintenance.'
If you cover a lot of ground in your RV, a tire pressure monitoring system (TPMS) will make tire maintenance much easier.
rv tire pressure monitors include sensors that are placed directly on your travel trailer or motorhome tires. Those sensors send information back to a monitor, usually mounted somewhere easily visible to the driver.
A TPMS constantly monitors the tires and transmits information like tire pressure and temperature to the monitor so you can see any pressure differences between tires.
The best TPMSs automatically alert you if the pressure in any of your tires falls below a certain threshold.  Some even monitor and report fast and slow leaks.
But how do you choose the best RV tire pressure monitoring system for your use and budget?
We have compiled a list of six top-tier systems for your travel trailer or motorhome—with specifications and features for each system to help you match a system to your operations.
How TPMS Works
There are two key parts to each TPMS, the sensors and the monitor. Sensors are tiny pressure and temperatures sensor/transmitter that replace the cap on the tire's stem and transmit a signal to the system monitor mounted where they can be seen by the driver
The sensors are powered by small batteries. These batteries typically have a life of two or more years, and some batteries are replaceable when needed.
Units of Measure
Tire pressure can be measured in psi (pounds per square inch) or bars-(the metric scale for air pressure). One bar equals 14.5 psi. Most TPMS offer the option to use either scale.
Number of Sensors
This review looks at TPMS sets that include at least six sensors to 12 or more sensors. We picked "6" because many people tow a single axle, two-tire camper. With six sensors, both the tow vehicle and the camper can be monitored. Also, many motor coaches have six tires.
Note: more modern tow vehicles may include a TPMS as factory standard equipment, but most do not provide the actual tire pressure but simply a warning light. An aftermarket TPMS can be used with these tires and show actual tire pressure as well as a leak before the vehicle's sensor light illuminates.
There are large trailers that that have six wheels and may be towed by a truck with dual rear wheels. This would require 12 sensors for all tires involved.
Sensors are numbered and the numbers correspond to the numbers on the display. When installing sensors, use a logical installation sequence such as starting with the left front tire, then the right front tire, and so on. That way you will know exactly which tire is losing pressure if it occurs.
Signal Extender
On longer rigs, the signal from the sensors may not reach the monitor consistently, in which case a signal extender may be required for a consistent reliable readout.
About the Ranking
The following are ranked in order of cost, beginning with the lowest price of systems we considered minimum suitable for the active camper. We have also noted our favorite feature for each TPMS reviewed. We have added one even lower priced item at the end, that is not ranked.
Buying Recommendations
No. 1 Feature
Displays All Sensors Constantly
Multiple Monitor Mounting Options
For
Truck and Camper or six-tire Motor Home
Truck and Camper or six-tire Motor Home
Power Source-Monitor
Lithium Battery, Solar or USB Charging
Internal Battery Plus a Charing Cord
Best Price
No. 1 Feature
Displays All Sensors Constantly
For
Truck and Camper or six-tire Motor Home
Power Source-Monitor
Lithium Battery, Solar or USB Charging
Fuel Economy
For
Truck and Camper or six-tire Motor Home
Power Source-Monitor
Internal Battery Plus a Charing Cord
Multiple Monitor
No. 1 Feature
Multiple Monitor Mounting Options
Our Six Top TPMS for Travel Camping
1. B-Qtech Wireless Solar Power RV TPMS with 6 Sensors –
Editor's Pick
Specs
No. 1 Feature: Displays All Sensors Constantly
Number of Sensors: 6 (not expandable)
For: Truck and Camper or six-tire Motor Home
Power Source-Monitor: Lithium Battery, Solar or USB Charging
Display Features: All tires visible
Pressure Units: PSI
Manufacturer: B-Qtech
Price: $120
Although this unit is featured as solar powered—to recharge the internal lithium battery—it can also be recharged with the vehicle's USB port.
This is another unit where the sensors provide sufficient signal strength to operate without a signal extender.
Like others, it provides audible alerts for out-of-limits temperature, pressure, or battery charge status.
The TPMS uses USA imports Freescale chip design for better and more stable and accurate signal transmission. The system is lightweight and easy to install.
Finally, one of my favorite features of this TPMS is that it syncs the sensors on all your tires to help you maintain tire pressure balance.
This can drastically improve the life of your tires and improve your fuel economy because you will not be running one (or more) tires at an inefficient low pressure.
Unlike other units, this one has only six sensors and is not expandable.
Sale
B-Qtech Tire Pressure Monitoring System RV Solar Wireless TPMS for Trailer Travel Motorhome(0~199PSI) with 6 Sensors, 5 Alarm Modes Tire Pressure Real-time Monitor Alarm System, Brightness Adjustable
【SOLAR POWERED & USB CHARGING】T650 tire pressure monitoring system with 2 charging ways which ensure the tpms will work continuously. Solar panels provide continuous power on sunny days. The monitor has a built-in 1000mAh rechargeable lithium battery, allowing the monitoring system to have a longer standby time. TPMS equipped with a USB charging cable, the monitor can continuously provide power on rainy days or nights.☀ Press the "▬" button of the standby interface to adjust the brightness.
【INTELLIGENT MONITORING & INFINEON SP40 CHIP】The tire pressure monitoring system uses the Infineon SP40 chip, manufactured by Infineon Technology which is a leading semiconductor company in the world. Compared with other chips, it has lower energy consumption and higher measurement accuracy to achieve longer, more accurate, and more stable tire monitoring. Tire pressure detection accuracy is 0.1bar, temperature detection accuracy is ± 2 ℃. Update data every 3 seconds and alert for anomalies.
【5 ALARM MODES & USER-SET ALARM VALUES】B-Qtech tire pressure monitoring system provides five alarming modes (including fast leak alarm, high/low-pressure alarm, high-temperature alarm, and sensor low power alarm). Six tires are set as two axles, and you can set high pressure, low pressure, and high temperature alarm values for each axle according to actual needs. (Factory settings: High-pressure alarm:116psi, Low-pressure alarm:58psi, High-temperature alarm:149℉. Customizable)
2. EEZTire RV Tire Pressure Monitoring System
Specs
No. 1 Feature: Super Readable Display
Number of Sensors: 4, Expandable
For: Truck and Camper or six-tire Motor Home
Power Source-Monitor: Internal Battery Plus a Charing Cord
Display Features: Large Color Display
Pressure Units: PSI
Manufacturer: EEZTire
Price: $145.00
This RV tire monitoring provides continuous monitoring while in motion and, to conserve the battery, the system will switch to its power-saving mode when no activity is detected for 15 minutes.
The pressure sensors continue to send signals even when monitor is not displaying data.
The system monitor also provides audible alerts, meaning you will be alerted to a pressure change without having to constantly check the monitor. The unit also shows the temperature inside your tires.
A sound alert, in addition to a visual alert, are provided for out-of-limit readings.
The rechargeable battery is rated to last up to 60 hours per charge, meaning you are protected during long stretches at night. The package includes a USB powered battery charger. Many modern vehicles include USB charging ports or use a cigarette lighter USB-adapter plug.
This system can be expanded up to 26 sensors if needed, however, for larger RVs, a signal extender may be needed to maintain signal strength from the rear tires.
Like other monitors, the display screen will go to sleep—and battery saving—mode when the vehicle power is shut off.
Key positives are the well-designed readable display; excellent reliability, and ability to adjust and set limits parameters.
EEZTire - TPMS Real Time/24x7 Tire Pressure Color Monitor (Monitor ONLY)
■ REAL TIME/24x7 SAFETY & HIGH FUEL ECONOMY - BRAND NEW LARGER TPMS COLOR MONITOR By EEZ RV Products is our latest technology upgrade. It is fully compatible and works well with any existing EEZ RV Products' TPMS anti-theft or flow-through sensors.
■ ADVANCED TECHNOLOGY ALERT SYSTEM - TPMS monitor is motion sensitive and monitors tire pressure and temperature on 6-second intervals continuously. It sends visual and audio warning alarms immediately when tire pressure or temperature falls outside the preset safety parameters. The monitor goes into power saving mode if no motion is detected in 15 minutes to save battery. The sensors send status signals to the monitor on 6-second intervals continuously as long as the sensors are under pressure.
■ EASY OPERATION & MAINTENANCE - EezTire TPMS monitor has one of the largest display screen on the market 4 ½" x 3". It takes minutes to setup and program. Pre-programming available by seller (please contact us for details). The monitor has a built-in rechargeable internal lithium battery. Sensors have replaceable batteries. It comes with a common USB charging cord that can be connected to vehicle's 12 volt cigarette lighter adaptor.
3. Tymate 6 TPMS M12-3 for RV or Trailer
Specs
No. 1 Feature: Best Features for Cost
Number of Sensors: 6 (No expansion)
For: Truck and Camper or six-tire Motor Home
Power Source-Monitor: Solar rechargeable battery, Cigarette USB charger
Display Features: Multiple Alarm Modes, Adjustable Backlight
Pressure Units: Bar and PSI
Manufacturer: Tymate
Price: $159.00
The Tymate 6 comes with six sensors, a solar panel on the monitor for solar recharging the 850-milliamp-hour-batery for energy storage.
Once charged, the system depends on its battery for electrical power.
Although it relies solely on solar energy for recharging, it does boast a reasonably long battery life. A cigarette lighter /Micro USB charging port can be used when there is no sunlight.
Also, the replaceable battery is rated to last up to two years, so you do not have to replace the whole monitor.
In additions to monitoring tire pressures and temperatures, it also provides alerts for fast and slow tire leaks as well as high pressures and low pressures.
An excellent compromise between performance and cost.
No products found.
4. TTI Life U901TU Flow Through Tire Pressure Monitoring System
Specs
No. 1 Feature: Flow-Through Sensors
Number of Sensors: n/a
For: Truck and Camper or six-tire Motor Home
Power Source-Monitor: Cigarette Lighter
Display Features: Compact Display
Pressure Units: PSI
Manufacturer: TTI Life
Price: $319.00
This highly rated monitor has several especially good features. First the display is large and easily readable. Also, the thresholds are adjustable. Another positive feature is the patented, waterproof, "flow through" sensors—you do not have to take the sensor off to put air in the tire.
The display shows tire pressures and temperature in sequence every 8 seconds.
It also provides alerts on slow leaks and high temperatures in the tires.
Like most other systems, the sensors are powered by a small battery in each sensor.
Monitor differs from most because the unit must be plugged into the cigarette lighter for power.  This system is rated to monitor tire pressures up to 175 psi.
Incidentally, the tire sensors have an excellent transmission range, so a range extender should not be needed on longer RVs and travel trailers.
The complete kit includes the monitor and sensors, cigarette lighter power cord, and a mounting bracket.
An excellent TPMS for a six-tire motorhome, albeit a bit pricey, this model features user-replaceable sensor batteries for extra longevity, as well as an anti-theft secure design so they will not go missing when you are parked. The sensors are waterproof, ideal for year-round RVing.
Warnings include abnormal tire pressure (high or low), pressure and temperature with alarm icons, red lights, and an audible warning, so even if you are driving solo in difficult conditions, you will know straight away when you need to pull over. Temperature settings can be changed to display Fahrenheit or Celsius.
All in all, this is a good quality TPMS that is easy to install and suitable for most six-tire motorhomes.
Buy Now
5. TRUCK SYSTEM TECHNOLOGIES TPMS W/6 Cap Sensors
Specs
No. 1 Feature: Multiple Monitor Mounting Options
Number of Sensors: 6
For: Camper or Motor Home
Power Source-Monitor: Cigarette Lighter
Display Features: n/a
Pressure Units: PSI and BAR
Manufacturer: Truck Systems Technology
Price: $ 443 – $453
Those of you that own 5th wheels should check out the Truck System Technologies TST-507-RV-6-C TPMS System.
It comes with a total of six sensors, which allows you to monitor the tires on your truck as well as two tires on your 5th wheel.
Additional sensors can be purchased to monitor up to 38 tires using a single monitor.
I really like that the sensors in this system include covers that make them much more difficult to remove.
Each sensor requires the use of a cap wrench for effective removal, a strong anti-theft deterrent.
The monitor in this system can easily mount to your dashboard via multiple mounting options.
This includes a suction cup and a non-slip rubber cradle. You will be able to customize your monitor setup depending on the exact model of your truck, as well as your personal preference.
It features an easy-to-read display.
This system relays new readings every 12 seconds providing constant current tire conditions.
Although we like many of the features on this TPMS, it is not the most cost-effective unit available.
Included is a signal booster that may be needed on longer RVs.
TST 507 Tire Pressure Monitoring System with 6 Cap Sensors and Color Display for Metal/Rubber Valve Stems by Truck System Technologies, TPMS for RVs, Campers and Trailers
TPMS TIRE PRESSURE MONITORING SYSTEM - Real time display of pressure and temperature on a 3.5" widescreen color monitor. Monitor gives visual, audible and textual alerts when conditions are at unsafe levels. Monitor reports in multiple units including in PSI, BAR, F°, and C°. User adjustable high and low pressure alarm levels. Montiors pressures between 0 to 218 PSI.
MULTI VEHICLE MONITORING SYSTEM - TST 507 systems accommodate all sizes of tow vehicles, 5th wheels, RVs, motor homes, boat trailers, agricultural trailers, construction trailers, motor homes, construction equipment and commercial transport vehicles. Monitor up to 110 tires: 14 in the power position, 4 trailers at 24 tires each.
"WIRELESS SENSOR TECHNOLOGY - Includes cap style sensors with user replaceable CR1632 batteries. Sensors include anti-theft feature. Sensors are light, compact and water resistant for use in all climates and weather. Easy and quick installation. "
6. TireMinder TM-77 Tire Pressure Monitoring System
Specs
No. 1 Feature: Cell Phone-Type Display
Number of Sensors: 6 up to 22
For: Truck and Camper or Motor Home
Power Source-Monitor: Internal battery and USB charger
Display Features: Large, Cell-Phone Type Display
Pressure Units: PSI
Manufacturer: TireMinder
Price: $448
The new TireMinder TM-77-6 Tire Pressure Monitoring System features updated software and a large display to make monitoring your RV, Motorhome, 5th Wheel, Motor Coach, or Trailer easier than ever. The system provides audible alerts for changes in both pressure and temperature.
The kit includes a micro-USB cable and a DC charger for the monitor.
A signal extender for larger RVs is also included. This TPMS is warranted for three years.
As reflected in the price, this is one of the top-of-the line TPMS. The longer warranty and the cell-phone-like monitor are unique in this list.
Buy Now
7. Tymate Wireless TPMS with 4pcs External Sensors
Specs
No. 1 Feature: Lowest Cost
Number of Sensors: 4 (not expandable)
For: Camper or four-tire Motor Home
Power Source-Monitor: Cigarette Lighter
Display Features: n/a
Pressure Units: Bar / PSI
Manufacturer: Tymate
Price: $27.00
We have included the Tymate TPMS because it is the least expensive and most compact system, and the display is unique. The display plugs directly into the cigarette lighter. This may or may not be a plus, depending on where the cigarette lighter is located and if it is used for other devices.
It is useful for monitoring two tires on a smaller trailer (and two on the tow vehicle), or for a smaller four-wheeled RV or conversion van.
The screen displays the expected tire pressure (both BAR or PSI) and temperature (both Celsius and Fahrenheit), as well as the vehicle's battery charge state.
In addition to tire pressure and temperature, it also reports fast and slow leaks, as well as sensor fault and low power alerts.
This unit would be ideal for a conversion van, smaller campers, or a smaller four-wheeled RV.
It is also affordable.
The sensor batteries are rated to last up to two years and are easily replaced.
Most compact TPMS monitor that plugs into cigarette lighter, also features a USB port on the monitor
Buy Now
Things To consider When Choosing the Best Tire Pressure Monitor System for RV (Reviewer's Notes)
Monitor Battery Capacity
Battery life is an important factor when selecting a TPMS. And it is also one of the easiest metrics by which you can compare different models.
What you should look for in a TPMS' battery life, however, also depends on how much you plan to use it.
If you are a full-time RVer who will be moving around regularly, you will probably want batteries with longest lives you can find.
This will mean less regular maintenance for you in the form of having to replace or recharge batteries.
However, if you only take your RV out for a few trips every year, you might get away with a TPMS with a battery life of a week to 10 days.
This is because you will only need the battery to last throughout your trip and you probably will not mind replacing it before your next adventure.
Ease of Installation
Fortunately, all the TPMS models mentioned here are relatively easy to install.
They are designed to mount directly to your dashboard or plug into your cigarette lighter.
But any TPMS that is designed to mount to your dashboard should come with the requisite hardware to do so.
Be sure to check into the "additional parts and accessories" that come with a TPMS so that you feel comfortable installing it in your preferred location.
If the monitor has a flat base, you may be able to mount it with double-sided tape.
Quality of the Display
To be useful, you must be able to read the display. That means that the values are easy to see on the display, both day and night.
As mentioned earlier, the sensors should be numbered, and these number correspond to the sensor number displayed on the monitor. You can mount the sensors in any order, but you will have to remember which number is which tire.
The important thing is that when there is a problem with a tire, you will immediately know exactly which tire is affected
In my opinion, the EEZTire RV TPMS has the easiest display to read, although I prefer the B-Qtech Wireless Solar Power RV TPMS because it displays all monitored tires all the time.
Also keep in mind that tire temperature is also an important indicator of a tire problem, indicating something as simple as a dragging brake or failing wheel bearing.
What Is the Best RV Tire Pressure Monitoring System?
Like so many things in life, the answer is "it depends…"
If you are a full-time RVer, a reliable and durable TPMS is probably a good investment, and these are the ones at the higher end of the price spectrum.
If you have a two-wheel camper that you take out five to six times a year, you may be fully satisfied with a less costly TPMS.
In either case, you will be able to see your tire pressures and detect any changes in pressure or temperature that indicate a problem with a tire and will know which tire it is.
Are these systems compatible with nitrogen-filled tires?
Yes. They will work with either nitrogen or air-filled tires.
How long do most sensor batteries last?
The fact is—sensor batteries will probably outlast the tires. Some sensor batteries last as long as five or more years. Sensor batteries are small disk- or pill-shaped batteries like watch batteries, and easy to change—if they can be changed. A few manufactures build the battery into the sensor so that when the battery does die, the whole sensor must be replaced.
Most of the models reviewed have replaceable batteries.
Last update on 2023-11-29 / Affiliate links / Images from Amazon Product Advertising API