Spanning the gap between Class A and Class C motor homes are the Class B RVs or Camper Vans. Class B motor homes begin life as a stock van typically used for business and delivery. Popular vans for Class B conversions are the Mercedes Sprinter, Ford Transit, or the Dodge Ram ProMaster.
Source: newsbinding.com
Several familiar RV manufacturers, including Airstream, Winnebago, Fleetwood and RoadTrek offer one or more Class B RVs.
A Class B camper or motorhome begins as a production line van or hauler. Unlike Class A and Class C campers, which begin essentially as a bare chassis, Class B campers use the full stock van off the assembly line and create a camper inside the stock van body.
Note, to be included in our review of Class B motor homes, the vehicle must be constructed withing the dimensions and sides of a manufacturer's stock van. There are some campers marketed as Class B that have replaced the stock hauler box with slightly larger custom made boxes. These are not included here.
Advantages of Class B RVs
One advantage of Class B is price and value. For the motorhome manufacturer, it is less expensive to convert and customize the van chassis over having to build a coach section from the ground up. Another advantage is driving ease. Many Class Bs feel as easy to drive and park as an SUV or pickup truck. It is even realistic that a Class B camper could fill in for family car duties. Service is also a plus since just about 100% of the drive train, running gear, etc. are standard parts and service that are available from a Mercedes, Ford, Chevy, or Dodge dealership.
In addition to the production Class B vehicles reviewed here, there are several custom van shops that will build custom interiors to your specifications. Even the major manufacturers included here will build custom units—for a price.
Some downsides of Class B RVs
You can forget the master bedroom. Most will have sleeping quarters provided by dropping a table or unfolding a couch. Most camper vans are comfortable for two, and the ones that claim to sleep three or four may be cramped.
Everything is compact in a Class B RV. Space is limited, so things like bathrooms, though fully functional may be into tight spaces.
Life can be cozy for two, any more than that and you will be tripping over each other.
On the plus side:
Many Class B RVs will fit in a standard garage or public parking space.
They may double as a second family vehicle and the mileage will be a better than Class A and Class C motorhomes.
While several Class B models have creative designs to sleep more than two people, realistically, for extended travel, Class B motorhomes are designed for two people to travel comfortably.
Interior Amenities: Amenities—all the items that make each camper more livable, are generally similar in some form or another among all of the camper vans reviewed. These items include TV and sound systems, galley equipment, lighting, pedestal tables, etc., that are offered by all manufacturers in one form or another. We have mentioned a few in the individual reviews when we saw a unique or especially useful feature.
Several manufacturers offer "Build Your Own" options. This essentially applies to exterior and interior colors, fabrics, and cabinetry finishes.

What to look for in Class B RVs
First, our evaluations is based on how we envision using a Class B camper. The two of us travel frequently, often to visit family in some distant state. The camper van fits nicely in most driveways, so we do not have to find a campground. We can use the camper to take two or three people to dinner. And we do not have to worry about maneuvering a camper in city traffic.
There is, however, a tradeoff in space versus a camper trailer. Any camper based on a stock van chassis is going to be more limited in space, however creative, and innovative designers have been able to pack significant comfort and utility into the limited space available.
One key issue is available storage for clothes and other gear, and this figures into evaluation of each model.
Key evaluation features we looked at were:
Travel comfort for up to four people—seats with seatbelts
Overall length no more than 23 feet for driving comfort, parking, etc.
Luggage and storage space—at least two full suitcases (or golf bags)
Appliances and accessories
Sleeping accommodations
Interior heating system
Onboard water systems with fresh, grey, and black water tanks
Water heater
Lighting
Cost
Our Top Five Class B Motorhomes
1. RoadTreck Zion SRT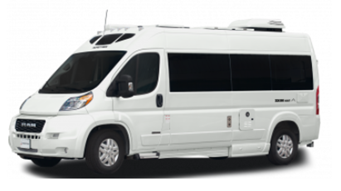 Source: RoadTrek
Specs
Length: 19' 7"
Chassis: Dodge Ram Pro Master 3500
Fuel Type: Gas
Engine: 280 hp, 3.6L V6
Transmission: 6-speed automatic
Passenger Seating: 5
Passenger Sleeping: 2/3
Number of Models: Six
Zion SRT Base List Price: $132,860

RoadTrek essentially established and set the standard for Class B motorhomes and the company currently offers six different models with 2021 list prices ranging from $105,000 to $168,000.
We selected RoadTrek's mid-price range Zion SRT as the model to feature. We can see it as an efficient, comfortable vehicle for extended trips for two people. It offers comfortable seating for five in travel mode and sleeping accommodations for three when equipped with the optional folding mattress that converts the forward captain chairs into a single bed. A removable table converts the rear seat into a dining area. A similar table also allows the captain's chairs to be used for dining or a computer table to maintain your travel journal
As an historic leader in Class B design, RoadTrek has refined the interior for comfort, convenience, and living on the road. The Zion SRT includes a galley with ample workspace, a 5.3 cu ft refrigerator, large pot drawer, and a tankless instant hot water heater, and a slide-out pantry. The enclosed bath includes a toilet, shower, and sink.
The rear seat that transforms into a king-size bed, provides seating for three.
The Zion SRT is built on the Ram ProMaster chassis, giving you the combination of refined exterior and interior styling on a rugged chassis. The sleek lines and large windows make an attractive coach. RoadTrek offers many exterior amenities that make life on the road easier and more enjoyable.
This Class B camper includes RoadTrek's Firefly coach control system, 24-inch Smart TV, 40 AMP Lithium battery system, and a 3,000 Watt Sine Wave inverter.
2. Winnebago Travato 2021 Camper Van
Source: Winnebago
Specs
Length: 21 feet
Chassis: Dodge Ram Pro Master
Fuel Type: Gas
Engine: 280 hp, 3.6L V6
Transmission: 6-speed automatic
Passenger Seating: 4
Passenger Sleeping: 2
Number of Models: Four
Zion SRT Base List Price: $130,056

Winnebago is an industry leader in motor homes of all sizes, including Class B, although they refer to their "Class B" coaches as "Camper Vans." Also, Winnebago offers five different base camper van styles and a total of 10 different floor plans. Using our basic criteria for travel camping, we selected the Travato 59G. It provides seating for 4 and sleeping for 2.
Of five Class B model lines, three models are diesel powered, two gas powered. List prices run from$107,821 to $217,500. One of the things we like about the Winnebago lines is that they all offer at least passenger seating for four people, some models even more. Still, sleeping is pretty much limited to two people.
We have been pulling a camper with essentially the same interior design elements including the wet bath that combines the toilet and shower. Our camper does not even have a sink in the bath. The Travato dinette will easily serve two people.
With a choice 10 Winnebago camper vans overall, we selected the Travato 59G as the one we would find most practical. First, its starting price range of $130,000 seems more in line with our budget, and the fact that we can use the van as a four passenger vehicle means it could double as our second vehicle. Also, it is offered in four different floor plans, two with Winnebago's tapered full bed and two with twin beds.
Another feature we like is 190W solar panel for quiet adventures off the grid (quiet means we do not have to run the Onan gas generator.)

3. Thor Motor Coach Sequence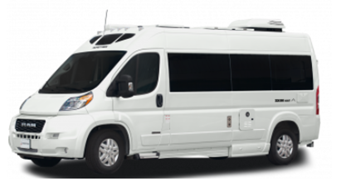 Source: Thor Motor Coach Sequence
Specs
Length: 19' 7"
Chassis: Dodge Ram Pro Master 3500
Fuel Type: Gas
Engine: 280 hp, 3.6L V6
Transmission: 6-speed automatic
Passenger Seating: 4
Passenger Sleeping: 2
Number of Models: Three
Zion SRT Base List Price: $96,375

The Thor Sequence 20A is another camper that fits our travel profile. Thor offers three different 21-ft models; 20L, 20K and 20A, ranging in list prices from $93,125 to $96,375. The 20L and 20K are both good units, but the bath is located in the rear of the coach and if the bed is extended you have to crawl across the bed to get to the bath. In the 20 A, the bed is in the back and the bath is forward of the bed. For the two of us, it is convenient to leave the bed down and have easy access to the bath.
Thor has some features similar to the Travato in designing their new entry in this field. The Sequence is available in three floor plans. Of the several floorplans, the 20A floor plan would best meet our criteria because it is the only one that would allow the rear bed to stay open and made up and still have access to the lavatory.
Available electrical power is not an issue, even off the grid, with its Onan generator. An AC/DC inverter, an energy efficient Lithium Battery electrical system, a 1,000-watt AC/DC inverter, about 200 watts of solar generating, and a 2800 watt Onan gas generator.
4. Airstream Interstate 19 Touring Coach
Source: Airstream
Specs
Length: 19'
Chassis: Mercedes
Fuel Type: Mercedes-Benz 3.0L V6 turbo diesel engine
Engine: V6 turbo diesel engine
Transmission: 7-speed automatic
Passenger Seating: 4
Passenger Sleeping: 2/3
Number of Models: Three
Zion SRT Base List Price: $165,143

The Interstate 19 Touring Coach takes everything that makes the Interstate the #1 best-selling Class B diesel motorhome and wraps it in a smaller, nimbler 19-foot package – one that fits nicely in a standard parking spot.
Take off for a solo adventure or get some quality time with your significant other. Head to the city or the campground. Enjoy every luxurious amenity and every advanced safety feature.
The combination of Airstream's reputation and Mercedes-Benz® quality sounds like the perfect combination to pull into a beach-side site somewhere in the Florida keys—or anywhere! Airstream offers three "Special Editions," the Interstates 19, 24GL ad 24 GT. The two 24 models exceed—not by much—our self-imposed list price of $200,000, leaving the Interstate 19 on our list.
Airstream boasts that it includes more Mercedes-Benz safety and performance features than anyone other RV manufacturer, including rear- and side-view cameras and assist features like the Parktronic parking system. Airstream has also augmented the chassis with their own Air Ride Suspension
The Interstate 19 seats four and sleeps two. It's two larger stable-mates seat nine and seven respectively, but still only sleep two.
As for features, you get the benefit of two widely recognized companies—Mercedes and Airstream.
On the Mercedes vehicle side of the equation, your get a 3.0 liter, V6 turbo diesel engine that offers both power and economy ideal for touring. Other Mercedes goodies include the lane-keeping assist, collision protection, side and rear-view camera, and their "infotainment" system.
A central control panel allows one-spot operation of lights, shades, RV awning, water heater and other system.
The coach includes unique cabinetry, two TVs, a tankless water heater, and top quality finishes on seating and countertops. The galley kitchen, workstation desk, and table tops work together to deliver a residential feel.
The model 19 seats four people, but your guests will be sitting in the back on the sofa that converts into your bed.
This is a multi-mission vehicle—take four people to dinner, weekend getaways for two to the mountains or the beach, or that long awaited month-long tour through any part of the country you choose.
5. Fleetwood IROK FSD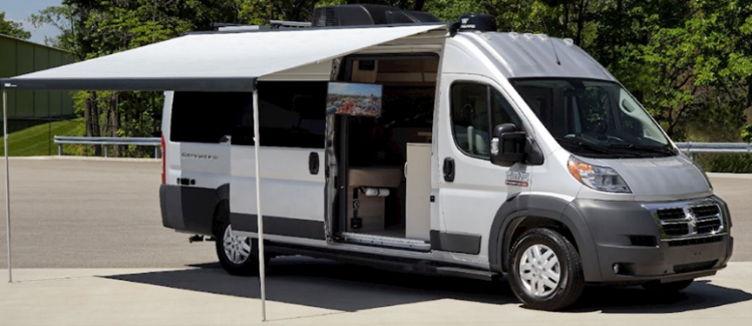 Source: Fleetwood IROC
Specs
Length: 21'
Chassis: ProMaster Chassis 350
Fuel Type: gas
Engine: Pentastar™ WT V6, 280 hp
Transmission: 7-speed automatic
Passenger Seating: 5
Passenger Sleeping: 2/4
Number of Models: One
Zion SRT Base List Price: n/a

Incidentally, REV is not an acronym, but a statement that defines the company's "commitment to connect and protect thousands of people every day."
With this pedigree, Irok is, according to Fleetwood, "more than a luxury Class B camper–it's the new age of modern RVs with its sleek, understated exterior and generous appointments inside."
Standard features include a 28-gallon fresh water holding tank, 2.5 LPG generator, rooftop solar panel and ECO charging system. The kitchen is equipped with a refrigerator, induction cooktop, microwave, and removable dinette table. Plus, the comforts of home are abundant with a large shower with sink and porcelain toilet, Samsung LED smart TV with HD digital antenna and Wi-Fi prep.
Bottom line, Irok will take you on grand adventures and still fit in your driveway.

Summary
Each of these campers would meet our criteria for a flexible vehicle for long or short vacations, or local trips, with features that are comfortable and easy to access and use. When you set out to pick your travel machine, decide how you want to travel, and what features and design elements will best enhance your travel experiences.