Getting in touch with nature is one of the best parts of traveling in your RV, but so is the ability to get outdoors while still enjoying the conveniences of modern life. If you've camped without hot water before, you know how jarring icy cold showers can be. We consider a quality water heater to be an essential component of RVing, so we've compiled some of our top picks for you.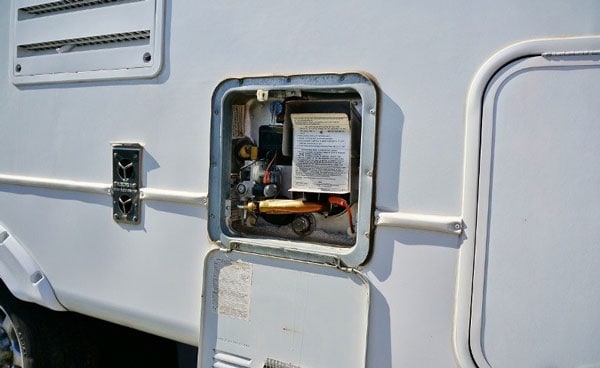 Source: rvweb.net
Buying Guide
Type of power. The two main types of energy for RV water heaters are electric and gas. Electric will require you to have your RV running to heat the water, and gas can utilize heat from the engine or simply uses a gas-powered pilot light. Some heaters have a battery backup or run on D-cell batteries.
Capacity. There are "on-demand" water heaters, which warm water as it goes through the panel instead of heating and storing it in a tank. These usually just over a gallon per minute capacity, while tanks will store various amounts of hot water depending on their size.
Portable or full system. Full system RV water heaters require installation, whereas portable heaters will also need to be hooked up, but some can be moved to other locations when desired.
Thermostat. Most contemporary RV water heaters will have a way to adjust the temperature, but be aware that some do not. If your water heater lacks a thermostat, you will not be able to change the hottest setting of water, even if it's scalding.
Buying Recommendations
Best Budget RV Water Heaters
1. Foruee Portable Propane Tankless Water Heater –
Editor's Pick
No products found.
2. Barbella Electric Hot Water Heater
Best Premium RV Water Heaters
1. Suburban SW12DE Water Heater –
Editor's Pick
2. Atwood Mobile Water Heater
Best Electric RV Water Heaters
1. Suburban Electric RV Water Heater –
Editor's Pick
2. Camplux Mini Tank Electric Water Heater
Best Gas RV Water Heaters
1. GASLAND 6L Portable Gas Water Heater –
Editor's Pick
No products found.
2. Atwood RV Gas Water Heater
No products found.
Best Full-System RV Water Heaters
1. Suburban 10-Gallon Gas Water Heater –
Editor's Pick
  Source: homedepot.com
If you want reliable hot water and are not a fan of the "on-demand" heating style, or have more than a couple of people using water in your RV, Suburban's full-system, 10-gallon gas model, is an excellent option. The water supply is high enough to take a couple of showers with the tank capacity, and the gas heating warms up to a toasting temp.
2. Atwood 94026 XT Water Heater
Best Portable RV Water Heaters
1. Eccotemp 2.5-Gallon Mini Tank Water Heater –
Editor's Pick
2. Bosch Electric Mini-Tank Water Heater
Final Thoughts
If you're going to camp in an RV, you might as well have the convenience of hot water, even if you try to "rough it" with most other things. Hot water heaters can be incredibly expensive, but if you minimize your use of warm water, you don't always have to spend several hundreds of dollars to get a decent unit. Using smart practices such as washing dishes in colder water or lathering up all over before rising off in the shower can extend the use of your hot water, and by doing so, you can often get away with a much smaller tank. Pick your favorite, and start enjoying warmer water in your RV today.
Last update on 2023-09-25 / Affiliate links / Images from Amazon Product Advertising API