The Bambi line of Airstream campers was first introduced in 1998 as the 19-ft. Bambi.
Anyone familiar with trailer camping will likely recognize any Airstream camper, with the shiny metal finish and the rounded front and rear.
The first Airstream trailers were manufactured in 1929 by Wallace Merle "Wally" Byam. Wally's first campers were actually tent structures that could be mounted "on" a Model T Ford. This was followed by a tear-drop shaped trailer.
At this time, Wally simply handcrafted the trailers for himself and at the request of a few friends.
In 1932, based on the number of requests he was getting, he opened a factory in Los Angeles, California. He did well, briefly, until production was interrupted by the Great Depression, followed by World War II. During these years he moved to Ohio, and he worked in an aircraft factory supporting the war effort. It was here he fine-tuned his skills working with aluminum.
After the war, in the mid-1940s, he set up shop in Jackson Center, Ohio. It was here that the Airstream trailer began to mature into its familiar shape. It was also here that Wally installed wiring and developed a water heating system for his trailers.
Following the end of World War II, the automobile had matured to the point that towing a trailer could be routine, and the nation was eager to get out, go camping, and explore. The now familiar aluminum Airstream began to appear across the country.
When Wally Byam died in 1962, the Airstream brand was firmly established in the travel camping community— mature to its current size and shape into the 1990s.
The Bambi Family of Smaller Campers
The Bambi line of Airstream trailers was launched in 1961. The line earned its nickname "on a Cape Town-to-Cairo Airstream caravan through Africa, led by Wally Byam. When Wally learned of a miniature deer revered by the Angolan locals, known for its strength and sure-footedness, it was only natural that it became the trailer's namesake. The beloved creature was called 'O'Mbambi' in the Bantu language."(1)
The Bambi Airstream travel trailer was launched in 1961. According to Airstream, "we apply the Bambi name to all single-axle Airstream travel trailers, except the Basecamp series, as a distinction for people who are looking for our most agile models."
The Bambi line of trailers are popular, not just because of their clear familiar resemblance to its larger two-axle stable mates, but because they are easy to tow and versatile.
Airstream Bambi Features
Airstream Bambi campers come in four lengths and three different basic floor plans. The shortest is the. Bambi 16RB (16 feet) that has a rear bedroom.
Next is the 19CB (19 feet long with a center bedroom).
The longest are the 20FB and 22FB, both with front bedrooms.
Each of the Bambi models is loaded with features including a bed for two, air conditioning and heating, and three of the four models include a full bathroom with sink, toilet, and shower. The 22FB has a spacious bathroom across the entire front of the camper.
Table 1. Bambi Dimensions and Weights
| | | | | |
| --- | --- | --- | --- | --- |
| | 16RB | 19CB | 20FB | 22FB |
| Exterior Length | 16 ft. 1in. | 19 ft. 1in. | 20 ft. 7in. | 21ft. 11in. |
| Exterior Width | 8 ft. | 8 ft. | 8 ft. | 8 ft. |
| Interior Width | 7 ft.7 | 7 ft.7 in. | 7 ft.7 | 7 ft.7 |
| Exterior Width with A/C | 9 ft. 3in. | 9 ft. 3in. | 9 ft. 3in. | 9 ft. 3in. |
| Interior Width with A/C | 6 ft. 4in. | 6 ft. 4in. | 6 ft. 4in. | 6 ft. 4in. |
| Maximum Weight Capacity (GVWR) (lbs.) | 3,500 lb. | 5,000 lb. | 5,000 lb. | 5,000 lb. |
| Net Carrying Capacity | 500 lb. | 1,350 lb. | 1,000 lb. | 1,000 lb. |
| Master Bed Dimensions | 48in. x 78in. | 48in. x 76in. | 48in. x 78in. | 54in. x 80in. |
How Much Is an Airstream Bambi Worth?
Bambi campers are not cheap, but they do tend to hold their value. Basic Bambi campers come with everything—except food and personal items—needed to set out on a cross-country trip. There are, however, some options you may want that will push the price up even more. The following are manufacturer's published base prices.
Model Length Base Price
Bambi 16RB 16 feet $59,300
Bambi 19CB 19 feet $62,600
Bambi 20FB 20-feet $65,900
Bambi 22FB 22 feet $69,200
Bambi trailers—new or preowned—are not cheap, and they tend to hold their value. Pre-owned Bambi camper prices range from $30,000 to as much as $60,000. Prices will vary depending on year of manufacture, dealer or private sale, condition (including tires), any options or upgrades, and the eagerness of the owner to sell. Prices on most preowned campers are negotiable.
Not surprisingly, Airstream Bambi rentals are not cheap, either. Based on a survey of sites that rent campers, Bambi Campers rent from $150 to $200 per night, depending on size.
Where to look for Preowned Airstream Bambis
Finding pre-owned Bambi's for sale is not difficult. There are many posting and listings online both from dealers and private owners. Finding one near you may be another matter.
Where to find Bambi Campers Online
RVUSA There is a search box when you open this link. Make your search is as specific as possible, for example: Search in the second box ("Make, Model, or Keyword). It appears the name of the camper, not the manufacturer, works best. Simply enter "Bambi camper"
Note: adding "preowned" or "used" does not seem to improve the search.
Enter the distance you are willing to travel to pick up the camper.
RV Trader: Their search function is different, with many more steps, but I did get to four trailers that fit my selection criteria.
In the upper right corner of their page, in the green bar, find the three bars and click on the word "menu." That will open up the advanced search function.
I skipped down to "Make" and entered "Airstream."
A new dropdown menu opens that includes Bambi. Check the "Bambi" box.
I skipped further down to the "New or Used" Then entered "Bambi"
Go to "Model" and again, select "Bambi."
You will have to select a "Trim." These are Model designators.
I selected 19CB
Now you have to select a year. Select "Any"
Select New or Used or "Show All"
Nex is the Price range. Again, I entered "$60,000" to ensure I would see all units available.
For Year I selected "Any" in both boxes.
Finally, I got to a page that showed six Bambi 19CB models for sale.
This was the one that sent me to Bambi's for sale with the least effort.
Note when you want to back up from one you have looked at, go to the blue arrow in the upper left corner that says "results"
I found a broad selection of Bambi's for sale, from $4,500 (2005 model) to $33,000 for a 2021 model.
Private Sales
Search classified advertisements in local newspapers and advertisers. As with any private sale, be sure to carefully inspect the unit for sale. Look for any signs of damage, excessive wear, signs of water leaks, etc. Also check out the electrical system making sure all lights, switches, and other devices work. Keep in mind, even an older model that is not damaged but has gone unused for some years can (1) may be purchased at a below market price, and (2) be restored to serviceable condition.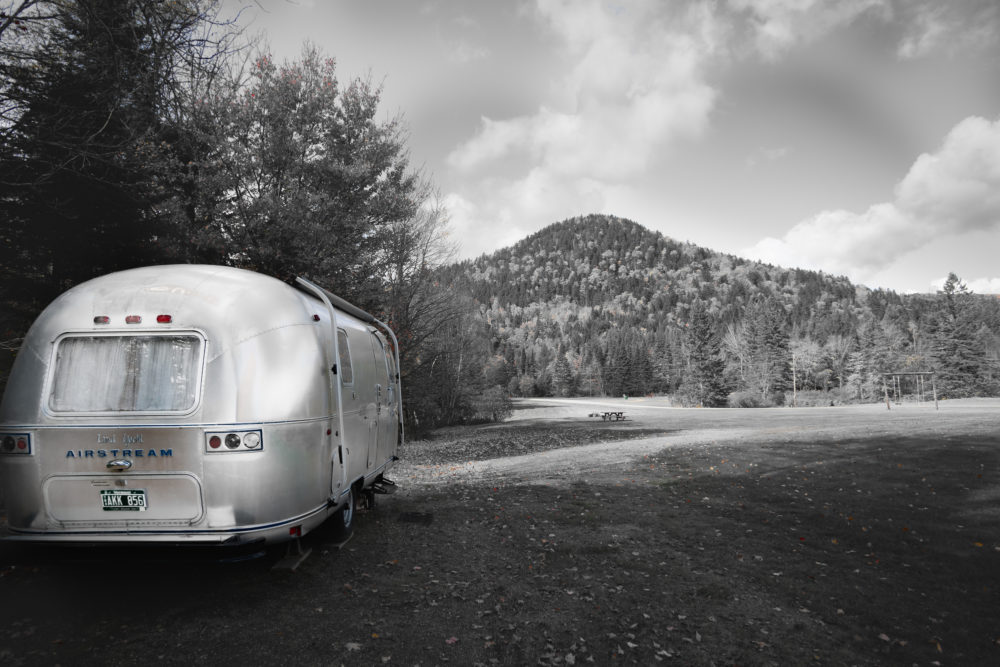 Industry Reviews of Bambi Campers
Positive comments:
For the 22FB: "This is a great trailer for two happy campers. It has everything you could desire, and what we like best is the shower! It is just like being at home when camping with full hookups."
Outdoor Fact says it quite simply: "Airstream trailers are widely known as best built travel trailers available on the market."
A review of five different online camper rating articles revealed that Airstream ranked first in all five articles. The top three brands of campers for each article were:
Rating Service First Place Second Place Third Place
Mr. RV Airstream Dutchmen Forest River
Go Travel Airstream Grand Design Oliver Legacy
Outdoor Facts Airstream Dutchmen Oliver
RV Share Airstream Winnebago Forest River
RV Living USA Airstream Dutchmen Jayco
Why Choose Airstream Bambi?
Advantages
While there are many well-made campers on the market, the Bambi (and any Airstream for that matter) sets the standard for "well made." Quality workmanships is evident through each unit. Shaping and forming rounded corners requires precisions manufacturing.
Bambi trailers are well behaved when towing down the Interstate or along country roads. They have all the amenities of comparable makes and models in the same size range. They are slightly more aerodynamic to tow. Finally, properly cared for, they hold their appearance and value better than almost any other camper.
Bambi, simply because it is an Airstream product puts it in very high regard.
Airstream was rated number 1 by Mr. RV, Go Travel Trailers, RVShare, and Outdoor Facts, among others.
Guiding Principles
According to their website, Airstream philosophy has always been and will always be, "Let's not make any changes, let's make only improvements!" Every inch of an Airstream has a functional purpose. There is no planned obsolescence. This is as true in today's models as it was of the first Airstream to hit the open road. Many Airstreams, several decades old, are still in use today. They are as sturdy and modern in appearance as the first day they swung into traffic. Airstreams are always "in style, conceived and constructed as a lifetime investment in happiness."
Cheaper Alternatives to the Airstream Bambi
Although made of composite materials (fiberglass), Oliver travel trailers have an exterior shape similar to Airstream campers, and they are significantly less expensive—with a base price about half the price of comparable Bambi campers. Of course, like any camper, Oliver offers many add-on features and material upgrades that can quickly boost the price.
They feature a fiberglass interior that looks very modern and durable.
Oliver Travel Trailer offer many options so you can set up the camper to best meet your camping needs. You can do this by choosing the type of flooring you want, the interior colors, and the furniture you want.
There are seven flooring options, twenty-five color schemes, and eight furniture options.
Dealers of Oliver Travel Trailers are found across the country. So, if you want to buy or rent one, you can easily do so.
Oliver Travel trailers are built from materials that are more affordable. However, this does not mean they are not durable. They are durable travel trailers.
They feature a fiberglass interior that looks very modern and durable.
FAQs
1. Is the Airstream Sport the same as a Bambi?
No. The Airstream Sport was developed early in the saga of Airstream's development. It was designed to provide the same comfort as heavier Airstream campers but be a light-weight camper to be towed by smaller vehicles.
2. What is the smallest Airstream Bambi?
The smallest Bambi is the 16 RB (16-ft. long). It has adequate room for two people with all the amenities needed to make camping comfortable.
Does Airstream Bambi have a toilet?
Yes, all Airstream Bambi campers have a toilet as well as a shower.
4. How many can sleep in an Airstream Bambi?
The two smaller Bambi trailers, the 16RB and 19CB are designed to sleep two comfortably. The 20RB and 22 RB are larger. The 20RB can sleep three while the 22RB can sleep four comfortably. The 22 RB has the standard 48 in. by 78 in. master bed plus a convertible dinette bed that is 40 in. by 91in.
5. What size bed does an Airstream Bambi have?
The standard master bed for all Bambi campers measures 48 in. by 78 in.
6. How do you winterize an Airstream Bambi?
First, Airstream provides detailed instruction on how to winterize your Bambi. The key elements are to remove all the water from the camper's system including storage tanks and pipes to prevent freezing damage. It is also a good idea check all seals, seam and plugs to prevent any unwanted critters from taking up residence during the off season.
Finally, disconnect the battery and make sure all electrical items are turned off or disconnected.
7. Why are Airstreams expensive?
From the beginning of Airstream production, the company has made a practice of using only top quality materials and components to ensure reliability and longevity of each unit. Also, the aluminum body is more expensive, and compound curves in aluminum require special skills and equipment similar to those used in aircraft production.
The result is a camper that will last as long as you want to use it.