Campers and outdoors people are some of the most committed consumers and are very eager to ensure that their purchase is sustainable and durable. They want the best possible quality for their money and want to ensure it is easy to pull behind their vehicle.
The Snoozy 2 Camper is a fiberglass trailer with a streamlined shape and open floor plan. This is an excellent pick for campers looking for a lightweight option.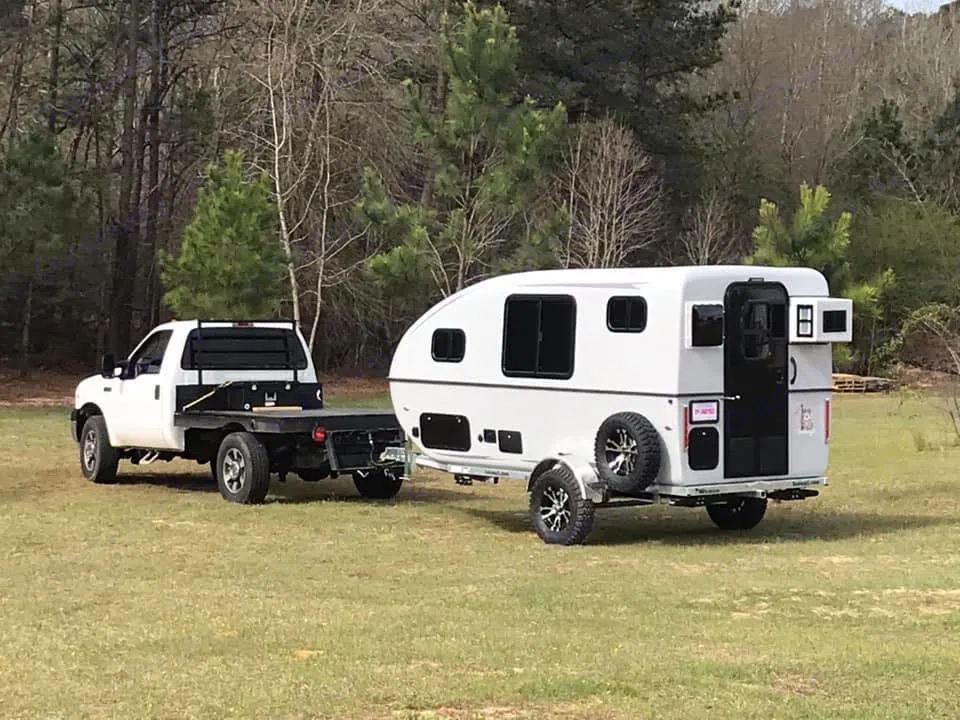 The market for outdoor equipment soared in 2020 when the COVID-19 pandemic shut down many indoor activities. This meant a massive boost for outdoor retailers. Some companies could not keep up with demand, and others unfortunately folded right before this industry-wide boost came.
That brings us to the camper at the center of our discussion today, The Snoozy 2. This camper was created initially by Lil snoozy.
Is Lil Snoozy Still in Business?
Unfortunately, the original manufacturer for Lil Snoozy closed their business in 2019. Many buyers were left disappointed after waiting for their trailer. This has led to many negative reviews of the trailer and Lil Snoozy because people waited for their camper only to find out that the company went under.
However, the good news is that the Snoozy campers are now under new ownership and available for purchase.
Who Makes Snoozy 2 Campers?
BJW Consulting now builds Snoozy 2 campers. This company took over from the initial manufacturer after they folded in 2019 and filed for bankruptcy.
These campers are made in the United States in a South Carolina manufacturing facility.
How Much Does a Snoozy 2 Cost?
There are some reviews online that mention prices. However, with the new management for Snoozy 2 campers, the price may have changed. You will have to contact their sales team directly to get a quote.
Snoozy 2 Floor Plan
There are only a few different specifications that would change the look of your Snoozy 2 floor plan. To minimize the time it takes them to build these models, they have limited customization options significantly. This means they cannot remove items from the inside, and all beds, cabinets, couches, and bathrooms will be included.
One modification that they are open to discussing is the option of having two twin beds instead of a queen bed. This will have a different cost.
The general floor plan includes a couch that is opposing an entertainment center area. There is a queen bed in the center of the main room. There is a dinette table that is located in front of the sofa.
Their website includes many videos and images of what this floor plan looks like.
Snoozy 2 Camper Specs and Features
The specs and features are the most important part of buying a camper. Let's go into detail about what this Snoozy 2 camper offers and what you can expect if you purchase this model. We will go over important factors like weight, interior features, furniture options, and exterior features.
Snoozy 2 Weight
The Snoozy2 is one of the lightest tow-behind trailers in its class. It is 2300 pounds dry with about 240-50 pounds of tongue weight. That means that most vehicles can pull this camper, and it is easy to pull behind a car.
Interior Features
The Snoozy 2 has many features that buyers look for in a camper. Here are a few of the critical features of the interior.
Microwave, toilet, couch, dining table, sink, compact fridge, vinyl blinds on each window, queen-size mattress, and shower.
4-gallon hot water heater, 27-gallon freshwater container, window unit for AC, and electric heater.
Armor Core Vinyl flooring and red oak cabinets and walls
Soft-close hardware for drawers and cabinets
6'3″ interior height with about 5 ft of walking space
12 volt and 110 at outlets
Check out this document for a full breakdown of their interior features.
Exterior Outlook
Now that we've covered the interior features let's talk about what the exterior features look like and the important aspects of the outside of this camper.
Size
The exterior shell is 14'7″ from back to front, and with the trailer, it is a total of 19'5″
The height of the camper on the outside is about 96-97″
The width of the camper on the outside is approximately 78," and the interior width is 77″
Color
HK Silver Shark Gel Coat
The Trim lock seem cover is 1/2″ black
Wheels
Radial 205/75/14 aluminum wheel
A radial tire with a two-year roadside and five-year defect warranty
Doors and Windows
15x 15 Thedford cassette door
20″ x 12″ single pain LCI windows for the smaller window with screen and glass that slide
30″ x 40″ single pain LCI windows for the larger window with screen and glass that slide
Additional Features
Standard hatch for storage on either side of this model
Standard tongue cover comes with every unit
Sunbrella fabric awning option for the right side of the camper
Well insulated with walls that are 3/4 "thick
3500 spring axles
Galvanized trailer with lifetime weld warranty
Spare tire rack mounted to the frame
Check out this document for a full breakdown of their exterior features.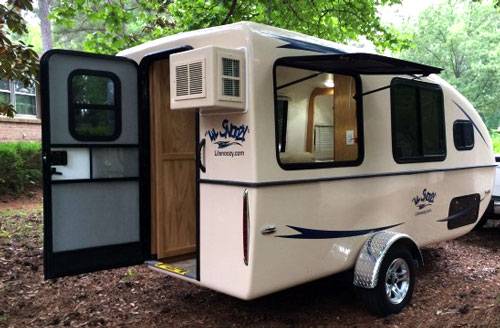 Snoozy 2 Camper Reviews
Don't just take it from us. Here are some reviews from users that have used the Snoozy 2 camper. These reviewers are experts in campers and know what to look for.
"There's a lot to like about this little trailer with the build quality of the fiberglass shell and galvanized chassis being principal among them. The idea of the company even thinking of aerodynamics and "building a trailer for your grandchildren's grandchildren" says a lot about the company."
"Overall, I think Snoozy II has done a good job building a trailer that is absolutely worth considering for those who want something smaller that's well made and different in style and function."
"Anyone interested in fiberglass trailers should be familiar with the Lil Snoozy camper. Its streamlined shape and open floor plan made it a popular choice for lightweight trailer shoppers. Unfortunately, the Lil Snoozy manufacturer went out of business in 2019, leaving buyers in a lurch."
"The Snoozy is back. Now known as the Snoozy II, it has kept its aerodynamic shape and comes with a few new features not found in the original. Built on a galvanized metal frame and updated axle, the Snoozy II has a dry weight of 2,500 lb. The exterior features hatch and tongue storage as well as easier access to the battery."
Follow the links above to read these users' full reviews. And take each review with a grain of salt. We encourage you to continue to look at more reviews and get more opinions from users.
Snoozy 2 Trailer Pros and Cons
Like anything else, there are pros and cons to investing in this camper.
Pros
Lightweight and made of fiberglass
Extremely fuel-efficient
It has the look of a luxury camper
Has all the necessities such as queen size bed, bathroom, and kitchen applications
High-quality tires and exterior features
Cons
Very few customization options are available
Some distrust of the company still exists after they canceled orders and shut down in 2019
Are Snoozy 2 Campers Worth It?
For those looking for a lightweight camper that still has a luxury feel, the Snoozy 2 campers are worth it. They are incredibly light and modern, ideal for a pull-behind trailer.
However, if you are looking for a completely custom build, this will not be the pick for you. To maintain their estimated delivery times, they have minimized customization options. The good news is that with their new manufacturer, they are expecting approximately an eight-week delivery time once they receive the order and deposit.
Snoozy 2 Trailer Alternatives
If the Snoozy 2 isn't for you, or if you're just shopping around for now, here are a few other options that are similar.
Airstream is a giant in the camper industry. They have been a staple in American camping since the ​​1930s, making this the most experienced company on this list. These campers are made of aluminum and built with many safety and comfort features. Airstream campers compare to the Snoozy 2 but are not built with the same fiberglass material.
Casita is a lightweight camping option created in 1983. They have multiple different models that sleep 2-6 people. This can be an excellent option for anyone looking for more space and customization options than the Snoozy 2 provides.
The Armadillo trailers offer multiple different models. They are made in Canada and have a classic style with new and emerging technology. They hand-craft each unit. Armadillo offers many of the same features as Snoozy with more customization options.
Where To Buy Snoozy 2 Trailers in the US
If you've decided a Snoozy 2 trailer is for you, you should buy directly from the manufacturer. You can call them at (803) 600-4412 to discuss this camper's pricing and availability.