While most modern campers. fifth-wheels, and motorhomes have entry steps as part of their standard equipment, there may be situations where the stairs must be replaced or supplemented. In some cases, steps with hand-rails are needed. After years of camping in trailers equipped with fold-down steps, we have encountered situations where the step either could not be folded down, or the camper was parked in the last spot available—the one where the camper pad is raised above the surrounding area, and the camper step alone was still too high for easy use.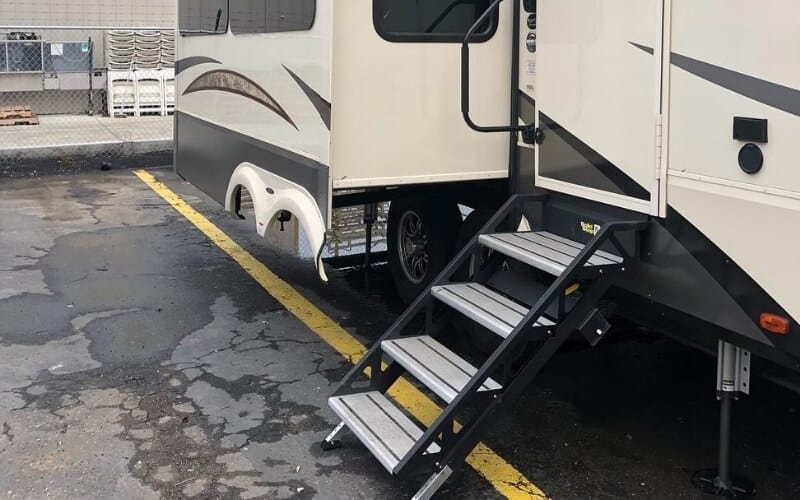 Source: rvingknowhow.com
Whether you need a practical step stool around camp or need to replace camper stairs, there are many practical options with different features to make getting into, out of, or around your RV easier.
We have reviewed a variety of different types of camper steps, from a simple step stool to multi-step units, even with a handrail, and replacements steps for your camper's original steps.
A simple, portable step stool has many uses around camp including reaching up to pull out the awning, changing a light, or washing an exterior window. We routinely carry just such a step-stool and have used it on at least half of our camping trips.
Also, there are many manufacturers of two- or three-step assemblies that either attach directly to the original step attachment points or require attachment to the camper frame below the door. While installing replacement steps is not difficult, it must be done correctly to ensure the security of the steps. We recommend consulting your local RV service center for advice.
Finally, there are free-standing stairs that simply sit on the ground in front of the door. Care must be used to ensure that the steps are secure and on a firm surface so that one of the legs does not sink into soft earth while someone is on the stairs. The advantage of these steps is that they usually have a handrail to assist the user.
Some features to look for in any step or stair assembly are the ability to securely place or attach the steps, and if possible, adjust the height of the step or stairs to compensate for different parking situations. Also, stairs and steps should have a non-slip surface for sure-footed use.
Finally, in each category or type of step included in this review, there are multiple manufacturers of each style. We have picked steps with which we are familiar and are confident recommending, and also appear to be the "best buy." While we like the ones we have reviewed, the important thing for you is to look at why they have been rated highly and look for those qualities wherever you shop.
A common term used with steps is "drop" that indicates the vertical distance between the tops of each step. "Depth" (Deep) refers to the width of each step, from the front edge to the back.
Buying Recommendations
1. Camco 43470 Large Plastic Step Stool –
Editor's Pick
Specs
Type: Step Stool
Drop: 9.25 in.
Wide : 17.4 in.
Deep: 10.8 in.
Other: Impact Resistant Resin
Typical Price: Under $20

Let's begin with the basics! As mentioned in the introduction, we have encountered situations where a simple extra step stool was needed to supplement the camper's step because the pad for the camper had a steep drop off of several inches just outside the door—these spots have been encountered in some of the more "primitive" campgrounds we have visited. Of course, a step-stool is also useful for cleaning upper-level windows, reaching the awning, or even a spare seat around the campfire! So we carry a step stool as part of our routine equipment.
The Camco stool is the perfect addition to our camping equipment and is used almost every trip for one task or another.
This is a sturdy stool that is rated for weights up to 400 pounds. One of the features we like are the holes in the flared feet on the legs that accept a tent spike to hold the stool in place. The textured platform also adds confidence in using the stool, even in wet conditions. Made of lightweight, impact-resistant resin, similar to that used in some aircraft manufacturing, it will provide years of safe, sturdy service. The surface is textured for sure-footed support.
This grey stool is 9.25 in. high, 17.4 in. long, and 10.8 in. wide and weighs just 2.5 lb. You can usually find these in stock at major "big box" stores.
2. Quick Products JQ-S150 Platform Step
Specs
Type: Step Stool, Folding Legs
Drop: 7.5 in. and 3.5 in.
Wide : 24 in.
Deep: 15.5 in.
Other: Steel
Typical Price: $51.00

Everything we said about the Camco stool applies to the Quick Products Platform step, but this stool does offer the convenience of folding legs requiring less storage space. Additionally, it can be adjusted for a height of 7.5 in., or lowered to 3.5 in. This difference can be useful inside the more cramped spaces of your camper. The angled legs provide excellent stability, with no tendency to tip. Rubber gripping feet add additional assurance of stability and will not scratch interior floors. And it is an ideal stool for that pooch that needs a bit of a boost to get in the camper or the car.
This step is made of powder-coated steel, and has a capacity of 300 lb. The folding legs have a locking safety feature for a safe, sure-footed stool. Stability is assured, whether inside the camper or outside. The top surface of the stool has a safety-grip surface.
3. RecPro RV Aluminum Adjustable Platform Step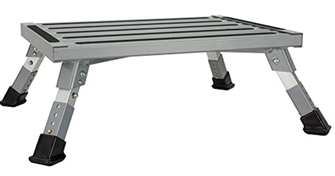 Source: RecPro
Specs
Type: Step Stool
Drop: 7.75 in. – 9.0 in.
Wide : 19 in.
Deep: 14.5 in.
Other: Steel
Typical Price: $55.00

There are two reasons to select the RecPro Platform step—not only are the lengths of the legs adjustable for more precise control of the height, but this stool is rated for 1000 pounds. You can use this to support some heavy equipment, if necessary.
The stool surface has non-slip grip tape for sure footing. It can be adjusted to heights of 7.75, 8.0, 8.5, and 9 inches, using the spring-loaded pin locking system in the telescoping legs. The top surface is 19.0 in. wide by 14.5 in. deep. With the legs fully extended, it requires a space of 24.5 in. long and 20.5 in. wide on the floor. Of course, with legs shortened, it will take up less space.
One of the highlights of this item is its functionality. Whether extending it or putting it back in storage, this step can be adjusted quickly. Every leg has a pin-lock button that you push in, and it quickly collapses (or extends) into place. Once collapsed, its slim 2 3/4″ thick profile makes it easily storable in multiple areas of your rig.
4. Lippert Manual Steel 24″ 3-Step RV Entry, Part LC432690
Source: etrailer
Specs
Type: 3 Steps, Manually operated pull-out steps, No ground contact
Drop: 8 in.
Wide : 25.5 in.
Deep: 8.25 in.
Other: Steel
Typical Price: $179.00

According to the Lippert documentations: "For pull-out steps for a trailer, the most important dimensions to verify are mounting bracket width and entry height. If these two metrics are correct, then you need not worry about the step width."
For example, the Lippert Manual Pull-Out Step for RVs has a 27.5 in. wide mounting bracket for an entry height of 25 in. If these dimensions work for you then the step width of 25.5 in. will work. These steps have a 9-in. drop and are rated for a maximum of 300 pounds. Mounting bracket dimensions are 27.5 in. wide by 16 in. tall by 12 in. deep.
We selected the Lippert stair because it appears that the company has just about every size/dimension stair replacement needed. This includes a table of stair dimensions that will identify the right set for most trailers.
These 8.25 in. deep, anti-skid, self-draining steps can be opened (pulled out) or closed with just one hand. The steps use a grab handle that ensures your hands are safe from moving parts.
Anti-skid tread tape and water draining channels on the step surfaces provide sure-footed, non-slip, safe entry, and exit. These steps will bolt on or can be welded to the RV frame.
5. Flexco Manual Pull-Out Steps for RVs – Triple – 8″ Drop/Rise – 24″ Wide – 300 lbs.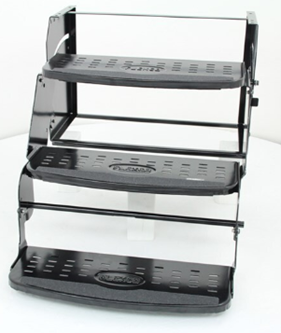 Source: etrailer
Specs
Type: 3 Steps, Manually operated pull-out steps, No ground contact
Drop: 24 in.
Wide : 28-1/8 in.
Deep: 8 in. drop/rise
Other: Steel
Typical Price: $271.00

These pull-out steel steps are designed for camp trailers. They are 24 in. wide with 8 in. step rise-and-drop. They are not designed to touch the ground—they bolt-on or are welded to the camper frame at the door.
These steps will allow you to enter and exit the camper safely. The steps pull out and retract easily, and lock into place for travel. The steps are powder coated for longevity and slip-resistant for safe entry and exit.
Note, since the requirements for each are determined by the design of the camper, no mounting hardware is included with the steps. Some installations may require outriggers (sold separately) for installation.
6. SolidStep™ 30″ Quad Steps RV Steps Built by Mor-ryde International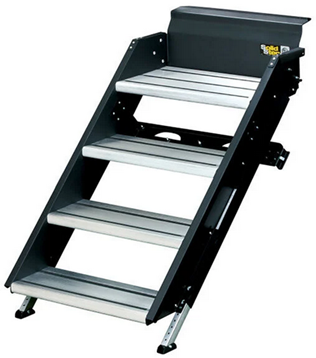 Source: Camping World
Specs
Type: 3 or 4 Steps, Manually operated pull-out steps, Positive ground contact
Drop: 8 in.
Wide : 25.5 in.
Deep: 27.5 in. mounting width
Other: Steel
Typical Price: $496-$556

The innovative SolidStep RV Steps provide an extremely stable platform. Unlike most steps that are actually suspended below the camper frame and do not touch the ground, the SolidStep folds down, and then is supported on the ground by adjustable leg extensions. This creates a very solid step with absolutely no motion. It also maintains the steps in solid horizontal position.
The step is attached to the floor of the camper inside the entry door. In transit, the stairs fold up inside the entry door.
For installation, the unit includes a floor backing plate for use with laminated floors
The tops step is an enlarged landing platform for added safety and security exiting the camper. There is also a threshold wall behind the top step that protects the side of the camper.
The installed unit weights about 59 pounds and the stairs are rated to 500 pounds capacity.
The top step is a Features:
Legs and feet tuck neatly out of the way on back of step. Easily and quickly folds up into the RV entry door when not in use. Includes floor backing plate for use on laminated floors. Available in triple and quad step models in a variety of widths to fit your RV. These steps are available in three or four-step models.
7. TorkLift GlowStep Camper Scissor Steps TLA7503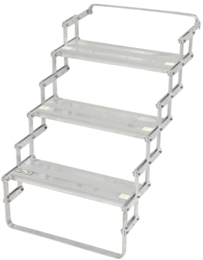 Source: etrailer.com
Specs
Type: 3 Steps (other numbers of steps available), Manually operated pull-out steps, Entry Height: 23.5 in. to 30.5 in. , Positive ground contact
Drop: 8 in.
Wide: 20.0 in.
Deep: 6.0 in.
Other: Steel
Typical Price: $334.00

If you have a truck-mounted camper, these TorkLift's three-step pull-out folding stairs may just what your need. This is a durable, rust-proof, aluminum set of steps that are 20 in. wide with 6-in. deep treads. Each step has glow tape that illuminates in the dark providing 10 hours of lighted steps without wiring or batteries.
TorkLift GlowSteps are available in several different lengths (number of steps). The three-step model is suitable for entry heights of 23.5 in. to 30.5 in. The scissor design automatically ensures equal spacing between each step, regardless of entry height. Non-slip tread ensures solid footing.
The steps are supported by a bar attached to or under the frame of the camper.
They are designed to rest on the ground, providing a solid foundation under foot.
These aluminum, lightweight stairs fold up for storage. The design makes them especially useful for truck campers.
The folding steps are made of aircraft-grade aluminum. Parts are bolted together, enabling ease of folding, and also allowing for the replacement of individual steps, if necessary.
8. Econo Porch Folding Trailer Step with Handrail and Landing
Source: etrailer.com
Specs
Type: 4 Steps with handrail, Manually set up, Maximum Height: 27.5 in. , Positive ground contact
Drop: 7 in.
Wide: 20.0 in.
Deep: 9.0 in.
Other: Steel
Typical Price: $419.00

Our final set of stairs are these handy, portable "porch" stairs. At a fixed height, they will match up with many larger campers and are useful for toy hauler campers where the rear door folds down to create a party deck.
Each step is 9 in. deep with a 7-in. drop. The total height is 27.5 in. These sturdy stairs, manufactured by Stromberg-Carlson, provide sure-footed stability with the added feature of the handrail—which may be placed on the left or right side—to steady anyone's ascent to the party deck.
The step comes fully assembled but folded. There are lock-open braces for added stability, and the top landing step is 16 in. deep. The steps can be folded for storage and transport.
Last update on 2023-12-05 / Affiliate links / Images from Amazon Product Advertising API