Burro Campers are vintage campers from the 1980s and 1990s. They had a unique design, virtually unheard of at the time, and came with features reserved for the most luxurious campers.
Finding one isn't as easy as it once was, and many models need some TLC to make them wilderness ready, but once they're up and running, they're a dream.
What Is a Burro Camper?
A Burro camper trailer is a distinctive alternative to modern RVs' standard boxy design.
Burro campers came as white, rounded fiberglass, shell-within-shell campers with the essentials for a weekend away. The shell had no rivets, and the entire surface had a layer of gel coating.
These campers come in two sizes: 13-foot and 17-foot. Both are lighter than traditional metal options, thanks to the fiberglass construction. The 13-foot model weighs only 1,100 pounds, while the 17-foot model weighs 1,800 pounds. Of course, this will vary depending on the fitted equipment.
Modern campers retrofit Burro Campers with all manner of fittings, but they were still quite capable in their original configuration. Many Burros came with full-size beds, counters, and dining tables.
Buyers also had the choice of showers and toilets, full kitchenettes with ranges and refrigerators, and working sinks. You could install these features with amenities kits.
Production in the 1980s and 1990s gave campers access to running water and electricity from the comfort of their Burro camper.
Burro Camper History
Burro Campers got their start in the 1970s with a unique fiberglass-designed rounded camper. The initial design was a single-shell design that subsequently inspired the two-shell design that became popular.
Because of the insulation between the shells and the gel coating, owners loved the better temperature control and dry conditions over other campers.
Production occurred primarily in the 1980s and 1990s, though the first Burros date back to the late 1970s.
Originally, Burro campers came as DIY kits to build before their first trip into the wilderness.
Do They Still Make Burro Campers?
The first manufacturing location of Burro Campers was in Plymouth, Minnesota. In the early 1980s, Burro's production moved to Sac City, Iowa.
They resurfaced in the late 1990s after an absence of almost ten years. This time, Burro was producing campers in Escondido, California.
Unfortunately, the company couldn't hang on and folded just a few years after production in California began. It's been crickets ever since, and thus the story of the Burro Camper officially came to an end.
Are Burro Campers Good?
Burro Campers rate highly for the fiberglass construction that didn't use rivets. The seamless construction saw a gel coating that prevents water from seeping into the sleeping areas.
They're also very lightweight, especially considering modern campers sometimes weigh more than 10,000 pounds.
On the other hand, Burro Campers are pretty rare. The official production ended in 2001, and precious few models still exist. To make matters worse, because of the age many of these campers have, they often require complete overhauls to be wilderness ready.
In short, yes, they are a good option, but you'll have to do some work to bring them into the modern era.
Where Can You Find Burro Campers for Sale?
Burros don't happen across your local RV store very often, so where can you find one for sale? Second-hand marketplaces are an excellent place to start. Hop on Craigslist, eBay, or Facebook Marketplace. These classified sections often have rare items like a Burro camper.
Dedicated RV sales websites can also help locate one, especially if you're in the market for a specific model.
Deciding to buy a Burro Camper is only the beginning of an adventure, but knowing the price is critical. A Burro Camper has a wide range when it comes to pricing, as the larger 17-foot camper commands more than the 13-foot.
Plus, the model's condition will play a huge factor. Renovated trailers tend to run higher, but you can expect to spend at least $7,000 for the average Burro.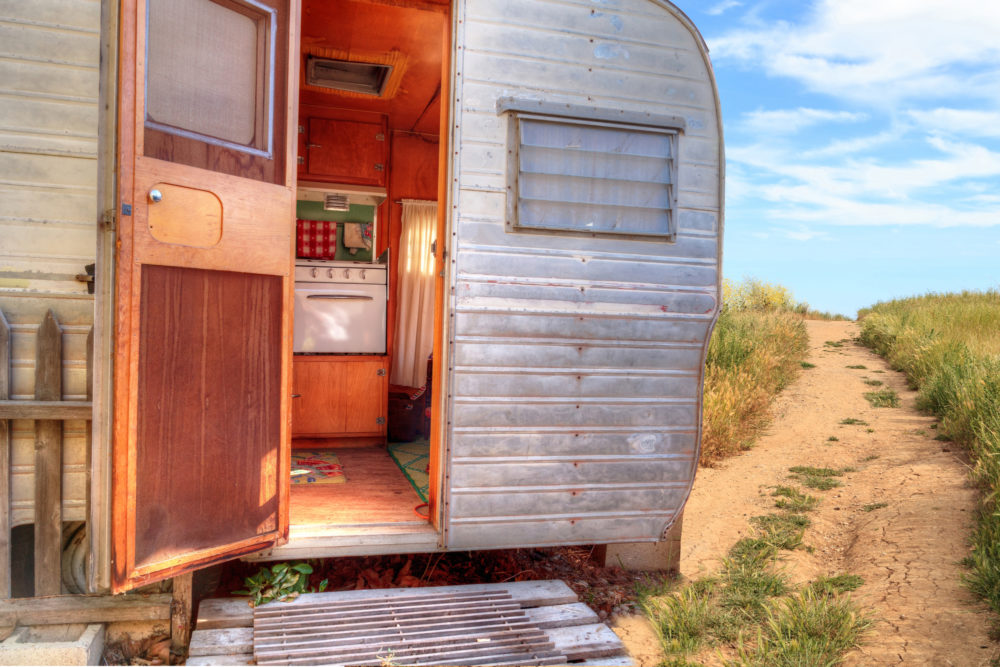 Burro Camper Alternatives
Burro Campers were an unusual take on the camper, especially bringing fiberglass molding to streamline production.
While the Burro brand is no more, several other companies offer compact, lightweight, and accessible travel campers that have modern luxuries with a similar throwback design.
Scamp – The Scamp 13 is a virtual copy of a Burro, just modernized with water pumps, LED lights, and A/C options. Even the largest 19-foot Scamp campers weigh less than 3,000 pounds, making them perfect for many modern SUVs or trucks. A new Scamp 13 will vary in price, while upgrades or custom layouts will add to that.
Casita – Casita takes the Burro Camper design and brings it firmly into the 21st Century. Materials are high-quality, and standard features include a kitchenette and sleeping for up to five people. The 17-foot trailer only weighs 2,200 pounds. Casita is pricier than Scamp but has a more luxurious touch.
Nest by Airstream – Airstream is famous for premium campers, and the Nest is no exception. This modern camper has an elegant design with enough space for two to sprawl out, cook full meals in the kitchen, and bathe in the wet bath. Airstream's 16-foot trailer weighs 3,400 pounds and is expensive, but the quality is unmatched by other brands.
Gidget Teardrop – Gidget takes the classic teardrop camper design and adds a space-adding sliding component. The additional space allows for more comfort in the traditionally cramped camper. Its rear opens to reveal a kitchen with a sink and room for an ice chest. This option is lightweight at less than 900-pounds and is a budget choice.
T@B Teardrop – The nuCamp T@B (TAB) teardrop camper is a modern take on the compact classic. It features solar panels, split-bed layouts, and even wet bath capabilities. This model extends just over 15 feet in length and weighs 1,950 pounds dry weight. nuCamp prices the T@B at over $23,000, but that doesn't include any extras.
Final Thoughts on Burro Campers
Burro campers started a trend of capable trailers that use fiberglass instead of wood. As a unique alternative to traditional options, Burro provided campers with a rivetless and gel-coated double shell.
This remarkable design prevented leaks while providing decent insulation in a lightweight package. It came fitted with wet baths, cooking ranges, and sinks for total outdoor capability. Though the company doesn't exist, you can find used models or modern alternatives!
FAQs
Owning a Burro Camper comes with a unique set of challenges and questions. Here are some frequently asked questions about Burro Campers.
Does a Burro camper have a bathroom?
Finding a bathroom in a 13-foot Burro is very uncommon. The 17-foot campers could come with one but were an additional feature and not fitted as standard.
Modern rebuilds of Burro Campers often include a bathroom conversion as the wet baths have become far more common.
How long does a fiberglass RV last?
The lifespan of an RV depends significantly on the maintenance and the conditions in which the camper resides. An average fiberglass RV will last at least 20 years with basic maintenance.
Indeed, several RV brands are famous for having fiberglass RVs last well past that 20-year mark. Some brands will even claim fiberglass RVs will last 100 years or longer. Still, the reality is you'll likely see significant repairs well before that.
Which Is better — aluminum or fiberglass RV?
Fiberglass materials win out in several categories versus aluminum. In particular, fiberglass seals against heat or cold environments better. They are also easier to maintain, hold resale value better, and are durable against dents.
However, the overall lifespan goes to aluminum, and aluminum has a generally more substantial roof and does not rust. While fiberglass is lightweight enough, aluminum is typically lighter and much more affordable. Ultimately, it comes down to what you're looking for in an RV.