Top 5 reasons why it's a fun place to visit:
Experience nature (hiking, biking, kayaking etc.)
Drive along the coast down the historic Highway 101 South to California and stop at the beaches or lookouts
Try salmon-fishing and clamming
Visit the many lighthouses and/or wineries
Explore wildlife at the Oregon Coast Aquarium
List of top 20 RV Parks on the Oregon Coast area:
(Disclaimer: information is a compilation of researched info as published online and does not necessarily reflect the experience or opinion of the author)
The RV parks have been ranked and are listed from "Most Recommended" to "Least Recommended" based on reviews, feedback, amenities, and preference. Cost was not the primary ranking driver. Please note that weekend RV families with children might have different needs than full-time RV "snowbirds".
1. Cannon Beach RV Resort
Located in the very popular Cannon Beach area, this RV park is a great vacation stay for all ages. With the amenities and the beach access, this park has everything for a longer stay.
What makes this park unique?
This park has trails that allow visitors to either walk or bike to the tourist part of Cannon Beach and enjoy restaurants or shops, while at the same time, the park is surrounded by nature and close to the beach.
2. Kampers West RV Park
This park is great for salmon and sturgeon fishing and fills up with fishing enthusiasts during the fishing season. While staying there, it is also common to see elk wandering into the campsite.
What makes this park unique?
Located on 11.5 acres, this park is a slice of one's personal Oregon wildlife when visiting. Close to Fort Stevens Park, this RV park is a great place to stay for a week or two and explore all the things the area has to offer. Even though this park has no Wi-Fi or cable, it forces visitors to truly unplug in nature.
3. Nehalem Bay State Park
With bay and ocean access, this State Park offers countless beach activities on water, land or in the woods. The beach views are pristine and serene.
What makes this park unique?
Set between the ocean and the bay, this park is located on a 4-mile sand pit. The campground is among shore pines, just a sand dune away from the beach. A forested 1.8-mile-long bike path provides a breathtaking view of the bay.
4. Paradise Cove Resort & Marina
The park is located on a waterfront spot with a 360-degree wildlife exposure. It's a great location to come for a fishing weekend or to stay a week and relax.
Paradise Cove Resort and Marina
What makes this park unique?
This family-owned park is smaller but has all the amenities and strives to give their visitors a family-feel while staying. The sites are all paved and there is boat docking access. This is a great park for families to experience the great outdoors.
5. Port of Newport RV Park
This park is in the heart of Port of Newport; with that comes access to many attractions and activities, such as shops, galleries, seafood restaurants or museums. With the convenience of a bus shuttle, one can visit a local restaurant and enjoy a glass of local wine.
What makes this park unique?
Rated by Good Sam, the park is located on the south side of beautiful Yaquina Bay with miles of paved hiking/biking trails. Several attractions are within walking distance, such as the Oregon Coast Museum or the Hatfield Marine Science Center.
6. Darlings Resort & RV Park
As their website says it best: "Darlings Resort has been a popular Siltcoos Lake fishing and RV camping destination for generations. It boasts Siltcoos Lakefront RV sites with stunning views.
Because Siltcoos Lake is connected to the Pacific Ocean via the Siltcoos River, it is teeming with bass, trout, perch, Coho salmon, steelhead, catfish, sea-run cutthroat and crawfish." (Source: Florence, OR RV Park Camping — Darlings Marina & RV Resort (darlingsresortrv.com))
What makes this park unique?
Every site has "one million dollars" water views of the Siltcoos Lake, yet the park is also close to the Oregon dunes. There are many activities for water sports enthusiasts, incl. boat and jet ski rental. The park also has cabins for family get-togethers.
7. Oceanside RV Park
Located about 0.5 miles from downtown, this park is a great getaway place and a good mix of what the PNW has to offer when it comes to beach life.
What makes this park unique?
It's a nice and quiet park with beach access to untouched nature, serene and conducive to water activities or simple relaxation while listening to the waves crash at night. Note: this park name is very popular and there are several Oceanside RV Parks in the US, and even in Oregon! This is the one located in Gold Beach, OR.
8. Lewis & Clark Golf & RV Park
This park is located near the Lewis & Clark National Park and it's a great oasis especially for big rigs and travelers who enjoy golf (incl. Footgolf, which is a combination of soccer and golf and is played on the regular golf course).
Lewis and Clark Golf and RV Park
What makes this park unique?
This park makes sure that their visitors have plenty to do while there: from guided tours to "Craft Beer Trail" to river front trolley to golf: this park has plenty to choose from. Located near six museums, incl. the Maritime Museum, one can easily spend a week or two at this park and never get bored.
9. Circle Creek RV Park & Campground
Right off Hwy 101 1 mile South of Seaside and 5 miles North of Cannon Beach, this park is a hidden gem for nature lovers. Despite its smaller size, this park is big-rig friendly with bigger sites!
Circle Creek RV Park and Campground
What makes this park unique?
Located on private 11.5 acres, this smaller park is surrounded by nature, with grassy areas and a creek. Elk are a common sight at the park!
10. Winchester Bay RV Resort
With access to best dunes on the Oregon Coast, the Pacific Ocean and the Umpqua River, this park is strategically located so that its visitors can enjoy various land and water activities each day.
What makes this park unique?
Located on the Umpqua River, this park has access to water activities and a boat ramp. It has all the amenities that allow travelers to stay for several days and to enjoy the Bay view.
11. Cape Lookout State Park
Pristine nature and 360-degree "wow-views" and access to nature make this park one of the most beautiful State Parks on the Pacific Coast. What makes it even better is the proximity to Tillamook where visitors can get a tour of the cheese and ice cream factory.
What makes this park unique?
Crowned by many visitors "the best State Park on the Oregon Coast", this park seems to have it all: easy access to the ocean, hiking, biking, boat rental, close to Nehalem Bay for crabbing, paved sites and surrounded by woods!
12. Jetty Fishery Marina & RV Park
An iconic stop when traveling Hwy 101, the Jetty Fishery has been around since 1979 and is a great place to visit for anyone who loves seafood and nature!
Jetty Fishery Marina and RV Park
What makes this park unique?
All eight spots are right on the water! This is a great tiny park for anyone who wants water access and a boat launch. You can crab right off the dock: you really cannot get closer to water than this!
13. Premier RV Resort of Lincoln City Oregon
One of several Premier Resorts in the Pacific Northwest, this park is located on Hwy 101 and the management makes sure that the guests are taken care of from the time they make a reservation until their departure. While the park is within walking distance to the ocean, one must use the tunnel to cross Hwy 101 for beach access.
Premier RV Resort of Lincoln City
What makes this park unique?
Every Saturday, this park has a pancake feed and live music events. There are also propane fire pits and newspaper on the doorstep that make the visitors feel welcome as the park management goes the extra mile.
14. Sea and Sand RV Park
This park is a great place to stop for a few days and to enjoy whale watching during season or just to relax at the beach. As a point of interest, Depoe Bay is a 6-acre harbor that is the world's smallest navigable harbor.
What makes this park unique?
While this park's rules might seem a bit specific and restrictive, it is to keep the park open for visitors and to deter long-term residents, especially when it comes to the oceanfront sites. One can fall asleep to the sound of crashing waves and enjoy the sunrise or sunset over the Pacific.
15. Fogarty Creek RV Park
About 2 miles away from Depoe Bay, this park is secluded in nature and allows for an unplugging from the hustle and bustle of life.
What makes this park unique?
One can walk to the beach, the grocery store, or Fogarty Creek State Park. It's a relaxed park with friendly staff.
16. Beverly Beach State Park
Located off Hwy 101 south of Depoe Bay, this park is surrounded by several popular beaches on the Pacific and close to Otter Rock Marine Reserve. It is also within driving distance to Ocean Park and Beverly Beach.
What makes this park unique?
As a standard State Park, this one stands out by its access to rugged nature life along Spencer Creek and withing walking distance to Beverly Beach on the Pacific Ocean. With hiking trails for miles, this State Park is a great fit for anyone who enjoys the great outdoors. Some of the favorites in the area include the Newport Zoo and the "Land of Troll Trees".
17. Seal Rocks RV Park
Located between Newport and Waldport, this quiet park is a great place for anyone who is looking for a place to kick back and relax for a bit. With breath-taking water views from the site, this park is conducive to unwinding and letting the soul rest for a bit.
What makes this park unique?
Stay here up to one month to go clamming or search for agates, or just simply relax in nature. This park has close access to tide pools and the sandy beach.
18. Ocean Beachfront RV Park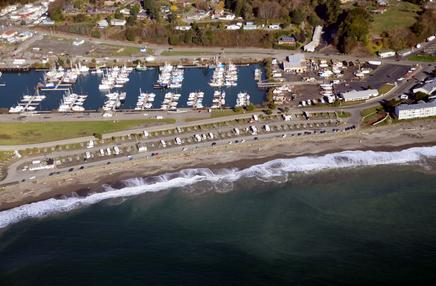 This park lives up to its name: every site is on the ocean beachfront! Although this park is currently undergoing renovations, it is a no-frills park close to town.
What makes this park unique?
This park has different site options, from full hookups to partial to dry camping only. It is very reasonably priced for its location on the water. It is within walking distance to Sport Haven Beach. Note: The current park remodel should be complete in summer 2022.
19. Harbor Village RV Park
As a now resident-owned RV park, this park is still a great spot to stay at in the Newport area with close access to many tourist activities.
What makes this park unique?
This park is located along a creek with a secluded feel, yet so close to so many interesting sightseeing activities, such as the 1871 Yaquina Bay Lighthouse. The park is also within walking distance to Yaquina Bay and the Oregon Coast Aquarium (with underwater walkways and seabird aviary).
20. Tillicum Beach Campground
Great for whale watching and with magnificent sunsets, this park has sites that are almost exclusively right on the beach.
What makes this park unique?
With amazing beach views right on the beach, this park is one of the more coveted places to camp at. This park is great for fishing, swimming or just relaxing as the waves lull one to sleep. Insider tip: past visitors recommend sites 23-41 based on views and location.
TIPS TO GET TO
OREGON COAST
Traveling North to South along the Pacific Coast, the iconic Highway 101 or known as the Pacific Coast Highway (PCH) holds breath-taking views of coastline and nature.
With so many things to see and to do along the way, many travelers take several weeks to drive either From Washington to California or vice versa.
Oregon State is much more than a "pass-through" state. With lush vegetation, a temperate climate and incredible wildlife, it's one of the top destinations for outdoor enthusiasts to visit the many nature preservation areas and State Parks and to enjoy breathtaking views while hiking, biking, or kayaking.