The average RV comes with a 40-gallon to 200-gallon freshwater tank. This water is your lifeline when traveling, or when camping without hookups. Your ability, to use the water in your tanks comes via the little wonder known as the "RV water pump" that pushes water from your freshwater holding tank to your sinks, shower, and toilet
Most original equipment water pumps come with a two-to-four-year warranty, and while they may last longer than that, pumps will eventually have to be replaced. This is your opportunity to improve the performance of your water system by selecting a pump of higher-pressure output or increased flow rate.
Buying an RV water pump, however, can be a confusing process. We have selected several highly rated water pumps available that are either an upgrade to your original pump or a form-fit-and-function replacement.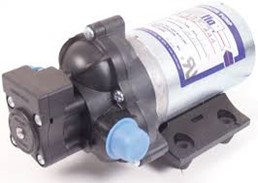 What to Look for in a Pump
Power Source: The water pumps selected are all driven by 12VDC current. When your camper is connected to a 120VAC outlet, there is a converter in the camper that converts 120 VAC to 12 VDC to power the water pump and any other DC-powered equipment.
The primary job of the water pump is to provide water pressure for faucets, toilets, showers, etc. They pump water from the camper's freshwater tank(s) to where it is needed.
There are several brands of water pumps designed and built primarily for RV and motorhome use. There are many other 12VDC water pumps on the market that could easily serve as camper/RV water pumps, often at significantly lower prices. The key is finding a simple, easy-to-install pump, that features a quiet motor.
Pressure Rating Is Important: When selecting a pump, the maximum pressure is important. City water and many non-camper pumps can deliver water at pressures up to 120 psi. That sounds good until we realize that camper water systems are designed to handle no more than 65 psi without the danger of rupturing a hose or leaking somewhere. Selecting a pump specifically designed for campers ensures the system will not be over-pressurized.
Note some pumps will have to "psi" ratings of 70 or 80 psi. These pumps also include a pressure reducer so that the pressure supplied to the camper's system is not more than 65 psi.
Flow: Flow is the volume of water that travels through the camper's system when a faucet is fully opened. Typical camper flow rates are between 3.5 and 5.5 gallons per minute. This simply indicates how quickly your sink or pot of water will fill. Higher pressure systems frequently delver water at higher flow rates.
A standard RV water pump will deliver an even flow of water. A fluctuating flow suggests lower than optimum pressure. Larger campers may need higher pressures and flow rates to service several sinks, baths, and toilets.
Replacing a Water Pump: It is important to select a replacement water pump that has approximately the same pressure rating and flow rate as the pump being replaced. Upgrading to higher pressures may put more pressure on the systems it was designed for, resulting in leaks and failures of water system components.
If you must replace a water pump, check with the RV's manufacturer or dealer. Upgrading to greater pressures and flow can lead to leaks.
First-Things-First: Before you upgrade or change make and model of the pump, check your RV manual for water system specifications, or contact your RV dealer.
If water pressure of flow is less than it has been or should be, check plumbing lines and connections. Undetected leaks can reduce pressures. More probably, a hose line may be twisted or kinked so that it restricts flow.
Check Water Filters and Strainers: Always check the water filters in the system. If they have not been changed as needed, they can become partially clogged, slowing the flow of water.
Also, be sure to check the connection between the water supply and the camper. There is a strainer or screen in the water intake and that can become clogged. Good water pressure is necessary to make the toilet flush valves close securely. If that screen is partially blocked, you will have water at your sinks, and partially to the toilet, but if there is not enough flow or pressure to close the toilet valve, water will continue to run, and the toilet will overflow.
Finally, there is usually a strainer associated with the pump. Check the strainer and remove and clean it if possible.
It is also possible that a system valve at or near the discharge side of the pump is not opening properly. If that is the case, you may be able to simply replace the valve. In some cases, the discharge valve is an integral part of the pump, so the pump would have to be replaced.
If you want to take the next step in troubleshooting the water system, obtain a pressure gauge (usually from a local plumbing, hardware, or camper supply store) and check the system pressures.
Just finding the pump can be a challenge. To locate the pump, turn off the water supply to the camper/pump and turn on the pump switch. You should be able to hear the hum of the pump.
Note: most camper/RV water pumps are designed to run dry without damage.
Whenever checking or troubleshooting a water system, be alert for any signs of leaks, wet spots, or discolored or stained areas that indicate water.
If you do have to replace the pump, get as much information as possible to ensure that you get a pump that delivers the correct range of pressure and flow, that it fits in the space of the original pump, and that it can be mounted in the same area.
Be sure to carefully read and follow any installation instructions, usually included in an installation manual provide with the new pump. Make sure that you get any connectors, strainers, and mounting hardware needed to complete the installation.
If you live in a climate subject to freezing temperatures, you will want to winterize your system by removing ALL water from the system. You can also use air pressure to remove any remaining water that might freeze in the system. Neglecting this step is the number-one reason for water system failures in climates subject to winter freezes.
Water pumps are easy to replace, just make sure that the pump is the problem.
Selecting a Water Pump
RV water pumps all do the same thing—they pressurize water from the freshwater holding tank and pump it into the water system, distributing it to where it is needed. If you are looking for a 12-volt water pump for RV use, there are a several manufacturers to choose from.
Select a pump that will deliver water at rates of flow and pressures specified for your RV.
Determine the dimensions of the original pump to ensure that the new pump will fit securely in the available space, and that the connections can be made without having to modify either the plumbing or the camper space.
Check the camper/RV owner's manual. You can look for the same brand and model as your original, however, if your camper is five or more years old (and time passes quickly), that model may no longer be available. Look for, or search the Internet, for the specifications of the original water pump, then use that data to select a new pump. Look for similar size and mounting, pressure and flow, and connections. Be sure to use the right power source: either 12 VDC or 120 VAC.
There are water pumps specifically manufactured with RVs and campers in mind. Other water pumps that may work perfectly well may also have marine and even agricultural and industrial applications. Popular RV water pumps include SHURFLO (Pentair) and Aquajet (Remco).
If you cannot find the information for you camper contact your RV manufacturer or a local dealer.
Strainers
Strainers remove grit and debris from entering and damaging the pump diaphragms. Some pumps are sold with the strainer included, others require a separate strainer mounted on the intake side of the pump, or in the line leading to the pump from the water source. We recommend at least checking and cleaning the strainers as part of any pump troubleshooting. We also recommend replacing the strainer element when you replace the pump. As suggested earlier, checking these strainers is the first step in troubleshooting low or blocked flow of water from the system.

Buying Recommendations
Best Rated
Max Pressure
Best Flow
Best RV Water Pumps
1. Pentair SHURFlo Pump 4008 –
Editor's Pick
Specs
Model No.: 4008-101-A65
Power: 12 VDC
Flow: 3 GPM
Max Pressure: 55 psi
Strainer: Not Included
Built-in Check Valve: Yes
Self-Priming: Yes
Size (in.): 4.9W x 8.1L x 4.3H
Rating: 4.7
Price: $57

The SHURflo pump is a quiet, dependable, automatic demand pump widely recognized and used in the RV industry for quiet operation and performance. This pump incorporates a one-piece diaphragm, and an internal bypass.
This high-flow pump delivers up to 3 GPM at a maximum pressure of 55 psi.
The fact that it can be mounted in any position adds to its versatility, especially in custom installations.
In summary, it is affordable, reliable, and highly rated. (good quality) and does a fine job of pressurizing an RV water system when you are not connected to city water.
Sale
RV Water Pump Shurflo 4008-101-A65 3.0 GPM | 12V Water Pump | Self-Prime | Camper Water Pump | RV Plumbing (1 Pump)
Created with a unique one-piece diaphragm and internal by-pass, this pump is durable and reliable for all plumbing systems. Designed as the next legendary pump to exceed the expectations of our customers, the Revolution Pump is constructed for high flow demand, low noise, and no rapid cycling.
The 4008 Revolution fresh water automatic demand pump is super quiet, thermally protected, and can run dry without damage. With this quality assurance, you can relax in your RV without needing to worry about your water pump.
With the built-in check valve, backflow is prevented so that you can make sure you're getting all of the water you want to the fixture you're using. While the pump runs at about 55 PSI, the pressure at which the pump will shut off is 45 PSI.
2. Flojet Quiet Quad II Water Pump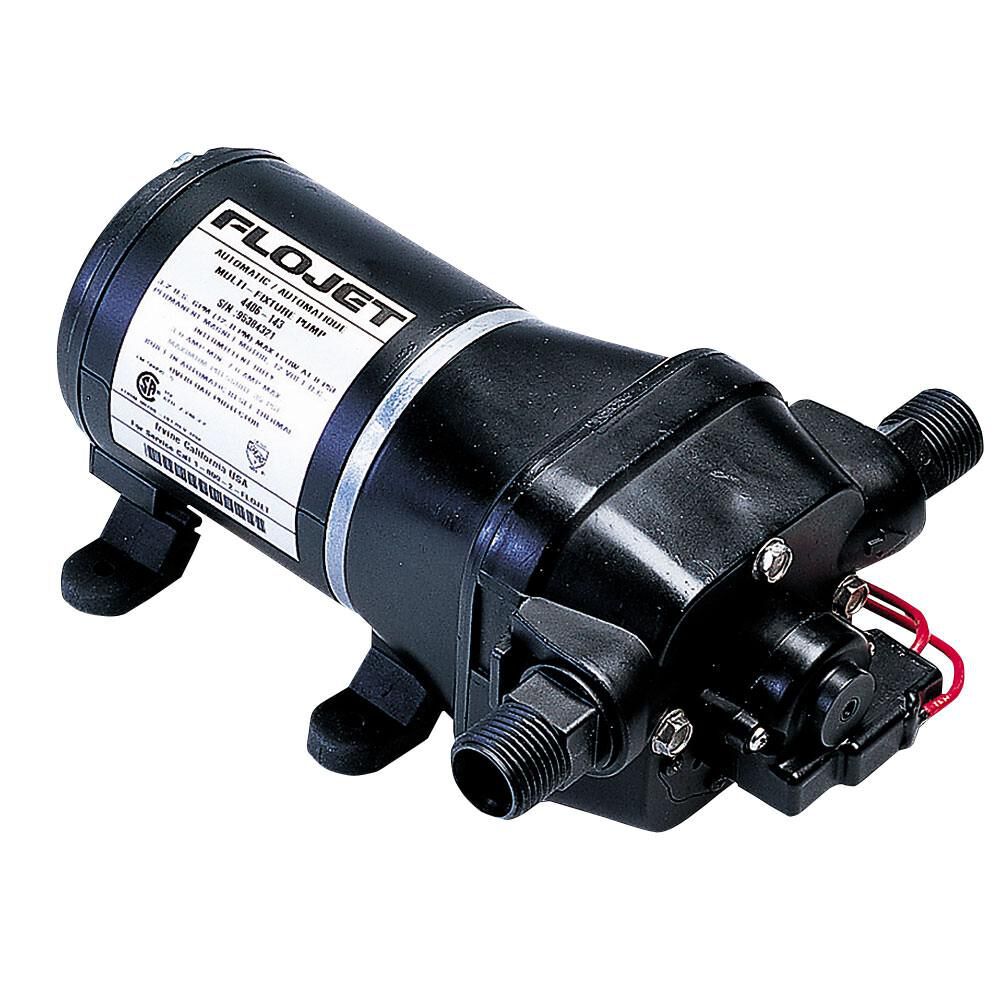 Specs
Model No.: 4406-143
Power: 12 VDC
Flow: 3.2 GPM
Max Pressure: 35 psi
Strainer: Included
Built-in Check Valve: Yes
Self-Priming: Yes
Size (in.): 6.3W x 8.2L x 3.75H.
Rating: 4.3
Price: $103

The Flojet Quiet Quad II Water Pump is a 4-chamber design that delivers a reliable smooth flow of water over a longer life.
Construction includes quad diaphragm that delivers the consistently smooth flow at rates of 1 to 3.2 GPM at 35 PSI. Sealed bearings ensure smooth operation and extend longevity.
Although we recommend use of a pressure reducer when connected to city water, this pump is specifically designed to prevent backflow and damage from city water pressure. Its redesigned pressure switch provides more consistent shut-off pressure.
This "Made-in-the-USA" pump can safely run dry for extended periods without overheating.
Soft rubber mounts reduce noise, and the built-in bypass cuts down on water pulses ensuring a smooth water flow and less vibration. The 4.6-lb. pump comes with a Manufacturer's 2-year limited warranty.
3. RecPro RV Water Pump
Specs
Model No.: RP-1005
Power: 12 VDC
Flow: 3 GPM
Max Pressure: 45 psi
Strainer: Optional
Built-in Check Valve: Yes
Self-Priming: Yes
Size (in.): 4.62W x 7.97L x 4.37H.
Rating: 4.5
Price: $70

Rec-Pro's quiet, smooth-running 4-chamber water pump delivers excellent performance in RVs.
It has corrosion-resistant valves and has a Santoprene diaphragm. Made not only out of high-quality parts but with a high-quality design, is self-priming, has a low power draw, and can run dry without damage.
With the low power draw, you can save more power for your other appliances. Equivalent to Flomax in design, it will connect easily to your water system. High-quality, smooth running, and quiet, this pump is a good choice for a replacement pump for your RV.
The Rec-Pro has corrosion-resistant valves and a Santoprene diaphragm. This is another replacement pump that is easily connected to your water system.
RecPro RV Water Pump | 12V Electric 4 Chamber Water Pump with Pressure and Bypass Switch | 45 PSI Max Draw 8.0AMP GPM/LPM 3.0/11.6 | Self Priming (With Strainer, No Silencer)
High-quality, smooth running, and quiet, this pump is the perfect addition for your RV. This water pump measures 4 37" high by 4.92" wide by 7.97" long and runs on a voltage of 12V DC.
It has corrosion-resistant valves and has a Santoprene diaphragm. Made not only out of high-quality parts but with a high-quality design, it runs quiet, has a smooth operation, is self-priming, has a low power draw, and can run dry without damage.
With the low power draw, you can save more power for your other appliances or an air conditioning unit. Easily connecting to your water system and an equivalent of Flomax, this water pump is perfect for RV intermittent use.
4. Happybuy RV Water Pump 5.3
Specs
Model No.: RP-1005
Power: 12 VDC
Flow: 5.5 GPM
Max Pressure: 55 psi (at nozzle)
Strainer: Included
Built-in Check Valve: Yes
Self-Priming: Yes
Size (in.): 6 W x 8.7 L x 5.37H.
Rating: 4.6
Price: $111

This is a high-powered pump with a seal pressure switch. The one-piece case is made of ABS engineering plastic that is tightly sealed. The rubber mounting feet make this a quiet and robust pump.
This five-chamber pump has over-heat overload protection that automatically stops the pump in case of excessive heat. It restarts automatically once the temperature has dropped to an acceptable operational level.
This self-priming pump incorporates an automatic pressure switch, activated when a faucet or valve is opened.
The external threaded port pump heads are available in a variety of sizes and mounting styles allowing for easy adaption to different systems. The included filter can be removed easily for cleaning. The threaded connection of the water pipe is made of high-quality brass and the filter can be removed for cleaning.
Sale
Happybuy RV Water Pump 5.3 GPM 5.5 Gallons Per Minute 12V Water Pump Automatic 70 PSI Diaphragm Pump with 25 Foot Coiled Hose Washdown Pumps for Boats Caravan Rv Marine Yacht
Superior Performance: The self-priming 12V pump is equipped with an automatic pressure switch control that automatically opens and closes when you open and close the nozzle. It features 20 Liters per minute (5.5 GPM) capacity flow with a high pressure of 70 PSI and has built-in thermal overload protection.
High-quality Material: The 5-chamber positive displacement diaphragm pump's main body is made of ABS engineering plastic, one-piece, tightly sealed, and durable. A high-powered motor with a waterproof cover and a sealed pressure switch ensures that the pump operates in harsh environments. Rubber mounting feet reduce noise and prevent corrosion.
Complete Wash Pump Kit: This washdown pump kit includes a trigger Nozzle with Quick Connect, a Quick Connect Adaptor, a UV-protected 25' Coiled Hose, two NPT Connectors with 1/2" Straight Barb, and a Universal Saltwater Filter/Strainer.
5. SEAFLO Water Diaphragm Pressure Pump
Specs
Model No.: SFDP1-055-060-51
Power: 12 VDC
Flow: 5.5 GPM
Max Pressure: 60 psi
Strainer: Included
Built-in Check Valve: Yes
Self-Priming: Yes
Size (in.): 11.26L x 6.3W x 5.39H
Rating: 4.2
Price: $110

This is a quiet, positive displacement diaphragm pump that can run dry. All connectors are industry standard for campers and RVs. The pump is protected by a SEAFLO product warranty.
The manufacturer claims this 6.8-pound pump is "certified frustration free" backed up by a 4-year warranty.
It is a positive displacement, quiet, demand-pump, that can run dry. Installation is straight-forward and reasonably simple using industry standard fittings and mount pattern. This is a self-priming 5-chamber positive displacement diaphragm, self-priming pump.
With a flow rate of 5.5 GPM and pressure rated to 60 psi, this pump will deliver water under good pressure wherever it is needed.
This pump is also rated for other demanding industrial and agricultural operations, in addition to being quite suited for RV use.
SEAFLO 12V 5.5 GPM 60 PSI Water Diaphragm Pressure Pump
4-Year Warranty, if it doesn't have a 4 year warranty, it's not a genuine SEAFLO product!
5.5 Gallons Per Minute (20.82 LPM) capacity flow, and 60 PSI pressure switch
Priming Capabilities 6 feet (1.8 m) suction lift, Inlet/Outlet Ports 1/2″-14 MNPT
6. Remco PowerRV Aquajet – 55AQUAJET-AES
Specs
Model No.: SFDP1-055-060-51
Power: 12 VDC
Flow: 3.5 GPM
Max Pressure: 75 psi
Strainer: Included
Built-in Check Valve: Yes
Self-Priming: Yes
Size (in.): 12.5 x 6.25W x 5.5H
Rating: 4.2
Price: $231

The Remco Industries 55AQUAJET-AES (Efficiency Series) pump was specifically designed for smaller coaches and RV aftermarket applications. It is not an industrial pump adapted for campers.
This is a first class, exceptionally reliable professional-grade pump, applicable to essentially any camper or RV water system.
This is a digitally controlled "smart pump" that automatically adjusts speed to maintain higher operating pressures across multiple water fixtures.
It is also one of the quietest pumps on the market.
Installation is characterized as easy "plug-and-play."
The 2-year warranty includes over-pressure protection. Two each 3/4 and 1/2 male thread fittings are included, ensuring that it will fit most campers.
7. Aquatec 5503-AEE-1E01 Variable Speed Pump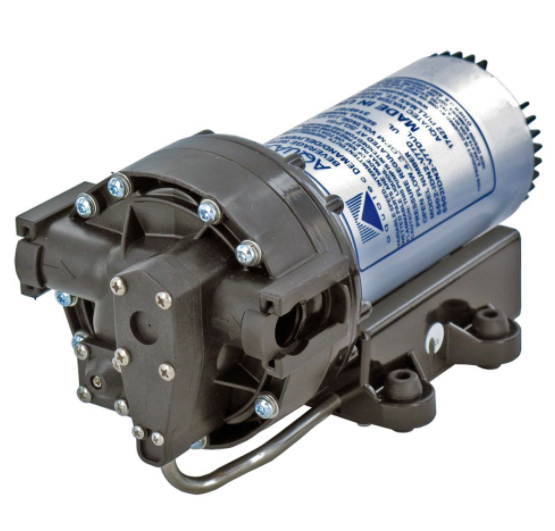 Specs
Model No.: 5503-1E01-B636
Power: 12 VDC
Flow: 4.1 GPM
Max Pressure: 50 psi
Strainer: Not Included
Built-in Check Valve: Yes
Self-Priming: Yes
Size (in.): 7.28L x 5.25W x 4 H
Rating: 4.2
Price: $227

The
Aquajet Variable Speed Smart Pump
incorporates a digital controller that delivers a constant pressure for all flow rates. A pressure transducer is used to monitor pressure changes and make necessary adjustments (to within 2 PSI).
This top-of-the-line water pump is especially useful in larger RVs where there may be long distances between the pump and several water fixtures, from front to aft. This also means there is: no need for pressure accumulators and less system maintenance is required.
Since the system does not require pressure accumulator tanks, the whole system takes up much less space and no pressure switches are needed.
One thing we do not understand is why the ¾-in. Quad Port fittings, required for proper function of the pump, are not included with pump as sold, but must be purchased separately.
8. Remco Aquajet ARV 12V Water Pump
Specs
Model No.: 55AQUAJET-ARV
Power: 12 VDC
Flow: 5.3 GPM
Max Pressure: 65 psi
Strainer: Not Included
Built-in Check Valve: Yes
Self-Priming: Yes
Size (in.): 7.28L x 5.25W x 4 H
Rating: 5.0
Price: $228

The Aquajet RV (ARV) is a variable speed pump that is supposed to be a significant improvement over standard RV pumps. This pump is a direct replacement for Flojet and ShurFlo pumps.
The pump delivers 5.3 GPM at a maximum pressure of 65 psi.
Designed specifically for RV and marine use, this five-chamber pump with integrated electronic controls delivers a constant pressure across all RV outlets.
These quiet pumps are thermally protected, and should they overheat, they will reset automatically when the temperature returns to a normal range.
This is a five-chamber diaphragm pump, self-priming, capable of being run dry
Remco (55-AQUAJET ARV Aquajet RV Series Water Pump
Aquajet Variable Speed RV Water Pump - The Aquajet RV pump employs state-of-the-art electronics to automatically control motor speed - the pump actually adjusts its speed as you open and close water fixtures
Aquajet's soft start feature eliminates annoying rapid cycling, and its exclusive 5-valve design can deliver twice the flow and pressure of conventional RV industry pumps
Greater flow - The Aquajet automatically overcomes pressure drops typically caused when multiple fixtures operate at the same time. AES: 10 feet (3 m) , ARV: 13 feet ( 4m)
Frequently Asked Questions
Do I have to have the water pump operating to drain my camper's water system.
No. If the freshwater tank is full, the pump may empty the tank faster than draining it, but it may be simpler to remove the drain plugs and let water drain of the system. Open one or two faucets when draining the freshwater tank.
When installing a water pump, does it matter how the wires are connected.
Absolutely. Yes. If it is wired incorrectly, i.e., backwards, the pump will run backwards, and no water will be pumped.
When replacing a pump, is it okay to put in a larger capacity pump to provide better water pressure and flow rates.
Use caution. Camper water systems are designed for operation with the original water pump. Increasing the pump capacity, i.e., greater pressure or flow rates may exceed the capabilities of the installed water system, causing leaks and/or damage to other parts of the system.
The pump is running but no water is coming out of the faucet. What is wrong?
(1) Check to make sure there is water in the freshwater holding tank.
(2) Look for leaks or loose hose connections because water is probably going somewhere.
(3) Make sure water is flowing to the pump. Fore example, many pumps have screens in the supply line, either at or before the pump. If this is clogged, the pump will run but no water will be pump.
When I turn on the water, the pump does not come on and there is no water flowing.
First, most camper water pumps are designed to run dry, so even if the water is not hooked up, you should hear the pump motor. (1) Check fuses for the pump circuit. If it is "blown" (the fuse element is burned), replace the fuse. (2) Check the wiring to the pump, including the connections. A broken wire or loose connection may be the cause. (3) If you are using battery power, check the battery for adequate charge (do camper lights come on, etc.). (4) Use a voltmeter to make sure there is power at the pump connections when the pump switch is on.
Last update on 2023-06-09 / Affiliate links / Images from Amazon Product Advertising API