Introduction
Camping off the grid or need power to recharge the camper's battery, without access to an electrical outlet, the next best thing is a solar power system that will charge the camper (or car) battery, and even run some of your lights and appliances.
A quick search of the Internet will reveal dozens of different solar power systems for everything from charging your phone to supplying power for your home. We have done the research to help guide you through the mysteries of solar power for campers.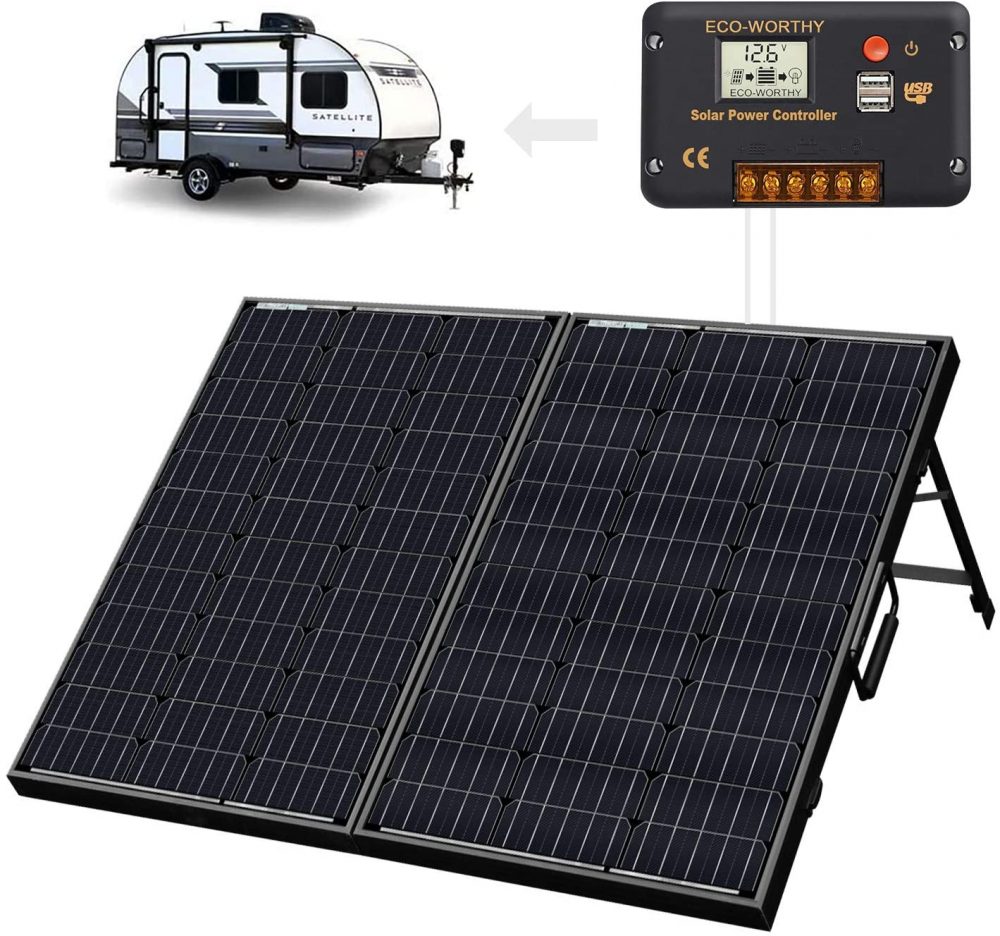 DC vs AC Need to Know
The electricity collected from the solar panel is "DC" or direct current—the kind of current used to power flashlights, power cell phones, and start your car or anything that uses DC. The electrical power that drives most of your household items—stove, refrigerator, lights, etc., is alternating current. This is also the current needed to power many of your camper appliances such as the air conditioning, refrigerator, microwave, and the all-important television.
Using a device called a power inverter (or just an "inverter"), DC can be converted into AC. Since auto and camper batteries collect and store DC current, most campers have a built-in inverter in the electrical panel to operate the microwave, air-conditioning, and the television (when the camper is not plugged into AC electrical service).
Note: the inverter has one or more receptacles for standard three-prong plugs.
So, what is the solar panel good for. The solar panel can charge the camper's battery, or you can connect the solar panel to a portable inverter that will allow you to take the TV when tent camping in a remote area where you went to get away from…the TV!
Wattage
Watts are the unit power that lets you know how much energy your device needs to operate, or your solar cell can produce to be useful.
For camping purposes, to charge your camper battery, you need a solar panel that will deliver at least 100 Watts. Greater output will charge the battery more quickly. Solar panels can be connected so that two 100-Watt panels will deliver 200 Watts-charge the battery faster or run more electrical devices.
Sunlight vs Shade
But these are "solar" panels, meaning they need sunlight shining on the panel. Obviously, these panels do not work at night, but what about shade or cloudy days. The answer is "it depends." Shade will reduce the power output of a solar panel-the more shade the less output, but solar panels will operate in moderately shady conditions. But it will take longer to charge the battery.
Complete Kits
All the solar panel systems described are essentially "kits" that provide the necessary connections to charge your camper's battery.
Extension Cords
Most brands offer available (at an extra cost) extension cords so you can place the solar panels farther away from the camper or devices being powered. Longer extension cords may reduce the power supplied, but only slightly.
Permanent Installations
It is possible, and many solar panel manufacturers provide the necessary hardware, to permanently mount the solar panels on the top of a camper (or by a shed or a roof). Some of these mountings even have adjustments that allow you to tilt the panels for the best angle to collect solar energy.
However, the most economical and flexible system is portable and set up near the camper in a way that best collect solar energy-and can be adjusted or relocated to collect sunlight efficiently in both the morning and evening.
Buying Recommendations
Dimensions
31 x 20 x 2.8 in. (Folded)
47.01 x 1.5 x 20.87 inches
Our Top Five Solar Panels for Campers and Off-Grid Camping
1. ECO-WORTHY 120-Watt 12Volt Off Grid Monocrystalline Portable Foldable Solar Panel Suitcase with Charger –
Editor's Pick
Specs
Power Output: 120 Watts
Foldable: Yes
Carrying Case: Yes
Dimensions: 31 x 20 x 2.8 in. (Folded)
Stand: Yes
Model No: AM-L02FM120H-1
Camper Mounting Hardware: No
Inverter: No
Warranty: Yes – 25 years
Price Range: $182 -$233

The ECO-WORTHY is a ready-to-use, plug and play portable solar briefcase. Pre-installed controller and pre-wired battery clips for charging 12V battery. With handle, convenient to carry.
Open its briefcase-style carrying design and set it up. The controller and the pre-wired battery clips are already installed and ready to go to work "right out of the box."
Easy Operation: open the folding solar panel and set it in the sun, connect the battery clips to the battery, and the charging begins. The solar panel, supported the aluminum stand, begins to generate electricity-maybe more power than you can use. Use it to charge the camper or vehicle battery or any other 12V DC devices.
A feature we like is the integral solar charge controller that protects the system from over-charge, over-discharge, over-load, and a reverse connection.
This is our pick that is easy to set up and use, and ideal for camping, boating, off-grid solar power, even hiking or to power any 12V DC device.
Wide Application: Ideal for hiking, camping, and military use, off-grid solar panel system, caravan, RV, boat, Green house solar panel system, solar pump watering system etc.
Controller Protection: Pre-installed solar charge controller protects the system from over-charge, over-discharge, over-load, and reverse-connection protection.
The kit includes: 1 120W Foldable Mono Solar Panel Kit and the pre-installed 20A charge controller, with one pair of pre-installed 10-ft solar cables with a pair 30A alligator clips & (to connect to the battery or device being powered), and an adjustable aluminum stand.
Sale
ECO-WORTHY 100W Portable Solar Panel, Foldable Solar Panel Kit with Adjustable Kickstand for Power Station Camping RV Travel Trailer
[Lightly Foldable, Easy to Move] The size of the foldable solar panel is 26.2*21*2.8inch, the weight is 7.7 pounds. It does not take up space in the car. When camping, solar panels can be expanded within a few seconds.
[Adjustable Kickstands & High Efficiency] The foldable solar panel has a special kickstand with patented, which can adjust solar panel angle to 30 degrees or 40 degrees so that the solar panel can absorb the maximum sunlight and get more power
[Waterproof & Extension Cable] With IP65 water-resistant material, it will protect from water splashing. Use 118 inch extension cable to run power station in the shade
2. ACOPOWER l00W Portable Solar Panel
Specs
Power Output: 100 Watts
Foldable: Yes
Carrying Case: Yes
Dimensions: 28.5 x 4.1 x 23 in.
Stand: Yes
Model No: HY-PTK-100
Camper Mounting Hardware: No
Inverter: No
Warranty: Yes – 25 years
Price Range: $283 – $305

The ACOPOWER 100W solar panel is a foldable, two­ panel (expandable to 4-panel, 200-Watt version shown in photo) solar generator with a 20A charge controller
ACOPOWER All Black 100W Mono Foldable Solar Panel with Charge Controller is an ideal system when going solar Off-Grid. These compact panels are easy to set up and are equally effective in the mountains or at the beach. These systems are work equally well for marine, dry camping, RV, as well as home back-up power.
The case is ideal for keeping the solar panel safe in storage. The unit is waterproof in accordance with IP67 (meaning it could work underwater) and equipped with a pre-installed, built-in stand.
There is a 20-Amp waterproof charge controller on the back of the unit.
MC-4 connectors or an Anderson plug allow easy installation to RV/ camper/ trailer battery unit.
The unit can be expanded to 200 Watts. Connect the Alligator Clamps to a 12V Battery
ACOPOWER 100 Watt Mono Lightweight Portable Solar Panel kit, Foldable Solar Panel 100w, Waterproof 20A 12V/24V LCD Solar Controller for Both 12V Battery and Power Station RV Camping Off Grid
☀【Highly Light and portable design】The weigh of 100w suitcase solar panels for rv is 11.9lbs and has a folded size of 23.8 x 20.2 x 1.6 inches. It provides more flexible for outdoor and off-grid use, easy to carry, store and set up.
☀【Plug and play solar kit】complete kit includes a 100w foldable solar panel, a 20A waterproof charge controller, and alligator clips. Compatible with multiple kinds of 12V batteries, easily add to your existing system.Ideal output: 480 Watt hours per day (depends on sunlight availability)
☀【Easy Set-up】pre-installed stand allows for easy and quick set-up. MC-4 connectors or Anderson plug allow easy installation to RV / camper / trailer battery unit. For pre-wired RV or camper, please contact ACOPOWER for adapters Furrion and SAE Zamp solar
3. Windy Nation 200-Watt Solar Kit Features
Specs
Power Output: 200 Watts
Foldable: Yes
Carrying Case: Yes
Dimensions: 40 x 2 x26 in.
Stand: No
Model No: SOK-200WP-P20L
Camper Mounting Hardware: Yes
Inverter: No
Warranty: Yes – 25 years
Price Range: $245 – $265

Windy Nation takes the trouble and confusion out of solar energy with their 100% Complete Off-Grid Solar Kits
The Windy Nation 200-Watt Solar Charging Kit includes everything needed to produce free, clean power from the sun! Perfect for RVs, boats, cabins, and back-up power. Add a 12-volt battery and a DC-to-AC inverter and you are ready to harness the sun's free energy.
The kit includes Windy Nation's PWM solar charge controller with digital display.
Windy Nation's 200-Watt Solar Kit includes everything needed to get started: two 100-Watt Solar Panels, User Adjustable Solar Charge Controller, 40 ft of UL Listed 12 AWG Solar Cable, all necessary connectors for wiring, and all the necessary mounting hardware (8 Solar Panel Mounting Brackets and Fastener Sets).
If there is a drawback to this solar charger, it is the lack of a factory-provided stand. However, with the mounting hardware provided, you have more options regarding mounting, even on your RV. The Windy Nation 200-Watt Solar Charging Kit is the ideal solution for providing back-up power or off-grid power when you need it! It also has adjustable solar disconnect and voltage load disconnects.
Wind Nation also offers a similar 100-Watt charger too for $145.
WindyNation 200 Watt (2pcs 100 Watt) Solar Panel Complete Off-Grid RV Boat Kit with LCD PWM Charge Controller + Solar Cable + Mounting Brackets
SEE PICTURES IN PHOTO GALLERY FOR DIMENSIONAL DRAWING AND ADDITIONAL TECHNICAL SPECIFICATIONS. 200 Watt solar charging kit provides up to 200 watts of clean, free, renewable power
PWM Solar Charge Controller has user adjustable settings! LCD Screen shows, voltage, solar panel status, battery state of charge, and DC load draw. See Image in photo gallery for all LCD Screen readouts. Compatible with lead acid, AGM, gel, and lithium batteries
Designed for RVs, cabins, homes, boats, back-up and remote power use. The two solar panels can be wired in parallel for 12V battery charging or in series for 24V battery charging.
4. Renology Wanderer 100W Solar Power Starter Kit Features
Specs
Power Output: 100 Watts
Foldable: No
Carrying Case: No
Dimensions: 47.01 x 1.5 x 20.87 inches
Stand: Available
Model No: HY-PTK-100
Camper Mounting Hardware: No
Inverter: No
Warranty: Yes
Price Range: $143 – $170

The Renogy 100W Solar Power Starter Kit is perfect to get a start in solar energy. This Starter Kit delivers 100 Watts of power, ideal for RVs, trailers, boats, as well as sheds, and cabins.
Described as a starter kit, the Renology Wanderer provides similar equipment and the same 100-Watt output as other 100-Watt systems.
This solar kit includes one Renology 100W 12V Mono Solar Panel, one 30A PWM Wanderer Charge Controller, one 20ft 10AWG Solar Adaptor Kit, one 8ft 10AWG Tray Cable, and one set of Z-brackets. We recommend adding an inverter-then you can recharge phones and navigators anywhere.
The solar panel is mounted in a corrosion-resistant aluminum frame designed for outdoor use. Solar panel systems have an expected useful life of 25 or more years if properly handled and stored.
The Wanderer is protected against overcharging, overload, short-circuit and reversed polarity
If your power demands increase, the system can be expanded, incrementally, up to 400 Watts of power.
One drawback to this kit is that the adjustable stand is not included. A stand, Model No. RNG­ MTS-TMB is available ($33.00) and recommended unless you know where you are going to mount the unit.
Sale
Renogy 100W 12V Monocrystalline Solar Starter Kit w/Wanderer 10A Charger Controller
【Efficient Performance】The 100W Solar Kit will produce an average of 500Wh of electricity per day (Based on 5 hours of direct sunlight condition). The Cell Efficiency can reach 21%. The bypass diodes ensure that the panel has an excellent performance in a low-light environment and the TPT back sheet dissipates excess heat to ensure smooth output performance.
【Solid Quality】Advanced encapsulation material with multi-layered sheet laminations protects cells from physical damage and distortion, improving cell performance and providing a long service life.
【Smart Function】The Wanderer PWM Charge Controller is compatible with four different types of batteries: Sealed, Gel, Flooded, and Lithium batteries. It also features advanced 4-stage charging (bulk, boost, float, and equalization) to ensure your battery is efficiently and safely charged to 100%.
5. Nature Power Polycrystalline Solar Power Kit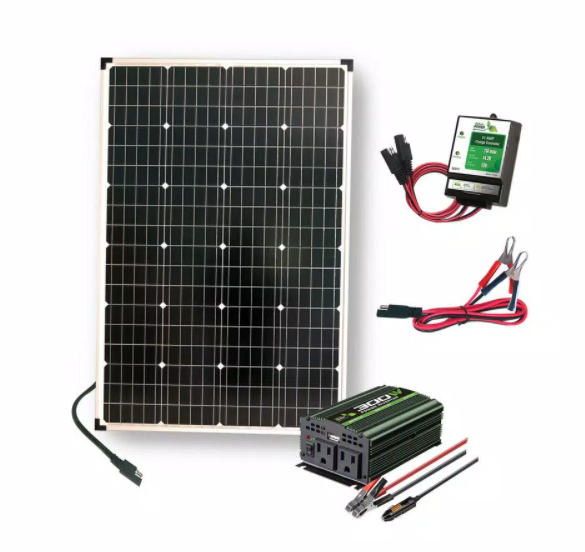 Specs
Power Output: 110 Watts
Foldable: Yes
Carrying Case: No
Dimensions: 39.7 x 2 x 21 in.
Stand: Not indicated
Model No: 53110
Camper Mounting Hardware: No
Inverter: Included
Warranty: Yes
Price Range: $104 – $129

The Nature Power includes a 110-Watt high efficiency solar panel for charging 12 Volt batteries and for providing backup power.
A sturdy, heavy-duty, weather-resistant aluminum frame protects the solar panel. The scratch-resistant, anti-reflective coating ensures a source of solar power for many years helps keep it in top shape for long life.
The unit also includes a 300-Watt power inverter to convert 12V DC into 110V AC. Plug and play connections make it easy to install.
Other features include:
The solar panel warranted to retain at least 80% efficiency for up to 25 years power and has input/output protection
One advantage of the Nature Power Solar Power Kit is that it includes a 300-Watt power inverter, as well as the charge controller, and a set of connecting cables
Buy Now
Frequently Asked Questions
Why use a solar panel system?
A solar panel system that includes an inverter enables you to camp, hike, or boat wherever you want for extended periods, and still have access a dependable supply of electrical power-both DC and AC.
I have an AC generator, why would I want solar panels?
An AC generator requires fuel to run the noisy engine that drives the generator, and you must fuel to power the (Many campgrounds prohibit gas generators after a specified time at night.)
A solar system will likely double or triple the life of your RV
With an inverter, you can convert DC power, either from the solar panels or the camper's battery, operate AC equipment such as the TV.
It is cleaner and cost effective compared to having fuel cans and a noisy generator that must be fueled
What is a charge controller?
The charge controller prevents the solar panels from overcharging the batteries but allows enough energy to the battery to maintain a charge while electricity from the battery is being used.
Solar power systems come in various wattage values. How do I know what size to use?
The answer is, it depends—on how you camp—hiking and tent camping versus a travel trailer­ and the size of the travel trailer. A 100-Watt solar panel system is sufficient to charge and maintain typical camper batteries-and when coupled with an inverter, power several appliances such as the television and maybe a microwave or coffee maker. Simply put, the more appliances you want to use, the greater wattage you will need.
Fortunately, the systems described are expandable. If you find that 100 Watts are not sufficient, you can add additional panels to increase the wattage.
What features should I look for in a solar panel system for my camper?
The first step is to estimate the approximate amount of power you will need. Identify all the AC appliances you have, and which ones must be operating at the same time. Two or three basic appliances-TV, some lights, or a coffee maker and maintain the camper's battery—could be operated with a 100-Watt system. Increasing to 200 Watts will reduce the battery charging time. A 300-Watt system should be ample to operate in a completely normal mode.
If you add an inverter to your system, you can plug items such as phone charger and a television directly from the solar panel assembly-i.e., not have to plug into the camper.
Do I have to purchase the inverter with the solar panel system?
While some solar panel systems include an inverter, most offer it as an added option. Inverters that convert DC to AC are readily available through camper supply stores or tool and hardware stores.
Last update on 2023-09-26 / Affiliate links / Images from Amazon Product Advertising API