While a portable hot tub isn't a necessity, it can be a necessary luxury. Whether it's sore muscles or the weight of the world that has you feeling down, a soak in a portable hot tub can take your worries away. Of course, there's a lot to consider when picking a portable hot tub—fortunately, we have plenty of recommendations no matter your needs.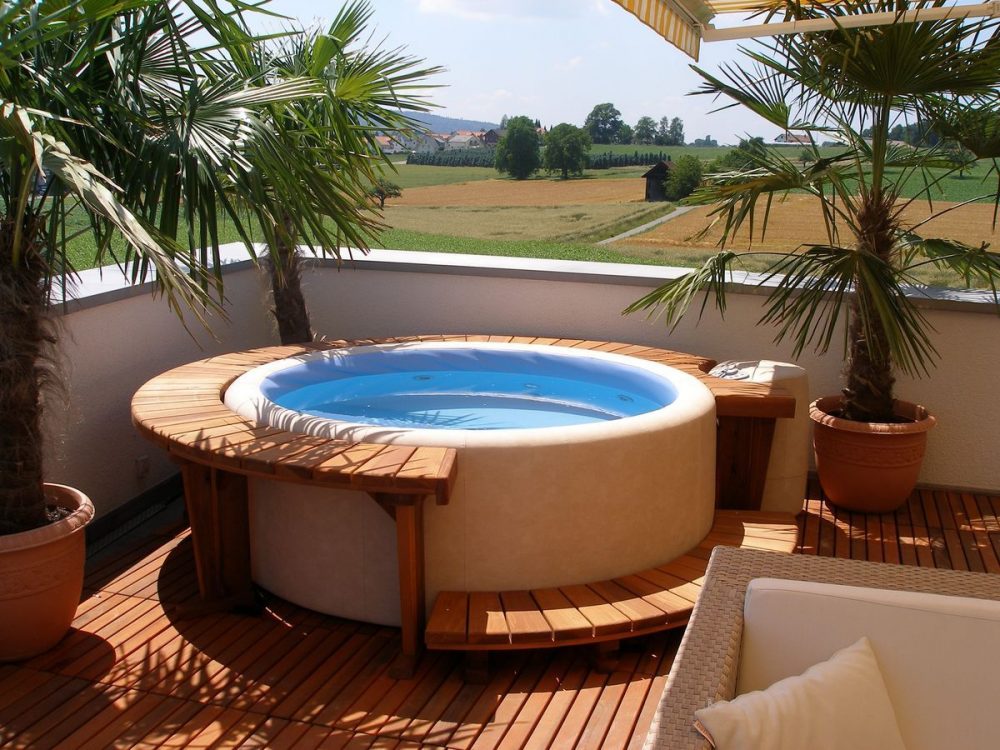 Source: pinterest.com
Best Portable Hot Tubs Buying Guide
What to consider: How many people do you want to fit in your hot tub? Are you looking for massaging jets or other extra features? How about built-in seating? Ease of setup is a key factor, too.
Purchasing factors: Budget is a deciding factor for many folks, but the filtration and cleaning systems are another matter you should think about. For example, saltwater versus chlorination can affect how easy it is to clean your spa—but most tubs rely on chlorine chemicals to keep the water sparkling.
Deciding on a hot tub type: All inflatable hot tubs are portable. But some have air jets, while others have hydro jets, and some have none.
Standard portable hot tub features: Portable hot tubs often feature built-in headrests, lighting options, and air jets. All come with temperature adjustments and self-inflating pumps.
Portable hot tub maintenance: Keeping your hot tub in good repair is a priority, so having a patch kit on hand is vital. Keeping germs at bay is crucial, too, since hot tubs can harbor harmful bacteria.
Buying Recommendations
Best Budget Portable Hot Tubs
For a basic spa experience on a budget, consider these portable hot tubs.
1. Goplus 6-Person Portable Spa –
Editor's Pick
Basic features in a soothing spa package

2. GYMAX Outdoor Spa
Inflatable tub for four on a budget

Best Premium Portable Hot Tubs
Willing to stretch your budget a bit for all the comfort features available? Here are the best options.
1. Bestway Helsinki AirJet Hot Tub –
Editor's Pick
Premium comfort and features for relaxation

2. Intex PureSpa 4-Person Hot Tub
Plenty of space, heat, and comfort

No products found.
Portable Inflatable Hot Tubs with Air Jets and Hydro Jets
1. Bestway Hawaii Air Jet Hot Tub –
Editor's Pick
Plenty of air jets to ease muscle tension

2. Coleman SaluSpa AirJet Hot Tub
An all-inclusive and affordable package to get you soaking, fast

Best Portable Inflatable Hot Tubs with LED Lights
Portable inflatable hot tubs also come with extra features like LED lights.
1. Intex Pure Spa 6-Person Inflatable Hot Tub –
Editor's Pick
LED light shows and jets for ultimate comfort

Best Portable Inflatable Hot Tub for Small Spaces
Don't have much room but still want a relaxing spa experience? Here's what you need.
1. Goplus 4-Person Portable Spa –
Editor's Pick
Best Portable Inflatable Hot Tubs for Winter
When winter comes, you want to be able to hop in your hot tub without standing around in the cold first. These tubs offer the ideal solution.
1. BestWay Paris AirJet Hot Tub –
Editor's Pick
2. BestWay SaluSpa Hot Tub Miami
Set it and hop in (plus cover for warmth)

Final Thoughts
Investing in a hot tub isn't always financially feasible—but a portable, inflatable spa is an excellent alternative. With our recommendations, you can find the tub that's right for your space, budget, and comfort needs without spending hours searching online. Who's ready to relax?
Last update on 2023-06-09 / Affiliate links / Images from Amazon Product Advertising API