You did it! You finally have that RV you have always wanted! Your mind is in constant motion, thinking of all the great places you will visit.
Another thing to consider is what you might need to do to ensure that RV will be ready to travel in any kind of weather. You could pass through torrential thunderstorms, brutal sunlight, perhaps even snow and ice. But the weather isn't the only possible issue. You could incur damage from a falling tree limb or other low-hanging obstacles that could poke a hole in your RV roof.
Taking preventative measures, such as a good roof coating, will protect the RV from wear, leaks, and other issues that could lead to more costly repair and maintenance.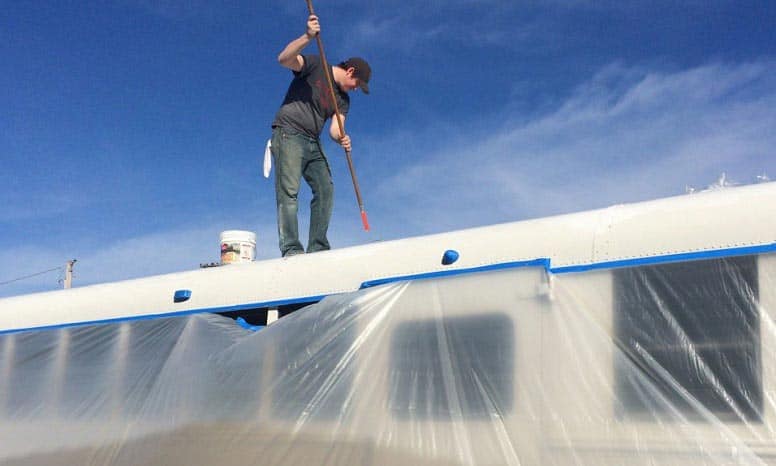 Source: rvhometown.com
Buying Guide
The cost of RV roof coating can vary quite a bit. Home Advisor reports that the average cost to seal a roof is $971 and typically ranges between $382 and $1,568. However, you may pay as little as $100 or as much as $3,200 or more. The type of roof, type of sealant used, the condition of your current roof, and your location all affect the price. When purchasing an RV roof coating, there are several things to consider. A few of them are:
The function of a good RV roof coating.
What are potential additional uses for RV roof coatings, such as other roofing or waterproofing needs around your house?
There are coatings for each type of RV – in particular, coatings for metal and rubber RV roofing are very different, so ensure you are purchasing the correct type of coating.
Benefits of a good roof coating – it provides waterproofing, reflects heat, extends life, and it resists flames and corrosion.
Solvent-based silicone coatings are viewed most favorably. They can be applied to a roofing system using many different techniques, including spraying or rolling. Silicone coatings are available in many colors, including reflective white and translucent.
Buying Recommendations
Budget RV Roof Coatings
Money running a little tight? No worries. Just because you can spend $3.200 on your RV roof doesn't mean you have to. There are some economical options when it comes to coating your RV roof.
1. Heng's Rubber Roof Coating –
Editor's Pick
2. Jetcoat Cool King Elastomeric Acrylic Reflective Roof Coating
Premium RV Roof Coatings
If you have more disposable income and want to splurge a bit, there are plenty of options there as well. Some of the specialty coatings, designed for one specific roof material, will be this area.
1. Rubberseal Liquid Rubber Waterproofing and Protective Coating –
Editor's Pick
Coating for Fiberglass
A fiberglass RV roof is hard to the touch and is a bit rarer than a rubber RV roof because the material adds cost and weight to the RV. On the other hand, fiberglass RV roofs require less maintenance than rubber RV roofs, which makes them preferable for some campers.
1. Dicor Fiberglass RV Roof Coating –
Editor's Pick
Coating for Aluminium
Perhaps the rarest material used for RV roofs is aluminum. Like fiberglass, aluminum adds weight to the RV. However, an aluminum RV roof has fairly low maintenance.
1. Dicor Elastomeric Coating –
Editor's Pick
Coating for EPDM Rubber
EPDM (ethylene propylene diene monomer) rubber is a type of synthetic rubber that is used in many applications. A common use is in the material that is used in roofing for recreational vehicles.
1. Proguard Liquid Roof –
Editor's Pick
Coating for TPO Rubber
TPO stands for thermoplastic polyolefin and is a type of synthetic material often used in the construction of commercial and even some RV roofs. Roofing systems typically consist of three elements: a structural deck, a thermal insulation barrier, and a waterproofing membrane.
1. Dicor Rubber Roof Acrylic Coating –
Editor's Pick
Other RV Roof Coatings
Want to see what else made our top picks? Check out these roof coatings.
1. Dicor Signature Extended Life RV Roof Coating –
Editor's Pick
UV Reflective RV Roof Coatings
Check our favorite choice for UV reflective roof coatings.
1. Liquid RV Roof Coating & RV Roof Repair –
Editor's Pick
Final Thoughts
As you can see, there are plenty of options when it comes to finding a roof coating that will protect your RV. This is certainly something you will want to invest in so that you can enjoy your RV for years to come.
Who wants to be relaxing in the comfortable RV and a rainstorm hits, and the roof starts leaking? Worse yet, who wants to spend a big chunk of time out of their dream vacation repairing the RV roof? You can avoid all that by keeping up with your RV maintenance, and part of that is ensuring the roof has a proper coating. Once you ensure your roof is coated properly, enjoy the great adventures that await you!
Last update on 2023-12-06 / Affiliate links / Images from Amazon Product Advertising API