Top 5 reasons why it is a fun place to visit:
Have a glass of wine at the Sassafras Springs Vineyard
Catch a game at the Arvest Ballpark
Take a walk at the historic Arkansas and Missouri Railroad site
Visit the Shiloh Museum of Ozark History
Catch a rodeo at the Parsons Stadium and the Rodeo of the Ozarks
List of top ten RV Parks in the Springdale, AR area:
(Disclaimer: information is a compilation of researched info as published online and does not necessarily reflect the experience or opinion of the author)
The RV parks have been ranked and are listed from "Most Recommended" to "Least Recommended" based on reviews, feedback, amenities, and preference. Cost was not the primary ranking driver. Please note that weekend RV families with children might have different needs than full-time RV "snowbirds".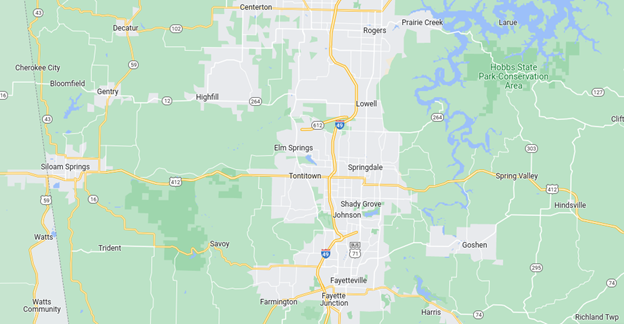 1. Oak Hill Court RV Park
Although this park is located about 1 hr from Springdale, AR and is across the state border in Missouri, it's still a great park to use as a base camp when visiting the Ozarks. The staff is very nice and helpful.
What makes this park unique?
This is a nice and quiet family-owned campground with level and shaded sites. The amenities are nice and clean and the park is close to the Roaring River State Park and Cassville. With so much to do for the kids, this is a family-friendly campground. There is no tent-camping allowed.
2. Green Tree Lodge and RV Park
Close to a small town (Eureka Springs), this park is nearby to quaint shops and some restaurants, as well as about one mile from the historic Thorncrown Chapel.
What makes this park unique?
The park is decorated with eclectic and vintage decor to give it a fun and laid-back vibe. There are different cabins to book, as well, each with a different decor and its own whirlpool tub.
3. Withrow Springs State Park
This park is a 786-acre park & natural springs in the Ozark Mountains, with a seasonal pool and nice campground sites.
What makes this park unique?
This park is surrounded by beautiful nature, yet still has full hookups and a pool. There are many hiking paths to take and the surroundings are magnificent. It's also nice and quiet to relax and let your soul rest. The rare Ozark trillium grows there.
4. 3B Off-Road and RV Park
This place is great for anyone who likes to combine nature and adrenaline in order to relax. This park specializes in off-road getaways and has a large property to have their visitors "let loose"!
What makes this park unique?
This park is for off-road and ATV enthusiasts: boasting over 50 miles of trails, all one has to do is to simply bring their off-road toys and enjoy the ride! There are also amenities and hookups at the park to provide for a comfortable stay. This place is great for rallies and group get-togethers. There are also ATVs, side-by-sides, as well as RVs for rent while there.
5. Rogers/Pea Ridge Garden RV and Campground
This is a long-term stay park only, offering spots on a first-come first-serve basis. This is a quiet and friendly park.
What makes this park unique?
Some sites are shaded, while others are not. Make sure you keep in mind this is a long-term stay RV park. As they say on their Website: "Nature is your backyard!"
6. Kettle Campground Cabins and RV Park
This park has a fun, friendly and family-oriented environment with clean facilities and outstanding customer service.
What makes this park unique?
Located only 1000 ft past the Passion Play Road, this place is a great nature getaway to spend some quality time with your loved ones, or in solitude. This park receives many return visitors because of their friendly customer service. The sites are pretty good size.
7. Wanderlust RV Park
According to their Website, "Wanderlust RV Park is located on a 46 acre tract, atop a curved, scenic ridge overlooking a deep valley (a great place to watch majestic sunsets). The Park itself has a pleasant, restful ambiance with its many natural trees. Flowers and shrubbery have been planted to enhance the natural beauty of the park. Quite often, deer and wildlife, as well as a wide variety of birds make their presence known." (Source: http://www.wanderlustrvpark.com/)
What makes this park unique?
This RV park is super-close to the annual "The Great Passion Play". It has access to many amazing amenities, such as "a tourist trolley stop on site on the "Blue and Yellow Route" that provides easy access to many attractions in and around Eureka Springs. Guests appreciate the variety of local entertainment from country music shows, Victorian home tours, car rallies, bike rallies, shopping, craft fairs, antique shops, parades, restaurants, train rides, and just a half mile to many mountain biking trails, and so much more." (Source: http://www.wanderlustrvpark.com/).
8. Roaring River State Park
This park opened in 1928 and has been a great nature getaway for locals, as well as for visitors alike. Located right on the river, there are many different activities one can enjoy, whether on land or on water.
What makes this park unique?
There is rainbow trout fishing galore, there are also great hiking trails and beautiful sights. This park is located in the southwest side of the Ozark hills and is one of Missouri's favorite State Parks.
9. Eureka Springs KOA
This is a KOA Journey campground that offers all the amenities one is used to having at a KOA site.
What makes this park unique?
According to their Website, " The rugged beauty and natural wonders of the Ozark Mountains await you at this KOA. You'll find big-rig friendly, full-hookup Pull-Thru RV Sites, padded Tent Sites and a variety of Cabins. All the RV Sites and Cabins have cable TV. You're only 10 minutes from historic downtown Eureka Springs with all its shopping, dining and attractions. Nearby at Beaver Lake, take a relaxing canoe ride or even go scuba diving! At KOA, enjoy the hiking trail, playground, basketball court, horseshoes, Kamp K9 and giant 90,000-gallon pool, perfect for hot summer days. The convenience store has souvenirs, essentials and RV parts/accessories. You'll appreciate the air-conditioned shower house and full laundry. This KOA strives to be the Ozarks' campground of choice, so come unwind, relax and make memories." (Source: https://koa.com/campgrounds/eureka-springs/)
Note: The max RV length is 85 ft.
10. War Eagle Campground
This park sits on the shores of Beaver Lake in the Ozark Mountains in Northwest Arkansas, with nature all around and great value campsites.
What makes this park unique?
This is a smaller park with basic electric sites that make this place a great weekend fishing getaway. There are many different fish to catch, from rainbow and German brown trout to large and small-mouth bass, crappie, bream, white bass, stripers, and channel or spoon-bill catfish.
TIPS TO GET TO SPRINGDALE
Springdale is located in the Northwest corner of Arkansas and has many different things to offer to its visitors: from ball games to wine to history, there is something for everyone. Springdale is located on US-412 that directs West and East travel, and on I-45 going North and South. There are many parks in the area, since Springdale is deep in the Ozark Mountains.