A camper can become your second home as you travel and explore new surroundings with it, so why not give your camper a cool name? Just like we name our cars, motorcycles, and other things dear to our hearts, a camper can feel even homier with the right name.
While it can be tricky to find the perfect name for your camper, a few considerations can help you on that quest. Check out these tips and suggestions for camper names, and remember to take your time and have fun with it!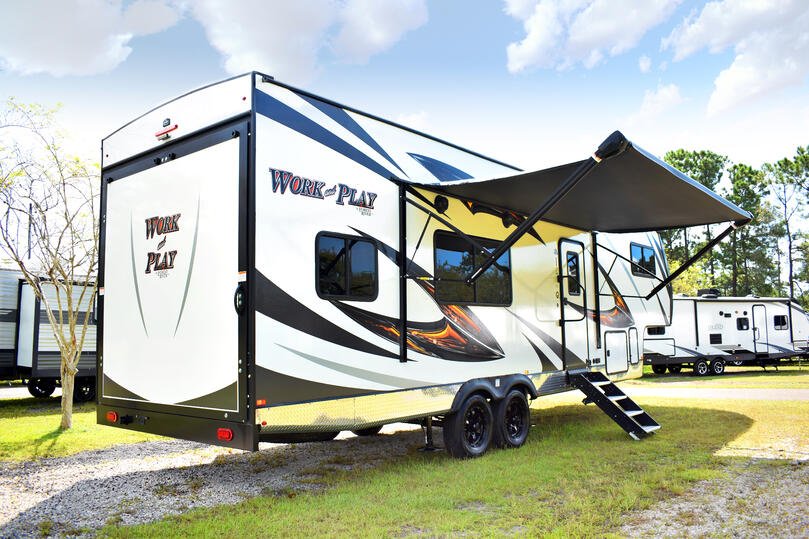 How Do You Name Your Camper?
Your first camper is like getting a pet…sort of! It takes a lot of thought and planning before buying one, so it's worth allocating some of your time to naming it as well.
You can name your camper based on various factors like where you plan on going, its color, size, features, and more. What's most important is that you love it and that it fits its place and role in your family.
You may develop an emotional attachment to your camper, and giving it a name will solidify that connection. So you should consider picking something with a meaning that reflects your personality and the purpose that the camper will serve.
There are many ways you can approach naming your camper, so let's dive right into them.
Camper Brand
Sometimes it's easy to pick a name for your camper based on which brand you chose. For example, if you purchased a Winnebago, specific names like Winnie the Bago or Big Win can jump out. It might seem too obvious, but many of these names are unique and can help guide you to find the perfect one for your new camper.
The most popular camper brands are Grand Designs RV, Lance, Starcraft, Happier Camper, Airstream, Oliver, and others. You might draw inspiration from some of these names that can seem travel-related, or if they give you an idea because you like the company's products.
Size
Size is also a significant consideration, much like when you name a dog. Sometimes you figure out a clever name based on how big or small something is. It's even fun to get oxymoronic and name your camper something that goes against its size.
If you have a small camper, the Shrimp Mobile or the Giant Ant can both work, as one is literal and the other is funny. The size of your trailer can help you decide where you want to go with the naming process, but you don't have to feel like it dictates your approach.
Color
The color of your camper is a massive consideration because you might have chosen something more unique than what you usually see cruising down the highway. Most campers seem to be neutral colors like black and white or silver. Some people prefer to get a minor to major exterior makeover on their trailer better for their personality.
If you pick something with a splash of color, you might opt to highlight that paint job. Have you got streaks of red? A name like The Red Devil or Pink Floyd, Ocean Blue, Turquoise Terror, or any name that brings attention to your camper's color could produce a fun and creative name.
Gender
When you ask your friends for help naming your baby, your car, your anything, one of their first questions is, "Boy or girl?" You could go, boy, girl, or both/neither with your camper, which can help you decide if you want to go for something more feminine, masculine, or in between.
For a girl, you might like a name like Daisy Dukes, Sunflower Susan, or Wendy Travels might tickle your fancy. For boys, Muddy Miles, Charlie Charters, or Winston the Wanderer may pique your interest. No gender or both? Tyler Take Me Round, Country Living, or Megaworld could be your suitors. Either way, this consideration could help steer you in the right direction.
What You Love
The "What You Love" section is a conglomeration of everything you enjoy most about your camper. Does your camper have any special features? Maybe you're particularly fond of its four-season capabilities, comfy beds, air conditioning, stand-up showers, solar panels, etc.
Perhaps it's very spacious, and you want to focus on that aspect for the name. Something like Wide Open and Free, Solar Sandy, or Wake Me in the Air are all cool names that come from a feature you admire about your new camper.
List of Unique Camper Names
Below, you'll see some playful yet iconic names that will undoubtedly set your camper apart.
Catchy Travel Trailer Names
The whole point of a camper is to travel, so why not come up with a catchy name that describes just that. Check out these unique, short, and sweet names that are descriptive of a travel buddy.
A Great Unknown
The Highway
Worldwide
Highlander
The Voyager
Wanderlust
One Life
Compass
Trekker
Runaway
The Wayfarer
Weekender
Clipper
Nirvana
Totally Hitched
Unique Small Camper Names
If you have a smaller camper and want an outlandish moniker that describes its size, you're in luck. Below are unique and creative names for small campers.
Little Dipper
Bing Bong
Little Richard
Mini Madness
Only Two Can Fit
Notoriously Small
Teardrop
Whopper Jr
Rhode Island
Little House on the Prairie
Freedom Chariot
Mini Cooper
Lollipop
Kiddie Pool
The Footprint
Unique Big Camper Names
Perhaps you have a big camper, and you're looking for a name that matches your camper's character and is also outside the box. These names will fit large campers, all conveying the size somehow.
Riggie Smalls
Trash Truck
Big Nasty
College Fund
Mile Marker
5-Star
Party Bus
Rollin Inn
Class-C
Mount Kilimanjaro
Bucket List
Connie the Condominium
Big Bones
The Tank
Magic Bus
Girly Names for Campers
Not all campers have to give off masculine energy. On the contrary, campers sure can have feminine energy, and you may need the perfect name that matches such energy. Below you'll find some awesome girly names that reflect the delicate decor that you may have onboard your mother ship.
Girls Just Wanna Have Sun
The Prairie Princess
The Queen Bee
Peachy Keen
Thelma and Louise
Frizzle
Vanessa
Pretty in Pink
Miss Ameri-camper
Tina Touring
Miss Bliss
The Baroness
The Pink Flamingo
The Cara Van (or Kara Van)
Pamper Van
Cute Caravan Names
Sometimes you just need a cute and catchy name that captures the overall essence of your camper. These names are nostalgic, fun, and pretty darn cool too.
Maverick
Janis Joplin
The Lovely Dove
Tommy Pickles
Locked n Loaded
The Chic Petite
RV in Love
Extraordinary Endeavors
Fine Wine
Sunset Bliss
Lady Luck
Arnold Schwarzenegger
The DeLorean
Prince Charming
Betty Boop
Inappropriate Camper Names
Camper names can be racier and depart from the family-friendly category. Some names are bound to make you blush or check to see if any children are in the vicinity before saying it aloud. The truth is, some people enjoy inappropriate humor and don't mind imparting it on their camper.
The degree to which the name is inappropriate will have a lot to do with whether or not you should place the name on your RV. If you plan to stay in family-friendly parks, you may want to refrain!
The Fart Box (ours)
The Silver Turd
The Money Pit
The Poop House
The Shaggin Wagon
The Don't Come Knocking When
The RVs Rocking
RVsaurus Stink
The Dirty Burger
The FEMA Trailer
The Aluminum Falcon
The Cousin Eddie
The Short Bus
Gypsy
The Cougar Bait
Redneck Freak Hut
Funny Camper Names
Lighthearted and playful names and clever puns that elicit a chuckle or even a full-blown laugh upon introducing your camper are always fun! Below you'll find lighthearted names which may garner a smile from those around you.
Sleepy Doo
Doin' It My Way
Jean-Claude-Van-Dam
Movin' and Groovin'
Adventure Before Dementia
The Rolling Palace
Keepin'-the-Dream-Alive
Caravan of Courage
Rest for a While
No-Lookin-Back
Groovin 'Along
Cheering It On
Caravan Fever
Empty Nest
Waltzing Matilda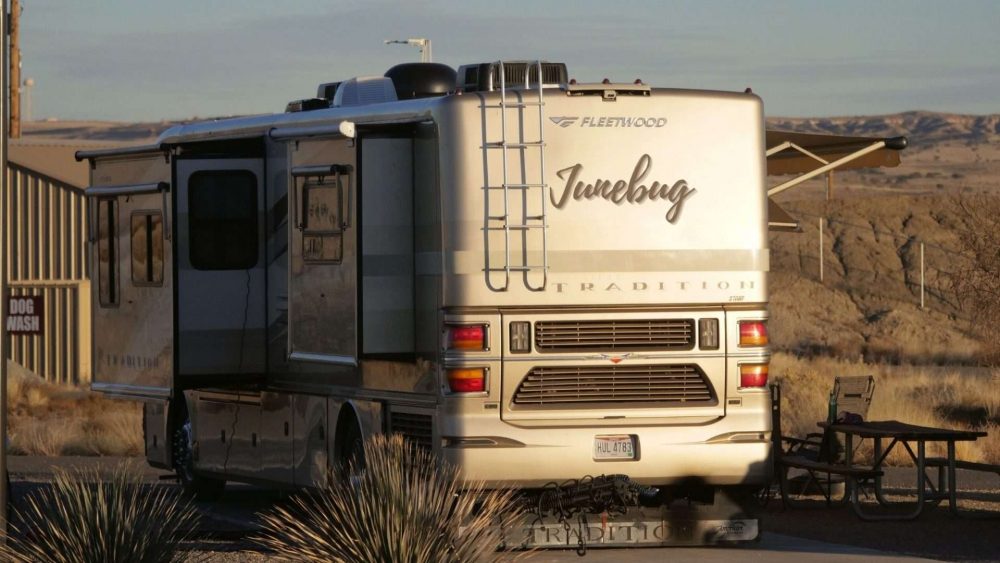 Vintage Camper Names
If you have a vintage camper, a typical name may not suffice. You'll undoubtedly need a name that accurately speaks to the look of your camper. Movies, books, and iconic greats from the past are cool sources!
Olivia Newton-John
Rusty Miles
The Old Yeller
Back in the Day
Henry Wyatt
Miles Silas
Eliott Judah
The Batmobile
The Husky Guard
Lassie on Wheels
Pride and Prejudice
Florence Harbor
Georgia Lovin'
Lenny Kravitz
Old Faithful
Hippie RV Names
Perhaps you're a person with a bit of a hippie spirit, or maybe your camper, for whatever reason, embodies all of the free-spirited energy we commonly associate with hippies. If this is the case, it's only right if you have a name that highlights this hippie energy. Below you'll find names that bring to mind some of the best times of the era.
Ringo Starr
Ziggy Stardust
Freddie Mercury
Blossom Bubble
Woodie Burst
Van Halen
Magic Shroom
Beatlemania
Ethan Meadow
Indigo Blue
Mira Jade
Marley River
Natalie Sunshine
Buzz Echo
Elvis Presley
Posh Names for Caravan
Having a luxurious caravan is nothing but a joy, and finding a name to match the elegant aesthetics of your RV shouldn't be taken lightly. Having the right posh name to describe how you feel about your RV is essential, and you can find some of the best names right below.
Mercedes
The Decadent Wagon
Highway Diva
The Dutch Oven
Sweet Alabaster
Bentley Aston
The Lone Range Rover
Goldilocks
Glitz n Glam
Queen Elizabeth
The Limo Warrior
Limestone Living
Lamborghini Gallardo
Porsche Lights
Ferrari Thrills
Disney Camper Names
You could be a fan of Disney characters or simply a playful individual. You can get some names from a few of the most famous characters from the Disney franchise. Below you are sure to find a Disney name that matches the vibe of your camper.
Chitty Chitty Bang Bang
Hamilton
Chip
Eve
Wall-E
The X Wing
Herbie
The Millennium Falcon
Winnie (for Winnie the Pooh)
Waverly Place
Lighting McQueen
Stitch
Mickey Mouse
Flynn Rider
Buzz Lightyear
So, Why Give Your Camper a Name?
In the course of traveling with your camper, loading and unloading it—seeing the world with it your camper will certainly become a part of the family.
Many people grow healthy attachments to their trailers for many different reasons, all of which warrant giving campers unique names to bolster that connection. So look at naming your camper as a rite of passage and something you should do if you want to give your camper that extra charm.