Julia was browsing tiny house videos on YouTube today and ran across this unusual shelter system. It's been developed for military and disaster relief missions as a quickly deployed hardened shelter. The dome is made out of a concrete impregnated fabric.
To setup one of these structures you simple unroll it, inflate with a fan, and literally spray it with water. The structure will cure quickly and is usable in 12 to 24 hours depending on the size. The structure can then be bermed and/or buried for added protection from the elements.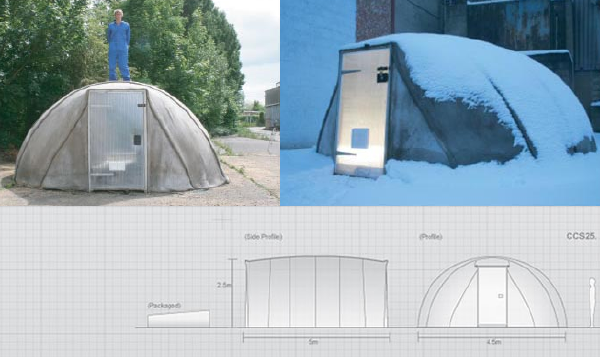 I can see the value of such a quickly deployed bullet-proof building in a war zone. It's ironic and sad that such an amazingly innovate technology had to be born out of such a dark need. But I am glad to see this come to market because it has incredible potential for quickly erected low-cost housing.
Concrete Canvas even offers a tiny house size dome. The 16 square meter (172 square feet) version can be setup by two people in 40 minutes and can be ready to use in 12 hours. That just makes my head spin.
Unfortunately it doesn't sound like they're marketing to owner-builders yet but if this looks like a solution you might be interested in visit Concrete Canvas for more information. Concrete Canvas is located in the UK.
Watch this video to see a larger version of this instant house get inflated and hosed.
Photo credit Concrete Canvas.