How Hard Is It To Get A CDL In 2022?
CDL stands for Commercial Driver's License and it is required to operate any commercial motor vehicles (CMVs), such as dump trucks, semi-trucks, tractor-trailers, passenger buses etc.
There are different types of CDL license based on application: Class A, Class B and Class C, which are determined based on the operating vehicle's GVWR. Interestingly, prior to 1986, mostly anyone could operate any vehicle without a CDL.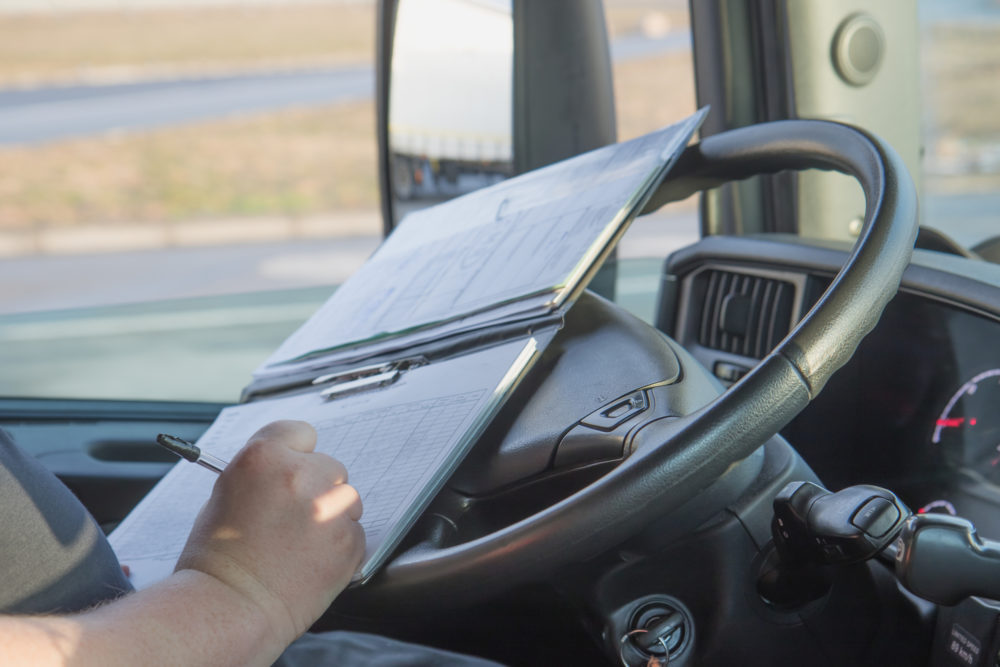 The most challenging part of getting a CDL license is passing the driving test. Most CDL drivers share that the most difficult tasks to demonstrate and master are passing the Air Brake check test, the pre-trip inspection, backing in or taking sharp turns. In fact, even experienced drivers struggle with these specific skills once they are on the road for a while.
Most CDL schools offer programs that help one become a CDL driver within 19-24 days; of course, this depends on one's skill set and ability to successfully master the required skills to be a safe and competent driver.
Requirements For CDL Application?
Below is the entire process, along with the requirements needed in order to obtain a CDL license:
Make sure that you are old enough. Many states require a minimum age of 18, although many CDL driving schools want their drivers to be at least 21 years old. This is to ensure that the young driver ideally has some on-the-road experience already, which also helps lower the risk of rookie mistakes and lowers the insurance premiums, as well.
Get a CLP (Commercial Learner's Permit). This is just like the regular driver's permit process: it's a temporary document to use while in training, as an intermediary step toward your CDL. This step depends largely on the CDL school you choose to attend. Some schools require a CLP prior to enrollment, some help you obtain one after enrollment as part of their process.
Enroll with a CDL school and complete their program. These vary by school, but usually last anywhere from 19-24 days, depending on your skill set and ability to pass the exams successfully. At minimum, the school offers 160 hours of instruction and the course costs anywhere from $3,000-$10,000, depending on school and courses included. These fees cover some of the following:

CDL application fees
Road test fees
CDL skills test fees
The license itself (Class A, B, C, etc.)
Additional endorsements (e.g. hazmat, doubles, etc.).
Some trucking companies pay for the school if you sign up to drive for them for a specific amount of time.
Pass a knowledge exam and a skills test. The knowledge exam can be taken online and is much like the driver's test exam for your driver's license. The skills test consists of three components:

Vehicle inspection
Basic controls
Road test.

Provide the necessary documentation. These vary by state, so check with the state you are getting licensed in, but they usually include a combination of the following documents to prove your identity:

Valid non-commercial driver's license
Social Security card or Social Security number
Birth certificate or valid U.S. passport
Permanent resident card (if you are not an American citizen).

Pass a background check and a medical exam. This is important to ensure the driver does not provide safety hazards to the trucking company or the overall populace while they are on the road. The medical exam requirements are dictated by the DOT and provide an industry standard for all CDL license holders. Professions like trucking are physically very demanding and stressful on the body, and that's why it's important that one is physically capable and able to operate the vehicle in a safe manner for extended periods of time.
Check your state and CDL school for any additional requirements that might be in place. Some states have felony restrictions or other restrictions when it comes to obtaining a CDL license. Make sure you check with the local DMV (Department of Motor Vehicles) to ensure that you meet all state requirements. You will have to pay approx. $85 at the DMV for the actual license, as well (although fees vary by state and location).
How To Pass The CDL Test?
The CDL general knowledge test is required to be taken by all CDL applicants. While each state is different, for example, the Tennessee CDL test consists of 50 questions. To pass, you must correctly answer at least 40 questions (80%). The general knowledge test covers the contents of the CDL Manual.
Make sure you take your studies seriously and prepare adequately for the test. Be focused, study, take practice tests and persevere.
The CDL failure rate for the written exam is fairly low, at about 5-10% (depending on the school and your preparation for the exam). The failure rate for the driving test is fairly high, however, at about 80%. Many lack the experience and initial aptitude to master the hands-on portion of the test, and thus, the CDL licensing process should not be approached flippantly.
Three Types Of CDL License
There are three different types of CDL license: Class A, Class B or Class C. Each is used for a different application. Check out the comparison overview below:
Type of CDL License
Description
Used for these vehicles
Hard to pass?
Cost
Class A
Used for any combination of commercial vehicles for GVWR over 26,001 lbs, with tow vehicle over 10,000 lbs
Tractor-trailers

Truck and trailer combinations

Tank vehicles Livestock carriers

Flatbeds

Somewhat
$3,000-$5,000 for school, $75-$100/year for license, depending on state
Class B
Used for single vehicle for GVWR over 26,001 lbs, with tow vehicle not heavier than 10,000 lbs
Straight trucks

Large passenger buses Segmented buses

Box trucks Dump trucks with small trailers Tractor-trailers

Easier than Class A
$2,000-$7,000 for school, $62-80/year for license, depending on state
Class C
Used for transport vehicles of 16+ occupants or for HazMat transport vehicles
Small HazMat vehicles Passenger vans Combination vehicles not covered by Classes A or B
Easier than Class A
$3,000-$5,000 for school, $46-75/year for license, depending on state
What Covers The CDL Test?
The CDL test consists of a written test and a skills test. The written test covers topics that are in the CDL Training Manual, such as:
Driving safely
Transporting cargo safely
Transporting passengers safely
Air brakes
Combination vehicles
Doubles and triples
Tank vehicles
Transporting hazardous materials
School buses
Vehicle inspection test
Basic vehicle controls skill set
On road driving
The written test has a fairly high pass rate, depending on the school choice, which impacts one's amount of preparation, as well: the average pass rate is about 95%.
The skills test consists of three main areas, which are:
● Vehicle Inspection Test
● Basic Control Test
● Road Test
The road skills test has a much higher failure rate due to its challenging nature (and it should be rigorous to ensure that drivers are competent and ready to hit the road with heavy machinery and expose others to their driving skills): the failure rate for first-time driving tests is at about 80%. Many drivers have to retake the test and (hopefully) learn from their mistakes before they are on the road full-time.
Is It Worth Getting A CDL?
With the increasing trucker shortage, having a CDL license is great job security. Having a CDL license offers almost immediate hiring options across the US with most trucking companies. However, having a CDL license is only worth having when you are actually using it, as it is expensive and difficult to obtain.
Websites like this one share testimonials from real CDL students and drivers:
"From making the decision to become a truck driver to receiving the CDL in my hand was a life-changing experience for me. It was fast-paced and challenging, but overall extremely rewarding. From talking with my recruiter, my local DMV, Driver Solutions, C1 Trucking School and others, I felt happy and confident that I could achieve this goal because they had laid out a structured, organized and realistic plan for me to obtain my CDL if I just followed through with their easy steps. Everyone I came in contact with throughout this experience has been helpful, courteous, supportive and inspirational. I could not have asked for a better group of people to help me on my journey in achieving my CDL. I would recommend this program to anyone who is willing to put their share of effort into getting their CDL, because I know firsthand that the people throughout this program will work just as hard in helping those who want to make their dreams come true." – Codie M.
(Source: greatcdltraining.com)
How Much Do CDL Drivers Make?
With the current job market and labor shortage, truckers can make really good money. Many trucking companies offer high sign-on bonuses and very lucrative packages, incl. non-monetary perks that affect one's work-life balance and avoid burnout (e.g. home every night, weekends off, generous PTO).
Some companies offer sign-on bonuses of $15,000+ and an annual pay of up to $115,000. (https://careers.sysco.com/jobs) Realistically, beginners should expect an annual pay between $45,000-$60,000, however.
The highest paying CDL job is that of an owner-operator. According to Indeed, one can average about $247,000 as an owner operator. Of course, on the hired spectrum, one makes more money when running more jobs, taking on higher-risk assignments (such as ice road trucker) and by having a great zero-accident track record.
You can make the most money with your CDL as owner-operator, as mentioned above. However, you carry all the risk, have business owner operating expenses and have the responsibility of finding and negotiating loads/jobs. As with any entrepreneurship, high risk carries the potential of high reward, but is not for everyone.
What Companies Offer CDL Training?
Below is a list of top 7 CDL training companies, including their cost of training and hours of instruction:
| | | | | |
| --- | --- | --- | --- | --- |
| CDL School Name | Average cost | Overall length of training | Hours of total instruction | Hours of classroom instruction |
| Advanced Technology Institute | $2,200 | 8 weeks | 160 | 72 |
| CDS Tractor-Trailer Training | $3,900-$4,500 | 4 weeks | 160 | 40 |
| Hamrick School | $1,500-$11,000 | 6 weeks | 244 | 80 |
| HDS Truck Driving Institute | $6,995 | 4 weeks | ? | ? |
| Midwest Technical Institute | $6,000-$15,000 | 20 weeks | 600 | 300 |
| Phoenix Truck Driving Institute | $1,000-$5,000 | 4 weeks | 160 | ? |
| Southern Careers Institute | $4,350+ | 4-6 weeks | 160 | 50 |
Source: https://truckdrivingschoolsinfo.com/top-cdl-training-schools/
The CDL training and preparation for the exam is anywhere between 19-24 days, on average, and includes 30-80 hours of in-class training (minimum), which is anywhere from 2 to 3.5 hrs per day. As you can tell, CDL training is very intensive and should be taken seriously.
FAQs
How hard is it to get your CDL with no experience?
Due to the shortage of truck drivers, there is a good possibility for individuals to be hired and trained by a school to get your CDL license with no prior experience.
Can you get a CDL license for free?
Some companies pay for the CDL license if the driver agrees to contract with them for a specified amount of time.
What will disqualify you from getting a CDL?
Some things that can disqualify you are: speeding, reckless driving, DUI, felonies that include negligent homicide or violations that led to fatal accidents.
Can you get a CDL without going to school?
Until February 2022, it was possible to get a CDL without going to school; however, these rules were just changed. (Source: www.truckerstraining.com)
Can you take CDL classes online?
Yes, there are various schools that offer the classroom training as an online option for preparation for the written exam.