Selecting the best campers for "seniors" is a challenging task. First of all, we must consider what we mean by seniors. Broadly, "senior" refers to individuals who are 65 years and older. Still, that definition covers a broad range of individual differences. Many "seniors" well beyond their sixties are still camping as they always have, others—with more free time available to them—are discovering camping as a practical way to travel to places they have always wanted to visit, or the ability to visit friends and family. For these campers, a basic level of comfort and convenience is appreciated, but most campers on the market provide that.
There are also senior campers who have special needs or preferences that must be accommodated, especially if they are unable to "get around" easily, i.e., navigate camper stairs or need special equipment that enables them to take advantage of the benefits and pleasures camping provides. Additionally, there are much younger individuals with limited mobility to whom these camper solutions apply.
Source: vehq.com
Considerations
While our discussion focuses on travel campers—trailers and motorhomes. There are many seniors that still enjoy and look forward to tent camping. Still, whether traveling in a slick new motorhome or "roughing it" in an appropriately configured tend, there are a number of considerations to ensure an enjoyable and comfortable camping experience for seniors with mobility challenges.
Accessibility
The concern is being able to get into a typical camper. Persons that require a wheelchair, walkers, or crutches may not be able to navigate camper stairs. For these individuals there are two basic options: ramps and powered lift platforms.
The portable Roll-A-Ramp is an example of a ramp that can be used to provide wheelchair access to a camper or motorhome. This ramp, rated to 1,000 pounds load, sets up in 20 minutes. It can be stored in the bed of a pickup, storage area of a toy hauler, in a box trailer pulled by the motorhome. Ramps increase the selection of potential campers since ramps can be used with most campers. The key concern with a ramp is to ensure that the wheelchair will fit through the camper door. Some individuals who rely on a wheelchair, may be able to walk a few steps to enter the camper. If so, this ability further expands available camper options.
(Roll-A-Ramp, Electric Bike Paradise, $4,712 (on sale))
Comfort
Sleeping Arrangements – A good night's sleep is important for everyone. Bed height is important. Many campers use space under the bed for storage. Typically, this raises the bed up several inches higher than normal and would be more difficult to transition from a wheelchair to the bed.
Some "original equipment" camper mattresses may not provide the level of comfort a person may need. These can be replaced with special mattresses, pillows and sheets, and covers that make the camper more comfortable. Air mattresses may be a good option—this is a personal choice, but it makes a big difference in the comfort of the camper.
Food and Diet – It may be necessary to arrange for a special diet. If you are camping with an older person, be sure to determine any special dietary requirements.
Campgrounds – The choice of campgrounds can also be important. While the wilderness may be calling, keep in mind that mobility and ability to maneuver in a wheelchair may be limited or difficult off of paved or hard-packed paths. Look for campgrounds with hardpacked or paved paths that provide access to both the camper and to activities in the campground. For optimum wheelchair access and mobility, paved access roads and parking areas make maneuvering a wheelchair more manageable.
Wheelchairs – There are many options for "active" wheelchairs that are more compatible with the camping environment and enable a great degree personal control and independence.
An "active wheelchair" may be just the ticket for someone with good upper body strength and eager to explore. This chair is lightweight and maneuverable. Most importantly, it easily navigates grass as well as paved surfaces.
The Active Wheelchair – Lightweight Cruiser X4
Features:
Lightweight and maneuverable
Easy to propel across both hard surfaces and grass
The folding option makes storage inside the camper practical.
The Active Wheelchair – Lightweight Cruiser X4 is a good example of a manual wheelchair for an active person.
Walmart $308.00
Porto Mobility Range Electric Wheelchair
The Porto Mobility Range Electric Wheelchair moves equally well over pavement, gravel, or grass. The fact that it is a powered wheelchair with directional and speed controls increases the user's level of independence.
It has a shock absorber system that provides a smooth, stable ride across a variety of surfaces. This chair is rated for individuals up to 350 pounds and can travel up to 6 miles per hour with a range of 30 miles. This means that the user can control the chair and keep up with the group, increasing the degree of independence. The wheels are not subject to punctures, further increasing reliability.
Porto Mobility 2023 Ranger Quattro XL 600W Motor Heavy Duty Ultra Exclusive Lightweight Foldable Electric Wheelchair, Weatherproof, Stronger, Longer Range Super Horse Power Dual Motorized All Terrain
HORSE POWER!! Two 300 watt Brushless ultra powerful motors performing to the most on all terrain surfaces provide you with all the torque you could possibly need even on hills and inclines. Intelligent electromagnetic brake (electronic regenerative disc brake) to ensure passenger safety. Also, the Quattro XL has a freewheel or neutral option allowing it to be used as a manual chair so caregivers can opt to push it manually.
LONGEST RANGE, The Dual Lithium Batteries Provide Lots Of Power For A Longer Time You can travel UP TO an impressive 30 Miles* with the batteries on a single charge, so you don't have to worry about being stuck far from home. You could go to Amusement Parks and ride around all day long and still lots of battery left to go... Another great feature of the Quattro is that it uses Smart Power Technology. When both batteries are in the chair, it will draw power from both batteries simultaneously.
LIGHTWEIGHT & COMPACT DESIGN: The Ranger Quattro XL Lightweight Folding Power Wheelchair has a 19″ Seat, Holds Up To 400LBS, Airline & Cruise Approved, Folds Up In Seconds fits in Most compact Car trunks! The Quattro Power Wheelchair Is Uniquely In A Class Of Its Own. Both Arms Fold Up, The Controller Comes off – The Quattro is EASY to Control, Manage and Use! Includes a black extra padded travel bag, making transporting even easier and convenient.
Best Campers For Seniors
Selecting a camper or motorhome for mobility-limited or wheelchair users is really not that difficult. With a device like the Roll-A-Ramp (see above) almost any camper can accommodate a wheelchair. The first item to check is the width of the door opening to ensure that the wheelchair will fit through the door.
As for trailers, "toy haulers" offer one option.
Duane Sport Custom Toy Haulers will customize a toy hauler into an accessible trailer. According to their website, "we are very open to customizing floorplans and options to meet your specific needs." The toy hauler's ramp becomes the access door to the camper. Alterations include ADA-compliant bathrooms and showers, and other modifications to make it easier to maneuver a wheelchair in the camper. They can customize toy haulers from 14 feet to 26 feet and larger.

A Duane Sport Custom Toy Hauler
Campers with Accessibility Features
There are very few trailer manufacturers that have models specifically designed to accommodate a person in a wheelchair. However, Harbor View has several sizes and floor plans designed specifically for wheelchair user. These campers range in size from 24 feet to 36 feet.
HL Enterprise, Inc. manufactures several lines of campers most of which are larger units, some of which would be suitable for full-time living, or to serve as a second or summer home. The Harbor View line is specifically laid out for wheelchair users with models ranging in length from 24 feet to 36 feet, all similarly equipped with chair-lift entries, an open layout, and features common to handicapped-accessible motorhomes.
1. Harbor View HV-24CKRB
Features:
Three-Burner Cooktop
Dual entry
Wheelchair Lift
Roll-in Shower with grab bars
42-in. TV
Hide-a-Bed in Slide-out
Accommodates 4 Adults
Harbor View HV-24CKRB, is a 28-ft. trailer with a single 54-in. by 74-in. bed—slightly smaller than a standard 60 x 80-in. queen-size mattress. It has a roll-in shower, handicapped accessible toilet, and counter tops and cooking surfaces at a lower level for easy access.
Prices available from HL Enterprises
2. Harbor View HC-36CKWT

Features:
Three-Burner Cooktop
Dual entry
Wheelchair Lift
Roll-in Shower with grab bars
42-in. TV
Hide-a-Bed in Slide-out
Accommodates 4 Adults
Designed to be a livable camper for an individual or couple, the 36CKWT is one of three floor plans on the 36-ft frame. The camper features a double-door lowered refrigerator, and easily accessible counter-tops, and appliances. Like all models in the Harbor View line, all interior doors are extra-wide pass through doorways. Units come equipped with AM/FM radio, and a DVD/CD player. The camper has a gross weight of 10,400 lb.
Prices available from HL Enterprises
Motorhomes with Accessibility Features
Both Winnebago and Newmar offer motor coaches specifically designed to provide a complete camping experience to persons in wheelchairs. All the models described include chair-lift doors for ease of entry, as well as designing all aspects of the interior to accommodate a wheelchair. This includes lower counter tops, roll-in showers, and a layout that permits ease of maneuverability throughout the living area.
Winnebago
Winnebago, one of the most recognized names in motor homes, offers two models, one on a gas power chassis and the other diesel.
1. Winnebago Adventurer AE Wheelchair Accessible Gas Motorhome (Model 30TAE)
Features:
Electric-Powered Chair Lift
Roll-in Shower
Wrap-around Shower Curtain
Adjustable Showerhead
Modified Bath Walls
Residential Refrigerator
Raise/Recline Head Rest on Bed
Sleeps up to Five
Convertible Dinette Seat/Bed
Winnebago's top-of-the-line gas coach, the Adventurer's loaded with amenities typically reserved for diesel pushers, including full-body paint, Corian® countertops and Primera® covered furnishings. At 31′ in length, the Adventurer is the perfect accessible travel partner, a go-anywhere coach with enough elbow room for comfortable living and entertaining.
Winnebago Adventurer – Starting At: $269,421
2. Winnebago Inspire Wheelchair Accessible Diesel RV (Model 34AE)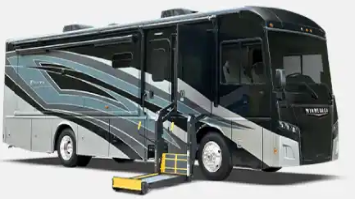 Features:
Eurotop Freedom Air Mattress
Raise/Recline Head Rest on Bed
Corian® Countertops
Electric Chair Lift
Convertible Dinette Seat/Bed
Roll-In Shower
Microwave/Convection Oven
2-Door Residential Refrigerator
Wrap-around Shower Curtain
Powered Patio Awning
Sleeps up to Five
The Inspire is described as a "mid-entry diesel pusher motorhome" that is ideally suited for Winnebago's "accessibility enhancements." It is powered by a 340 HP diesel, mounted on a chassis that provides a comfortable ride.
Winnebago Inspire starting at $299,000.
Newmar Mobility Motorhomes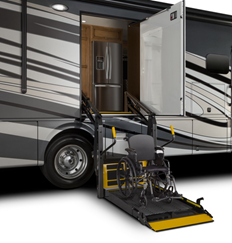 According to Newmar, "the outdoors belongs to everyone." Newmar, also has a reputation for building quality motor homes, and their models incldude five that provide full accessibility, including electric chair lifts. Each of their mobility-accessible recreational vehicles features a roll-in shower with built-in shower seat, roll-under sinks, wide hallways, and a premium wheelchair lift. The floor plans for two model are described below.
Note, in 2019, Newmar Corp. was bought by Winnebago Industries, and they intend to continue the quality and identity of the Newmar line.
1. The Dutch Star 4311
Features:
Three slideouts
Tile Floors
Center Kitchen
Full-size Refrigerator
Convertible Dinette Seat/Bed
Power Retracted Awning
Accommodates Four People
Queen Size Bed Plus Convertible
Roll-in Shower
Radio, Televisions (2), Surround Sound
Leveling Jacks
In addition to expected features like the electric chair lift and roll-in shower, and lowered counters and switches, it has a power-adjustable kitchen table, and three full-tile slideouts. There is even an electric fireplace, hidden beneath a retractable TV. No, this is not roughing it.
The freshwater tank holds more than 100 gallons and the blackwater tank capacity is 55 gallons. This means many miles of traveling, or weeks of camping before you will need to dump or replenish tanks. The Dutch star extends the ultimate in motorhome travel and living to just about everyone.
The 43-ft. Dutch Star is powered by a turbocharged Cummins diesel engine that will take you anywhere you want to go.
Newmar Dutch Star MSRP – $444,991
2. The Bay Star 3811
Features:
Three Powered Slideouts
Electric Chairlift
Center Kitchen
Full-size Refrigerator
Convertible Dinette Seat/Bed
Drop-Down TV
Accommodates Four People
Queen Size Bed Plus Convertible
Roll-in Shower with Seat
Radio, Televisions (2), Surround Sound
Leveling Jacks
Typical of accessibility floor plans, the 3811 is equipped with a chair lift for entry/exit, and the interior is arranged to allow wheelchair movement throughout the interior. There is room for guests on the 68-in. sofa as well as the two forward captain's chairs that rotate to face the interior. A thoughtful feature is a small slide-out opposite foot of the queen-sized bed that provides extra maneuvering room, as well as additional storage.

Newmar Bay Star 3811 – MSRP $182,812
Tents
There are individuals with apparent disabilities that still prefer a more basic forms of outdoor activities and camping. We found two tents that would seem to provide excellent opportunities for tent camping with a wheelchair. These are tents with high ceilings and large door openings that could comfortably accommodate a wheelchair camper and room for several sturdy cots. The largest is 13.5 feet high at the center.
These tents have four screened windows, peak air vents, floors, and a zippered front door.
1. Yukon Bell Tent
These tents come in three sizes, ranging from 13 feet to 20 feet in diameter, with a sewn-in floor and sides that are three feet high. Most camp cots are about 18 inches tall and could be placed near the side wall and still allow room to get into the cot. Equipped with a good, lightweight air mattress, a person in a wheelchair interested in tent camping should be able to navigate the tent, get a good night's sleep, and genuinely enjoy the outdoors.
Elk Mountain Tents From $745.00 8-ft high to $995 for 20-ft. high peak. (includes tent and frame).
2. Cabela's Outback Lodge 8-peron Tent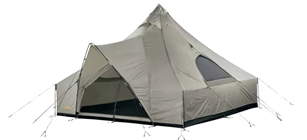 Cabela's Outback Lodge 8-peron tent has a square footprint, with 32-in. high sidewalls. There is a low, cloth threshold that a wheelchair should easily roll over for entry/exit. The tent floor measures 12 ft. by 12 ft. and is 9 ft. high at the peak. This is a spacious tent for a reasonable price.
Cabela: $240.00
Are RV campgrounds wheelchair accessible?
All of the motorhomes described here are likely to be used in commercial campgrounds usually with paved or at least gravel roadways and paths, suitable for wheelchairs. Unfortunately, not all campgrounds are diligent about complying with the Americans with Disabilities Act (ADA) and some campgrounds are simply hard to navigate with a wheelchair. Still, most of the better known "brand name" campgrounds do work to remain compliant with ADA standards. For more information on locating accessible campgrounds, visit the RVing Accessibility Group.
Like all public accommodations, RV parks should offer equal access to disabled people, with wheelchair accessible facilities including bathrooms, swimming pools, parking, etc. As you might expect, not all businesses take ADA compliance seriously, and you may encounter barriers when stopping at an RV park or campsite. One great resource for selecting a place to stop is the RVing Accessibility Group, which has published a list of wheelchair accessible RV parks in the United States.
Last update on 2023-12-05 / Affiliate links / Images from Amazon Product Advertising API