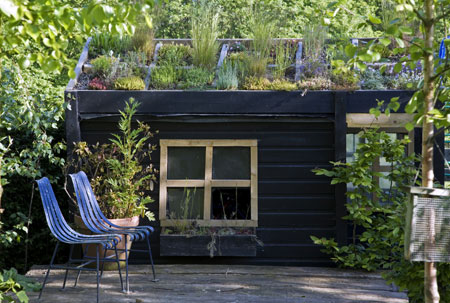 A reader named Mark passed this onto me the other day. It's a how-to article on setting up a shed roof for growing plants. This seems like an excellent idea for those with limited space and a shed or tiny house. I've always been a little skeptical about anything on a roof except roofing material because I grew up in a house with a partially flat roof and leaks. Adding a living roof seems like a good way to invite trouble.
But I must say the idea is definitely worth some research and consideration because of the numerous benefits of a rooftop garden.
Adds home insulation
Provides food if you grow edibles
Attracts wildlife like birds
Blocks exterior noise
Utilizes rain water that would otherwise run off
Of course there are some important considerations like can the existing structure support the additional weight of the living roof and the work that's needed for waterproofing and drainage. But if the right circumstances are in place a living roof might be a great addition to any shed or tiny house. Visit mirror.co.uk for the complete article. Photo credit mirror.co.uk.