Are RVs In High Demand?
There are many reasons why someone would want to sell their RV:
Buyer's remorse (the RV lifestyle is just not a fit)
Change in financial situation (cannot afford it)
Change in usage (no longer using it, bought it for a season)
Upgrading to a newer or a different model
Not happy with the specific RV unit, or
Selling for profit (flipping an RV).
In general, RVs really depreciate in value, but the value of the RVs is very volatile and largely tied to external market drivers, such as fuel prices and overall supply and demand. Further, events like the 2020 lockdowns have contributed to a huge influx of people traveling with their RVs, embracing the YOLO mindset or wanting to travel full-time due to remote work.
So while the RV values actually went up significantly in 2020 and 2021, they have now started to come back down because of the aggressive increase in fuel prices.
However, the latest trend has also been to work full-time in an RV as counter-culture to the "American Dream" of owning a home and paying a mortgage. Many Gen X and even Gen Z individuals choose to live differently than their parents, trading their 9-5 jobs for remote work and travel experiences, even going off-grid and raising their children outside of the "normal".
The Step-By-Step Process of Selling An RV
When selling to a dealership or consignment, the process is fairly simple:
Drop off your RV for inspection
Negotiate and accept the offer
Bring the title, incl. everything that goes with the RV (such as power cord, keys etc.)
Sign the title
Receive payment.
You do not have to clean and pay for inspection, or appraisal; however, you should bring the RV empty and in the best possible clean condition so that you receive a higher offer.
When selling privately, there are additional steps when you sell your RV:
Clean and conduct maintenance repairs
RV appraisal
Advertise/list RV
Prepare the needed documents (title, bill of sale)
Show the RV to potential and pre-qualified buyers
Negotiation
Signing.
Receive payment.
Where To Sell Used RVs
There are many different ways one can sell their RV:
Trade-in to dealership (most expensive way)
Consignment
Online platforms and apps that are specifically tailored for RV sale/buy/trade-in
Other online forums, such as Craigslist, eBay and Facebook Marketplace
Newspaper ads
Private party (neighborhood, FOR SALE sign, family and friends).
These options are listed by level of convenience (traded for making less profit): if you simply trade in your RV and upgrade for another unit, you will make significantly less money in profit, but you won't have to worry about securing a buyer, dealing with the paperwork and to confirm the legitimacy of financing etc..
Dealerships and consignments have to make a profit on every transaction, therefore their markup is anywhere between 20-40%, which is insanely high. An honest RV dealer whose desire is to help their customers rather than just make a deal will actually counsel the customer to try to sell their RV privately for a bigger profit, if they don't mind the private seller process (which can take awhile and will cost you some of your time and energy).
The RV dealer usually will not negotiate much when the trade-in is involved; however, this depends on the market situation, the location, as well as the sale quota: there are times where a dealer might offer to pay full market price used RV trade-in value if the customer agrees to pay MSRP on a new model.
If the customer has solid financing health, this also contributes to a better negotiation position.
EBay takes 12.9% of the sale price, plus the listing fee (depends on the listing package choice).
Other sites like www.rvtrader.com, www.rvt.com, www.rvuniverse.com or www.rvusa.com offer a platform where one can post their RV for sale. Each site has a different listing price structure: for example, to post a listing on RVUSA.com costs $49.95 for a 6-month listing.
Craigslist, Facebook Marketplace and local newspaper ads are all free of charge; however, you should make sure that you beware of scammers and conduct business safely. Always meet in a public place and do not give out personal information, accept personal checks etc.
When selling locally as a private party to a private party, you get to keep all of the money. You can negotiate with the buyer the financing options, as well as who gets to pay title transfer fees (usually, this is the buyer's responsibility).
What Forms Of Payment Are Accepted?
When selling to a dealership or consignment, they will pay with a business check or cashier's check.
When selling to a private party, a cashier's check, a money order or cash are all safest forms of payment. If the buyer is financing, they should request that the bank issue a cashier's check to the seller.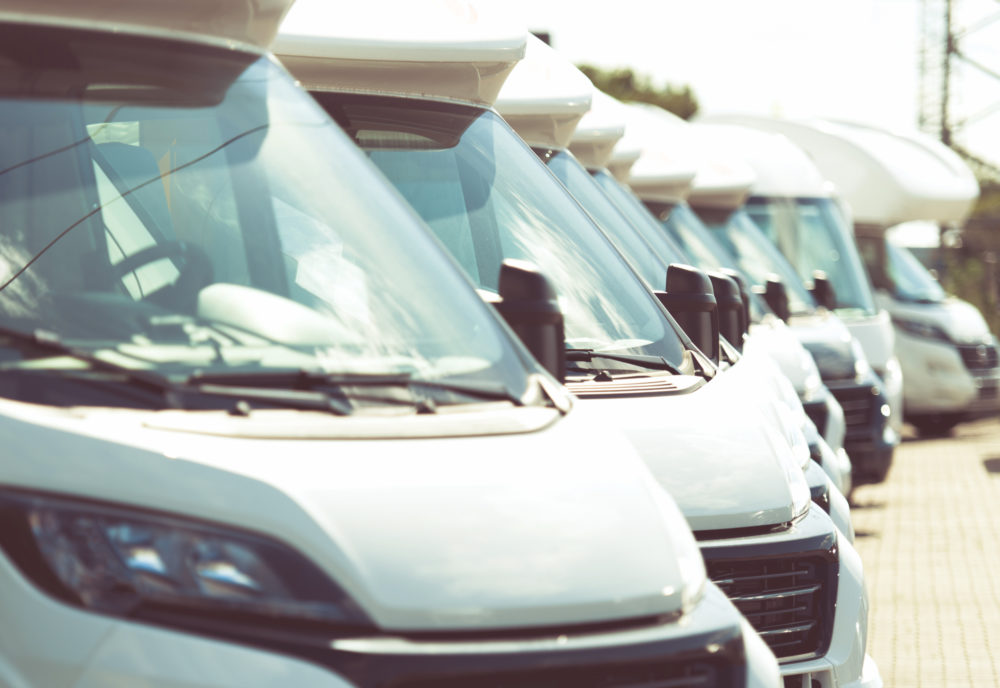 Are RVs Hard To Sell?
The safest and cheapest way of selling an RV is via an online RV marketplace that is reserved for RV buyers and sellers only. Some examples include www.rvtrader.com, www.rvt.com, www.rvuniverse.com, rv.campingworld.com/sell or www.rvusa.com.
The best used RV brands include Grand Design, Airstream, Oliver Fiberglass Products, Newmar and Winnebago.
How To Protect Yourself As A Seller
There are three potential risk areas when you are selling your RV:
Risk of physical harm (when selling to strangers online)
Risk of damage or theft regarding your RV
Risk of financial fraud (also theft)
That being said, you should use discernment and be cautious when selling your RV online to people you don't know. First of all, never disclose your personal address or other info to just anyone. Meet in a public area, such as a busy parking lot. Do not go alone and tell someone where you are going.
Show pictures of the unit first. Ask for a deposit that will be held in an "escrow" account, which will protect you and the buyer. Some platforms offer this option as part of their listing service. This will weed out the scammers or any malicious folks.
Ask for an image of a driver's license or run a background check.
For the final transaction and transfer of funds and title, meet the buyer at the title company or DMV. Having a third-party facilitate the process might put you and the buyer at ease and remove any fraud possibility from either party.
Below are some tips (do's and don'ts) on the best practices for selling your RV privately:
"Safety first (see above)
Only accept cashier's checks or certified bank checks.
Disclose any major issues or accidents.
Do not hand over the title until funds are received.
Make sure the buyer signs the title and a bill of sale upon receipt.
Use a reputable marketplace for the transaction."
(Source: camperreport.com)
Below are eight things you should avoid doing as a seller if you want to sell your RV:
Setting an unrealistic price
Not cleaning the RV
Poor advertising
Not looking at buyer's paperwork
Failure to setting the "bottom line" selling price for yourself
Lack of negotiating skills
Not having the RV road-ready
Not performing due diligence as a seller (does the buyer have the funds to purchase your RV?)
(Source: barbaraiweins.com)
What Are The Alternatives To Selling?
Some alternatives to selling include renting out your RV, either privately or via a third-party company, such as rvshare.com. Another alternative would be to get an RV lot and rent out the RV with a lot for usage, such as an AirBnB or private retreat venue.
You could also donate your RV to charity. You could repurpose your RV as a crafting/she-shed in your yard, or keep it as a guest casita.
FAQs
When is the best time to sell an RV?
The best time to sell your RV is before winter, because 1. you will not have to pay for RV storage (and lack of use in the wintertime) and 2. people want to purchase an RV and get it ready for the RVing season, which starts in the spring.
Who is the largest RV dealer in the US?
The Lazydays RV Tampa is the world's largest RV dealer. www.lazydays.com.
What state sells the cheapest RVs?
The top three cheapest states to sell an RV are Arizona, Texas and Florida. Since the market is set by supply and demand and those three states are "snowbird" states with majority of sunny days and a high RV customer base, they are great states to buy an RV for the cheapest prices US-wide.
Does Camping World buy used RVs?
Yes, you can consign your RV with Camping World: rv.campingworld.com/sell.
Can you sell your RV without a title?
No, you will need to request a replacement title prior to selling your RV.
How do you sell an RV fast?
The fastest way is to sell it to a dealership (incl. Camping World) or consignment. Some places will give you a check within 24 hours; however, rest assured that this is the lowest-profit way of selling your RV. Time truly equals money.
What happens to RVs that do not sell?
"These unsold units get destroyed since there is absolutely no market value. The useful parts either get recycled and used in future RV models, or sold to people wanting better rigs for their RV units. If the whole model is unusable, they just get thrown away." (Source: familytravelfever.com.)