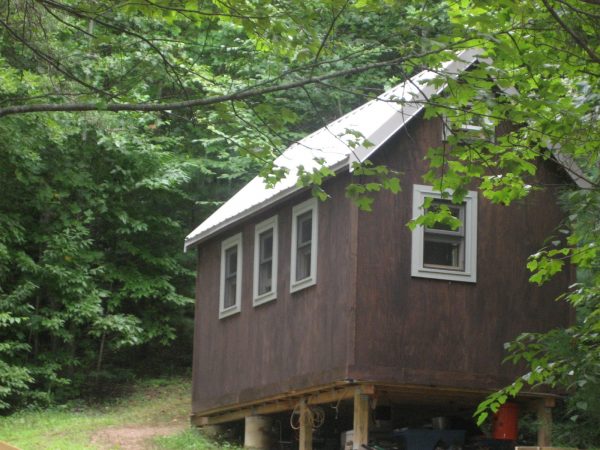 Back in the woods of North Carolina you'll find Laura and Matt living and working in a tiny house they built themselves. They started building their tiny house in 2009 and it took three years to complete, working on it on weekends while living in Atlanta. Now that it's complete they have left the big city and live in the woods full time.
Moving into a tiny house gave Laura the freedom to leave a 15-year career she didn't enjoy. She now works from home as a freelance writer. Her work is completely location independent which is what allows her the freedom to live off the grid and in the mountains.
Some interesting aspects of their house is that it's not on a trailer, it's on a stout pier foundation. It also has no plumbing but users a Berkey Water Filter
in the kitchen and a basin for a sink and a pressure sprayer in the shower stall for showering. The toilet is a simple Lovable Loo
style composting toilet. While all these plumbing solutions are very low tech, they seem to be providing the function they need.
You can find articles written by Laura on her blog, Life in 120 Square Feet, and Tiny House Talk. You can see the entire building process of their 120 square foot house on Flickr. You can follow them on Life in 120 Square Feet on Facebook, and below is a video tour of their house.