A liftgate truck is a vehicle that comes with a piece of hydraulic or electric equipment installed on the back, which enables cargo to be lifted several feet off the ground to the tailgate of the truck or lowered down from the truck's tailgate to the ground.
The liftgate is controlled through a switch box, and it moves up and down on its own, making it easier for the drivers and loaders to lift heavy freight without actually using their own strength.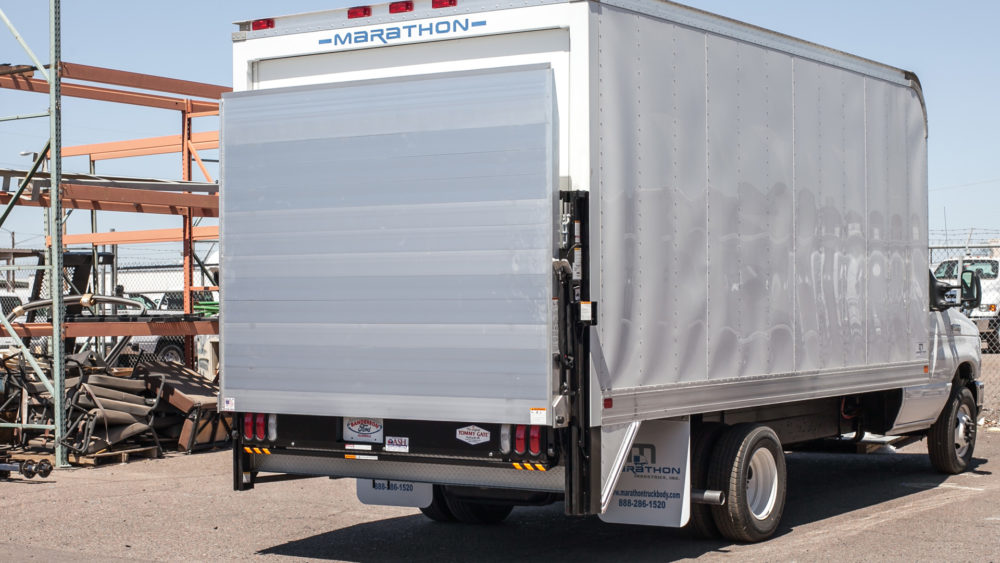 Because liftgates are very practical, they can be found in many types of trucks. Below we'll be giving details about their features and usability.
Moving trucks – Changing living location is never an easy task, considering all the back and forth of having to move furniture out and into the house or apartment. Thankfully, moving trucks make it possible for the tiresome process to be cut in half, especially if it is equipped with a handy liftgate. With moving trucks, you'll be able to transfer everything you had in your previous home onto your new one without giving it too much of a thought.
Pickup truck – Pickup trucks consist of an enclosed cabin and an open box/bed on the back. Although they're not as big as other trucks, pickups are used for plenty of crucial tasks, such as towing, hauling, and carrying stuff. They're the perfect mix between a standard car and a truck, giving you the option of daily family driving blended with a taste of trucking strength and practicality. Pickup trucks, however, are rarely used for business or commercial purposes.
Box truck (or straight truck) – Box trucks, also called box vans or cube vans, get their name from the box shaped cargo area in the back. In these trucks, the cargo area is completely divided from the cab and can only be accessed from the outside. Box trucks are mainly used by moving companies for furniture and by other businesses for large objects due to the practical shape and the roll-up doors that make it possible to fit almost anything.
Cargo/parcel van -The cargo van is a one-piece vehicle that looks exactly like a passenger van from the outside. The cargo area is connected and can be accessed from the interior. Cargo vans usually have sliding side doors, and rear doors used to load and unload cargo as needed. Because of their smaller size, cargo vans are used for transporting smaller objects and used by businesses such as mechanics or plumbers.
Stake side flatbed – A stake side flatbed is almost exactly like a flatbed truck, except that it has sockets on the sides where stakes can be placed in, acting as a fence to protect the cargo on the bed. The stakes can be temporarily taken off to load and unload the cargo, making the stake side flatbed an excellent truck for transporting irregularly shaped objects. These trucks are used in construction, automobile handling, and agriculture.
Top 5 U.S. Liftgate Truck Rental Companies
Some of the best truck rental companies in the U.S. are Home Depot, Penske Rental, Budget Truck Rental, U-Haul, and Enterprise Holdings Inc. These companies rent out trucks that are equipped with liftgates and are available all over the country.
These companies are located in most states in the U.S. and will surely make it easy for you to rent one of their trucks depending on their availability at that time.
Below, you can find a table that compares each company's services, policies, and fee structures.
How Much Does It Cost To Rent A Liftgate Truck?
The cost to rent a liftgate truck will depend on the size or type of truck that is needed for a particular job. Below is a summary table of costs to rent liftgate trucks of different sizes.
Type of Truck
Price
8' pickup truck
$19.95

plus $1.99/mile

9' cargo van
$19.95

plus $1.99/mile

10' truck
$19.95

plus $2.29/mile

15' truck
$29.95

plus $2.29/mile

17' straight trucks
$39.95

plus $2.29/mile

20' straight truck
$39.95

plus $2.29/mile

26' straight truck
$39.95

plus $2.29/mile
Things You Need To Know Before Renting A Liftgate Truck
When choosing between rental companies for a liftgate truck, it's essential to know the specifics of your task and what needs to be done. There are a lot of variables when it comes to picking a truck that is best for your purpose, and there are vital factors that need to be taken into account. Below we list and elaborate on some of those factors: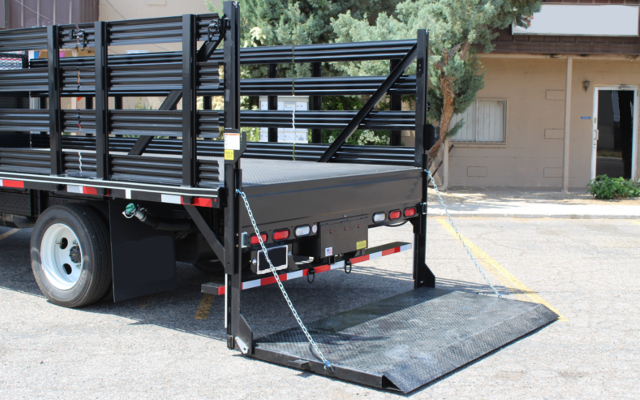 Age and document requirements – Before doing anything else, you need to have a driver's license (duh!), be of legal age, and check each company's document requirements. Most rental companies will only need your driver's license; however, they will also take other forms of I.D. in order to put you in their database. Showing up without the proper documents may mean you won't be able to rent the truck, so be careful.
Cargo weight and size – The next step in choosing the appropriate truck is to estimate how much cargo you'll be moving. Most truck rental companies provide explanations on their websites next to each truck to showcase approximately how much that truck can fit in. For example, Penske tells you how many rooms (furniture, devices, accessories) can fit in a truck.
Costs of renting – After finding out what truck size you'll need, the next step will be to compare the prices of different companies for that particular truck. The larger the truck, the more expensive the renting, and the further you plan to travel, the more mileage you'll be paying. In some cases, it may be wiser to make multiple trips in a smaller truck than to rent the biggest one, especially if you won't be driving very far.
Travel distance – You'll also need to calculate the costs per mile. If you'll be moving cargo far away, renting a larger truck could mean money saved, as you'll hopefully be making only one trip and unloading. Travel distance is also crucial because some companies may not allow you to change states without additional costs.
Comfort – If you favor a truck of a bigger size, you'll need to make sure that you're comfortable driving it. While driving a car may seem a piece of cake, large trucks do have their difficulties, especially if you have no prior experience. So, make sure to choose a truck that fulfills your needs, but that you'll also be able to drive stress-free.
Reasons to Rent A Liftgate Truck
There are many companies that rent out liftgate trucks in the U.S., both nationally and locally. These valuable machines can generally only be rented two ways, meaning you'll need to return the truck to the same place you got it from. However, there are exceptions in some cases due to different companies having their own policies. You can easily find plenty of truck rentals by simply Google searching "Liftgate trucks rentals near me".
Before renting a liftgate truck, you have to understand some of the key differences between types of lifts and when to use them. We'll be going over the fundamental forms the liftgate takes and which ones are the ones for you.
Cantilever lift vs. tuck-away lift
The cantilever tail lift sits vertically against the backdoor of a truck when not in use. When needed, it lowers down to the ground where the cargo can be effortlessly placed and then rises up so the shipment can be loaded into the truck. Cantilever lifts are quick and easy to use; however, the lift needs a bit of clearance in the back to function, and the backdoors can't be opened without fully lowering it. They're great for heavy-weight transports and in cases where the load doesn't have to be accessed frequently.
As the name suggests, the tuck-away lift folds under the truck's chassis and unfolds by being lowered first and then raised horizontally, so it's loaded up smoothly. Because it is hidden away, this form of liftgates doesn't get easily damaged and allows door access at any time. The only issue about tuck-away lifts is the small size of the platform, considering that it has to stay mostly under the truck. These are great for trucks that are transporting products from place to place and stop ping frequently to unload.
Liftgate vs. ramp
While liftgates and ramps are widely used in the trucking industry, they have their own advantages and disadvantages.
Liftgates are usually regarded as the safer option, since their operation is mechanical and they're the easier option when it comes to heavier cargo. Although the speed of loading may seem slow, at least the movers won't get tired of or hurt from carrying boxes around.
On the other hand, ramps are the quicker option when it comes to moving boxes on and off the truck. However, this is only the case if the movers are fit. If the movers are not in their best physical condition, the speed will be approximately the same as a liftgate, and what's even worse, the movers will tire faster and gradually become more inefficient.
Ramps are mostly put to use when moving into new houses or apartments, while liftgates are usually in trucks that transport cargo from commercial loading docks, so you won't see them as much in residential moves.
How To Operate A Liftgate Truck
Operating a liftgate truck is not as complicated as it may seem, and you'll be good to go with only a bit of practice. As we've mentioned already, there are many types of liftgate trucks, and instructions vary from one to the other. To visualize the procedure and to better understand the basics, here's a video from Penske Truck Rental showcasing the basic operations of a liftgate truck.
When dealing with liftgate trucks, some points to keep in mind are to properly load the platform, to always follow the manufacturer's instructions to avoid injuries, and to provide good maintenance by routinely inspecting and checking the liftgate with specialists.
Liftgate truck do's and don'ts
Stay within the load limit.
Distribute weight evenly on the platform.
Maintain proper fluid levels, always following the manufacturer's specifications.
Fold the liftgate properly whenever it is not in use, and especially when the truck is moving
Do not lift cargo that does not properly fit on the platform.
Do not use the liftgate if there is any sign of damage or malfunction.
Do not go near the underside of the liftgate.
Do not attempt to repair the liftgate by yourself if you are not an experienced liftgate specialist.
FAQs
How do you reserve a liftgate truck rental?
Reserving a liftgate truck rental is the best thing to do if you want to make sure you'll have a truck for the time period you need it. Most truck rental companies have a specific section on their websites where you can reserve the exact truck and dates for your purposes, which also shows you the total prices.
What companies offer one-way liftgate truck rentals?
While most companies offer two-way liftgate truck rentals, some also give renters the opportunity to pick the truck up at one place and return it at another. Companies that offer one-way rentals for trucks are U-Haul, Budget Truck Rental, and Penske Truck Rental.
What companies do not have rentals for liftgate trucks?
Most truck rental companies have liftgate trucks available to be rented, mainly because they're already widely used, and most customers ask precisely for liftgates due to their weight-lifting capabilities.
Where can you find used box trucks with liftgates for sale?
While renting a truck may have its benefits, owning one is arguably even better if you are a regular user. However, the issue with that is the relatively high prices of liftgate trucks, especially brand new ones. Well, the solution to all of these troubles is simply finding a used box truck that's affordable and fulfills all of your needs. Some of the best used liftgate trucks for sale in the U.S. can be found at Penske Used Trucks, Ryder, and Commercial Truck Trader.
Conclusion
If you're planning to move houses and were considering the possibility of renting a truck to do so, the opportunities are many. Liftgate trucks have proven to be one of the most convenient vehicles to do so, particularly because of the benefits of reducing heavy lifting and therefore avoiding physical injuries.
Should renting and driving a truck be your cup of tea, as long as you fulfill the requirements that each rental companies has established and become acquainted with how to operate the liftgate, you should be good to go.