5 Reasons to Visit Florida Keys
Drive across the Seven-Mile Bridge
Go charter fishing and snorkeling
Visit the Dry Tortugas National Park
Kayak the mangrove channels
Spend the day at Mallory Square (huge street artist performance gathering at the beach)
Traveling from Miami, traveling the Keys to Key West takes about 3 hours, taking the S Dixie Highway/Overseas Highway across the Keys. There's so much to do along the way that many travelers take their time to get to Key West and stop at various points in their journey, creating an interest-specific itinerary for their drive down to Key West.

List of top 10 RV Parks in the Key West area:
(Disclaimer: information is a compilation of researched info as published online and does not necessarily reflect the experience or opinion of the author)
The RV parks have been ranked and are listed from "Most Recommended" to "Least Recommended" based on reviews, feedback, amenities, and preference. Cost was not the primary ranking driver. Please note that weekend RV families with children might have different needs than full-time RV "snowbirds".
1. Venture Out Resort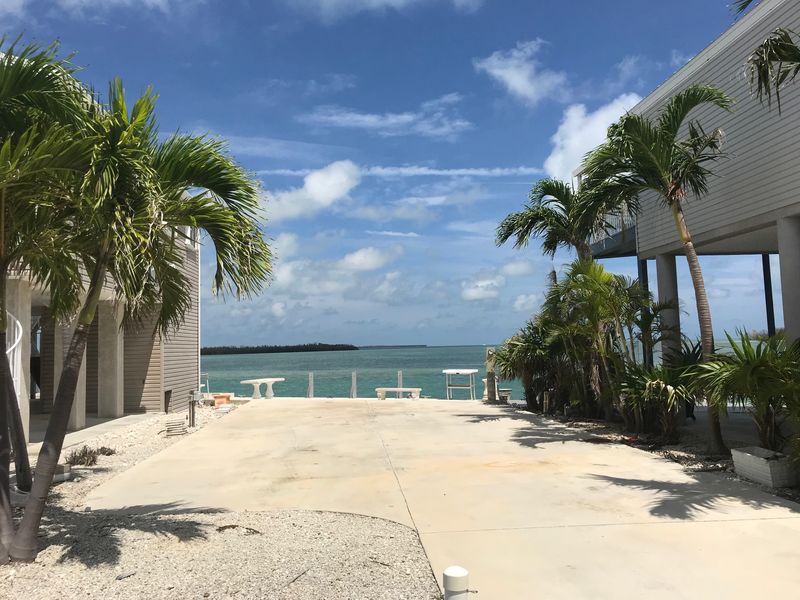 One of the parks that is located on Cudjoe Key, this park is not really meant for overnight stays only, but for extended period stays. This park is a great and affordable choice for those who will spend weeks or months visiting the Keys.
What makes this park unique?
Most sites are waterfront sites and with boat docks, allowing the visitors to have instant access to fishing, lobster catching or snorkeling. The park is both a long-term residential condominium association, as well as an RV park.
2. Fiesta Key RV Resort
Located on Long Key near Long Key State Park, this resort is surrounded by lush greenery and tropical feel on spacious 28 acres on its own private island. While there is no cable access, there is plenty to do outdoors so that one is never bored.
What makes this park unique?
Surrounded by the Gulf of Mexico and the Atlantic Ocean, the sites have an almost 360-degree view of the water with on-site marina. With the option of renting a beach-house cabin or hotel room, this is a great location for family reunions and extended vacation get-togethers. The resort is close to different tourist attractions, such as the Dolphin Research Center or the Bud 'N' Mary's world-famous marina.
3. Bahia Honda State Park
The Bahia Honda Key is home to the Bahia Honda State Park, which consists of several different areas on the Key: Sandspur Beach (currently under reconstruction after Hurricane Irma), Loggerhead Beach on the Atlantic side and Calusa Beach on the Florida Bay). The Buttonwood campground, the Bayside tent sites and six cabins are available for reservations.
Note: Because of its location and popularity, it is very challenging to get a reservation so one must plan in advance or inquire daily about cancellations. There is a bus that takes visitors either north to Key West or south; however, due to frequent stops, the ride takes a long time.
What makes this park unique?
This park is very popular, because it is surrounded by the Gulf of Mexico and the Atlantic Ocean and close to Key West. There are several different camping areas; Sandspur Beach is currently closed due to Hurricane Irma damage repairs and has RV length limitations (14 ft). The Buttonwood area allows for RVs up to 71 ft.
4. Grassy Key RV Park & RV Resort
Located on Marathon, this gem of a park is a wonderful place to stay with plenty of room for large RVs and countless activities to do at the park or in the area.
What makes this park unique?
As a smaller RV park, this park has all the amenities of a larger resort with the feel of a relaxing and more intimate community. There are so many different activities to choose from while staying at the park. Also, the private beach access is an amazing value for the Keys area!
5. Curry Hammock State Park Campground
One of several State Parks in the Keys, this park is one's personal paradise with the opportunity to park RVs up to 70 ft long. The park is clean, well-laid out and with well-maintained facilities.
What makes this park unique?
This park offers front-row seating to amazing wildlife. Curry Hammock State Park prides itself with being an "untarnished sanctuary"; this place offers an opportunity to unplug, unwind and reconnect with nature.
6. Riptide Carefree RV Resort
Located in Key Largo and part of the "Sun Outdoors" community now, this park offers a no-frills stay at a great cost for the area.
What makes this park unique?
Streamlined under new ownership and branding, this park is a great stay for travelers who are looking for a place to stay with their RV to go and explore all the Keys have to offer. The price is unbeatable for a full-hookup site with access to the beach!
7. Jolly Roger Travel Park
Located on 11 acres, the park provides spacious, shady, and grassy sites that are often over 40 ft long!
What makes this park unique?
Even as a medium-sized park, this is a quiet, family-owned park with all the amenities and beach access to snorkeling and swimming! This park is also located next door to the Dolphin Research Center.
8. Marathon Marina & RV Resort
While this park is very small in RV capacity, it makes up in ambience and access to water activities. Overlooking the Seven-Mile Bridge and the Atlantic Ocean, the sunset views are breathtaking as one relaxes at the pool with a drink.
What makes this park unique?
This tiny RV park is really a marina most of all, with only 9 RV spots for those who visit with an RV to take their boat to continue their vacation travels, or to be on the water while using this park as a RV hookup destination only.
9. Bonefish Bay Motel & RV Sites
Located on Marathon, this small park is a great fit for anyone who visits the Keys to spend their time fishing. It is a no-frills RV park that has all the necessary amenities to stay for a while.
What makes this park unique?
Close to the famous Seven-Mile Bridge, this park is right on the water and set up for any fishing enthusiast to spend the day on the water.
10. Key Palms RV Resort
Located about 1 hour from Miami and 2 hours from Key West, this park is the gateway stop to the Keys adventures for anyone who wants to stay for a few weeks and explore all that the area has to offer.