5 Reasons to Visit Key West
Island vibe relaxation
Foodie paradise
Beach and water activities, such as kayaking, charter fishing, snorkeling
Historic places, such as the Ernest Hemingway Museum or the Key West Shipwreck Museum
Variety of flora and fauna in various botanical gardens and nature conservatories
Traveling from Miami, reaching Key West takes about 3 hours, taking the S Dixie Highway/Overseas Highway across the Keys. There's so much to do along the way that many travelers take their time to get to Key West and stop at various points in their journey, creating an interest-specific itinerary for their drive down to Key West.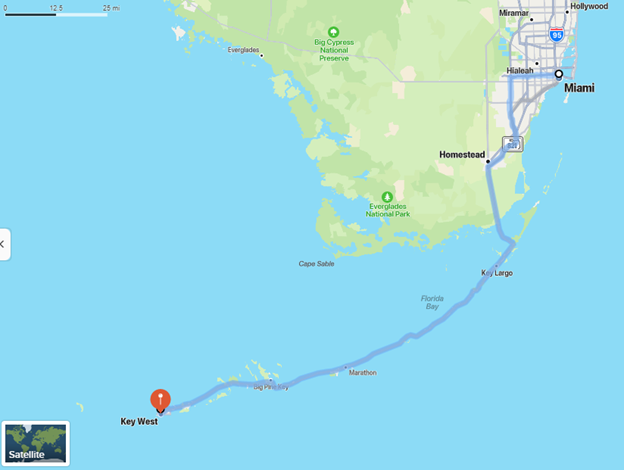 List of Top 12 RV Parks in the Key West area
(Disclaimer: information is a compilation of researched info as published online and does not necessarily reflect the experience or opinion of the author)
The RV parks have been ranked and are listed from "Most Recommended" to "Least Recommended" based on reviews, feedback, amenities, and preference. Cost was not the primary ranking driver. Please note that weekend RV families with children might have different needs than full-time RV "snowbirds".
1. Bluewater Key RV Resort
One of the parks that is located on Saddle Bunch Keys, this resort is an impressive RV park that has nice wide sites with all the amenities and lush tropical landscaping throughout. Since it is located right on the water, visitors can enjoy island life the minute they step out of their RV.
What makes this park unique?
Truly a luxury resort, this park is an oasis created for adult relaxation. As a destination location, this resort has access to beaches, water activities, golf and all the amenities that make life more than comfortable.
2. Leo's Campground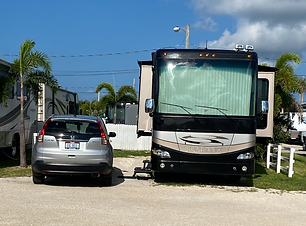 Located on Key West, this park is about 15 minutes from Sunset Pier. One can bike everywhere from this location, as this park is the one closest to city center. Even though this park is so close to the hustle and bustle, it is surprisingly quiet: a true oasis.
What makes this park unique?
This park truly has a laidback Caribbean vibe, with no-frills sites where one can park their RV and stay for a while. Several places throughout the park make it conducive for group hangouts for a game of billiard or just solo relaxation in a porch swing in a Tiki hut area.
3. Sugar Loaf Key/Key West KOA
Located on Sugar Loaf Key, this park is about 30 minutes' drive from Key West; however, as a KOA park, it has all the amenities and comforts that come with that brand.
What makes this park unique?
Select sites have a kayak paddle board launch and they are located right alongside a mangrove-lined waterfront. There are also sites that come with a fully furnished patio, ready to sit and enjoy a campfire under the stars while listening to the ocean waves.
Note: KOA Members and military receive 10% off; there are also KOA Appreciation Days, during which one can book one day and get the subsequent day FREE (check Website for dates and details).
4. Big Pine Key Fishing Lodge
Located on Big Pine Key, this park occupies ten acres between the Atlantic Ocean and the Gulf of Mexico. This park is positioned perfectly in the middle of the Keys, offering beachside RV spots or cabins to make family vacation get-together memories.
What makes this park unique?
Since this park is so expansive, it feels self-contained, like a mini-vacation-village, including its personal store for park patrons. For anyone who enjoys resort getaway destinations with all the amenities, this is the perfect park for them!
5. El Mar RV Resort
This park is located on Key West and as close as it gets to the water! While this is a very small park, the owner takes pride in it and makes sure that the visitors have everything they need. While it is a bit challenging to make reservations at times, this is likely because it is a small family business.
What makes this park unique?
Located right on the water, this small park is a gem. It is a no-frill park with all the necessary amenities to park your rig and to go explore the area.
6. Boyd's Key West Campground
Located on Key West, this park prides itself in "southernmost" hospitality: with a family-like laidback atmosphere, it is a great place to unwind and enjoy water activities, such as sailing, charter fishing or just enjoying the sunshine at the beach.
What makes this park unique?
This park has monthly rates available and with all the amenities offered and the beautiful park landscaping and layout, it would be easy to stay awhile. The park has beach access and biking/walking paths throughout.
7. Sunshine Key RV Resort & Marina
Located on 75 acres of Ohio Key, this park is a bit further away from Key West, about 1 hour drive. However, this park is a great place to park the RV and to explore all the area has to offer.
What makes this park unique?
As a resort and marina combination this large park has the option to stay in the RV and to rent a boat or go charter fishing. There's also the opportunity to rent out kayaks or bikes to explore the area on water or by land.
8. Geiger Key Marina and RV Park
One of the parks that is located on Geiger Key, this park refers to itself as the "Old Florida fish camp-the way the Keys used to be". With the restaurant on site and water access, this park has a resort-feel and is a great fit for fishing aficionados.
What makes this park unique?
Visitors can bike for miles from this RV park, as there are bike paths that are nice and flat that connect to different places on the Key. When staying at one of the waterfront sites, one can watch the sunset reflecting in the water while enjoying a drink at the Tiki bar.
9. Breezy Pines RV Estates
Located on Big Pine Key at mile marker 30, this iconic park has been a fixture of the community for decades.
What makes this park unique?
This small park offers essentials with full hookups, trying to keep the nostalgia of "road-tripping" the Keys. This park has a lot of history, as it's been a landmark for over 30 years.
10. Lazy Lakes RV Resort
Although this park is located on Sugar Loaf Key, it is only an about 30 minutes' drive to Key West.
What makes this park unique?
Stretched out on 28 acres, including a 7-acres saltwater lake, this park is a great fit for anyone who enjoys water activities or even a good book while relaxing on the beach.