You have looked at motorhomes and they are either too big or too expensive, but you do not want to pull a camper around, either. So, the next option is to buy a used school bus—they will cost a lot less than a motorhome—and fix it up just the way you want it.
First, you are not alone—there is a very active "schoolie" community out there of folks who made the same decision and have converted school buses for motorhome-style campers, and even some as mobile "tiny homes" for full-time living. Let's look at some things to consider.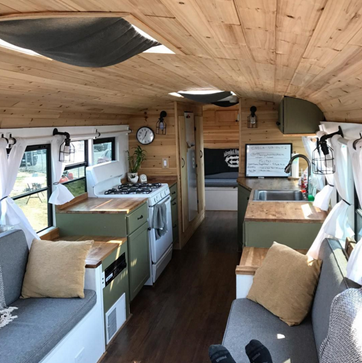 School bus conversions are typically unique and can be very comfortable Pintrist.com
Selecting the Right Bus
There are many styles of school buses available—short or long, dog-nosed or square front, gasoline or diesel—and possibly rear-engine diesel—powered. Some prefer the flat-nosed bus with the rear engine with less engine noise, and it looks something like a Class A camper.
Of course, there are the age of the bus and mileage to consider. Buses are designed for high mileage and frequent stops. This means that a used school bus that has been properly maintained can be expected to last for many thousands of miles.
Size
If you are looking for something for occasional trips and weekend get-a-ways, you may be content with a shorter bus. Even so, with a little ingenuity and creativity, you can make excellent use of the smaller size busses. If you anticipate longer, extended trips, or even full-time living, then larger busses are the logical choice.
First a Word About Costs
Yes, by selecting the right bus, some careful planning and design, and lots of work (or paying for lots of work), you can have a very nice camper/motorhome at a price far less than a commercially built motorhome. But keep in mind, full-size motorhomes often cost well more than $200,000, so "far less" may still approach $100,000 to complete the school bus conversion. The more work and time you put into your project can reduce the overall cost, so that you end up with a very affordable "motorhome."
Things to Check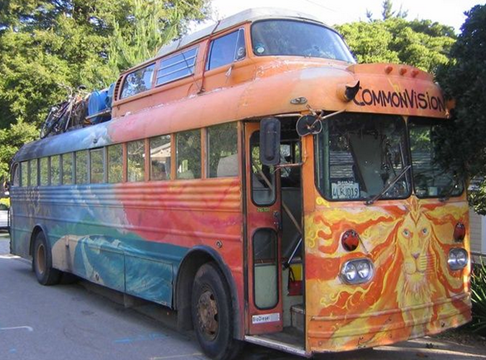 Figure 1 Custom School Bus conversions are limited only by your imagination (and maybe "pocketbook"!) Pintrest.com
Once you have found a bus to consider, ask to see any available maintenance records. Otherwise have a trusted mechanic check it over carefully. Expect it to be five to ten years old, maybe more, and have high mileage on the odometer. There is clearly a tradeoff between age, mileage, and price.
Check everything carefully. For example, look at the tire tread and condition. Tires for busses are larger and more expensive than auto tires. If the bus has been parked for a while, one or more tires may have gone flat. Look for signs of dry rot, sidewall damage, and tread condition. Tire condition—especially poor condition—can significantly affect purchase price.
Many school buses are equipped with speed-limiting devices. Make sure there is no speed restricting device or that it can be removed safely.
Check for leaks around all windows and doors. The way school buses are used, sometimes windows have been abused so they do not fit as tightly as they should.
Also, check ceiling height. For persons less than six feet tall, most school buses will be adequate as they are, but you may want to raise the ceiling for more headroom.
Other Considerations
Before you begin to build out the living space in the bus, perform a thorough mechanical inspection and service on the chassis. Inspect, and if necessary, replace wiring on the chassis. Inspect and service as needed, any hoses and tubing including brake lines. Make sure brakes are in good working order and not overly worn. The objective is to be sure that your chassis will not need any immediate service. Such service and repairs may be more difficult after you have completed the customization of the camper.
Most sellers of school busses will require that any school identification—school names, etc.—be removed or painted over. Of course, you will have to remove the red flashing lights and other school bus safety related equipment.
Whatever type, size, and age school bus you begin with, you can expect to invest significant time and money in outfitting the interior into a livable, comfortable space with all of the appliances and comforts you require.
Before you Buy
Determine how you plan to use your school bus and what equipment and furnishing are essential to meet your requirements. This includes how many people you will need to accommodate, both full-time and occasionally. This will determine sleeping requirements, both permanent and convertible. Give some thought to the type of bath you want, as well as kitchen and living areas. You may want to spend time looking at production campers and motorhomes to see how they make the best use of space. Your requirements and preferences will help you determine what size and type of school bus will best fit your needs.
Of course, there are other options, such as converted passenger busses (not covered in this discussion). These will offer a bit more room—on the same scale as a motorhome and will likely cost (much) more (though not as much as a comparable new motorhome).
Now is Also the Time to Think About Registration and Insurance
When you do purchase that used school bus, make sure you get a "clean" title and a printed bill-of-sale confirming that the vehicle was legally transferred to your name.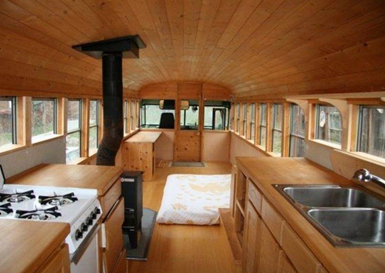 A custom design—just add furniture!Pintrest.com
Registration: The biggest challenge may be in changing your vehicle registration from "commercial" use to "recreational" or "personal" vehicle use. This change in classification will save you money on registration and insurance, but many states require the application for change of use to be filed within 30 to 90 days of the purchase of the vehicle.
The registration process for a converting a commercial or public-use vehicle to a personal recreational vehicle is not a common topic at many motor vehicle registration offices. It may take some time for your local office to be able to answer your questions. Start early to allow the department of vehicles to research the requirements if necessary, and so that you can meet any deadlines.
Once you have completed your build, you will need to have it weighed to determine the actual empty weight of your camper version. Assuming you do not make any structural changes to the vehicle chassis, it should be rated for the original manufacturer's gross weight.
Insurance: Now is also the time to check with your auto insurance company to make sure they will issue a policy for your "new" RV when it is ready to hit the road. In addition to providing any inspection and or safety requirements that should be covered, they may also have some insight into proper registration of the vehicle. The fact is, they will not insure a vehicle unless it is legal to operate on public highways, therefore, they may have some insight into what it takes to make your "new" vehicle "legal."
Not all auto insurance companies will write insurance for a bus conversion. If that is the case with your auto insurance provider, check with companies like Good Sam, Progressive, and RVinsurance.com that routinely insure campers.
The Build Out
Keep in mind, if you plan to do the conversion work yourself, this is going to require special building considerations and techniques, as well as capabilities with electrical wiring, plumbing, woodwork, appliances, and maybe composite materials such as fiberglass. Attention to detail and fit are important. Also, weight will be a consideration throughout the process.
Many individuals who are handy with tools, wiring, plumbing, and woodwork have successfully converted a school bus to an exemplary camper. Still, many others have remained "in progress" for many years without completion.
Information Resources
There are several online resources to assist in planning, building, and sources of appliances and materials including Skoolie Livin, Your Complete Guide to Renovating a School Bus by Nikki Cleveland (RV Life).
School Bus Conversion Companies
One option is to hire a school bus conversion company. There are many scattered around the country. These are companies that can transform your concept into reality in a reasonable period of time, so that you get to the business of enjoying your vison of touring in your own professionally customized school bus conversion. This will cost more than a do-it-yourself approach, but these services can create an interior that rivals the interiors of upscale motorhomes at a fraction of the cost and will very likely save a year or two (or more) off of the time to "do it yourself." To locate a conversion company, check out Skoolie Liven or Trail and Summit. Skoolie Livin also has a variety of guides for planning and building your own conversion.
Gross Weight
Every vehicle on the highway has a maximum legal gross weight. The gross weight includes the weight of the empty vehicle. The empty weight will include the chassis and everything that is permanently installed on the chassis to make it a camper or motorhome. The maximum legal gross weight is the empty weight plus the maximum weight of everything that can be loaded into the vehicle including, supplies, driver and passengers and their belongings, etc. To exceed the maximum legal gross weight means that the vehicle may not handle nor stop as well as it should, and if operated at an excessive weight could result in being cited for a vehicle safety violation. Consequently, when outfitting your school bus, you must be aware of the weight of the empty bus and the weights of everything installed on the bus.
Once you have completed your conversion, you may be required to a weigh station and get an official empty weight of the vehicle—that is the weight of the vehicle with all installed equipment and furnishing and full oil and fuel. Your useful load will be the difference between the recorded empty weight and the vehicle gross weight. Record that empty weight.
Subtract the empty weight from the maximum legal gross weight of the vehicle and that will determine the useful load—that is, how much weight you can carry with regards to passengers, personal effects, and anything else that is carried aboard the camper. This also suggests that you should carefully consider the weights of all permanently installed equipment and furniture in order to maximize the permissible load.
Cost Reality
Buying a good used bus, and doing the conversion work yourself, you can have a very serviceable and comfortable camper at a cost well below the cost of even a good preowned motorhome. Serviceable preowned motorhomes in good condition range in prices from $50,000 to $200,000, and more.
The cost for appliances, equipment, tools, and materials is on the order of $20,000 to $30,000, and can quickly exceed that, especially if you hire specialists for electrical, plumbing, and any welding services.
Still, you can convert a school bus to a very serviceable camper at significantly less expense versus purchasing a brand name motorhome—and since you built it, you will also know how to service your camper.
Types of School Buses
There are many types of school buses; not all school buses look the same. Whereas some are taller, others are shorter buses. Some of the smaller buses look like vans.
However, one common characteristic common to all school buses is that they are painted yellow—initially. Once it is yours, you may paint it in any color(s) you choose.
For this discussion, we are focusing on buses used to transport students to and from school on a daily basis. Therefore, we are not including city or inter-city style buses, nor other buses used for purposes other than daily transport of students.
1.Type A School Bus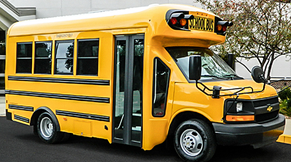 Source: Camperized Type A "Short" School Bus
Type A buses are smaller buses, but offer the opportunity to make a comfortable, compact camper for the right person or couple. There are two subclasses, Type A-1 and A-2. The basic difference is the maximum permissible gross weight of the loaded bus. Types A-1 buses are limited to a maximum weight of 10,000 pounds, while Type A-2 can exceed 10,000 pounds (the actual gross weight will be indicated on a data plate or sticker somewhere on the vehicle and may be as high as 14,000 pounds or more). Type A-2 buses can carry 10 or more people.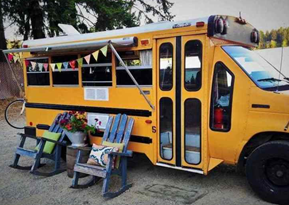 Source: Type A School Bus
These vehicles are typically powered by gasoline engines, although diesel options were available.
2.Type B School Bus
Source: A Camperized Class A "Short" Bus
This class of school bus is longer than the Class A and is designed to carry more than 10 people. When initially manufactured, the chassis, engine, and engine compartment are delivered to the bus manufacturing company. They install the passenger compartment, seats, and associated safety equipment. Type B buses are rated at a weight more than 10,000 pounds. They typically have dual rear tires.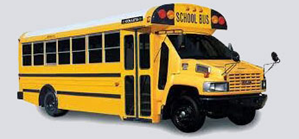 Source: A Typical Class B School Bus
Like the Type A, these vehicles are typically powered by gasoline engines.
The driver enters and exits through the passenger door. A section of the engine compartment extends into the driver's compartment, usually to just behind the windshield. The entrance door for the students is placed behind the front wheels of the bus.
This is an uncommon size and may be harder to find than smaller and larger buses.
3.Type C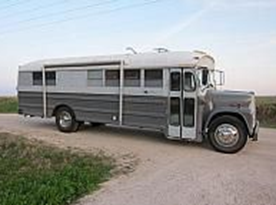 This is the traditional school bus, designed to carry 30 or 40 passengers. There is an engine firewall just beyond the driver's feet and the engine compartment is on the other side of the firewall, providing make for a roomier driver's area.

A Type C School Bus Conversion (www.skoole.net)
The Type C school bus is probably the most popular for converting to a camper. It has room for sleeping for four or more, with room for a full-size bed across the back and bunks on either side of the aisle.
Type C school buses may be either gas or diesel powered.
4.Type D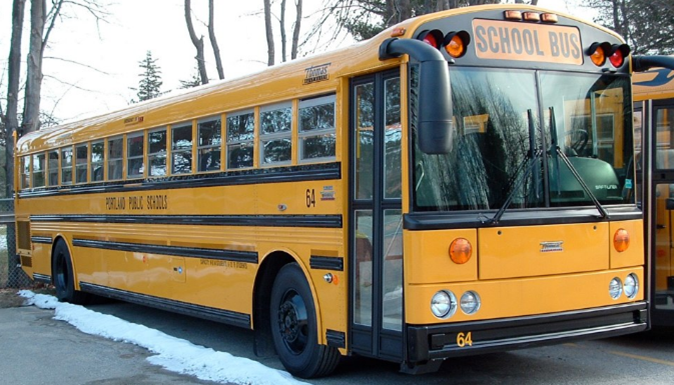 The Type D bus, which most nearly resembles a Class A motor home, can be powered a by front or rear engine. With the front engine arrangement, there may be slightly more room in the rear of the bus. With a GVR of 25,000 to 36,000 lb., this bus is designed to carry 40+ passengers.

A Type D School Bus Conversion (www.skoole.net)
This bus, also known as a "transit-style bus," has room for arranging the interior for serious comfort. The entrance is forward of the front wheels. This size and style bus offers the most space for a variety of options and features, and could become a second home, equipped for full time living.