5 Reasons to Visit Galveston
The Gulf Coast (Galveston Bay and the Gulf of Mexico) and all beach activities
The Strand ("walk through history" and appreciate its architecture)
Tons of museums, like the Galveston Naval Museum, the Bryan Museum or Bishop's Palace
Galveston Island Historic Pleasure Pier
Many shops and eateries (multi-cultural experiences for food junkies, especially when it comes to fresh seafood)
List of Top 12 RV Parks in the Galveston, TX area
(Disclaimer: information is a compilation of researched info as published online and does not necessarily reflect the experience or opinion of the author)
The RV parks have been ranked and are listed from "Most Recommended" to "Least Recommended" based on reviews, feedback, amenities, and preference. Cost was not the primary ranking driver. Please note that weekend RV families with children might have different needs than full-time RV "snowbirds".
1. Jamaica Beach RV Resort
Living up to its name, this RV park has a truly laid-back island vibe, starting with décor and ending with the overall atmosphere of the park. The landscaping matches the theme, as well. Located in the area called "West End", it's close to one of the bigger Marinas as well as the Carancahua Cove.
What makes this park unique?
This RV Park seems to be so much more than just a place to stay, it has perfect balance by offering lots of amenities and access to everything you'd want to when visiting but tucked away far enough from the tourist crowds. This park has received numerous awards, incl. being one of the top parks in North America by Good Sam.
2. Galveston Island KOA Holiday
With the standard KOA vibe and branding, this park benefits from its location and overall positive feedback from previous guests. The park is the most southwest RV park on the island within walking distance to West Bay and surrounded by nature.
What makes this park unique?
This is a standard KOA park with its rules, regulations, and setup; however, the park is clean and surrounded by nature and even has a Lazy River for those who don't want to spend time at the beach, but rather enjoy a resort-style relax day.
3. Sandpiper RV Resort
The Sandpiper RV Resort is within walking distance to University of Texas Medical Branch, Galveston Yacht Basin, the Historic Downtown Strand District, the Cruise Terminal, and Stewart Beach. Its strategic location makes it a desired destination to park and stay for a week or two to explore everything Galveston has to offer.
What makes this park unique?
The location of this park is great: it's a 5-minute walk to Stewart Beach and everything is close by, as it is the park that's in the heart of Galveston, yet so close to the beach! The Infinity Pool overlooking the Gulf of Mexico truly gives this park the resort feel! This RV Park was rebuilt after Hurricane Ike on the spot where the iconic Sandpiper Motel stood as a landmark for 45 years before.
4. Dellanera RV Park
This is a standard RV park that is clean and boasts over 1,000 feet of sandy beaches that are within walking distance of the park. The park is including vacation home rentals, which gives the park a time-share and tourist vibe.
What makes this park unique?
The best feature of this park is its proximity to the beach. The park is very clean and walkable, however, it lacks any additional features and can be considered a "commuter park", as one will need to drive to shops and activities outside of beach life.
5. Stella Mare RV Resort
This park is located close to the beach and has nice-sized paved lots with residential layout streets throughout the park. The trees at each lot are not mature due to the young age of the park, but the park is very well maintained. The staff is friendly, and the park is close to town and all the amenities.
What makes this park unique?
There's not much that makes the park unique: it's a newer standard RV park that is clean and safe based on feedback of previous visitors.
6. Tiki Tom's RV Park
For those who do not want to take their RV onto Galveston Island but rather prefer to keep it on the mainland and visit the island by car or other means, Tiki Tom's RV Park is the closest park before one takes the I-45 and crosses over the bridge onto Galveston Island.
What makes this park unique?
This park is right by the water. While it is close to the interstate, many visitors choose to stay for an extended period, as the easy access to the island allows for daily trips to Galveston, which is about 10 min drive away.
7. Bolivar Peninsula RV Park
Found on the Bolivar Peninsula rather than Galveston Island, this RV Park is in Crystal Beach, TX. Visitors can park their RV there and take the ferry to Galveston Island for the day. Set on 40 lush acres, it's a relaxing getaway with a slower pace of life. The park has been also upgrading their dog park area, as well as their laundry and shower amenities.
What makes this park unique?
As a small family-owned RV park, the owners go above and beyond to help the visitors. The owners even state on their website their goal is to become the "home away from home" and they really strive to make sure that their visitors have the best possible experience during their stay.
8. Galveston Island State Park
Located on the shore of the Carancahua Cove, this park is located as close as it gets to the beach. Surrounded by nature, the visitors can park their RVs on a dirt/sand lot and enjoy watching the sunset over the water!
What makes this park unique?
This park is a great quiet spot for fishing, bird watching, mountain biking, hiking, geocaching, paddleboarding or kayaking. Just bring your gear and do the things you enjoy, or wind down your weekend with a bonfire!
Insider tip: the bay side is quieter; the ocean side is dirty with litter (and dirty restrooms/showers) according to past visitors. Beach side of the park is closed until 2022 for renovations.
9. Bayou Shores RV Resort/Galveston RV Resort and Marina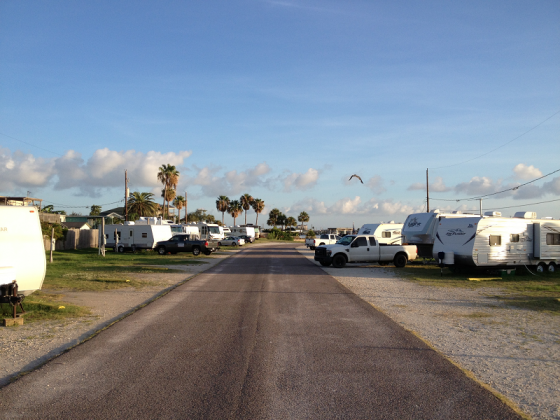 This RV Park has experienced some challenges about lack of maintenance and the issues that come with it; however, it is located close to town, and it is very affordable. In 2018, new management took over and made significant improvements. There are lots of eateries within driving distance.
What makes this park unique?
Since the change of management, the park is making some improvements to turn around much of the negative feedback online from previous visitors.
Insider info: The GPS will take you to turn into the RV park off 61st to Heards Ln, which is very tight with longer rigs. Take your time and care to turn into the park.
10. Crystal Canal RV Park
Also located on the Bolivar Peninsula, this park is located right on the water. It is a no-frills RV park for those who are not looking for extra amenities, but desire just a place to hook up their rig.
What makes this park unique?
The sunset over the water is breath-taking. The park is close to various amenities and attractions. The location is its greatest asset for those who are looking to park the RV, relax and do some fishing.
Tips to Get to Galveston
For Houston residents, Galveston is about one hour away from city center depending on traffic and a great weekend getaway to the beach.
The City of Galveston itself is located on Galveston Island and can be reached several different ways: either from the Houston area via I-45, from Lake Jackson via San Luis Island on the 322 or by ferry from the Bolivar Peninsula.
Other out-of-state visitors
The best months to visit Galveston are May through September, with water temperatures in the low to mid-eighties. However, the Gulf water is still warm enough to go swimming in through October. On average, there are only 4 days/year of below freezing temperatures, which makes it a great RV getaway destination. For those who keep their RV off the island and are traveling from the East Coast area, the Port Bolivar Ferry might be a fun way to reach the island and to stroll Galveston for the day.
The ferry shuttles between Bolivar Peninsula and Galveston Island. While the service is free, there are weight and size limits on the vehicles that can be ferried, so keep that in mind if you plan to take your RV along.
According to Galveston.com, the "[v]ehicles should not exceed 80,000 pounds, may have a maximum length of 65 feet, a maximum height of 13.5 feet and a maximum width of 8.5 feet." (GALVESTON.COM: Galveston – Port Bolivar Ferry – Galveston, TX).