Top 5 reasons why it's a fun place to visit:
Walk the Destin Harbor Boardwalk
Relax at beaches like Crystal Sands Beach
Visit the Destin History and Fishing Museum
Check out the Zoo Gallery
Have some ice cream at the Destin Commons
List of top 10 RV Parks in the Destin, FL area:
(Disclaimer: information is a compilation of researched info as published online and does not necessarily reflect the experience or opinion of the author)
The RV parks have been ranked and are listed from "Most Recommended" to "Least Recommended" based on reviews, feedback, amenities, and preference. Cost was not the primary ranking driver. Please note that weekend RV families with children might have different needs than full-time RV "snowbirds".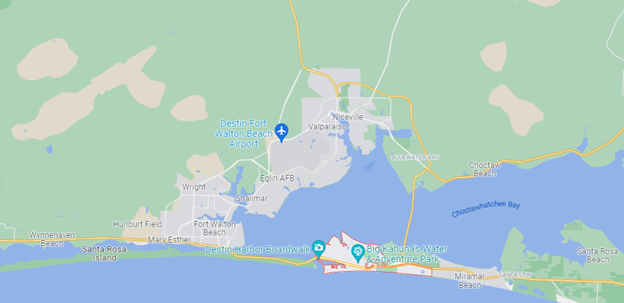 1. Destin Army Infantry Center Recreation Area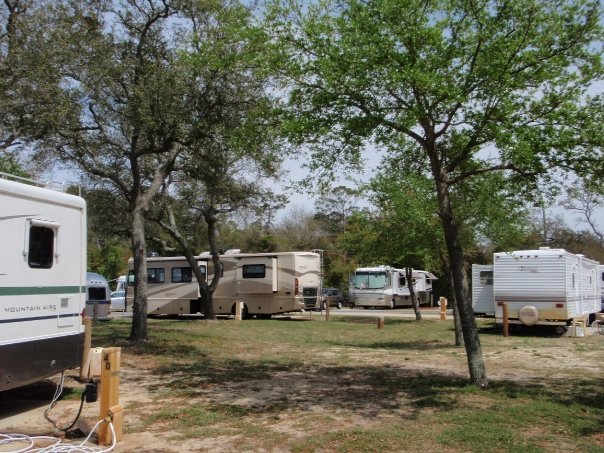 This wonderful park is operated by the MWR, which is a military organization that maintains, operates and rents out recreational facilities all over the US.
Destin Army Infantry Center Recreation Area
What makes this park unique?
This park is open to anyone who is either active duty, reserve, or retired military (or staying as guest of anyone in that category). This park is in an amazing location and about 1/3 to 1/5 of the price of other comparable parks in the area.
2. Destin RV Beach Resort
This park is like a little oasis in Destin, FL! Within walking distance to the beach and all the amenities to make it a comfortable stay, this park is a favorite for many RVers.
What makes this park unique?
It is a beautiful, small, and quiet park, close to the beach, bars, and shopping. While it might be a bit crowded, the location is amazing, the park atmosphere is intimate and laid back and the private beach is 100 feet away from the park!
3. Destin West RV Resort
Clean and manicured, this resort prides itself in appearance and luxury. With many amenities to choose from, this resort makes sure that visitors love their stay every day!
What makes this park unique?
The park has a grotto waterfall at the pool area. Although one must cross the road to access the white sandy beaches, it has a beach bar and s'mores nights at the park!
4. Geronimo RV Resort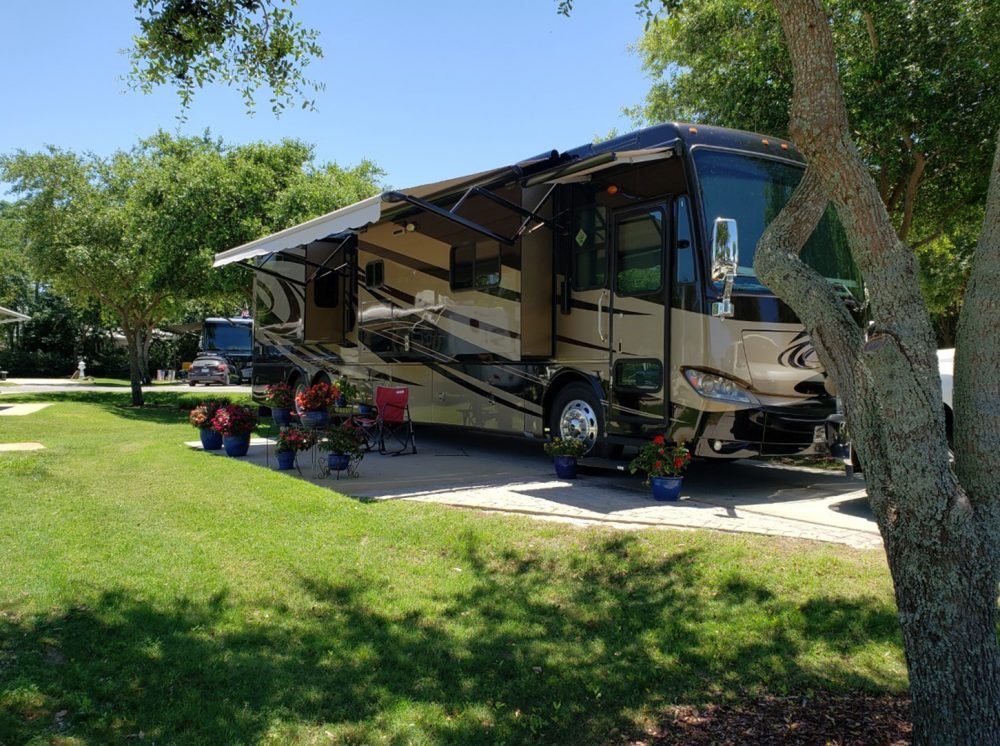 Located only two blocks from the Emerald Bay, this park is more rustic than its competitors, but its location is only three miles away from the City of Destin, FL.
What makes this park unique?
This park is family-friendly, pet-friendly and big-rig friendly, with a ton of activities and eateries in the area.
5. Camp Gulf
This iconic place has a lot of history, as it started in in 1937 with a woman trying to get a place for family vacation for years to come. Now, five generations later, this legacy has grown into one of the largest "on the beach" RV parks in the area.
What makes this park unique?
One camps directly on the beach, with sugar-white beaches and turquoise water. It's vacationing in paradise. There are also sites for those who do not want to have their RV on the sand (for example, for dog owners, as dogs are not allowed on the beach per county ordinance).
6. Henderson Beach State Park
The beach walk is closed until April 2022 for repairs. The RV max length at the park is 60 ft. Dogs are not allowed on the beach per county ordinance.
What makes this park unique?
This park is right on the beach and is a very affordable (and therefore popular) spot to stay in Destin, FL. There is a long paved path all the way to the beach. The sites have ample foliage for privacy. This park is also close to Gator Beach, the World's Greatest Alligator Park (Visit Gator Beach in Destin | Expedia).
7. Cozy Corner RV Park
A small RV park that is close to military bases, minutes away from the beach. The sites are slab with grass areas and growing trees.
What makes this park unique?
It's a newer park with friendly owners and conveniently located near everything that one would need. The park prides itself of being the most affordable place to stay with the RV in the area.
8. Fred Gannon Rocky Bayou State Park
As a 357-acre park, this park offers numerous saltwater and freshwater fishing opportunities, nature trails, and numerous water activities. To get to Destin, one must travel on 293 to get there, as it is about 25 min drive.
Fred Gannon Rocky Bayou State Park
What makes this park unique?
According to www.floridastateparks.com, "[a] former WWII gunnery and bombing practice range has been transformed into a stunning natural landscape shaded by longleaf pines, some over 300 years old." Today, it is a stunning park with access to nature at every turn. Note: the max RV length for this park is 50 ft.
9. Mid Bay Shores Campground
Located on Maxwell Air Force Base in Niceville, FL, this park is for anyone who served in the military, is affiliated with approved sponsors or is a guest of one of those approved groups.
What makes this park unique?
This park is an AMAZING value to anyone who can stay there, as it has many amenities, is very clean, quiet and in a great location. Most of all, it is 1/5 of the price of private resorts with similar amenities.
Note: Depending on military status, one can book up to 6 months in advance. List of eligible visitors consists of: "Active Duty, National Guard, Reservists, Retired Military, 0-100% DAV, Purple Heart Recipients, Former POW, Veteran Caregivers, DoD Civilians, Sponsored Guests." (U.S. Military Campgrounds and RV Parks – Mid Bay Shores Maxwell/Gunter Recreation Area)
10. Sunset King RV Resort
Although this park is about 1 hour away from Destin, FL via FL-20, Defuniak Springs is a quaint little town that allows for longer stay at the resort with daily visits to the Gulf, as desired.
What makes this park unique?
While this park is suitable for all ages, it is catering to the older folks/snowbirds with the activities they offer. There are many activities to choose from and the weekly and monthly cost is very conducive for a seasonal stay.
TIPS TO GET TO VISITING DESTIN
With Pensacola to the west and Panama City to the east, Interstate 98 intersects Destin, FL almost in the middle of both cities. Whether one travels from Alabama, Georgia, or even other parts on Florida, coming to Destin on I-98 is the route they would take.