Top 5 reasons why it's a fun place to visit:
Check out the Turtle Bay Exploration Park
Stroll the Shasta State Historic Park
Explore McConnell Arboretum and Botanical Gardens
Spend the day at the WaterWorks Park
Hike the Sacramento Rail Trail
List of top 10 RV Parks in the Redding, CA area:
(Disclaimer: information is a compilation of researched info as published online and does not necessarily reflect the experience or opinion of the author)
The RV parks have been ranked and are listed from "Most Recommended" to "Least Recommended" based on reviews, feedback, amenities, and preference. Cost was not the primary ranking driver. Please note that weekend RV families with children might have different needs than full-time RV "snowbirds."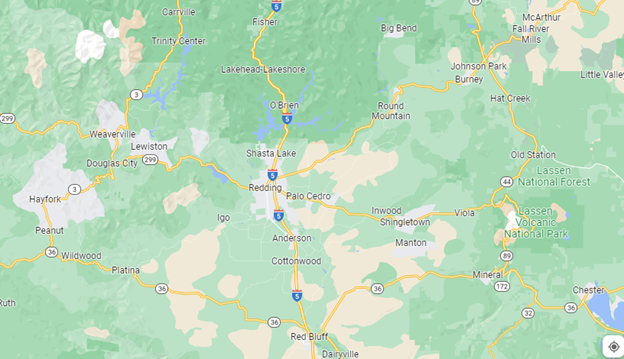 1. Marina RV Park
This park is a top choice for visitors who stay in the Redding area. It doesn't have all the luxury amenities, but the location and the views are great. It is located right on the Sacramento River.
What makes this park unique?
This park is peaceful and comfortable. The atmosphere is calm, and the park is clean, amid nature. Some of the sites are right on the water. The park has boat access via the marina.
Max RV length is 40 ft.
2. Green Acres RV Park
As a smaller park in the area, this is an intimate RV park with all the necessary amenities to stay for a while.
What makes this park unique?
This park is close to downtown Redding, but far enough away from I-5 to have a quiet ambiance. There are no public showers/amenities, however (and the site does not list if there is laundry on site).
3. Mountain Gate RV Park
This RV Park is in the foothills of the Shasta Cascades. It's a beautiful location, with close distance to Lake Shasta and the City of Redding.
What makes this park unique?
This park is safe and secure, surrounded by woods and grasslands. While it is a bit rocky to get to the park, the roads are wide and paved at the park and one can bring ATVs or mountain bikes to enjoy the magnificent surroundings. One can rent out cabins, as well. This park is conducive to large-group meetups, as well as extended stays, due to the amenities they offer.
4. Redding RV Park
Family-owned, this intimate RV Park is a quiet, quaint, and friendly place, surrounded by nature and still close to town.
What makes this park unique?
The sites are all level and paved and each site has a mature tree for shade and privacy. The most incredible thing is the view of Mount Shasta from the park.
5. Premier RV Resorts
As one of the West Coast RV Resort chains, this park is well-laid out, with great landscaping, mature trees, and amazing views.
What makes this park unique?
This park is like a little village where one can stay awhile and feel at home. With splendid views, comfortable amenities, and different options to stay (RV, cabin, or yurt), this park is a great option for people who are visiting the Redding area for a while.
6. JGW RV Park
The JGW RV Park is located on 32 acres, nestled among the native black oak trees. The park has a grassy, natural setting for viewing birds and wildlife or for strolling along the Sacramento riverbank. One can go fishing for steelhead, trout, and salmon or just enjoy a BBQ and a friendly game of horseshoes.
What makes this park unique?
This park is very Spartan; one visitor referred to it as "sterile-looking," and "a parking lot with a couple of shrubs." This park is great for an overnight stay when traveling through the area.
7. Fawndale RV Park
The park is about 10 minutes north of Redding and has stunning views of Mount Shasta. They are just a mile and a half from beautiful Shasta Lake, and centrally located near Whiskeytown Lake, Mt. Shasta, Lassen Volcanic National Park, Castle Crags, and McArthur-Burney Falls.
What makes this park unique?
The staff is genuinely nice and accommodating, the park has rustic décor, and the park location is close to Shasta Lake. The sites are level. This park offers many amenities such as full hook-ups for RVs, a 28′ Onsite Rental Trailer, a rustic rental cabin, and tent campsites. The park also has a convenience store, swimming pool, rec room, group facilities including a meeting room and full kitchen.
8. Lakeshore Inn & RV
This is a family friendly oriented campground which includes 40 camp sites, 10 cabins and a cottage nestled in a shady grove of tall pine and oak trees overlooking the Sacramento arm of Shasta Lake.
What makes this park unique?
All sites have a fire pit and picnic table. They also have a beautiful large swimming pool, playground, video arcade game room, gift shop and mini store, and many more amenities available. Another benefit is an onsite cocktail bar (seasonal). Note: not sure what happened to this place in 2020, but prior to then, this park would get complimentary reviews. It appears the park got trashed/vandalized in 2020, with excessive littering and property damages to shower facilities.
9. Lakehead Campground and RV Park
This RV Park is close to Redding, which has all the shops and restaurants. It is a true campground with a laidback nature background and plenty of activities to engage in with your fellow RVers.
What makes this park unique?
This RV Park has so many different amenities that they truly go beyond on what the offer: from different sports activities to clubhouse rental to RV rental…this park has it all!
10. Lakeshore Villa RV Park
This park is located on 6.7 acres and features two outdoor restrooms with free hot showers, picnic tables and trails. The park backs up to a creek where swimming and fishing are popular. Outdoor BBQ is allowed with propane tank or electric BBQs.
What makes this park unique?
Most of the RV spaces are approximately 16-24 ft wide and some are even wider, accommodating everyone's needs. There are several amenities that allow for a longer stay or a weekend getaway. Heads up: his park is close to the town of Lakehead and there is a train going through the town frequently.
Note: Check with the office on Wi-Fi and cable TV, as the park is currently undergoing an upgrade.
TIPS TO GET TO REDDING
Redding is a big city in the Northern California area near Shasta Lake that is located on I-5 (that travels North-South). There are also other roads that go to Redding, but they are more curved and mountainous: when traveling from the West, CA-299 connects Douglas City to Redding while it continues through the city to Johnson Park. CA-44 goes from the Lassen Volcanic National Park west to Redding.